Kitchen Projects
Contemporary Kitchen Design & Renovation in Washington
TANSU-INSPIRED ENTERTAINER'S KITCHEN
This
stunning renovation
is at the heart of our client's contemporary waterfront home southwest of Seattle, Washington.
The finished project included a kitchen, bar, dining area, and partial living room, achieving a modern aesthetic with the perfect balance of Pacific and Asian design influences.
Knowing she wanted to get it just right down to the last inch, the homeowner reached out to our design/build firm for this contemporary kitchen remodel. With a diverse portfolio and over 25 years in the interior design industry, Anne Bauer, CAPS, CGP, Seattle Design Consultant at Neil Kelly, led the project.
Though the architecture was undeniably striking, the Pacific Northwest home hadn't been updated since the 1980s. Having worked on countless fixer-uppers over the years, Bauer was ready to undertake the renovation. Check out project photos and a detailed rundown of this kitchen update below.
Design Objectives and Client Wishlist
Bauer worked closely with the client at every step of the project. "The client had a very keen design sense and a strong idea of what she wanted to do with her kitchen," she says. Together, they identified various design objectives and a prioritized wishlist.
Related Article: Average Kitchen Remodeling Cost in Seattle
Optimized Layout
Open-concept layout

More natural light
Enhancements
More practical cabinetry and shelving

Access to waterfront view

Modernized appliances

Better lighting
Personalized Features
Modern, seamless appearance with Asian design influence

Updated fireplace
"The design objective was to update the feel and functionality of the space while adding a subtle Asian influence," Bauer explains.
Project Challenges
Bauer and the client's shared appreciation for Japanese design sparked the idea to use a large Tansu chest as the kitchen island. However, sourcing an authentic chest of the right size was easier said than done. And that wasn't the only obstacle of this renovation.
"We had several challenges on this project, the most difficult being the client broke her foot at the height of construction and could not get into her home to review the job at critical points," says Bauer. "In addition, there was the challenge of working on an island with ferry-only access."
Design Solutions
Bauer suggested creating a custom Tansu-inspired island with a built-in sink, ample drawers, minimal hardware, and a dark weathered-wood finish. This checked the box for the kitchen island while also creating lots of usable storage.
Space, functionality, and view
Removed partial wall between kitchen and living room

Connected kitchen, dining area, bar, and partial living room

Removed garden window and replaced with tall, contemporary window

Added two skylights

Installed specialty LED track and cabinet lighting
Personalization, enhancements, and special features
Designed and built custom Tansu kitchen island

Removed wood-burning stove

Hid appliances within cabinets and installed custom hood range

Installed built-in bar area with a sink, wine fridge, and substantial storage

Painted brick fireplace surround

Installed solid wood mantle to conceal TV wires, plus built-in shelving

Added semi-custom library ladder
See more home transformations and get expert remodeling advice. Sign up for a Design + Remodeling Webinar. 
With a focus on ensuring design concepts translate to what actually gets built, Bauer was determined to make the project successful while staying on schedule. Though renovation details are typically discussed on location, she brought samples, photos, and videos to the client in her downtown Seattle hotel room. That way, they could at least review all the design solutions and enhancements together in person.
Key Suppliers and Manufacturers
To complete this renovation, Bauer and the Neil Kelly team selected materials from various leading suppliers and manufacturers. We used Hallmark cabinets, with quarter-sawn oak for the main cabinetry and walnut with teak insets for the island. The backsplash is porcelain tile from the Ann Sacks Yakisugi collection, which is inspired by an ancient Japanese wood-charring technique. The countertops are a combination of honed white macaubas and fantasy black.
Related Article: Choosing Stylish Cabinets for Your kitchen
As for the flooring, we went with large Pentel stone tile in a brick pattern for the kitchen, and the client arranged for dark engineered wood in the dining and living area. The custom range hood and appliances were sourced from Allied Steel, and the plumbing fixtures came from Albert Lee. Ferguson manufactured all the specialty lighting features.
Contemporary Kitchen Renovation
With offices in Seattle, Portland, Eugene, and Bend, the design/build remodeling experts at Neil Kelly are proud to serve homeowners throughout the Pacific Northwest. This custom home remodel was particularly satisfying for Bauer. She loves residential design projects because she gets to see her clients' delight when their visions become a reality.
If you're inspired by this kitchen, dining, and bar transformation and want to create something similar in your home, we'd love to hear from you. Get in touch with us today.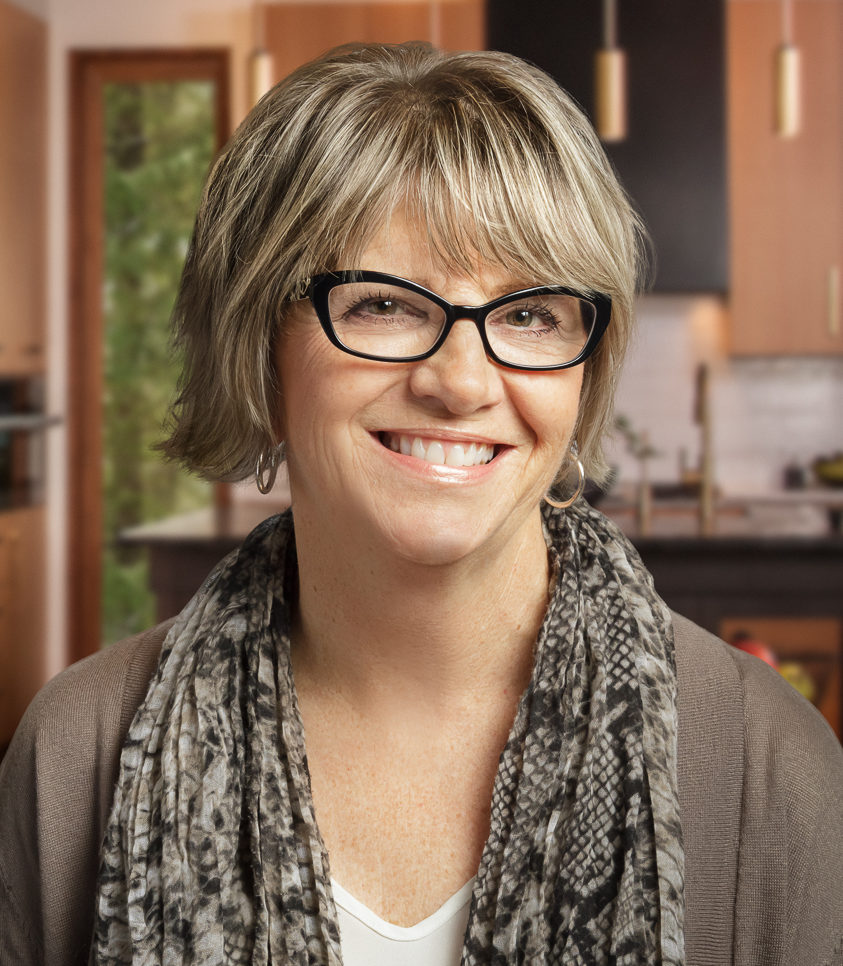 anne bauer, Seattle Design Consultant, CAPS, CGP
Anne Bauer brings over 25 years of interior design experience to her clients. With a diverse background and style — from hotels and country clubs to custom residential and estate design, as well as countless 'fixer' renovations — Anne's focus is to bridge the gap between what happens in the design studio and what gets built on job sites.
Anne especially enjoys residential design because she gets to experience her clients' delight in the spaces they create together.
View Anne's Houzz portfolio and read client reviews.
SCHEDULE A CONSULTATION >