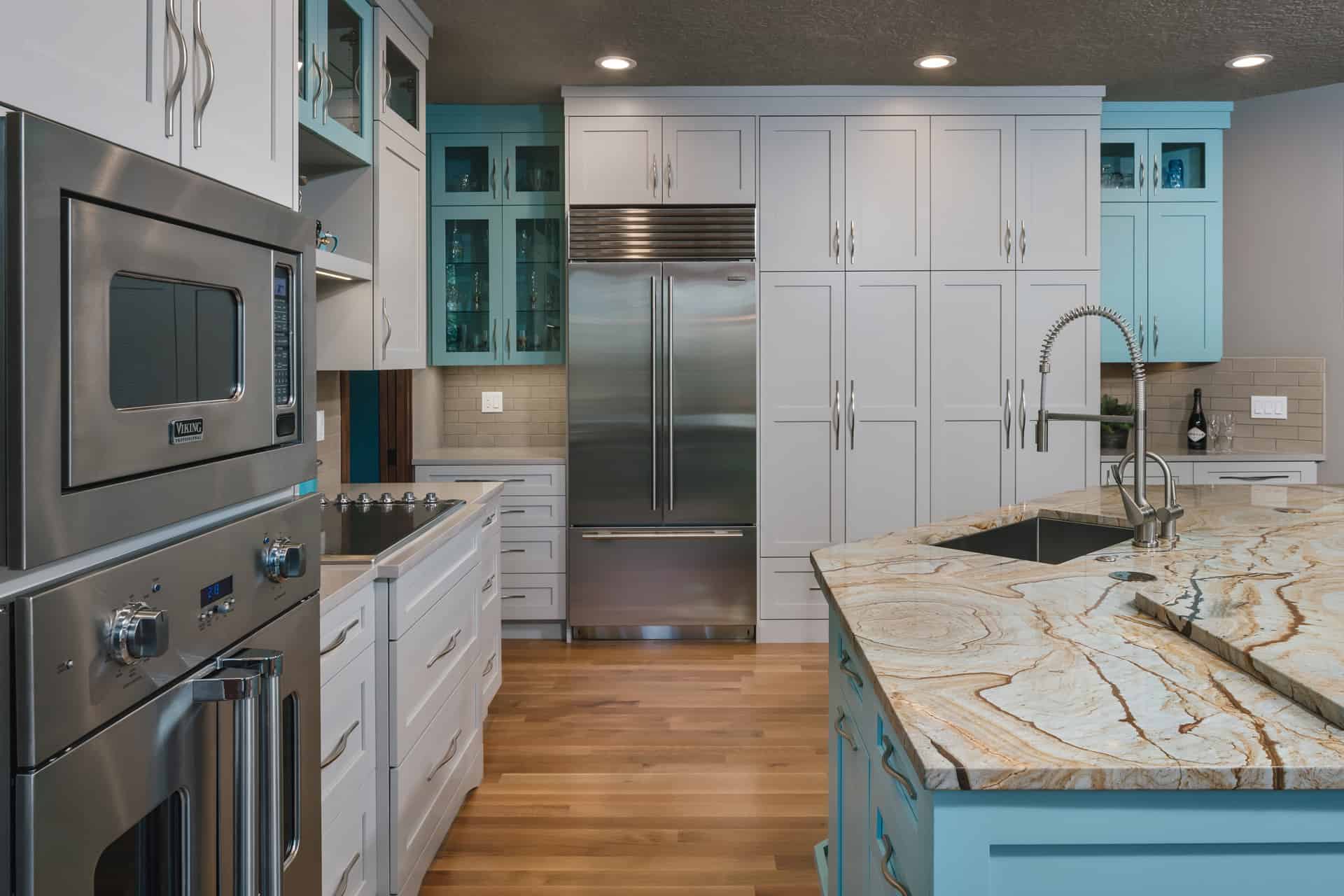 Above: This kitchen features an open layout and tons of functionality, but it's also a treat for the eye. Many of the ideas discussed below, such as the use of natural light, natural texture, and warm, earthy tones combined with a contrasting color – particularly blue – are visible in this single project. Photo by Darius Kuzmickas / KuDa Photography.
Interiors
Design Ideas To Explore In 2019
The excitement of a new year creates a buzz around the latest design trends: the colors, hardware and gadgets that can transform a home from ordinary to extraordinary. While trends may come and go, quality materials and smart design never go out of style. Here's what Neil Kelly's remodeling experts can't stop talking about — the top design ideas of 2019.
Warm Splashes of Color
Say goodbye to sterile white walls. Warm color palettes that include greys, browns, beiges — even smoky pinks, burnt oranges, and muddy teals and blues — are taking over interior spaces, whether those spaces are traditionally styled or have a more modern, industrial look. Gold continues to be a popular accent color, seen in everything from tile to wallpaper, furnishings, fixtures, and accessories.
Does that mean the 1970s avocado-and-walnut kitchen is making a comeback? Well, maybe. Designers say colors should be chosen to match the specific architecture and style of a space. If the colors are well-suited to each room then things like window treatments, furnishings and decor can be changed frequently to create a new look.
"Many people think color will date a space," says Michelle Rolens, Portland Design Consultant. "But not if you choose the right colors."
Brass & Metal Fixtures
Industrial finishes are popping up everywhere. Brass and warm metal stands out and offers a luxurious finish to small appliances and fixtures, including taps, faucets and cabinet handles. Compliment the look with lighter countertops and dark toned cabinets, or for a richer layered look, combine different metals, like copper hardware and brass fixtures.
Wrap-Around Bath Tile
No matter the size of the bathroom, extending shower tile and enclosures entirely to the ceiling lifts a space, giving it a larger-than-life feel that instantly draws the eye up, up and away.
Pendant Kitchen Lighting
Suspended lighting has made a comeback, especially above kitchen islands. While recessed lights are here to stay, pendant lights add a unique touch and sense of expression to kitchen design. From pendant bulb enclosures to industrial materials like concrete to geometric shapes, homeowners are embracing creative lighting options.
Wallpaper & Wall Treatments
Stylish prints and dimensional materials have brought wallpaper — a once taboo design treatment — back into the mainstream. Wall treatments, including tiles, surfacing products, paneling systems or textiles are more dramatic than paint and can quickly transform a room. In 2019, look for sophisticated wallpaper patterns featuring natural motifs, including florals and botanicals.
"Nature is everywhere," says Portland Design Director Barbara Miller. "It's about creating calm in the chaos" of modern life.
Perfect Bathroom Lighting
Good lighting affects everything — particularly when you're getting ready for the day. Bright lights in and around the shower can help prevent bumps and falls. Bathrooms that incorporate directional vanity lights can enhance skin tones and help you look and feel your best.
Matte Kitchen Finishes
Matte finishes reduce glare and feel slick to the touch on counters, cabinets and appliances. Dark matte finishes can help reduce the appearance of fingerprints and dirt, which is perfect in the kitchen. Best of all, the material is easier to clean than most surfaces.
Smart Controls & Chargers
A modern home needs to be wired with the latest smart home technology. With the touch of a smartphone, homeowners can control security devices including cameras, lights and alarms, and set comfort controls on a thermostat. To keep these smartphones in working order, charging stations are being integrated into countertops, drawers and nightstands.
Luxurious Washbasins
Plain white washbasins are a thing of the past. Instead, add a little pizzazz to a powder room with a floating washplane sink, schoolhouse sink, unique wooden basins, hammered metal and more.
Bars & Beverage Stations
Homeowners just want to have fun! Entertainment stations can be incorporated directly into the design rather than treated as an afterthought. Whether it's a full wet bar, wine refrigerator or prep area for a drink station, homeowners need spaces set up for parties and holiday hosting. For a little extra flair, choose styles and materials inspired by vintage lounges and cocktail culture.
Big Bathroom Mirrors
Oversized or wall-wide mirrors brighten up a bathroom and offer a stylish air typically reserved for the best spas and hotels. Whether frameless, square, rectangular or round, big bold mirrors add a visual presence to your bath that's both aesthetically pleasing and practical.
Healthy Home Updates
From using sustainable, non-toxic materials, to installing ventilation systems that filter dangerous particles out of the air, 2019 will be all about creating a safe and comfortable home. This transition toward responsible consumption and less waste, or minimal mindfulness, includes design elements from nature and the farm-to-table lifestyle. To help you get mindful, Neil Kelly is proud to offer an energy assessment with every design-build remodeling project.
Don't Be Afraid To Make A Statement
Generic or transitional style doesn't automatically add resale value to your home. Commit to your own unique design style, whether it is ultra-modern, traditional, or somewhere in between. A design professional can help you define what your style is and show you how it can be incorporated into the rest of your home. Whether you intend to move or stay put, a thoughtful, well-executed design will always return dividends.
"Do what you love," says Portland Design Consultant Therese DuBravac.
Ready to transform your home this year? From golden hues to wild wall treatments, Neil Kelly designers are forecasting exciting new looks and ideas in 2019. Get in touch!