Interior Projects
Glenmorrie Lane Whole House Remodel
Portland Whole House Remodel
This Lake Oswego whole house remodel features a farmhouse industrial aesthetic, coupled with a more functional kitchen, master bath, and much more.
After purchasing their new home a Lake Oswego couple connected with us to review the space and create a list of improvements to be made prior to move-in. They wanted our help to blend the farmhouse-industrial look they envisioned with the very traditional house they actually had.
On site we soon realized the 15-year-old home needed major repairs in addition to the remodeling the homeowners had in mind. The existing cabinetry was very poor quality; the drywall was cracked due to poor craftsmanship, and silica in the water had damaged all of the plumbing fixtures, showers and countertops — most beyond saving.
Neil Kelly Design Consultant Janel Campbell said a delicate balance was needed to "peel back the layers" that characterized the existing architecture while accommodating the homeowners' desire for a more relaxed farmhouse feel.
In addition to functional improvements and needed repairs, the homeowners wanted to introduce more color, a broader mixture of materials, and "a bit of whimsy," Campbell said.
"The homeowners wanted to introduce more color, a broader mixture of materials, and a bit of whimsy." – Janel Campbell
Natural stone countertops in the kitchen and master bath were the first decisions that all others radiated from. Colors for other design elements were inspired from those visible in the stone, from deep blue-grey and burgundy in the kitchen, to a soft blue/green in the master bath.
The homeowners also embraced color and craftsmanship in the tilework around the house. They chose handmade tile with deep, complex glazes and textures in the dining room, kitchen, and powder room. The living room fireplace and master bath each feature one-of-a-kind tile installations with multiple sizes and colors — creating the whimsy the homeowners were looking for while complimenting the overall aesthetic.
Cabinets throughout the house were replaced with all-plywood construction and dovetail drawers. A mix of flat panel cabinet doors were chosen to simplify the overly traditional look of the home. Molding details gave way to less elaborate styles, and all fluted columns were eliminated. The new cabinets combine wood and painted finishes along with multiple door styles to keep things interesting.
A more functional kitchen island features locally made galvanized steel panels with a copper drip, which adds a touch of the farmhouse-industrial look the homeowner desired, and introduces a unique design element to the space.
The Brazilian Cherry flooring was refinished and extended through the kitchen and nook, and into the upstairs landing and bonus bar. Fresh carpet rounds out the remainder of the home including the bonus room and 4 bedrooms.
All light fixtures were replaced including recessed can lighting trims; all lighting was changed to LED. Thoughtfully planned, Campbell said, light fixtures can become "the jewelry to the little black dress."
More functional materials chosen in auxiliary rooms included Corian countertops in the 2nd floor baths, laundry room and bonus bar; as well as the shower surround in the guest bath.
Elements for aging-in-place were designed into the bathrooms: A threshold free shower, heated shower bench with hand-held shower, grab bars and bidet seats. A unique element in the master bath is the toilet room door. The wall did not easily accommodate changes for a pocket door, so we changed it to a dual action door. It now swings both ways for ease of access, in or out.
Finally, the 3-car garage was insulated, an epoxy floor added, and new farmhouse style doors were installed, completing the aesthetic update.
Are you ready to transform the home that you have into the home of your dreams? Neil Kelly can help. Learn more about our Design/Build remodeling services, or connect with us for a design consultation.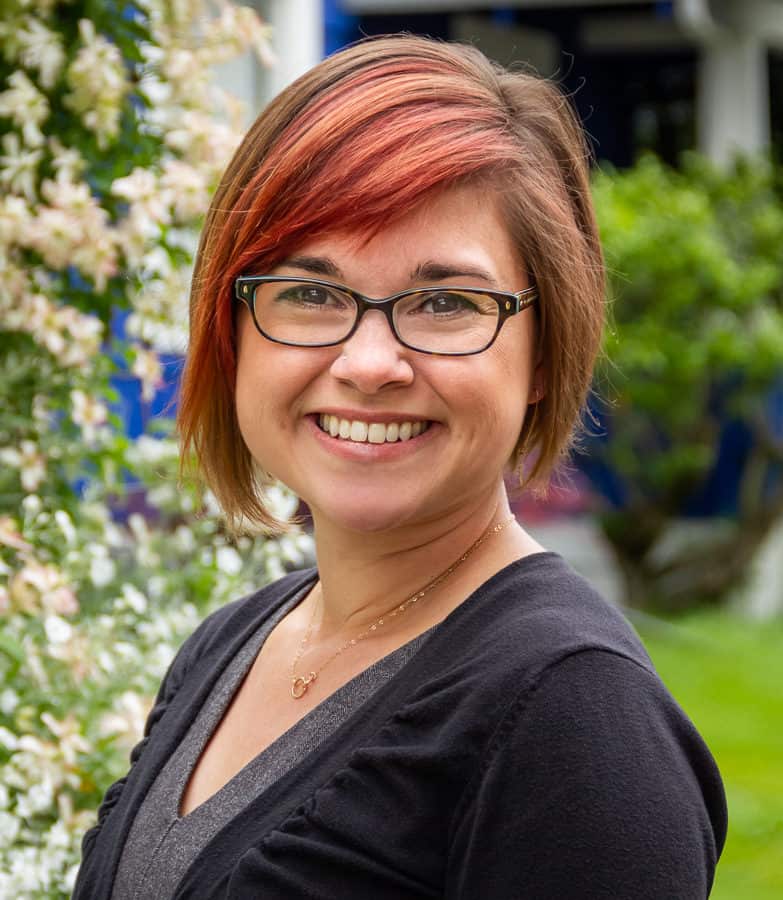 janel campbell, Portland Design Consultant, CMKBD, CAPS
Janel Campbell grew up in her father's wood shop with the smell of sawdust in her nose; and a creative and welcoming home that always had something baking in the oven (an in-home business decorating wedding cakes!). It seemed only natural for her to combine the two elements into her passion for design/build; helping others find ways to make their house a home. She is continually expanding her knowledge and expertise beyond her industry certifications; and applies her 20 years of design/build remodeling experience to her work. Janel's award-winning designs have been featured in Oregon Home, Portrait of Portland, and KBB magazine. As a mother of growing boys, avid cook, gardener, photographer and nature lover – Janel's passion is HOME.
View Janel's Houzz portfolio and read client reviews.
SCHEDULE A CONSULTATION >