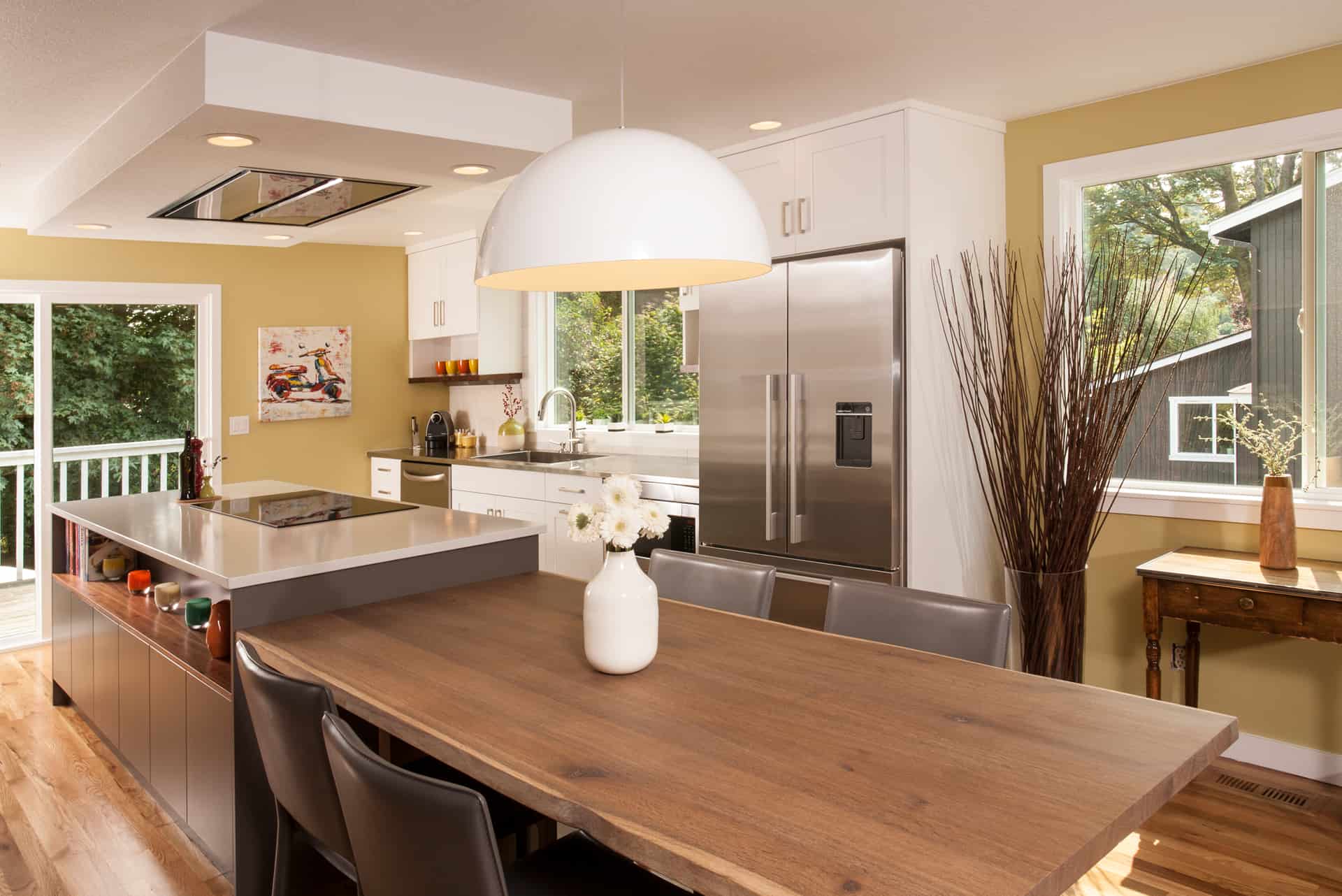 Above: This award-winning Kirkland kitchen features an island with built-in range, storage and adjacent seating area.
Kitchens
Make more room with a kitchen island
If you've run out of room in your kitchen, need more counter space, or lack storage, don't fret. One easy solution, without having to move walls or remodel, is the installation of a custom kitchen island.
Each kitchen is different, whether in size, shape or functionality. A custom kitchen island can fit into any kitchen with most dimensions, look aesthetically pleasing, and work better for occupants. Thinking of an island? Simply buying a generic island from the superstore shelves might not be the best solution. Neil Kelly's designers can help.
"When you work with a designer you get an island that's sized properly and is appropriate for your space," says Karen Richmond, Neil Kelly Design Consultant. "A designer also helps you think about how you want to use it."
READ MORE: What Kind Of Kitchen Are You?
An island is more than a table. It can be used for storage, work and prep surfaces, and can include a sink, dishwasher, or space for recycling bins.
"Also ask yourself how you want to handle the ventilation and what size is comfortable for you and the space," says Richmond.
New spaces for new places (and appliances)
The biggest pain point for many homeowners in search of a new island is lack of counter space or storage for appliances.
"An island can give you a little bit more storage," says Magda Zafer, Neil Kelly Design Consultant. For example, many homeowners have heavy mixers and don't use them because it's such a hassle to get out of the cabinet. "There are solutions, like a mixer lift, which is ideal if you can put it at the far end of island so it doesn't obstruct the traffic patterns. It's a great option if you want to maximize the workspace," says Zafer. When the work is done, the user merely slides the mixer back underneath the cabinet.
Complementing your existing workspace  
When installing an island, look at all of the key elements and ask yourself how you use your kitchen—most notably, where is your range, refrigerator and sink located? NKBA guidelines recommend that you 'connect' these main appliances so the island doesn't interfere with your work triangle. This also ensures that you minimize any interference with the main traffic patterns of the kitchen.  
"As our homes get bigger, our kitchens get bigger, causing larger distances between the refrigerator, sink and range. By positioning the island in the middle you can add one of those elements in the island—like a range—to match the space and make it more user friendly," says Zafer.  
The big island  
Like kitchens, islands are also getting bigger — some up to 11 feet long. And as they get bigger, you can combine extra storage, extra prep space, extra space for appliances, and an area with chairs to let family members interact with the cook.
But remember, keep the size of your kitchen and island in mind (this is something that a designer will do for you). "If you cram it in too tightly you're going to be frustrated when a drawer is out, then no one can pass you or there's no room to move," says Richmond.
General rule: 36 inches on the ends and 42 inches between the working counters should provide you with enough space to move around and open drawers.
Mix and match
Although a home's style mostly dictates the style of the island (picture a cottage-style island in a modern home, for instance), you can still mix and match. A mid-century home's island will most likely have a starkly geometric look, but it doesn't have to be a blocky island. You can add floating shelves to lighten up the contrasts and colors. You can also be eclectic with your designs, but having a designer with knowledge will help you make better choices.
"There are so many ways to style an island. You just need to balance it with the function of the island and its looks," says Richmond.
Are you ready for a kitchen island? We're ready to help you plan and design the best style and functionality for your kitchen. Our team of designers can provide the specs and best use of your space. Get in touch!