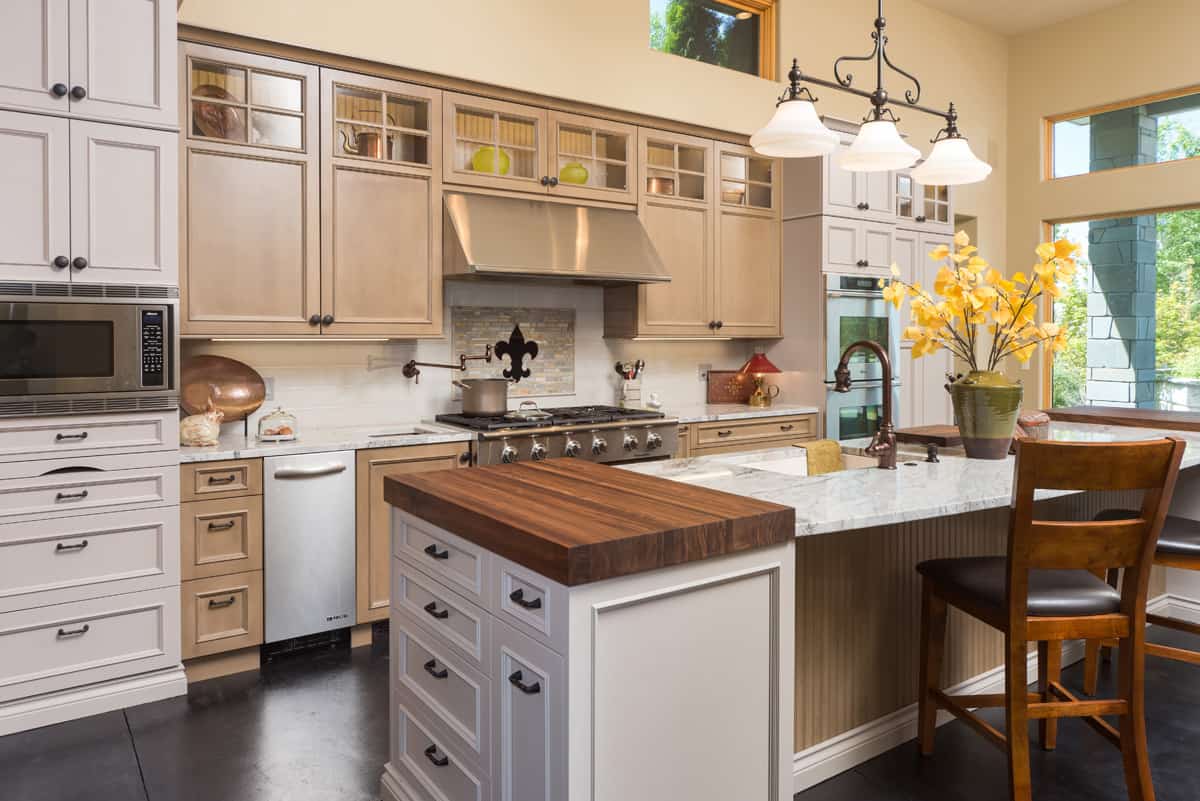 Above: Countertops with different surfaces and different heights make it more comfortable to carry out certain tasks.
Kitchens
What's new in kitchen accessories and styles
When it comes to kitchen accessories, form follows function — and this is true now more than ever. People are putting cutlery within easy reach. They're hanging pots over their heads to make the most of storage space. Floating shelves and exposed shelving are being incorporated so that everything can be located quickly.
Kitchens are evolving. From simple sinks to super-functional pantries to uber-smart faucets, when remodeling or designing your kitchen you have more opportunities than ever before. Here are four popular accessories across the Pacific Northwest.
Think sinks
When you talk kitchens, you can't not talk about sinks. You also might be surprised at how many options you have these days. Sinks used to be white, traditional styles, but today's options include stainless steel and modern styling.  
"In the Pacific Northwest, where gardening is huge, there's a trend to increase the size of sinks that incorporate their own built-in strainers, baskets and cutting boards, which are perfect for prepping all of that food that we're bringing in from our gardens," said Stefanie Rotella, Design Consultant, Neil Kelly.
There's a shift around how people think about the sink, too. "It's not just a bowl you fill with water anymore," said Joss Mallett, Design Consultant, Neil Kelly. "For example, farmhouse sinks let you get closer to the task at hand, and ergonomically they're much more functional than the traditional bowl." This means less difficulty — and less splashing — when reaching into the sink or washing dishes.
Counter accessories
One accessory that's popular across the Pacific Northwest is a composting area built into the kitchen. It recesses within the countertop, with a flush lid located near the sink. "You open the lid, put the contents in, and then you can take that bin out and put it into your larger composting pile. It allows people to compost a little bit easier," said Rotella.
Other accessories helping sink areas and countertops become more functional include chopping boards, drying racks and washing bins. In small kitchens, accessories like this are helping people take back some of their counter space that was otherwise lost to the sink. And they're getting smarter in how they use counter space.
"For a long time people thought they needed counters at a standard height," said Mallett. "Many of my clients are getting more educated about things like ergonomics. I'm seeing a return to things like having lower counters for rolling out dough and just better overall access."
The wired kitchen
First came the touch faucets, which you physically had to touch to turn on, but recently there's been a significant increase in fully touchless faucets. "Usually it just requires a waving of the hand past the faucet's sensor. Sometimes it's under the faucet, sometimes in front of it, and sometimes even above the faucet," said Rotella.
It goes beyond that, though. While not for everyone — many customers still prefer the standard, tech-free faucet — Kohler Konnect is a new technology that pairs faucets with phone apps. "You can put a pot under your faucet, then tell Alexa to fill that pot with six cups of water. Your faucet fills it to six cups, and then stops. It's amazing," said Rotella.
More storage and shelf awareness
As homeowners buy less fresh fruit and vegetables — often growing their own in the garden instead — "we're seeing a decreased size in refrigerators and the incorporation of smaller drawers which allow for those vegetables to be separated and easily accessed," said Rotella.
Also popular are refrigeration systems that have separated cooling zones. Instead of placing your fruits and vegetables into a crisper, you can put each item into a divided area that sets the perfect temperature. These same techniques are being applied to shelving and pantries. Each item has its own place in the kitchen, from measuring cups to canned goods. By knowing where everything is, cooks can be more efficient.
People want kitchens that are designed just for them, for their lifestyle, and even for their height. With accessories from filters built directly into the faucet to new looks in brass fixtures (the 80s are back!), the design possibilities are endless.
What kind of sink do you need? What accessories and fixtures will help your counters be more functional? Are you old school or cutting edge when it comes to faucets? We can help you decide what's best. Get in touch!