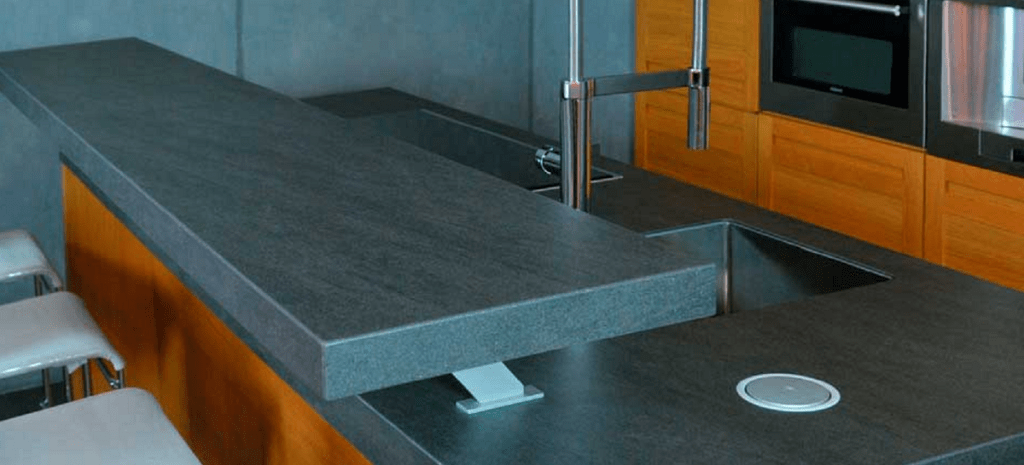 Above: Neolith Countertop.
Kitchens
Kitchen Remodel Idea: Neolith
We're always on the lookout for the next new kitchen remodel idea. Thanks to our friends at Precision Countertops we may have found the next design trend in kitchen countertops.
It's called "Neolith"–a lightweight, waterproof porcelain slab that seems to be practically bulletproof.
Don't take our word for it.  Check out this video.  This guy's either lost his marbles, or he's got a lot of confidence in this new material.
Neolith Kitchen Remodel Idea

Neolith is made up of natural clays, feldspar, silica and mineral oxides.  It is completely recyclable.  Due to its light-weight properties, Neolith is used for ventilated facades and curtain wall applications. It is easier to transport–leaving a smaller carbon footprint.  The Neolith site also lists the product as a perfect flooring material for heavy transit areas.
Big Hit at KBIS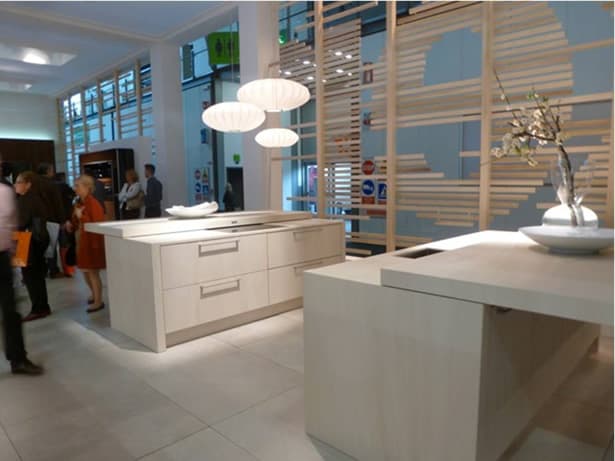 Several Neil Kelly Design Consultants attended this years' Kitchen & Bath Industry (KBIS) show, and two walked away with very strong impressions of Neolith.  Both Kristine LeVernois and Kathleen Donohue believe Neolith may provide a design solution for future clients. Says Kathleen: "It seems to finally answer that client question–what is the most indestructible, durable, and no maintenance countertop product out there?" She says, " We are planning to put some in our Seattle Design Center kitchen, so we'll really put it to the test."
Neil Kelly's Neolith Connection
Neil Kelly will provide Neolith through local Portland-area partner, Precision Countertops.  The Tualatin-based company opened its doors in 1987, and maintains a reputation for quality products and attention to customer care.  Precision has sales and service locations in Bend and Medford, Oregon, as well as Kent, Washington and Temecula, California.  The company also imports stone from Italy, India, Brazil, and Russia.
Check our photo gallery for more kitchen remodel ideas. Ready to get started on your own remodeling project? Contact us today.