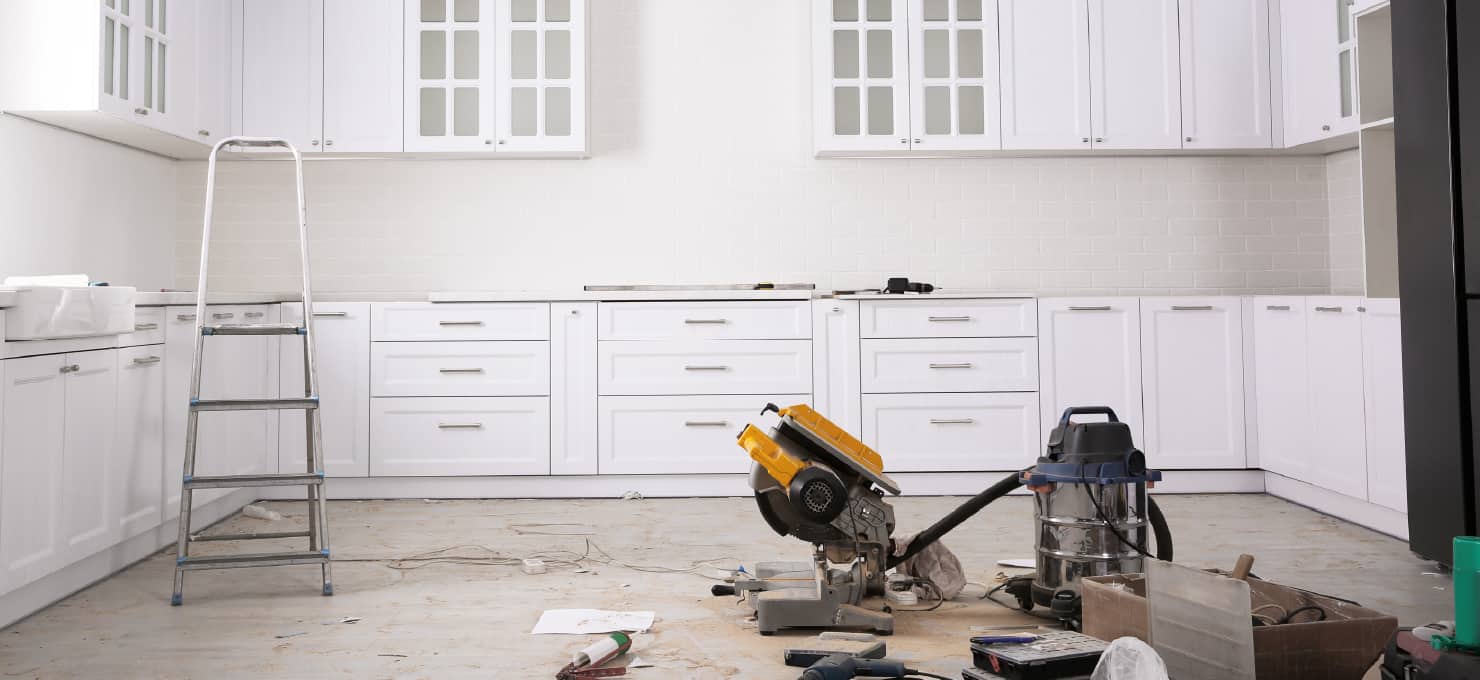 Interiors
How You Can Live in Your Home During a Remodel
A home remodel is an exciting venture, ultimately resulting in an updated space with better functionality and visual appeal. But it can also be a stressful time, especially when the project is taking place in your main living spaces.
Depending on the scope of the job, a remodeling project can take anywhere from a few weeks to several months. This leaves many people wondering if they can live at home during a remodel.
Explore our recent design/build remodeling projects
Can You Live in Your Home During a Remodel?
The short answer is yes! You can absolutely live in your home throughout the duration of a remodel.
For many homeowners, this is the most realistic option. As noted, projects can take many weeks or months, and it may not be possible or financially feasible to relocate for that long. Our team will talk about your family's options during the planning phase of our process.

Tips for Living at Home During a Remodel
Homeowners definitely don't need to move out while their houses are getting remodeled. Having said that, some projects will be much less disruptive to your day-to-day life than others.
If you choose not to find a temporary place to live during this time, these tips can help you make living in your home during a remodel as smooth as possible.
We'll Make It Safe
Your home is technically a construction zone while it's being remodeled. So first and foremost, your Neil Kelly team will make sure living there is safe for the entire family. We will have clearly defined areas that kids and pets should steer clear of. And of course, there will be private areas of the home that we will never enter, which will always be free of tools, materials, or debris that could be dangerous or pose a health risk.
Designate Livable Areas
If your living room is being remodeled, you'll want to designate another main gathering space, like a den or dining room, until the project is finished. Or if you're updating your primary bedroom suite, you'll want to move your bed, clothing, and bathroom items out of that space for the time being.
Even if you do a whole-home remodel, there's a good chance the rooms won't be renovated at the same time. In any case, make sure everyone in your household is on the same page about where they can and can't be at each phase of your remodeling project.
Think About Your Daily Routine
Consider your routine and what spaces or items you need to access on a daily basis. Make sure you have all the necessities for eating, bathing, and getting ready for work each day. You may need to rearrange some things so they're easily accessible and out of the construction zone.
Consider Daytime Noise
Home builders usually only work during the day, so the noise shouldn't be disruptive in the evenings or when you're trying to sleep. But if you work from home, this could be an issue. In that case, you might think about moving your workstation elsewhere until the project is complete.
Plan Ahead for Meals
Kitchen remodels are arguably the most inconvenient for people living in the home. Of course, you can eat out at restaurants or order delivery, but this may not be the most convenient or cost-effective.
We'll help you create a temporary kitchen while your real kitchen is being transformed by moving a table and possibly some shelving to a specified area to act as a countertop and storage. If your refrigerator and/or microwave are being replaced, we'll set up your existing ones in this space for temporary use. Add to that a hot plate and a coffee maker, and you're sure to make the best of this inconvenient time. When all is said and done, we'll also help you dismantle your temporary kitchen and take your old appliances away.

Should I Move to Temporary Housing During a Home Renovation?
You could move to temporary housing during a remodeling project, but you certainly don't have to. If the upgrade is going to take several weeks or months, it might be best to just plan ahead and make the most of living through it.
Having said that, going on a conveniently timed vacation can make the project go by faster and keep you out of the house for a week or two while the builders work.
Schedule a Consultation with Neil Kelly Today
Neil Kelly's design/build remodeling professionals specialize in kitchens, baths, additions, conversions, and custom whole-house renovations. During the planning stage, we'll work with you to figure out which parts of your home will be usable during construction and what accommodations you might need to make throughout each phase.
Contact us today to talk about your home remodeling project.