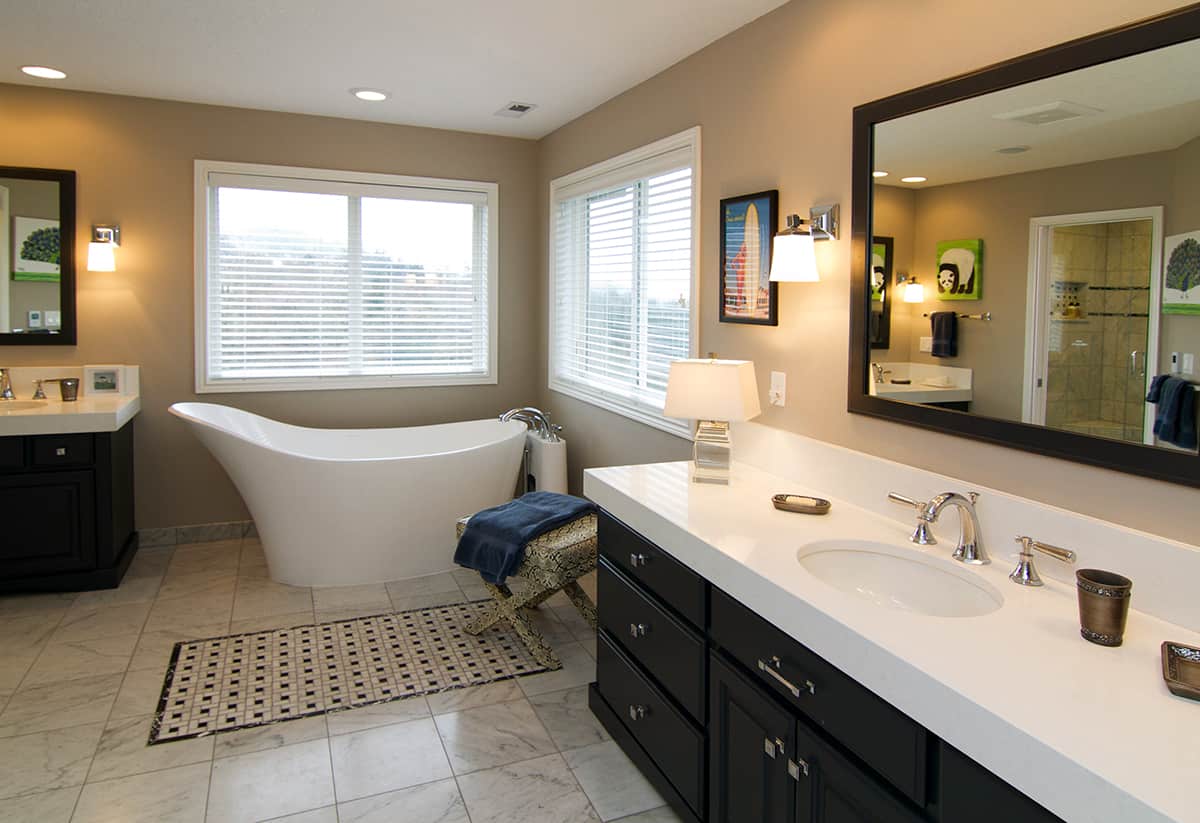 Above: This bath uses natural light flowing in from the windows to bring a sense of the outdoors inside.
Bathrooms
Designing The Ultimate Luxury Baths
People tend to think of bathrooms as purely functional spaces, but modern baths are playing multiple roles for homeowners. From spas to retreats to wellness centers and even technology hubs — luxury baths are more functional and beautifully designed than ever before.
"People live stressful lives. Rather than leaving the comforts of their home to pay for a spa-like experience, homeowners are creating luxury baths," says Neil Kelly Design Consultant Bettina Rasmussen. "It's a trend we've noticed, primarily in master baths, over the last four years."
Here are eight tips to help you create a truly lavish space.
Lighting
Lighting is very important, whether it's for reading while soaking in the bath or getting ready for the day. While accent lights allow you to create a soothing atmosphere, it's also important to have sight lighting on your face. "Good lighting gives you an instant facelift," says Rasmussen. "It helps you look and feel your best." When possible, take advantage of natural lighting and "bring the outside in" with plants that appreciate warm, humid atmospheres.
Toilets
Choose a piece that's elongated with a higher seat for ultimate comfort. Other luxury features include heated toilet seats, bidets and toilets that flush with the simple wave of a hand.
Mirrors & Vanities
A good mirror has multiple functions. It can reflect natural night, give the illusion that the room is larger and serve as a decorative statement piece. Mirrors with integrated LED technology can also help give a crisp and bright light to the room. Uniquely shaped vessel sinks and contemporary lines are popular on the vanity. Porcelain, large-format tile and solid stone are ideal for countertops, no matter the configuration.
Showers
When it comes to extravagant showers, the sky's the limit! From steam showers to digital controls to strategically-spaced shower sprays for the back, neck and legs, smart bathroom technology makes showering even more relaxing than ever before. Spa-like showers are often curbless and feature a fixed shower head, a handheld shower head, seat, digital controls and linear drains. One unique shower experience involves chromatherapy, which is a lighting system that infuses the space with color. Different hues are known to create different effects — for example, red is stimulating and blue is calming.
Storage
It's hard to relax in a space that feels cluttered. Custom cabinets and storage solutions, including tilt-out hampers, vanities and electronics charging stations will keep countertops free of clutter.
Bathtubs
"Contemporary soaking tubs are more popular than jetted bathtubs these days," says Rasmussen. "We're also seeing unique shapes like ovals and squares." Freestanding tubs add an air of luxury to the room, but don't forget to create a space that can hold candles, wine glasses or essential oils. You can even mount a TV that can be seen from the bathtub or vanity, and incorporate waterproof speakers so you can hear your favorite shows or music in the shower. Like their shower counterparts, KOHLER also has a chromatherapy bathtub.
Radiant Heat
Heated floors and towel warmers give an extra special touch, particularly during chilly seasons!
Technology
When set up properly, your luxury bath will do the work for you. Waterproof iPad cases are ideal for controlling smart bathroom technology apps. Apps can control your radiant floor heat, shower head settings, television, waterproof speakers and more.
"Luxury baths will become more and more popular as homeowners continue to seek refuge in their homes from day-to-day stressors," says Rasmussen. "If you're not sure how to create your own personal sanctuary, start by creating a wish list and developing a budget."
Ready to create the ultimate spa experience in your own home? Contact our Design-Build Remodeling team to create a space that's uniquely yours.