Kitchen Projects
North Eugene Kitchen and Makerspace
North Eugene Kitchen and Makerspace
This Eugene, Oregon kitchen remodel and makerspace upgrade is strikingly modern with bold yet versatile touches. With more than 20 years of experience designing homes and a keen eye for color application, Neil Kelly design consultant Kathy Hanson turned the dated space into a contemporary jewel box that meets all our clients' needs.
Design Objectives and Client Wishlist
To kick off the project, Hanson met with our clients to figure out their vision, goals, and priorities. Ultimately, they dreamed of a space that could accommodate not only daily meal prep and cooking but also working from home and entertaining guests.
Hanson explains, "They wanted better storage to eliminate their tendency to clutter and wanted a workspace in this room without sacrificing the ability to host small gatherings."
Multipurpose Space
Ample counter space

Open shelving and cabinetry upgrades

Functional WFH and homework zone

Better, more versatile lighting
Modern Aesthetic
Statement elements

Tasteful, versatile finishes

Storage solutions for a minimalist appearance

Cohesive but with designated zones
"The clients wanted a kitchen design that suited their more modern aesthetic, with some unexpected elements," says Hanson. "They both love gray and blue but didn't want to overdo it."
If you like modern interior design, check out this Northeast Bellevue Contemporary Kitchen project we completed.
Design Challenges and Solutions
While this residential remodel went smoothly for the most part, there were a couple of minor obstacles. When the kitchen sink didn't arrive on time, Neil Kelly's supplier pulled two alternate options. "The clients made a quick decision between those two, and the countertop templating proceeded without delaying the project," says Hanson.
Prefabricated desks were considered for the makerspace, but unfortunately, the lead time didn't align with the project's production schedule. Hanson and the client custom-designed a Decora workstation complete with dual desks and a chair return.
Additionally, the custom carpentry was a little tricky when creating floating shelves for the one angled wall. A slope was added to the ceiling to break up the sightline and make the space look more cohesive.
Upgrades, Customizations, and Special Features
Every family is unique, and as such, has different needs for its shared living areas. The upgrades for this particular project focused on optimizing space, enhancing functionality, and creating customized enhancements.
Optimized Space and Functionality
New stainless steel appliances

Touch-activated faucet

Storage for small appliances

Low drawers and trash pull-out

In-island charging station

Storage for files and project materials

Pull-out work surfaces for both desks

Integrated outlets for the makerspace

Functional and decorative light fixtures

Kitchen island overhang with stools
Creating storage solutions for small appliances supported the clean, contemporary aesthetic. This included a mixer lift for the family's 10-year-old daughter, who loves to bake.
Customizations and Enhancements
Custom hood extension

Designated coffee station with tambour-door garage

Under-lit floating shelves

Black-to-white gradient backsplash tile

No outlets on the backsplash

Strategically placed outlet for speaker

A daring desk color to make the workstation pop

White window treatments to blend with the walls

Simple brass pulls on all cabinets and drawers
Eliminating outlets on the tile backsplash made the kitchen look a little more seamless. Instead, two taskbars were installed under the lower floating shelves, with outlets and switches for the sconces and recessed lights. Additionally, the in-island charging station concealed outlets within their own drawer.
"I love the way the black and white tiles pick up and reflect the light and colors in the room," says Hanson. "And I was really pleased the clients were so willing to commit to the unusual desk color."
If you're drawn to midcentury-modern design, you'll appreciate this Central Oregon Custom Home.
Key Suppliers and Manufacturers
The cabinets, floating shelves, and desks were custom-ordered from Decora. We sourced the light fixtures from Hinkley Decorative Lighting and DiodeLED. The kitchen backsplash came from Cepac Tile, and the floors are Mohawk waterproof luxury vinyl tile. As for the appliances, we selected a Thermador oven, cooktop, and dishwasher and a Bosch Fridge.
Oregon Kitchen Remodel: Before and After
There's much to admire about this comprehensive remodel. It satisfied every objective and checked all the boxes on our clients' wishlist while creating a functional, beautifully modern space.
Considering a home renovation? The remodeling experts at Neil Kelly would love to hear from you. Contact us today!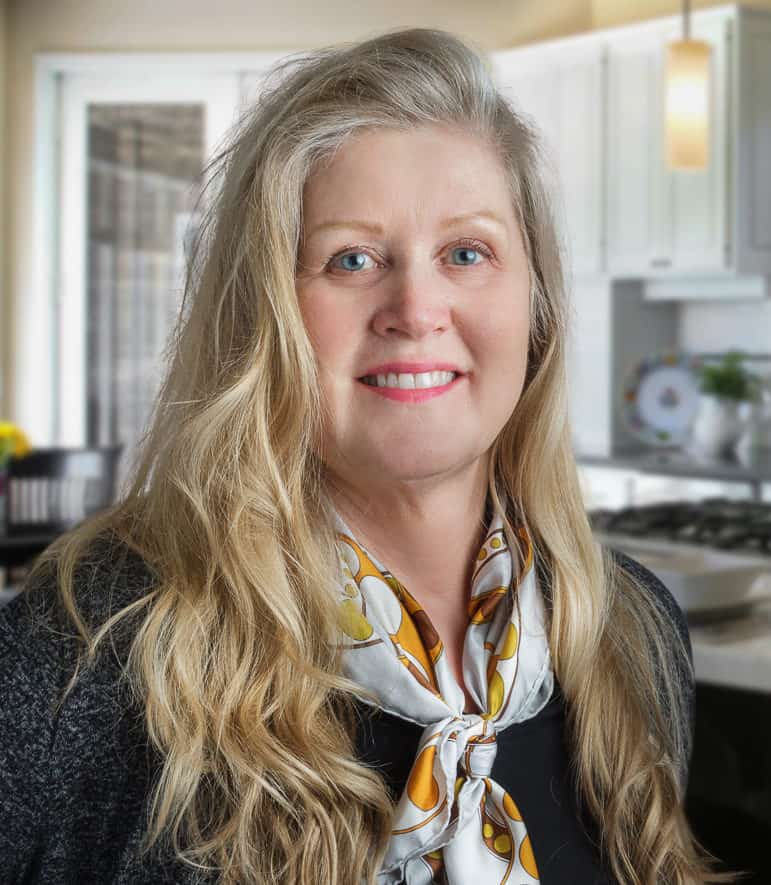 kathy hanson, Eugene Design Consultant
Kathy Hanson enjoys making clients' dreams come true. With over 20 years of experience designing and decorating residential and commercial spaces – in particular, a gift for selecting and applying color – Kathy brings a unique body of knowledge and expertise to every remodeling project. Her focus on quality and attention to detail results in gorgeous designs that are perfectly suited to each client. Backed by a top-notch team of Neil Kelly design associates, project managers and craftspeople, you can rely on Kathy to show you what's possible in your home… maybe even make it the home of your dreams.
View Kathy's Houzz portfolio and read client reviews.
SCHEDULE A CONSULTATION >