Kitchen Projects
Northeast Bellevue Contemporary Kitchen
BELLEVUE KITCHEN REMODEL
A walled-in galley kitchen transforms into a glorious open kitchen in this Seattle-area project, which includes a large island, eating nook, fireplace and more.
When these clients wanted an open kitchen that offered a sleek, contemporary look, they asked Neil Kelly's design team to help reimagine and modernize their kitchen and living spaces.
"They were drawn to an all-white color scheme, but love the black island and stunning light fixtures that offer contrast and dimension," says Anne Bauer, Neil Kelly Company design consultant.
Design Objectives
The homeowners wanted to transform a dated kitchen into an ultra contemporary sanctuary. They were drawn to clean lines, minimal detailing and wanted to create as much storage as possible, to help eliminate clutter. Ample functional storage completely eliminated clutter.
Design Challenges
Bringing this 'open concept' to life literally meant opening up the walls between the kitchen, living and family areas. This required structural engineering and some creative framing. Additionally, a path for new ducting was created for the recessed vent hood at the center of the island. Achieving the sought-after clean lines required exceptional carpentry and thoughtful product selections.
Design Solutions
This ultra minimalist kitchen was created by using white finishes, black accents and very clean lines in detailing. Multiple drawers and pullouts help deliver a high-level of utility to this stylish modern space.  "I really love how the range hood is minimized and allows the accent lighting to add visual interest. The range hood is almost completely hidden among white finishes which makes the black lighting feel like a sculpture," shares Anne.
Special Features
Eliminate Clutter: One space-saving feature also helps eliminate counter clutter by tucking away everyday appliances. This specialty 'lift up' cabinet hardware allows small appliances to be tucked away, yet easily accessed, when needed.
Stay Connected: Flush outlet and USB charger adds function to island, helps meet code requirements, and hardly shows on cabinet panel.
Add Storage: Touch release drawers under bench seating provide additional storage for 'occasional use' items.
Thinking about renovating your space or want kitchen ideas for your next project? Get in touch with the remodeling experts at Neil Kelly today.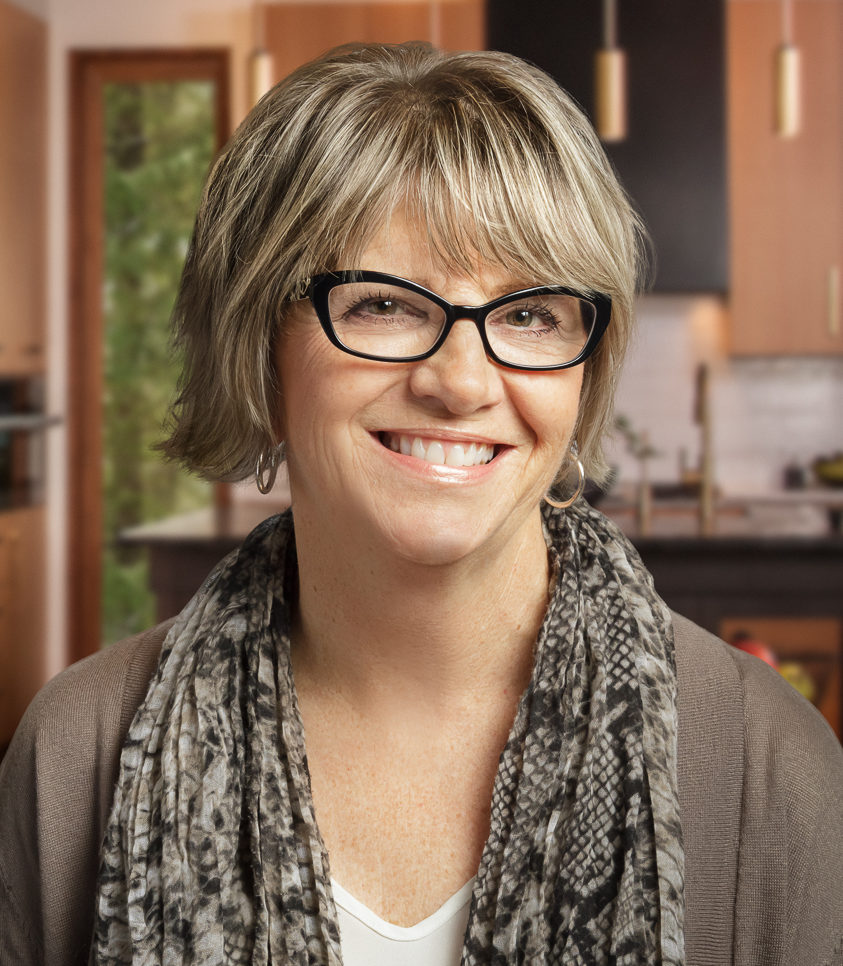 anne bauer, Seattle Design Consultant, CAPS, CGP
Anne Bauer brings over 25 years of interior design experience to her clients. With a diverse background and style — from hotels and country clubs to custom residential and estate design, as well as countless 'fixer' renovations — Anne's focus is to bridge the gap between what happens in the design studio and what gets built on job sites.
Anne especially enjoys residential design because she gets to experience her clients' delight in the spaces they create together.
View Anne's Houzz portfolio and read client reviews.
SCHEDULE A CONSULTATION >