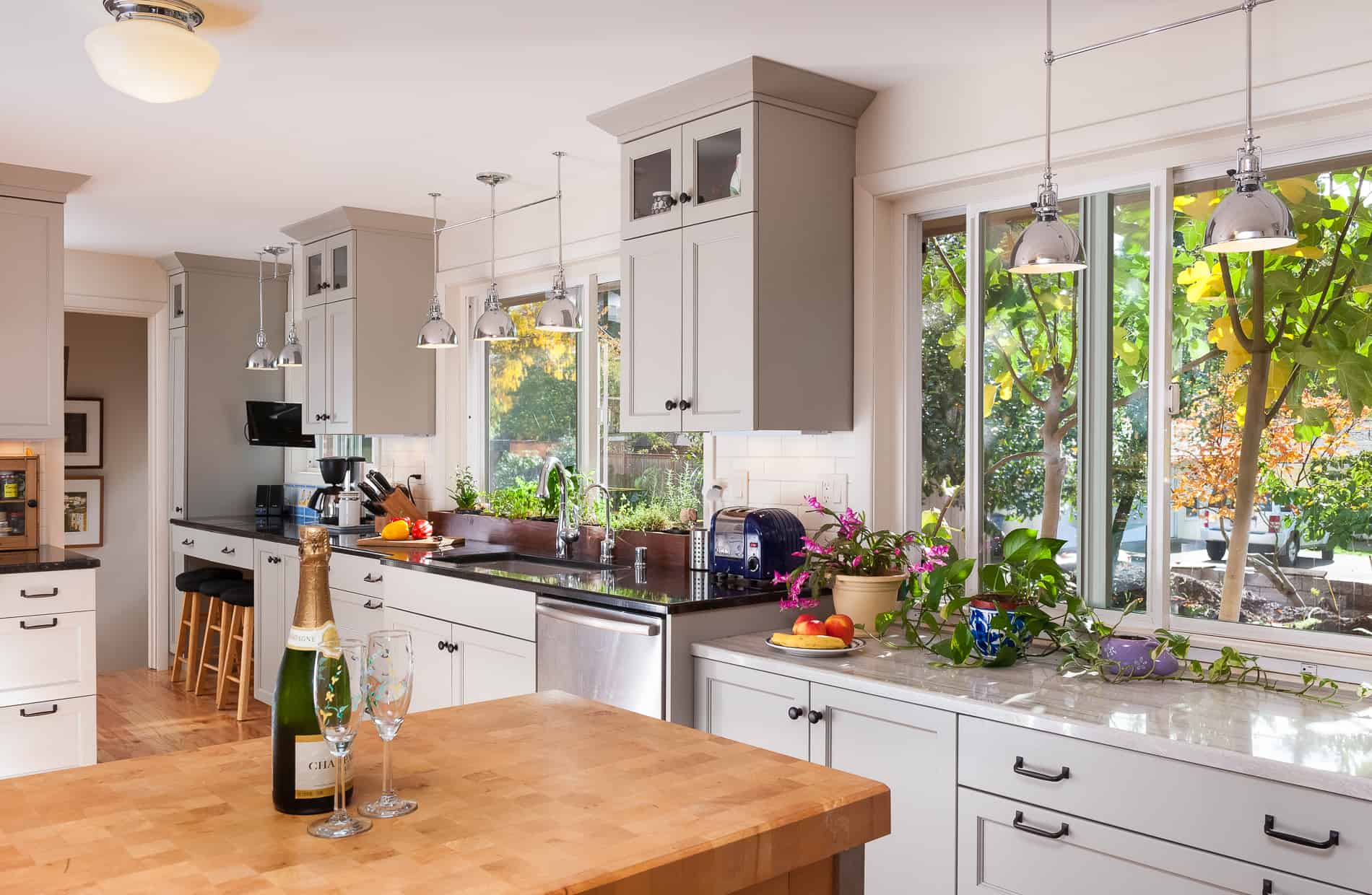 Above: A remodeling project should not be improvised along the way. Neil Kelly's design-build process, developed over more than 70 years, helps to ensure successful outcomes for homeowners.
Exteriors
|
Interiors
Planning Your Remodel: How We Work
Whether you're doing a whole-house remodel, remodeling a kitchen or getting a new deck installed, our design-build and home improvement process ensures that you get just what you envisioned. We ask detailed questions, and with your answers we work to deliver the project you've always wanted.
Your Needs Come First
Every project starts with discovery. This can happen in the comfort of your own home, or in a Neil Kelly Design Center. During this visit, we want to hear about your needs, timelines, budgets and goals. What's motivating you to remodel? What are you concerned about? What's most important to you?
"It's really helpful for me before the visit that clients make a list of priorities," says Karen Richmond, Neil Kelly Design Consultant. "It lets me look at the feasibility of a project; how we can architecturally tie it in so it looks like it was original to the house, or how we can maintain consistency between exterior and interior spaces."
"It's also important that the communication style is working," Richmond adds, "because any remodel project should be a pleasure to do."
Discovery Meets Design  
Once your team has met to review the preliminary plans, we dig into the details. In design meetings, we work together with clients to review plans and renderings, discuss products and materials and talk plan options.
"When I work with somebody who hasn't gone through our design-build process, they're used to being a do-it-yourselfer. They ask 'Where do I need to go to look for samples?'" says Richmond. "I'll respond with: 'Do you want to do the shopping or do you want me to bring ideas to you?' And they usually answer with 'Oh, you'll do that?'"
This collaborative process helps you maintain your vision for the project from the very beginning. "I had a client this morning that chose from three sets of materials that she honed in on right away," says Richmond. "She left feeling confident about it, and she won't be second guessing herself."
To ensure clients get a sense of what the design will look like in person, Neil Kelly does a job-site walkthrough with the project manager and tradespeople involved. This also eliminates any surprises during the construction process. "Everyone's going to see your home and troubleshoot," says Richmond. "If the electrician needs to have a wall opened up to bring wires to the second floor, we're going to know that. When the drywaller comes after them, and the painter comes after that, we can tell them where to patch and where to paint."
Planning and Construction
Most of our planning happens behind the scenes. You may not see or hear from us all that much, but there's a lot happening — scheduling, ordering, obtaining permits. As the process moves along, you'll realize the benefit of having a single, dedicated point of contact.
"The biggest piece of planning is the scheduling," says Richmond, "because we have to know when our materials will be on hand. We don't want to start until they're available, then we have all of our tradespeople buy into the schedule."
Once planning is complete, you'll get a start date and a written construction timeline. "We're going to do all we can to hold to that timeline," says Richmond. It's an integral part of maintaining the trust we develop with our clients. "We've even had clients go away while we do the construction. They know everything is documented and we're going to build it the way it was all planned."
While you may not be ready to leave your home alone, our design-build process ensures that your remodel is in good hands — and our five-year service guarantee makes sure it stays that way.
Ready for a remodel? Our design-build process helps bring your vision to life. We offer a streamlined, start-to-finish process that lets you enjoy your new space in comfort and confidence. Get in touch!