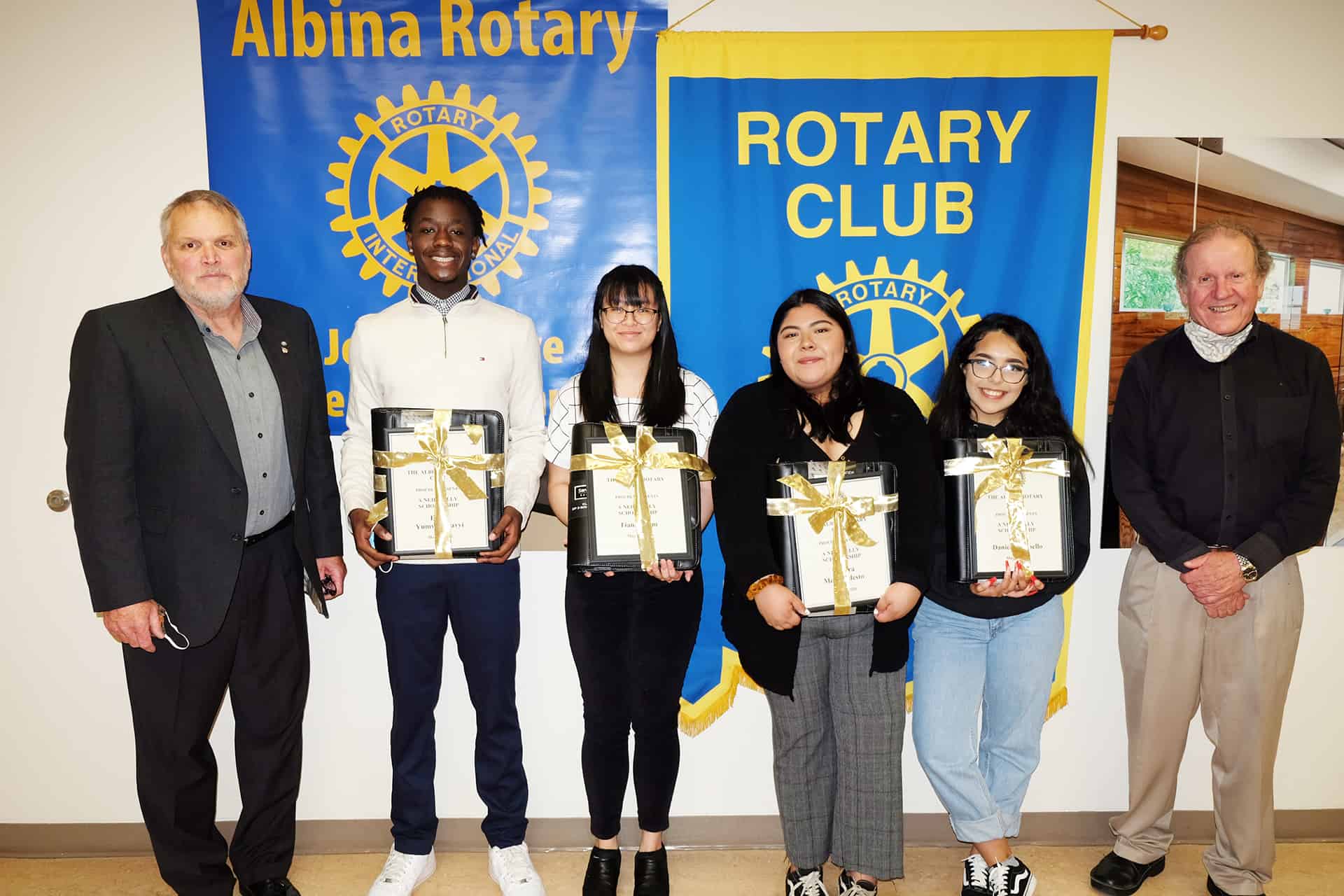 From Left to Right: Scholarship Committee Chairman Byron Kellar, Emile Yumvirabasavyi, Tiana T. Pham, Yajaira Meza Modesto, Daniela Y. Carballo-Rodriguez, Neil Kelly President Tom Kelly
News
Portland Seniors Awarded Neil Kelly Scholarship
For 23 years, the Rotarians from Albina/North Portland have awarded the Neil Kelly Memorial Scholarship to deserving local high school students. This scholarship honors Neil Kelly for his dedication to community service, his advocacy for North and Northeast Portland neighborhoods, his business ethics, and his vision for accessible education.
The four local graduates will receive a $12,000 scholarship ($3,000 for four years).
"This year's scholarship winners embody the characteristics that Neil stood for," states Byron Kellar, Neil Kelly Memorial Scholarship Committee Chairman. "They are all family oriented, hardworking, successful, community focused, selfless and caring."
Meet Daniela Y. Carballo-Rodriguez: Roosevelt High School
Daniela shared that "Investing in the diverse community that I live in has been the best experience." Not only did Daniela work hard in school — as captain of the volleyball team, student body and leadership, leader in the Roosevelt High's Climate March – she also worked every weekend to contribute financially for her family. With the help of the Albina Rotary scholarship, Daniela will attend Portland State University where she will pursue a nursing degree.
Meet Emile Yumvirabasavyi: Jesuit High School
Emile is devoted to his family, spending much of his free time caring for his five younger siblings. Besides taking college preparatory classes at Jesuit, Emile qualified and competed at State in the Triple Jump, assisted with the Multicultural Assembly and is an active member of the Young Men of Color Club. With the help of the Albina Rotary scholarship, Emile will attend University of Oregon where he will pursue a degree in Psychology.
Meet Tiana T. Pham: Benson Poly Tech
While being an outstanding student, ranked #1 academically at Benson, Tiana also volunteered in her school and community (North Portland Library, HOSA Club, Freshman Mentor). An accomplished pianist, Tiana has taught at the Ethos Music School for underprivileged children. A first generation Vietnamese-American, she plans to help underserved communities when she is a dentist. With the help of the Albina Rotary scholarship, Tiana will purse Biology/Pre-dental studies at University of Oregon.
Meet Yajaira Meza Modesto: De La Salle North Catholic High School
Yajaira will be the first in her family to attend college. Yajaira gives back to her community by volunteering at multiple organizations such as Rehab's sisters, LULAC and De La Salle's Latinx Club. Throughout these experiences she has been able to support women marginalized by poverty, educate peers on social justice issues an advocate for legislative changes. Yajaira was inducted into the National Honor Society and the Spanish Honor Society. With the help of the Albina Rotary scholarship, Yajaira will purse public health at University of Oregon or Oregon State University.