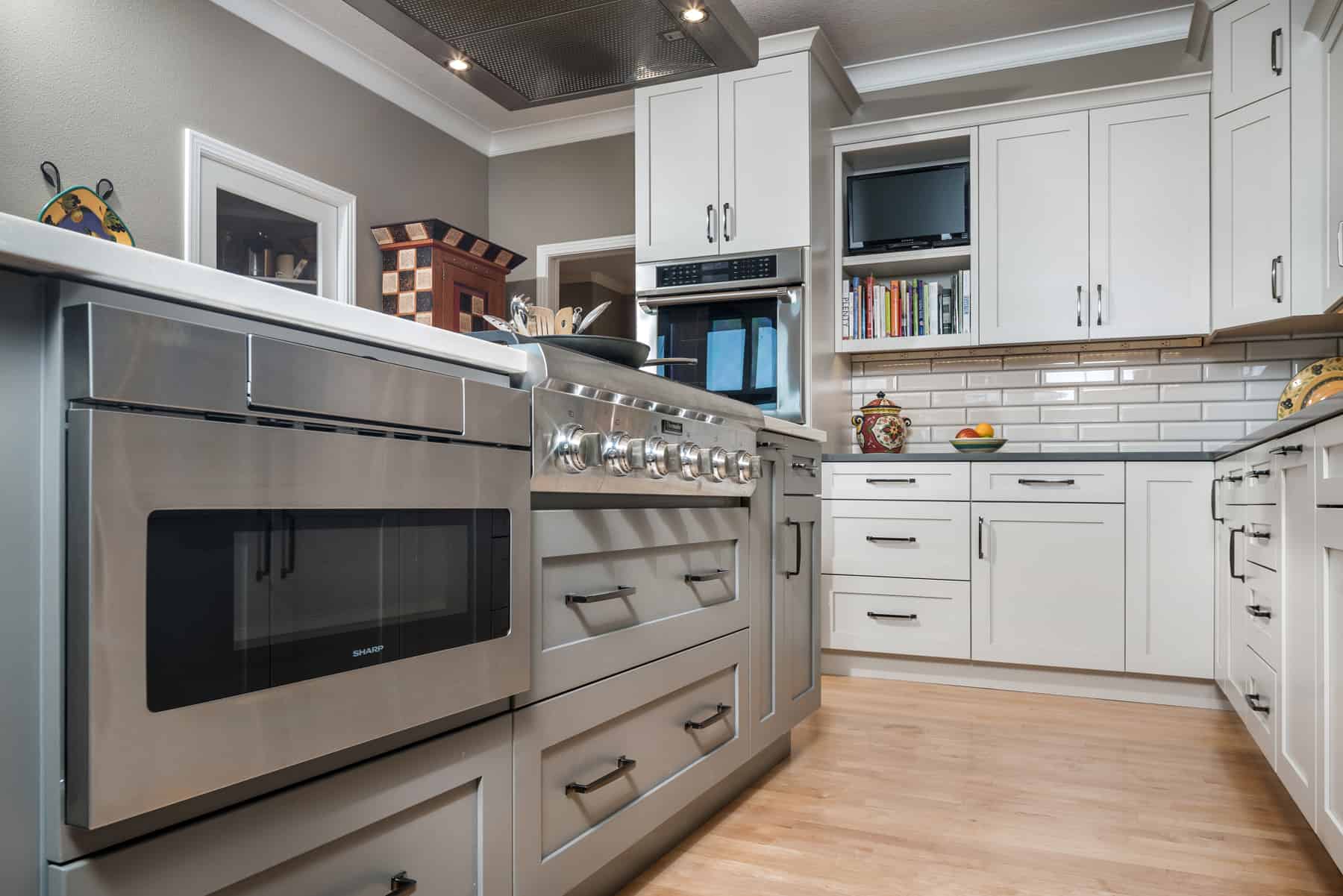 Exteriors
|
Interiors
How Much Does A Home Remodeling Project Cost?
How much does a home remodeling project cost? The answer is: It depends.
Many individual pieces go into a home remodeling project, from everything you can see and touch to everything that has to function behind the scenes, like heating, plumbing and electrical.
After nearly 75 years of remodeling homes throughout the Pacific Northwest, and working on projects of all shapes and sizes — from kitchens and bathrooms to additions and custom homes — one thing we can tell you for sure is:  Every home is different.
That's why we work so hard to understand homes and homeowners before we begin a project.
Scope
Scope affects job cost. How big is the job going to be? Are we doing a cosmetic refresh? Are we pulling and replacing a key feature like cabinets and countertops? Or are we doing a custom kitchen design that opens into the living room? The amount of space and structure we touch is going to impact the budget.
Materials and Appliances
Material and appliance selections also affect job cost. Do you want to preserve the look of your kitchen with classic, timeless materials, or do you want to make a statement with a one-of-a-kind artisan countertop? Do you want to swap out a standard range, or do you want to install an industrial cooktop suited for a professional chef? These decisions are going to have a big impact on your bottom line.
Location
Location affects job cost as well. In general, construction costs are higher in large cities. Construction costs also add up when labor, materials and supplies have to be transported to a location that is difficult to access.
On one of our recent projects, every piece of a large kitchen — from tile and flooring to cabinets and appliances, plus the labor needed to put it together — had to be transported to the job site by ferry boat! (The project turned out great, by the way.)

Cost Vs. Value Report
As you begin researching your options on a remodeling project, you may still find yourself asking, "What is the ballpark cost for a midrange kitchen remodel?" or, "How much will it cost to update a master bathroom?"
One way to get a sense of cost is to look at the annual Cost Vs. Value Report published by Remodeling Magazine. This excellent third-party study breaks the country down into regions, and shows the average cost for different kinds of remodeling projects in those areas. It also compares job cost with the resale value you might expect to receive after you've done a particular kind of project.
Keep in mind these figures only include raw construction costs; they don't include design and project management.
Speak with the experts
Another way to find out about cost is to talk with us!
A complimentary consultation gives us a chance to learn more about you and your home. Our design/build process gives you the ability to see how your choices affect cost before construction starts. In the end, our goal is to help you make the very best decisions you can for your home, and match your needs and desires with a budget that works for you.
Do you have a home remodeling project in mind? Our expert designers are ready to help you make the home of your dreams a reality. Connect with us today!