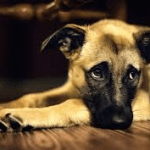 Interiors
Remodeling For Your Pet
Let's get one thing straight: You pay the mortgage, you select the paint colors, and you get the pleasure of hauling the garbage cans back and forth from the curb. But don't kid yourself. Your dog owns the house.
Yes, he comes when you call him (if there isn't a delectable squirrel halfway up the fir tree), his love is unconditional (as long as your food budget is expendable), and he will even pretend to listen when you tell him to get his enormous head OUT of the garbage can (unless someone carelessly left some BACON in there).
But that dog—YOUR dog—is king, ruler, and commander of the universe.  So lets' at least give him what he wants. Neil Kelly Design Consultant David Ewing recalls a job where his client was a cardiologist with two Great Danes. "He loved those dogs so much we took a back room and transformed the whole space into the dog room—just for the dogs." Said Ewing, "the owner would have to be in surgery sometimes for days on end, so we had a water closet installed so it was easier to dispose of the waste (and no, they did not train the dogs how to use the WC)."
But Ewing wasn't done there. "I lowered the sinks so the dogs could reach them and then installed motion-sensitive faucets, so the dogs would always have fresh water", said Ewing. "Then he had me reduce the height of the shower and increase the height of the tub so it would be easier to give the dogs a bath."
Neil Kelly Design Consultant Randi Reed one time had a client who liked to rescue unwanted dogs.  Over the last ten years or so she has rescued over 300 dogs, most of who came through her home at one point. "The goal for this remodel was 'dog friendly'," says Reed. "All of the materials chosen were low maintenance including tile floors throughout.  The home is out in the country, so – as those of you who are dog owners already know — a fair amount of mud just happens to find its way inside."
Reed said, " We needed to install a stainless steel shower with a hand held wand that also doubles as a planting area or boot washing spot."
DON'T FORGET THE FELINES!
Don't worry, cat lovers, how could we ever forget you?  From the advent of the misused office laser pointer to the old standby feather-on-a-string we realize that keeping kitty happy spreads many happy rewards (and makes the couch legs last longer, too).  One popular trick to keep kitty happy is cat tunnels.  Whether it's a simple tube around the couch or an elaborate monorail system that moves from one room to another, it's a way to keep your cat occupied.   Other popular options for cats are disguised litter boxes (actually, this one is good for the master as well).  Some new litter boxes can even be plumbed or disguised to look like a piece of furniture.
YOUR PET: FILLING SPACE IN YOUR HEART, CREATING ROOM IN YOUR WALLET
If all of this seems a bit much, consider  these fun little facts.  Nearly 63% of Americans own at least one pet—that's 71 million homes.  On average we spend almost $700 annually on a dog and $670 per year on each cat.
And I hope you're holding on tight to your chew toy for this tidbit:  The amount we spend on our pets annually:  $50 billion dollars.
These are just a few examples of the care and attention to detail that goes into every Neil Kelly project — whether your house guests have two legs or four! Find out how we can customize your home to fit your unique lifestyle.