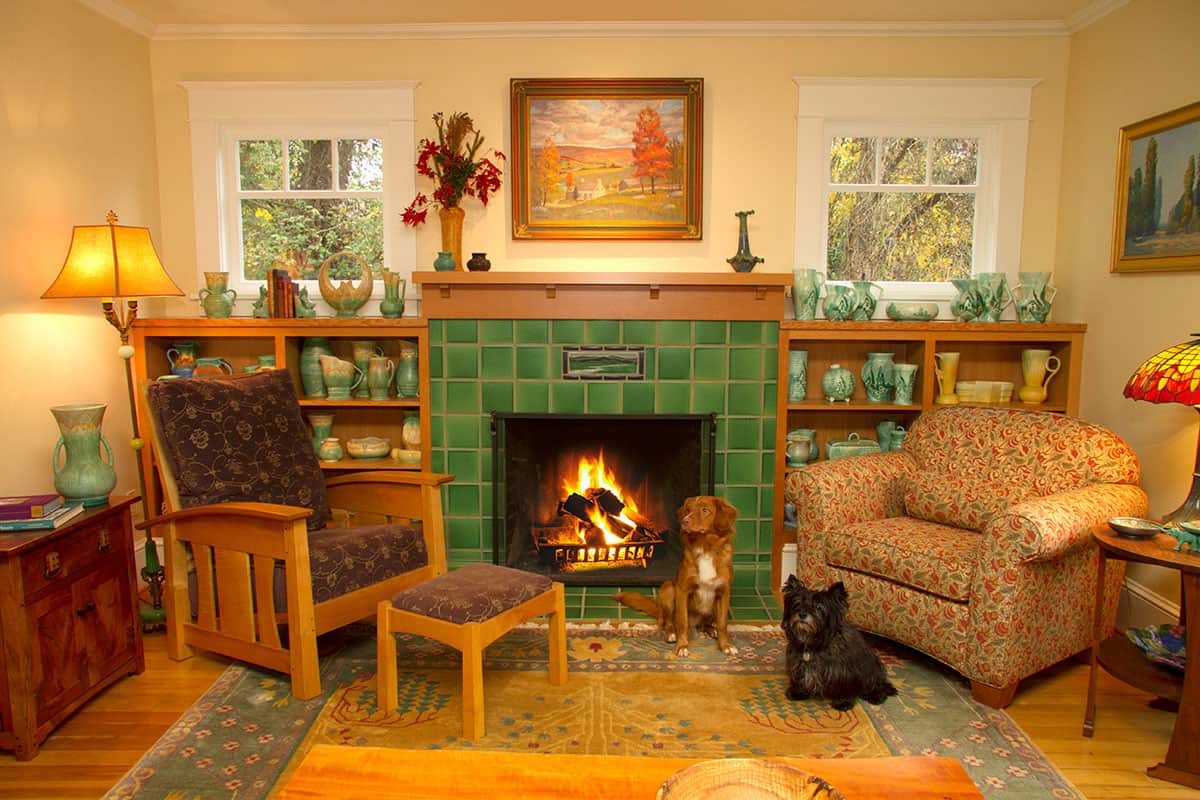 Above: Good remodeling should include comforts for all creatures --- even kids and pets.
Interiors
Remodeling For Kids and Pets
If you have kids or pets in your home, don't forget about them when you start a remodeling project. Neil Kelly's expert designers can help you transform your space into the perfect family home. Here are some tips when considering your beloved two- and four-legged family members during the remodeling process.
Easy Access to Dishes
To encourage your kids to participate in the kitchen, try storing your dishes in a drawer with a pegboard bottom and specially shaped pegs you can position and cradle around your plates and bowls. This allows young children to independently set the table. "It also works well in kitchens that don't have a lot of wall cabinets or wall space, especially when a lot of that wall space is occupied by windows," says Neil Kelly Design Consultant Karen Richmond.
Enclosed Feeding Stations
In almost any family kitchen it seems that there's a pet and a bowl for it to eat from. Often, these bowls are in the middle of high-traffic areas and can be stepped on or tipped over easily. Fortunately, there are ways of building a recessed area under a counter or under cabinets, where the pet's dishes are out of the way. "That's one of the biggest complaints I hear from people with pets in the kitchen — they're always in the way," says Richmond. "This lets your pets socialize with with you but keep their eating out of the way."
Pet Nooks
If you own a pet, there's a good chance they tend to follow you around the house. If you set limits and train them early (good luck training a cat), you may get them to stay out of the kitchen, but when remodeling it can be helpful to consider installing an enclosed space or bed under a window seat. Dogs and cats like to curl up in spaces like these so they can keep you company.
Steel Baths with Mud Room
Pet grooming can be expensive, and if own two or three big dogs, grooming costs add up fast. With a mud room and stainless steel tub that you can walk up in or a walk-in shower that's big enough for both of you you can clean the dogs yourself, especially after a muddy, rainy-day walk.
Bring Nature In
For both kids and pets, being in nature is important to mental well-being, and for blowing off steam. There are a couple of ways to incorporate nature into the home. "In older Portland homes, adding French doors to a deck outside the kitchen offers easy proximity, so cooks inside can see their kids (or dogs) playing outside," says Richmond. Strategically placed windows and doors can also provide good visibility of the yard, a comfort to parents who want to keep an eye on their kids and pets while they play.
Easy Fixes
A fresh coat of paint is one of the easier things to add to a kid's room to provide a fresh and fun new look. "That's the beauty of it. It really changes the room," says Richmond. Other quick fixes to consider are a new comforter for the bed, perhaps a new rug, and some shelving. These simple things can really make a room look different.
New Spaces and Niches for Kids
Families change and children grow, so keep scale in mind when designing for kids. One recent project with a comfortably-sized attic had cozy niches under the eaves. Normally this would be used as storage space, but given that the family had a young child, Neil Kelly added a bed with carpeted walls and ceiling to one of the under-eave spaces. "It was scaled for the kid's size and kids love those little spaces where they can crawl into," says Richmond. "It was a really fun space, and in the future the homeowners can install doors over those niches for hidden storage."
Whether you have a pet, a child or both, creating new spaces or including them in your remodeling plans can be fun and useful. And, as they grow older, these same spaces can change with your growing family.
Remodeling? Don't forget to include other family members, including cats, dogs and kids. There are simple ways that our designers can help make your home comfortable for everyone. Get in touch!