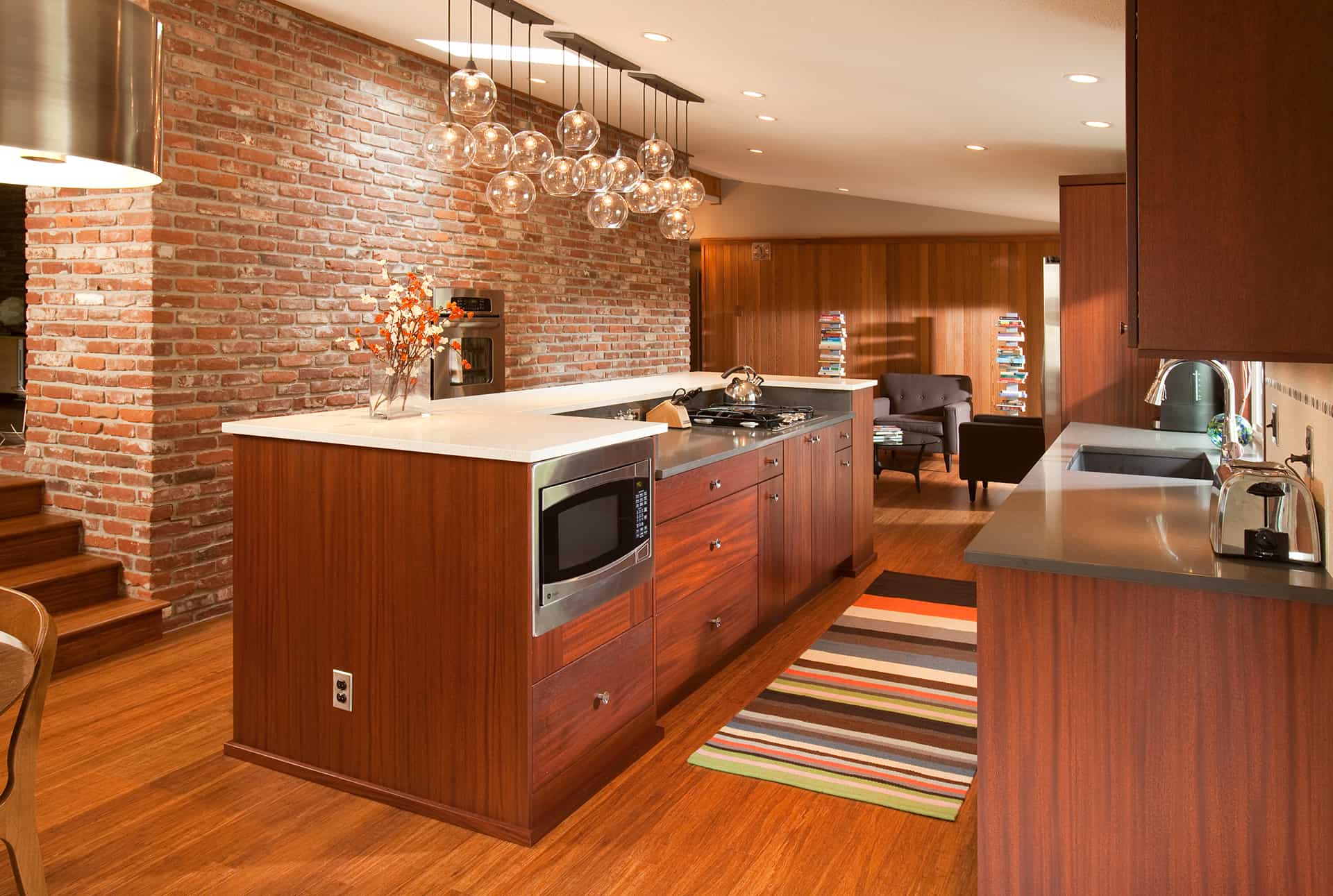 Above: This Mid-century kitchen features clean lines and rich wood surfaces.
Interiors
Vintage Looks And Styles Defined
How do you define a vintage home? Each one differs in their own way, but they all take advantage of past styles to add more interest to their spaces. From vintage colors and materials to design elements, many homes are taking inspiration from the past for their current remodels. Three types of vintage design are particularly popular right now: mid-century modern, vintage farmhouse style and vintage industrial.
Style 1: Mid-century and cool, clean lines
"The primary factor in mid-century modern style is the actual architecture of the home," said Stefanie Rotella, Design Consultant, Neil Kelly. Very often, mid-century homes feature vaulted ceilings with natural wood or painted beams. Part of incorporating mid-century modern design is embracing those elements.
"Typically, the kitchens and bathrooms we're designing within mid-century modern homes are going to have very clean, simple details. They are typically going to feature pops of color in very interesting, thoughtful ways," said Rotella.
Style 2: Vintage farmhouse (without the farm)
For vintage farmhouse styles, the blending of whites or off-whites with warm rustic woods is popular. "The wood can be incorporated in a butcher block, it could be reclaimed wood on the floor, or even floating shelves," said Rotella.
For cabinetry, homeowners often choose built-in units with decorative features like wainscoting that are both practical and stylish. For furniture, styles trend toward simple and sturdy, with the occasional ornate feature that highlights the craftsmanship of the piece. Instead of islands or peninsulas in the kitchen, some vintage farmhouse styles are bringing the table back into the kitchen, with a large, free-standing wood surface for both serving and prep work.
Style 3: Exposed brick for that vintage industrial look
Like mid-century modern, this style also leans heavily on the architecture of the space. Vintage industrial styling focuses on exposed building materials like beams and brick, incorporating these features right into the design.
"There's a lot of metals and reclaimed wood within industrial styles" said Rotella, "and spatially everything is open. You can see your pots and pans, you can see your cutlery, and it's easy and accessible to grab — it's all part of the design."
The design is in the details
When you think of colors, paint chips may be the first thing to spring to mind, but an important feature to remember when it comes to color in, say, a mid-century home, is the presence of lots of warm, stained woods.
"The colors of a space are going to interact with the color of the woodwork. Within cabinetry, within the walls, within the beams, whatever it may be," said Rotella. Mid-century colors, like light blue, teal and burnt orange, are usually bright and pop. "It's very intentional and very thoughtful, but a lot of it is focused on the existing style of the home."
Are you a farmhouse person? Mad about mid-century design? Maybe you like the exposed brick and industrial look? Let us help you find your style. Get in touch!