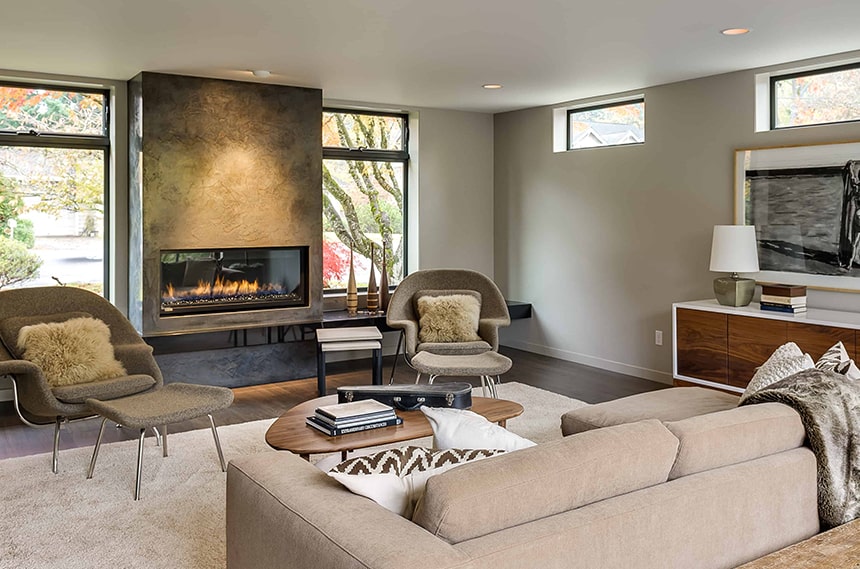 Home Fixes
Why Winter Is A Great Time To Renovate
The Pacific Northwest is known for having relatively mild winters most years, making the colder season an excellent time to renovate your home or start a new project. At Neil Kelly, we work on remodeling projects year-round in Portland, Bend, Eugene, Seattle, and the surrounding areas. We also offer Handyman Services to help homeowners near our Design Centers accomplish their home renovation goals. Here's why you should consider sprucing up your home this winter with the help of our team.
Reasons for winter home renovations
Many people save renovations for the summer, and there are certainly benefits to getting things done when you can count on sunny skies. But believe it or not, there are also many reasons to embark on winter home improvement projects when you choose to hire a professional handyman.
From October through March, you can usually count on:
-More available personnel
-Better scheduling options
-Quicker project permits
-Avoid peak seasonal pricing on supplies and materials
-The same great quality and service
Since you'll be spending more time inside during the winter, why not make it nicer? Some people opt to go on vacation while work is being done on their homes, so they can enjoy their updated space after returning from a getaway. Others choose to get a jump on springtime projects. No matter how you decide to handle your task, we're here to support you.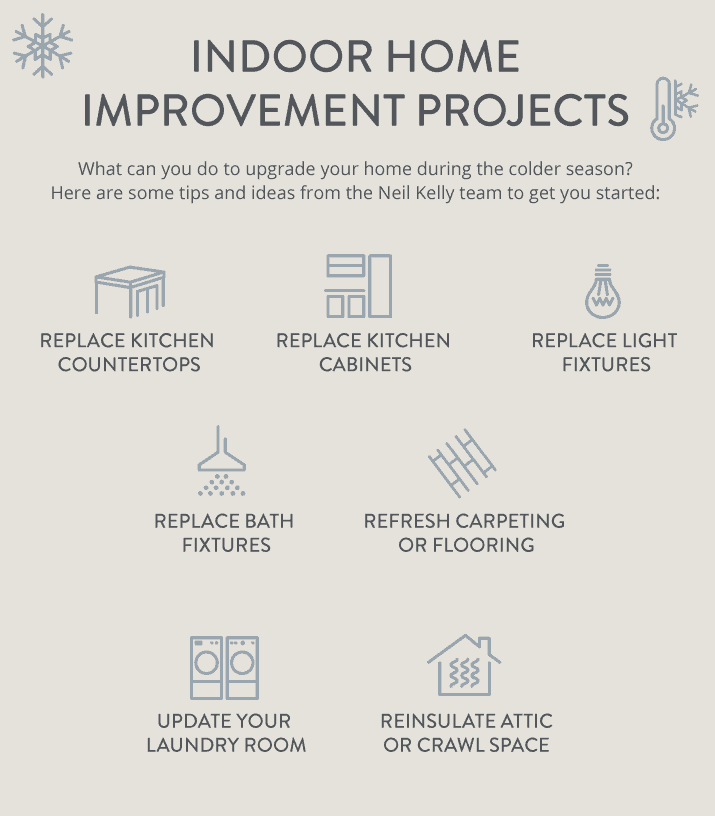 Indoor home improvement projects
So, what can you do to upgrade your home during the colder season? You might consider a kitchen renovation in the winter, or smaller interior projects, like new countertops, cabinets, fixtures, or flooring. Here are some tips and ideas from our team to get you started:
Replace kitchen countertops
Replacing your counters can make a substantial impact on the look and functionality of your kitchen. It's also more affordable and less time-consuming than renovating the entire room. Plus, the project can make holiday baking and hosting a little more jolly.
Replace kitchen cabinets
You might also consider replacing your cabinets. If the color isn't quite right or the paint is chipping on your existing cabinets, a new set can give your kitchen new life. Another option is to get new knobs and drawer pulls—you might be surprised how big a difference it makes. If you need an extra set of hands in Oregon or Washington, our handyman team is here when you need us.
Replace light fixtures
The winter might be the best time to reconsider your home's lighting. The benefits of replacing old lighting fixtures include increasing energy efficiency, updating your dwelling's appearance, increasing its safety, and making your home more pleasant overall.
Replace bath fixtures
If you don't want to do a complete bathroom remodel this winter, why not focus on replacing the fixtures? We're talking faucets, towel hangers, doorknobs, drawer pulls, and maybe even a new mirror or medicine cabinet. Small changes like these can make your bathroom more efficient and visually pleasing.
Refresh carpeting or flooring
If your current floors have seen better days, we also recommend replacing them in the winter. Unlike other home improvement projects, getting new floors or carpets may only take a few days. Your space will feel instantly warmer and cozier with new floors. You can even get materials like high-end vinyl, bamboo, or waterproof carpet that holds up better under rainy Pacific Northwest winters.
Update your laundry room
Your laundry room might not be an area your guests see, but that doesn't mean it couldn't use a little TLC. Make this space a priority this season by adding thorough organization, new hanging racks, hooks, storage compartments, and maybe a designated ironing station. You don't necessarily need to get new appliances, but if they need to be replaced, this might be a good time for that as well.
Reinsulate attic or crawl space
If you want to keep your home warmer this winter and cut back on your electric bill, you might consider insulating your attic or crawl space. This is a simple project that can have a big effect on comfort and HVAC efficiency. Not only will insulation make your house cozier in the winter, but it'll also help keep it cool in the summer.
Exterior projects for winter
With unpredictable wet weather, we don't recommend painting the outside of your house during the winter. However, there are plenty of exterior projects you can do year-round.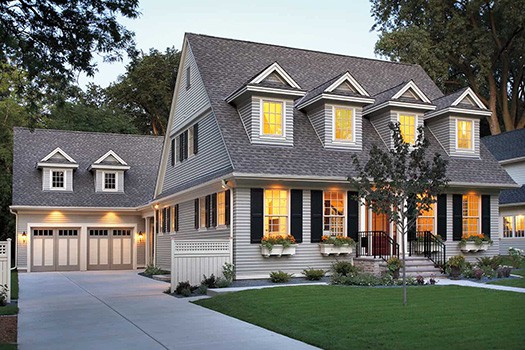 This winter, you might consider:
-Replacing your roof
-Getting new siding
-Replacing your exterior doors
-Getting new windows
-Building out or replacing your deck or patio
With Design Centers in Portland, Eugene, Bend, and Seattle, Neil Kelly is your Pacific Northwest resource for year-round home remodeling and local handyman services. Our world-class Design/Build firm is committed to perfection and customer satisfaction with each and every job. Whether you're thinking about a complete remodel or want to explore smaller projects, we're at your service.
If you would like to speak with a handyman in Oregon or Washington about your winter home remodeling ideas, contact us to schedule a conversation.