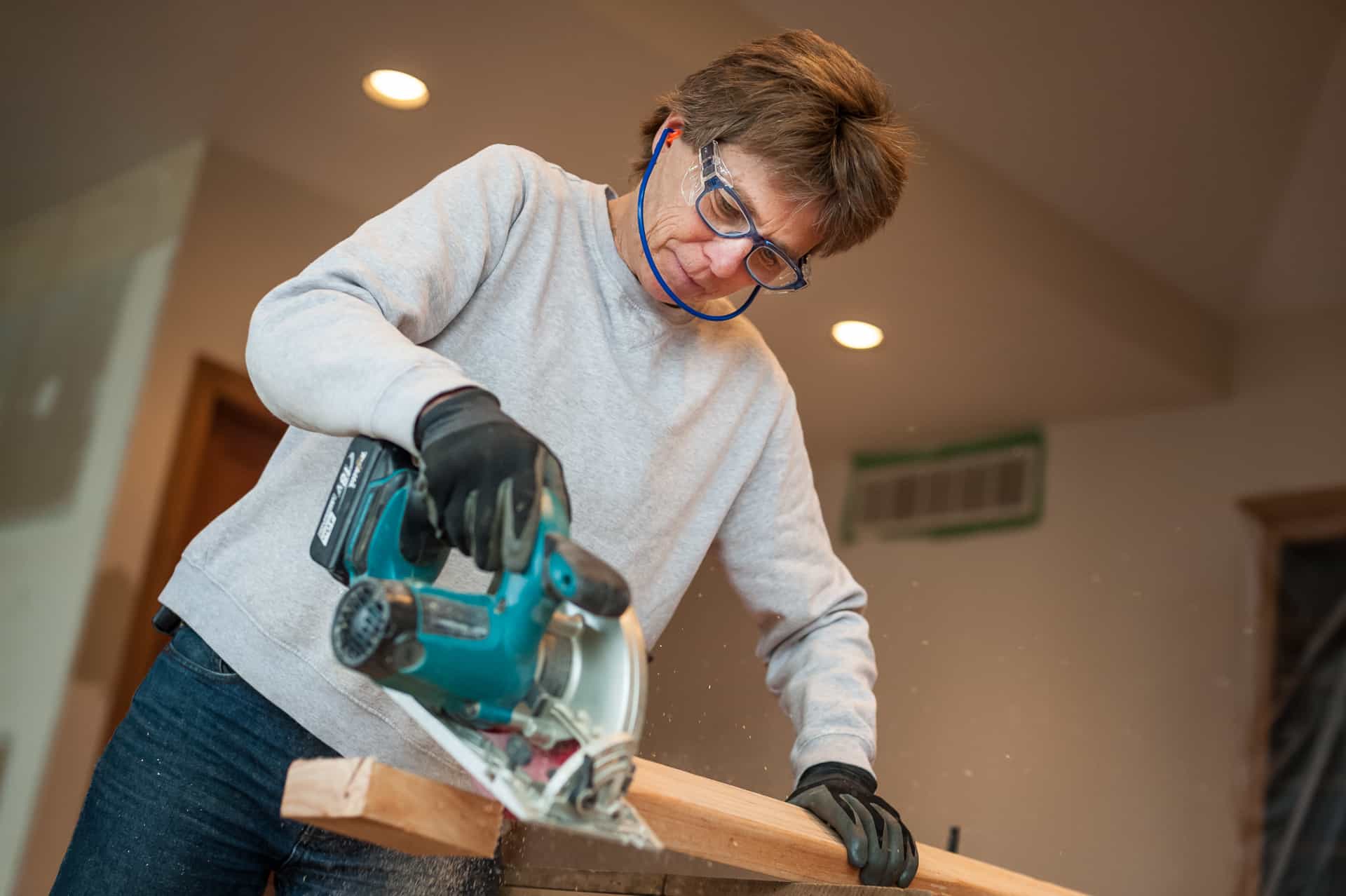 Above: Jeanette Wagner is a Master Carpenter in Neil Kelly's remodeling division and a 28-year company veteran. Photo by Aaron Ziltener / Neil Kelly Company.
News
Women Who Build
Gender diversity is a part of Neil Kelly's DNA. While the construction and remodeling industry is a male-dominated field, women play critical roles at Neil Kelly, from key leadership positions to project managers and support staff to carpenters and field personnel. More than 70 percent of our design consultants are women — when you include design associates, that number jumps to 80 percent.
Our female employees are trendsetters, going on to become presidents of organizations like the National Kitchen and Bath Association and the National Association of Women in Construction. From our founding philosophy to our current practices, we're proud to support the professional growth and development of women in the industry.
Here's an overview of our gender diverse legacy, and a few stories of the women helping shape the industry with their leadership, strength, skill and creativity.
Gender Diverse Legacy
Company founder Neil B. Kelly was among the first to support women working in the remodeling industry — hiring women as carpenters and in sales roles in the early 1970s.
"My dad understood that there was huge potential for women working in the industry," says Tom Kelly, president of the Neil Kelly Company. "While he was progressive, he also understood it was simply a good business strategy. No organization is perfect, and our company has room for improvement, but sometimes managing a business is sticking to the things you are already doing well. We're proud to hire, train and continually encourage a gender diverse workforce."
The 1970s were a time of growth within the company, and women were promoted to roles in sales, design, drafting and carpentry. One such employee was Julia Spence, who is now the VP of Human Resources.
"I joined the company in 1972 as a part-time receptionist," says Spence. "My undergrad studies were in art and architectural history. While I didn't study drafting I knew how buildings went together and had an understanding of the company. Neil knew that I could draw and asked if I could draft if a carpenter told me what to draw."
Within time, she took classes in architectural drafting, building codes and rendering, and was soon drafting with master carpenters and civil engineers. Over the course of her career she's taught a course of home repair classes for women, finished graduate studies and transformed the company's human resource department.
"I started with a technical background and then moved into helping find the right people for the job," she says. "I've been on the company management team for 25 years."
Supporting Women's Trade Organizations
The Neil Kelly Company supports continued education and professional growth for both its employees and the greater community. We have longstanding partnerships with internship programs through the University of Oregon and professional organizations like Oregon Tradeswomen.
"In the late 1980s I took a 6-month crash course for women to learn about different trades," says Neil Kelly Design Build Remodel Carpenter Jeanette Wagner. "I was 27-years-old and kinda lost in my career. I liked woodworking but as a young girl growing up in the 1960s it was unheard of for women to do that type of work."
Wagner already had a history of doing what was "unheard of." In sixth grade she petitioned and received special permission to take a woodworking class in school. Following the trade course as an adult, she was offered a job at Neil Kelly.
"I came in knowing nothing and the company has taught me everything I know," she says. "Now I'm a master carpenter. Neil Kelly sets the standard really high and I was really taken care of every step of the way. It's been such a blessing. I'm grateful to end up where I did and still be with the company 28 years later."
Shelley Aften, Neil Kelly design associate coordinator, has been with the company 21 years. She joined as a design associate straight after attending the housing studies program at Oregon State University. As a design associate she works with design consultants doing all the drafting, CAD work, 3D modeling and measuring of job sites throughout a project.
"Design associates kind of have our hands in everything as behind-the-scenes people," says Aften. "The company really works as a team, and I've worked with such great female role models and industry leaders blazing a path for us all in this field."
Throughout her career she's transitioned to part time to start a family, and helped empower and support other women joining the company.
"It's a great company to work for and I don't have any reservations from having spent 20 years here," she says. "I have plans to spend many more."
Creating a Safe Company Culture
Lisa Pickert started her career in the construction industry as the sole proprietor of a tile-setting company, and then as a project manager for a small, residential remodeling company. She taught herself remodeling skills as a hobby, and joined the Neil Kelly Company seven years ago as a project manager.
"What I love most about the profession are the tangible results — the ability to see your work at the end of the day," says Pickert.
Today, she's the safety coordinator for the entire company. She ensures that the company meets Occupational Safety and Health Administration requirements, oversees safety committees and makes sure that workers and homeowners are safe on each job site. As a professional in the field, she says she's experienced a fair share of gender discrimination.
"As a woman in the industry you're never assumed to know what you're doing, it's always the opposite," she says. "You have to prove yourself and even sometimes convince yourself that 'I can do this, I can compete in this man's world.'"
At Neil Kelly, Pickert says the company has created a workplace culture that rejects sexism and encourages gender diversity.
"When I was hired here I told my friends I was going to work for the Harvard of remodeling companies," she says. "It's the premier place to work and gain exposure to new jobs, projects and positions within the industry. It's been wonderful."
Want to know more about our company and process? Schedule an in-home consultation with our Design/Build Remodel team today.