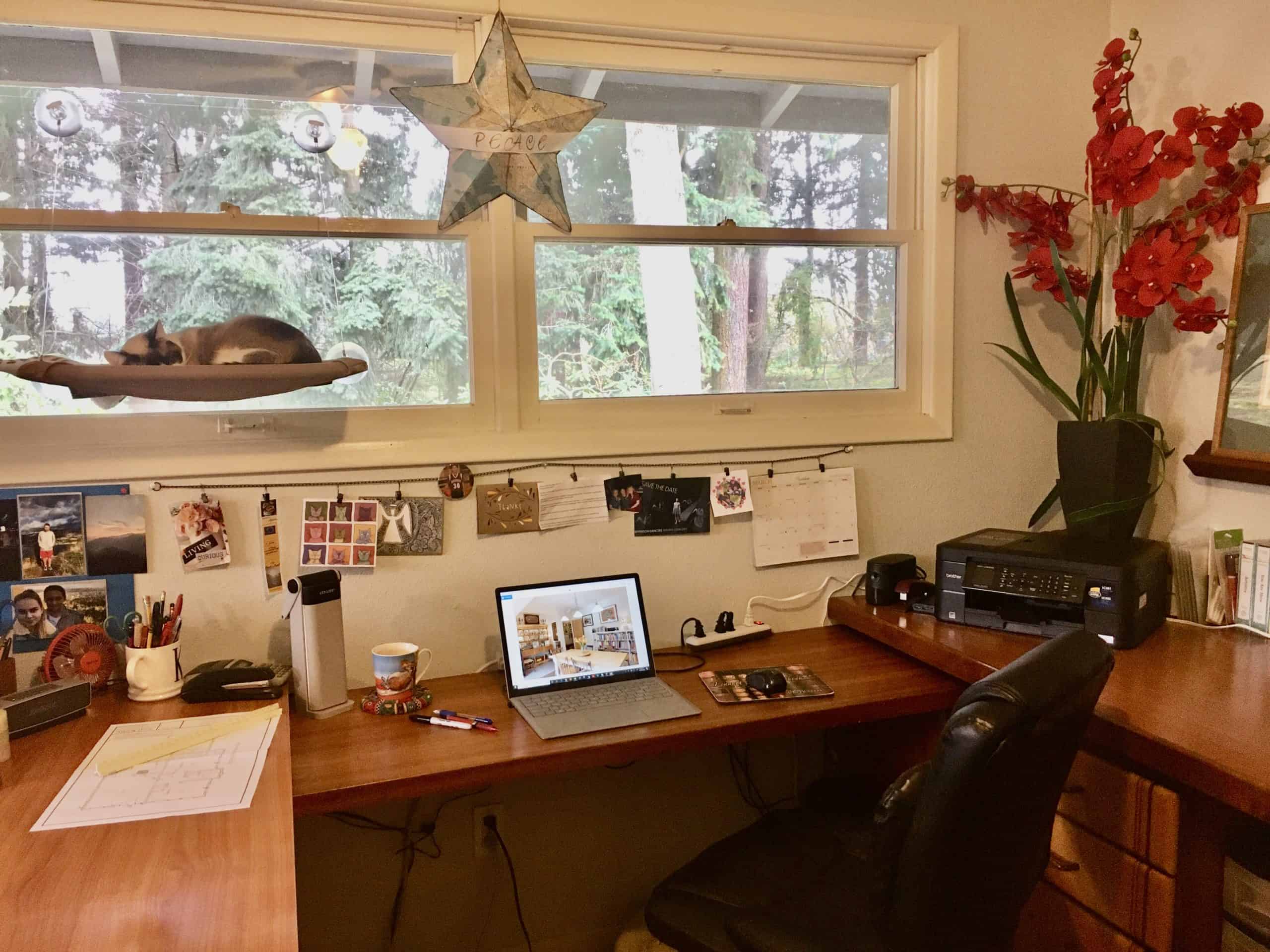 Home Fixes
Staff Share Work From Home Tricks
With coronavirus sending folks home to work – whether they like it or not – many people are scrambling to create comfortable, practical spaces where they can carry on their work activities. Some workspaces require a quiet area to concentrate on reading or writing; others require power and connectivity for digital gatherings. This week some of our designers and staff people shared images of their workspaces along with a few tricks they've used to stay productive and engaged.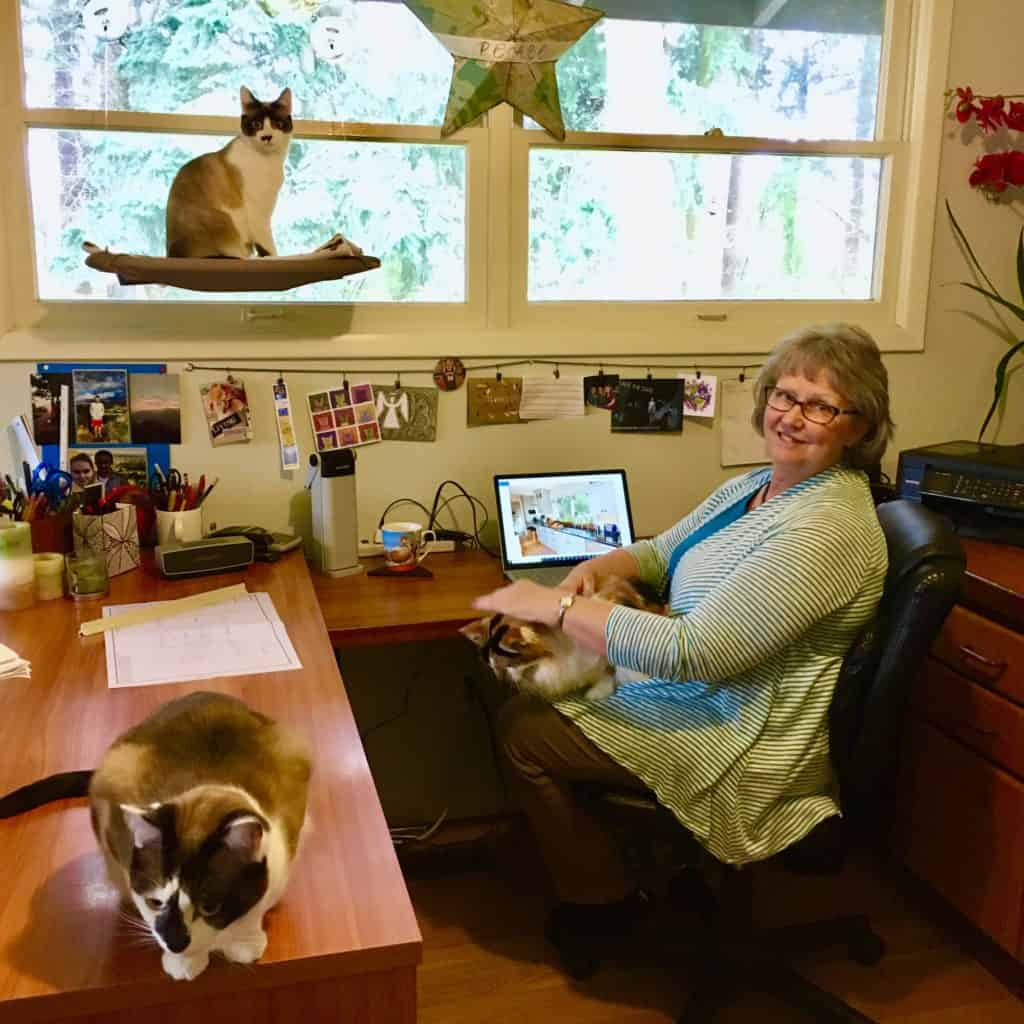 Karen Richmond, Portland Design Consultant
"Having a home office that works for you is a real treat," Karen says.
"My goal for homes when I'm done remodeling is to have all annoyances gone and this never rings so true as in a home office. Having enough outlets where you need them is an absolute must. It saves you from having to use extension cords and twist into unbelievable positions to plug things in!
In my own office I'm simply amazed at all the items I have to plug in, from computer and printer, to desk light, speaker, pencil sharpener, chargers — the list goes on and on.
Good lighting without glare and shadows along with comfortable chairs and desks with proper ergonomics are an absolute must. Having adequate storage, space for needed tools and layout space are bonuses."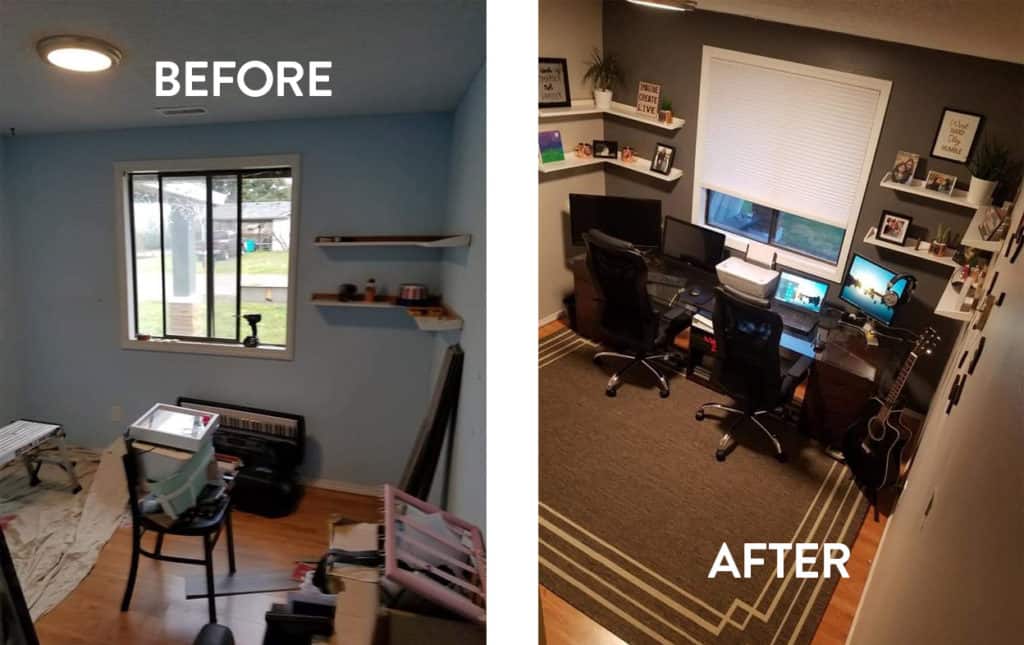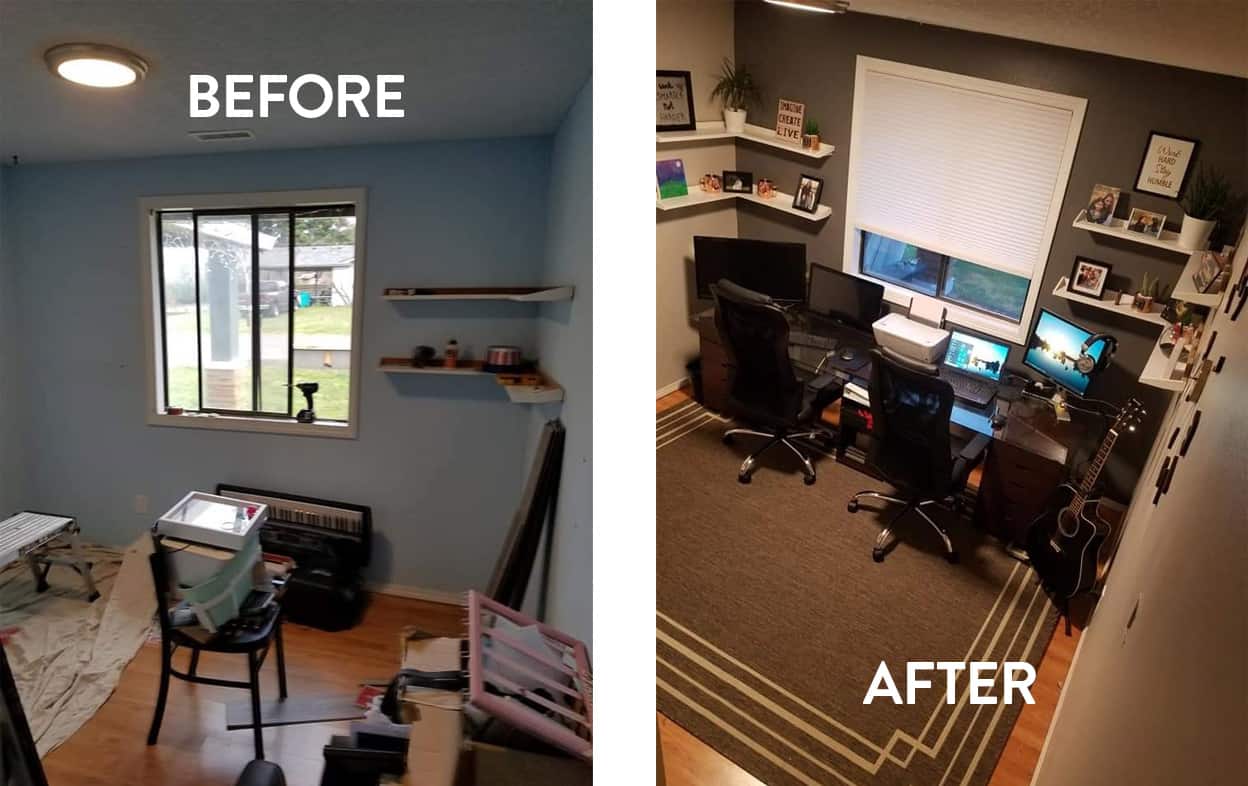 Paul Obias, Portland Handyman Services Consultant
Paul shared before-and-after photos of a work area he just renovated in his own home. Paul and his wife have dual workstations arranged around a common printer, floating shelves for photos, plants and other necessities, and plenty of open space to move around and be creative. Neutral paint color on the walls eases glare and provides a subdued background for computer displays.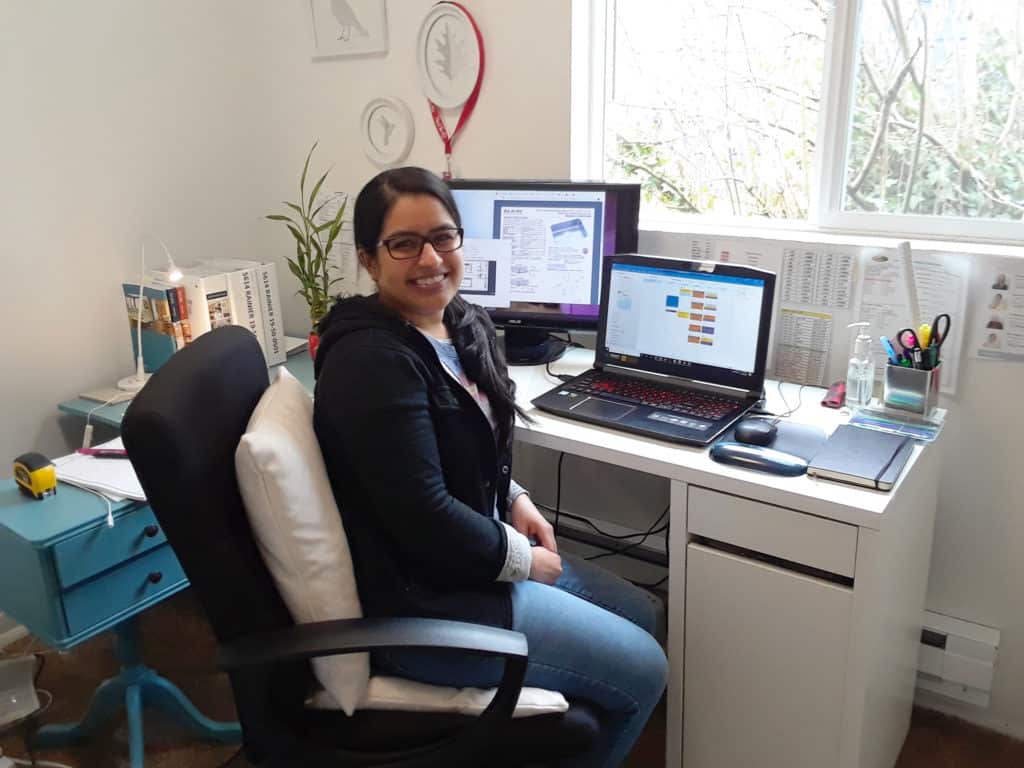 Lorena Johnson, Seattle Design Associate
Lorena's workspace is a repurposed guest room – always handy in a work-from-home scenario. Lorena brought everything from her office into her home – including her favorite bamboo plant – so that it would feel more like her actual work environment. With lots of natural light coming in from the windows, and a place for everything she needs, Lorena can see everything, reach everything, and get stuff done.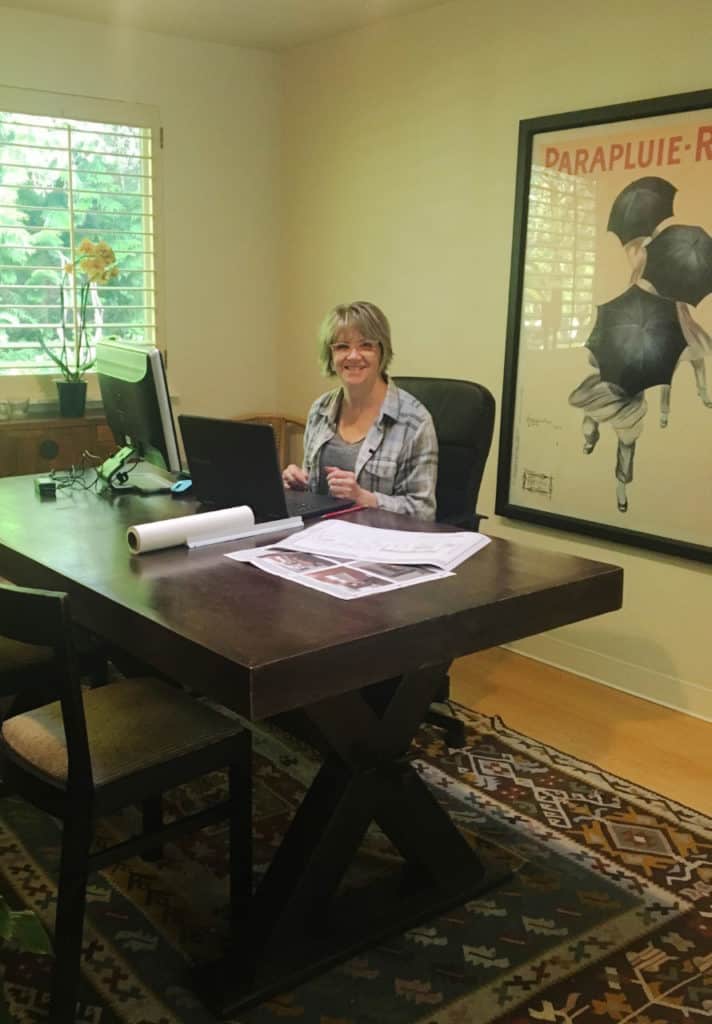 Anne Bauer, Seattle Design Consultant
Anne adapted a large dining room table for work, including plenty of room for her workstation, and an open area for laying out materials, sketches and floor plans. (Naturally, a workstation near the kitchen gives her access to treats as well, but we're not saying anything about that.) From this cozy spot, Anne takes meetings and offers clients screenshots of her calendar, floor plans, and video conferencing tools so that they can see how to connect and keep projects on track.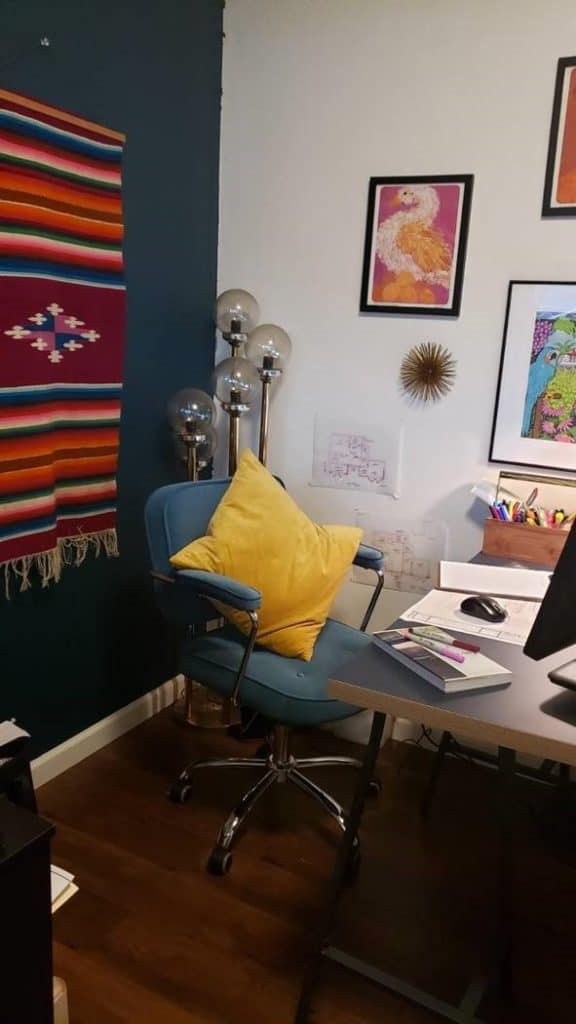 Stefanie Rotella, Eugene Design Consultant
With signature Mid Century flair, a corner work area in Stefanie's home features a vintage brass floor lamp, sophisticated wall paint, textile treasures, and colorful artwork by family and friends. Stefanie says she likes to surround herself with the things that make her happy, keep her spirits high and keep her creativity flowing.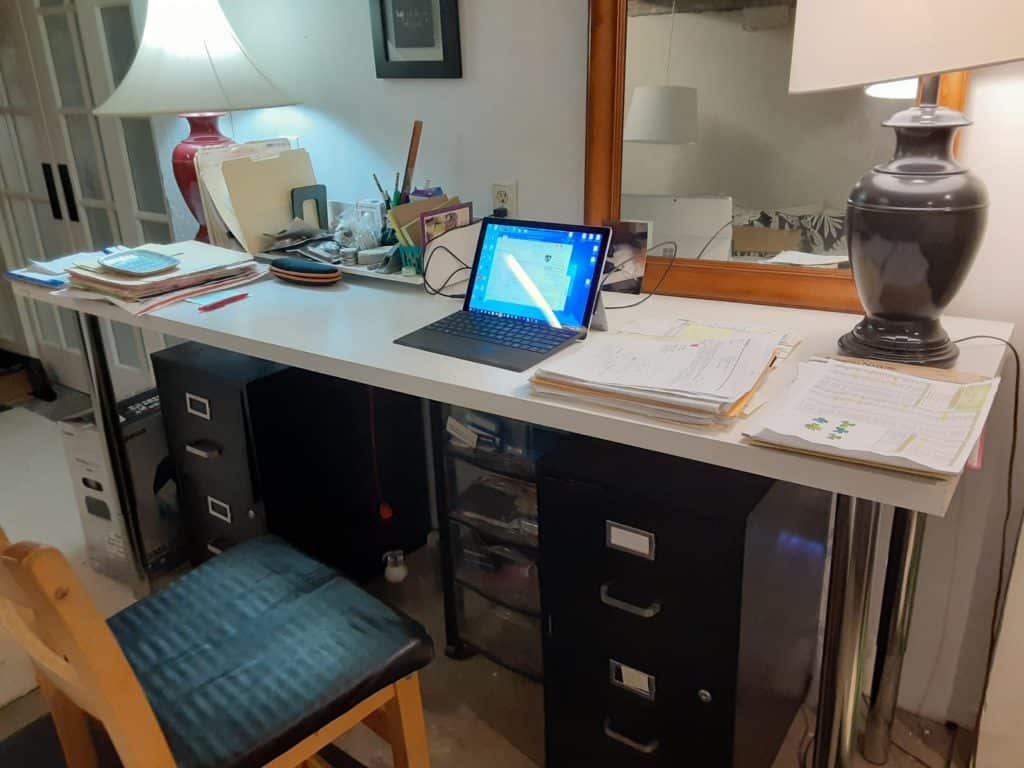 Lisa Pickert, Safety Coordinator
If green is your scene, one approach to outfitting a home office is recycle-and-reuse. Lisa's basement work area is assembled from hotel salvage and other vintage finds. The desktop is a core door supported by repurposed and adjustable table legs from Ikea. Underneath, the seating area is flanked by two lines of file cabinets; above, large table lamps illuminate the scene. Everything was repainted and restored by Lisa!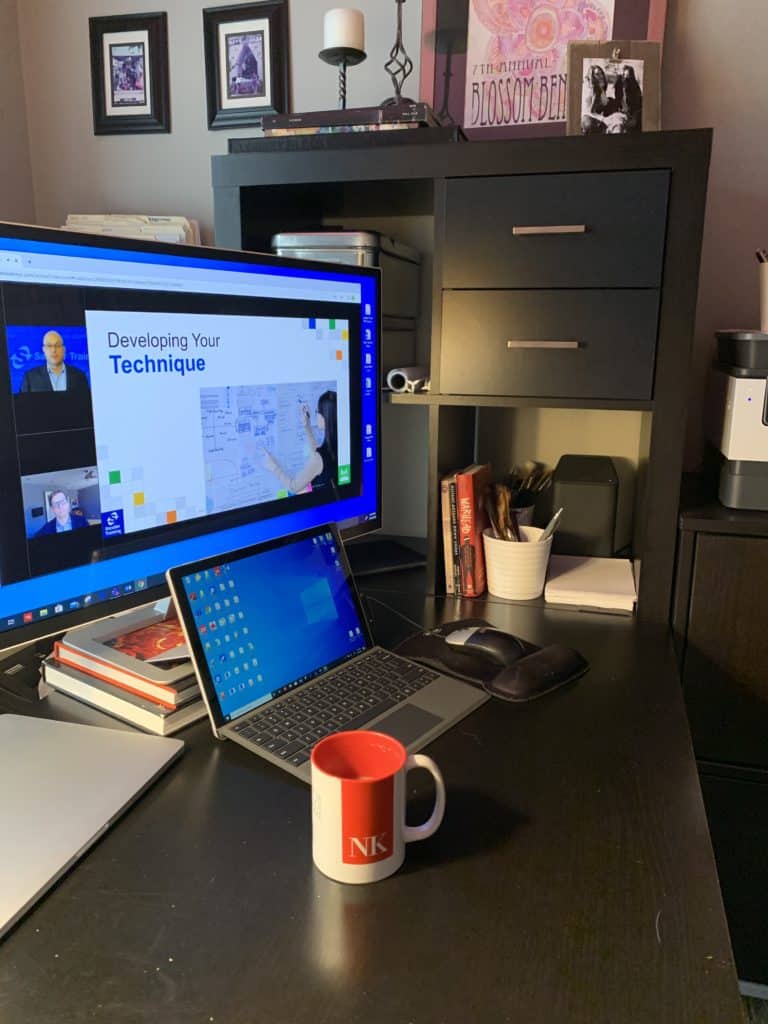 Kimithy Nagel, Seattle Design Consultant
Kimithy's workspace puts an emphasis on organization and clarity, along with the sophisticated styling she's known for. The large monitor and subdued light makes computer time much easier on her eyes, and the open space allows her to roll out plans and schedules in a snap.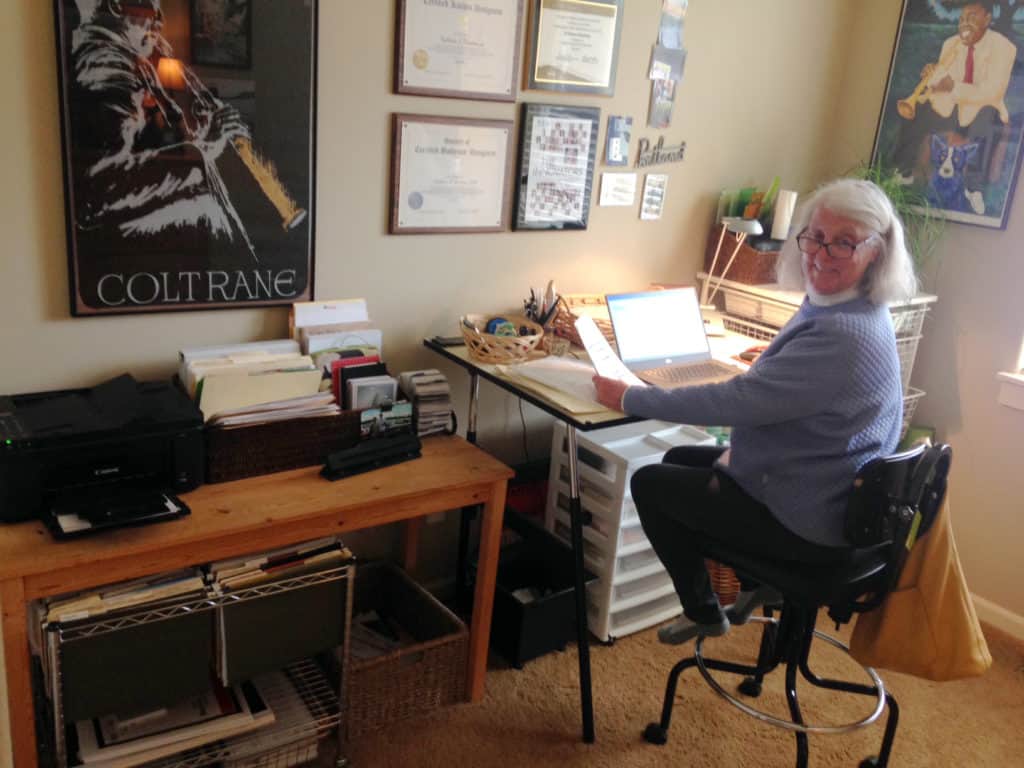 Kathleen Donohue, Bend Design Consultant
Kathleen is using an old drafting table in her home work area. You know, drafting — from way back when architects and designers drew plans on paper using primitive tools with names like "standard," "scale," "triangle," and "pencil." (It was a scary time.) Kathleen says her drafting table has all the adjustments she needs; the versatile piece can be quickly cleared for drawing and sketching, or it can be raised to become a stand-up desk whenever she wants to move around.
More tips from our staff:
Power: Position your desk so that you have enough outlets to connect all of your devices. Use colored strips of velcro to tidy up loose cables.
Lighting: Use adjustable lighting tools that offer brighter illumination for reading documents and other tasks, and slightly dimmer illumination near computer displays. Placing your desk near a window can offer good natural light (and a view outside), but use curtains and blinds to cut glare that might hurt your eyes during a long workday.
Furniture: Make sure you have a comfortable chair to sit in, something that encourages good posture and lets your feet rest flat on the floor. Your desk should be reasonably adjustable, and have an anti-glare surface if possible. The top of your main computer monitor should be at or near eye level when you are seated (or standing at a stand-up desk). When using a keyboard, your arms should rest comfortably on the desktop with your elbows at approximately 90-degrees. Consider swapping out any furniture or equipment that forces you to repeatedly reach, lean or strain.
Storage: Set up as much organization as possible so you can use your space efficiently and cut down on distraction from clutter. A desktop file sorter is handy for essential to-dos; the rest can go in a drawer or cabinet. Don't forget organization for things you don't need: garbage and recycling.
Surface Area: Try to keep at least one desktop or nearby surface clear at all times. You might need a place to quickly spread out items you want to see – like floor plans and layouts!
Are you ready to create a home workspace that actually works for you? Connect with us – we're ready to help.