Working Safely During The Pandemic
News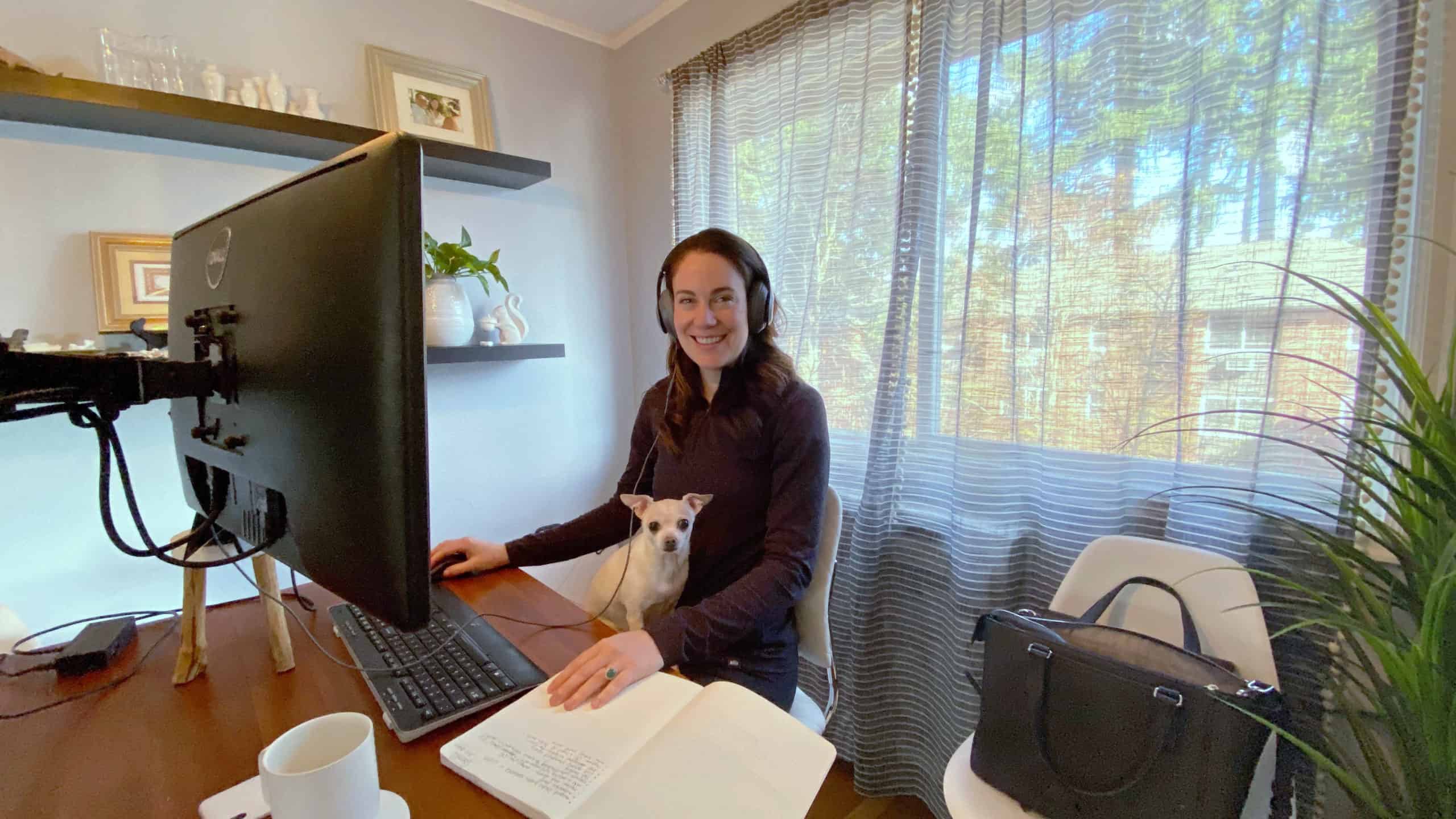 Above: Portland Designer Mary Miksch (and new supervisor Bambi) takes meetings and keeps projects moving using video conferencing tools. Image courtesy Mary Miksch.
The situation related to the novel coronavirus is evolving on a daily basis. We are closely monitoring guidance and regulations provided by the Centers for Disease Control (CDC), as well as state, county and local authorities, and adapting our practices accordingly. Our company is working to maintain service to our clients to the greatest extent possible while protecting the health of our clients, employees and trade partners, and ensuring the safety of our homes and workplaces.
Though our design centers remain closed, we are taking meetings by appointment in all of our locations. We also have tools that enable us to continue working together from our respective homes, including video conferencing technology through which we can meet "face-to-face" and review drawings and documents together wherever we are. Just let us know what's most convenient and comfortable for you.
Whether you have a project in progress or a project in mind, we're ready to help.
For Existing Clients
Please reach out to us if you have any questions about your project, team, or local office hours.
For New Clients
Neil Kelly is ready bring your vision to life. Tell us a little more about the project you have in mind.
Upcoming Events
We are closely monitoring developments with coronavirus in all of our markets and if necessary our workshops will be changed from in-person events to webinars. Please visit our Webinars page for updates and to register.
WHAT WE'RE DOING
In Our Offices
• We encourage our staff to work from home if possible
• We encourage our staff to observe federal, state and local COVID safety guidelines
• We instruct our staff to stay home if they are not feeling well, or if they may have been exposed to COVID-19
• We require face coverings in our offices and design centers
• We require employees and visitors sign into/out of our facilities for contact tracing purposes
• We supply and encourage the use of hand sanitizer, disinfectant spray and sanitized supplies
• Our design centers are open to the public by appointment only
At Our Job Sites
Neil Kelly staff and subcontractors are required to comply with COVID safety rules:
• Face coverings are required when others are in the home/workspace
• Daily jobsite sign-in/sign-out is required
• Wash hands and use hand sanitizer frequently
• Stay home if you're feeling ill or have/may have been exposed to COVID
• Report known/possible exposure to COVID of anyone who works at the jobsite
We apply a range of jobsite health & safety protocols, including:
• Isolating the work area through the use of zipwall barriers, BuildClean air filtration systems, and defined team entry/exit points
• Supplying a portable restroom for the construction team if needed
• Maintaining a clean workspace and cleaning/ disinfecting other areas of the home after use
We maintain clear and open communication with our clients to ensure everyone's health, safety and peace of mind.
We Appreciate Your Business And Your Trust
Here are just a few of the positive reviews we received from clients we've worked with during the pandemic:
---
"Amazing service. Remodeling during Covid-19? Who would have thought it could have been pulled off so smoothly." – Andrew F. 8/27/20 (Guild Quality Review, 5 stars)
---
"All those with whom I interacted were good at their jobs and worked well together, and were able to get the project done in a timely manner, even in this time of extreme change and stress (The Pandemic). Well done!"  – Customer in Wilsonville 8/30/20 (Guild Quality Review, 5 stars)
---
"We had a wonderful experience during a trying time. NK held our hands through an extensive design process, although it was a small job for them, and stayed on their proposed schedule, despite a pandemic!" – Jocelyn A. 9/9/20 (Guild Quality Review, 5 stars)
---