Working Together While Remaining Apart
News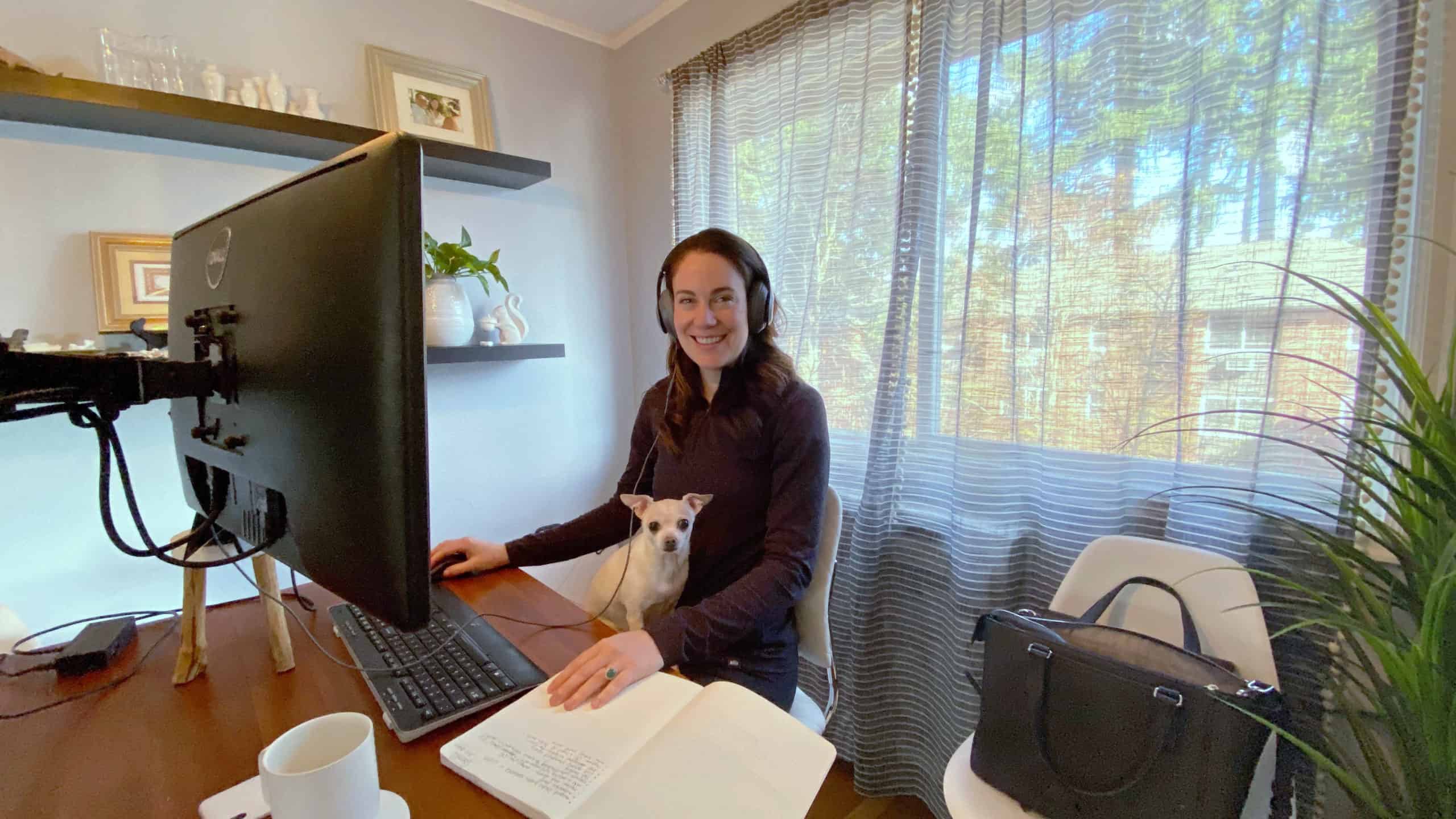 Above: Portland Designer Mary Miksch (and new supervisor Bambi) takes meetings and keeps projects moving using video conferencing tools. Image courtesy Mary Miksch.
Whether you have a project in progress or a project in mind, we're still ready and willing to help. Though we are not meeting with clients in our design centers at this time, we have tools that enable us to continue working together from our respective homes, including video conferencing technology through which we can meet "face-to-face" and review drawings and documents together wherever we are. Just let us know what's most convenient and comfortable for you.
As the situation related to the novel coronavirus evolves on a daily basis, we are closely monitoring guidance and regulations provided by the Centers for Disease Control (CDC), as well as state, county and local authorities, and adapting our practices accordingly. Our company is working to maintain service to our clients to the greatest extent possible while protecting the health of our clients and employees, and ensuring the safety of our homes and workplaces.
Team Health and Safety
We are encouraging our employees and clients to observe the CDC's guidance regarding individual prevention and response measures; most importantly to stay home if they are sick or may have been exposed to the coronavirus. We are equipping and encouraging all staff to work only from home and/or the active jobsites to which they are assigned, and limiting the size and frequency of face-to-face meetings, and implementing additional cleaning and sanitation measures in our offices, design centers and jobsites.
Projects Under Construction
If we are working in your home, rest assured that we have enhanced the many standard health and safety practices already in place. We routinely provide our staff with hand sanitizer, and encourage them to wash their hands frequently and be conscientious about maintaining cleanliness of the worksite as well as all other areas of your home. We have additionally equipped employees with disinfecting wipes, and are happy to routinely wipe down the surfaces we come into contact within your home. Whatever the stage of your project, we encourage you to speak candidly with your Neil Kelly representative about any heath & safety questions or concerns you may have. Together, we will work out a plan that ensures everyone's safety.
For Existing Clients
Please reach out to us if you have any questions about your project, team, or local office hours.
For New Clients
Neil Kelly is ready bring your vision to life. Tell us a little more about the project you have in mind.
Upcoming Events
We are closely monitoring developments with coronavirus in all of our markets and if necessary our workshops will be changed from in-person events to webinars. Please visit our Webinars page for updates and to register.
We appreciate your business and your trust.