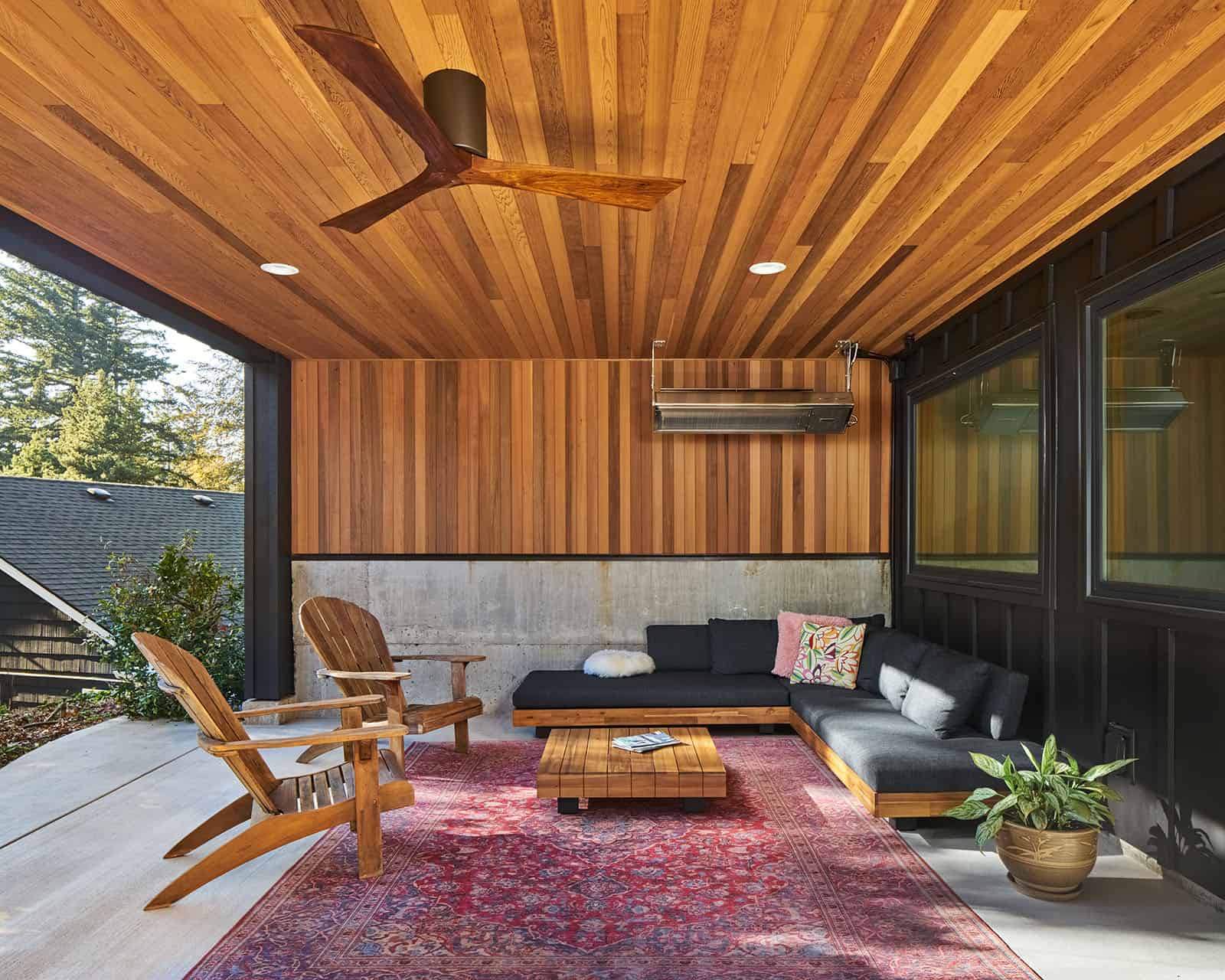 Above: Outdoor living space gives homeowners a welcome retreat. Photo by Darius Kuzmickas.
Interiors
Neil Kelly's 2021 Home Design Forecast
Experts predict home design and renovation trends for 2021
With the start of a new year, many are planning to refresh various aspects of their lives—including their humble abodes. The coronavirus pandemic has led a lot of people to spend more time at home, creating an incentive to make their living spaces as functional, comfortable, and aesthetically pleasing as possible.
In 2021, we expect stark minimalist and monochromatic interiors to give way to multifunctional spaces that offer a calming feel and deeper connection to nature.

"2020 was a year that allowed us to fall back in love with our homes and the trends for 2021 reflect the personal attention and care we're putting into our environment," states Neil Kelly Design Director Barbara Miller. "Many are looking forward to inviting friends and family back into their homes, when it is safe to do so. For some, it will be into newly created outdoor sanctuaries. We also expect to see more dinner parties, where guests are invited into the kitchen to lend a hand and enjoy some newly discovered recipes."
The early part of the year is always an excellent time to rethink the look of your home. If you want to switch things up but aren't sure where to start or what styles to choose, the design/build remodeling experts at Neil Kelly have you covered. From kitchen and bathroom ideas to colors, accents, and themes, here are some interior design trends to look out for in 2021:
Outdoor Living
2020 spurred a desire and need to extend the living and family room experience outside onto a patio, deck, or other covered area. We'll continue to see this play out in 2021 with outdoor kitchens and living spaces in demand.
Natural accents will also be at the forefront of interior design in the coming year. Beyond house plants, this includes indoor gardens, natural wood finishes, large windows, skylights, and organic textures throughout the home. Jute and seagrass area rugs and mats — as well as rattan, cane, and wicker furnishings — are also in style.
Earth and Natural Tone Color Palatte
You'll be seeing a lot of earth tones in 2021. This includes rich browns, bronze, forest green, moss green, olive, tan, rust, clay orange, marigold, taupe, terra cotta, and warm beige.
Earth tones are versatile and lend an air of sophistication to any space. You can use hues from this palette as accents or incorporate them into the primary design. Earth tones couple well with other colors, and work in almost any application, from flooring, walls, doors, and cabinetry to window coverings, furniture, throw pillows, and rugs.
Textured Walls
Textured walls continue to be a hot trend and will gain momentum in 2021. Without taking up space in your home, you can create interest with mirrors, wallpaper, or textured treatments. Natural stone, tile, or shiplap walls can also make a striking statement.
One of our favorite small bathroom trends is printed wallpaper with organic patterns and other textures. This is an easy way to make a statement, especially in half-baths and powder rooms with less wall space to cover.
Fun Bathrooms with a Statement Piece
Bathrooms are often the smallest rooms in a house, but let's face it: they can really make or break a home. Sprucing up your bathroom can go a long way, and sometimes, cosmetic upgrades are all you need.
The trend in bathrooms is "fun," and there are many routes you can take to get there. One way is to emphasize or highlight a single piece, like a luxury light fixture, an oversized mirror, or a stately vanity.
Open Concept Bathrooms
Open-concept bathrooms are also becoming more popular. You can seamlessly integrate a free-standing tub or a walk-in shower as part of your primary bathroom. Tile with natural stone and organic patterns will be a top choice, as will large windows creating ample natural light.
Dark Painted Cabinets with Warm Metal Hardware
We expect to see more dark painted cabinets and drawers in navy, olive, charcoal, and other deep hues. Many homeowners are selecting metal cabinet knobs and drawer pulls in warm finishes like gold, brass, bronze, and copper.
If you've got space in your kitchen, you might consider an island too. While they're certainly on-trend right now, kitchen islands will stand the test of time, as they provide substantial functionality and help control the flow of traffic through the space.
Decluttering with Better Storage
The calming effect of decluttering your home cannot be overemphasized. The key is to start with adequate storage. Whether that means efficient built-in storage in places like the kitchen, baths and bedrooms, or flexible storage in closets and under stairs, having a home for everything you own keeps you focused on the things you want to do. And, with less clutter scattered about, surfaces also become easier to clean and sanitize — a welcome benefit given the pandemic.
Multifunctional Spaces
Perhaps the biggest home need emerging from the pandemic is multifunctional spaces. For many households, more time spent at home has created a need for spaces to work for many different purposes. Whether you're working from home, adjusting to multigenerational living, or your family is simply spending more hours of the day under the same roof, versatile areas can make a big difference.
In your kitchen, you might consider creating additional seating by adding a banquette or a breakfast nook.
A home office can convert into a guest room with a loft bed, day bed, or Murphy bed. You can also create an under-the-stairs reading nook or install a window bench with hidden storage.
An unused porch can be converted into a sunroom that doubles as a family room or dining room.
Before the pandemic began in 2020, Accessory Dwelling Units (ADUs) were already generating a lot of interest. An ADU is a separate, fully functional living space built on the same lot as an existing home. In the Pacific Northwest, the most popular types of ADUs include freestanding "tiny homes," garage conversions, basement conversions, and home additions. Whether you need extra space for your family, or want to set up a vacation rental, the possibilities with an ADU are almost endless.
Neil Kelly's Design/Build Difference
Here at Neil Kelly, we want your home to be your dream home. Your space should align with your needs, lifestyle, and personal aesthetic. Whether you lean toward contemporary interior design, traditional, ultra-modern, farmhouse-chic, or something in between, we can make your vision a reality.
The award-winning designers, experienced project managers, and highly skilled craftspeople at Neil Kelly will collaborate with you through every step of the process. You'll have a single point of contact for your remodel who will be there to answer your questions and ensure things move as efficiently as possible. Not only that, but we offer an industry-leading five-year warranty on our work.
With Design Centers in Portland, Bend, Eugene, and Seattle, we're ready to help you transform your Pacific Northwest home. Schedule a consultation today.