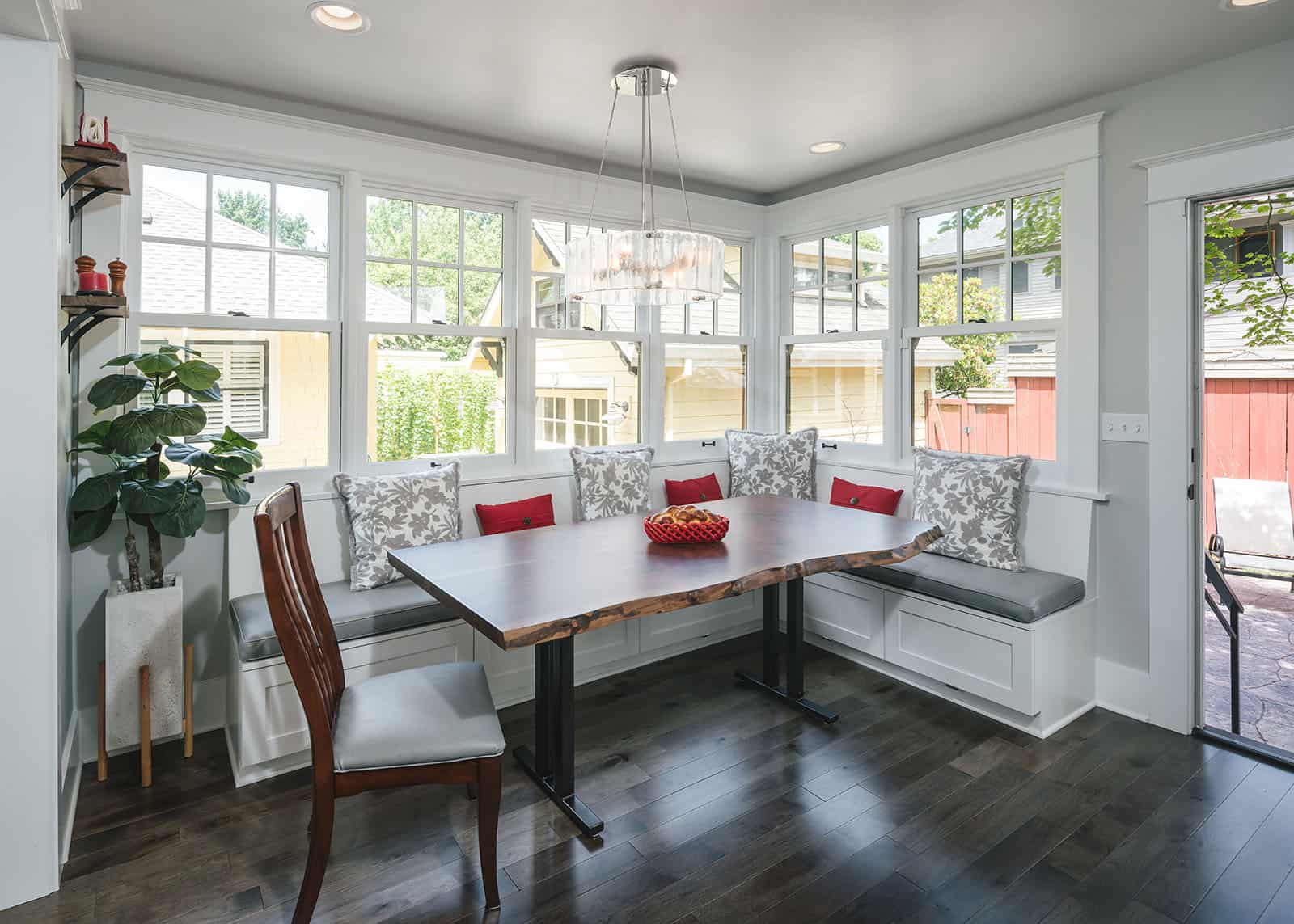 Kitchens
Add Versatility With A Banquette
You may be used to seeing banquettes (also referred to as booths and built-in benches or seats) in restaurants, but in your kitchen, a banquette is an easy way to add a casual and multi-functional element. Whether you want to maximize space in a small kitchen, help kids with homework while cooking a meal, or add intimacy and charm to your dining experience, a banquette can be a great option.
"Depending on the space, a banquette can be the perfect way to incorporate lots of seating while still offering beautiful design elements – like this custom live edge wood table," states Neil Kelly Portland Design Director Barbara Miller.
What is a banquette in a home?
A banquette is a bench or an upholstered seat that is most often built directly into a wall or corner, and specifically designed to maximize dining table seating while saving space. 
Different types of banquette seating
Banquette seating can come in many different forms and have several names depending on their configuration and use. Common names for banquettes include booths and benches. 
Fixed banquette seating
Fixed banquette seating is the formal term for this dining table orientation, where the bench runs along or is built directly into a wall. This seating type is fixed into the architecture of the space and is a great way to maximize the number of people you can fit around a table. 
Booth seating
When two banquettes are placed facing each other they become booth seating. Booths create comfortable and cozy settings and create an atmosphere of privacy compared to other open seating arrangements.
Bench seating
Bench seating is oftentimes free-standing compared to being built directly into the wall. Benches are usually made with wood or metal, or sometimes hard plastics, and the seats can be bare, covered with cushions, or directly upholstered. 
Is banquette seating practical?
There are many things to consider when thinking about adding banquette to your home:
The Pros:
Can be more efficient use of space overall, especially in smaller kitchens

Can help you repurpose a specific area or unused space, such as a corner or alcove

Provides cozy, casual dining nook, an alternative to kitchen table or dining room

Great for games, reading, conversation; multi-functional space, not just for eating

Connected to kitchen yet out of the way

Can work as a room divider

Offers storage possibilities
The Cons:
Not for large families

May require a custom table

Can be difficult to keep clean depending on the upholstery fabric
Miller offers the following tips for optimizing your banquette seating experience: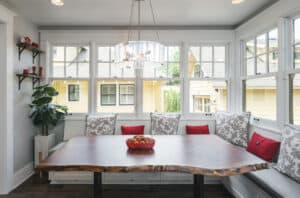 Use washable indoor/outdoor cushions. You can even test the fabric for stain resistance before making the selections.

For more storage, add drawers under the seating area or add hinges and lid for longer term storage items such as holiday decorations and linens.

A custom table is not required, but you do need to select a table with one or two pedestals in the middle for sliding in. A table with four legs won't work.
Take a look at how the design/build remodeling team at Neil Kelly added a banquette to transform this 1967 ranch-style house to be more custom and spacious. Thinking about upgrading your own space? We have design centers in Portland, Eugene, Bend, and Seattle and have experience transforming kitchens, bathrooms, entire homes, and more throughout the Pacific Northwest.
Ready to create your own dream kitchen? Get in touch with Neil Kelly today.