Bathrooms
Take A 360-Degree Tour Of A Contemporary Bathroom!
360-Degree Bathroom Tour: We've always been interested in new ways to illustrate Neil Kelly quality and craftsmanship. When we came across this new technology that allows a full view of an entire interior space, we jumped on it! Take a look, we hope you enjoy the unique perspective this type of photography provides.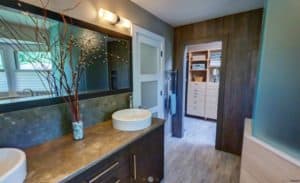 Click here to view 360-Degree Bathroom Tour
Expand to full screen using the dashboard at the bottom of the image, and feel free to zoom in and out on features. View in Chrome or Firefox for the best effect.
READ MORE: How To Make The Most Of Your Bathroom
Your bathroom is filled with potential. Whether you're seeking a personal oasis in your master suite or an update of your guest bath, our design experts and craftspeople can help you craft a space that is distinctive, comfortable and timeless. Come explore the possibilities with us.