HOW TO MAKE THE MOST OF YOUR BATH
Bathroom Remodeling
|
Remodeling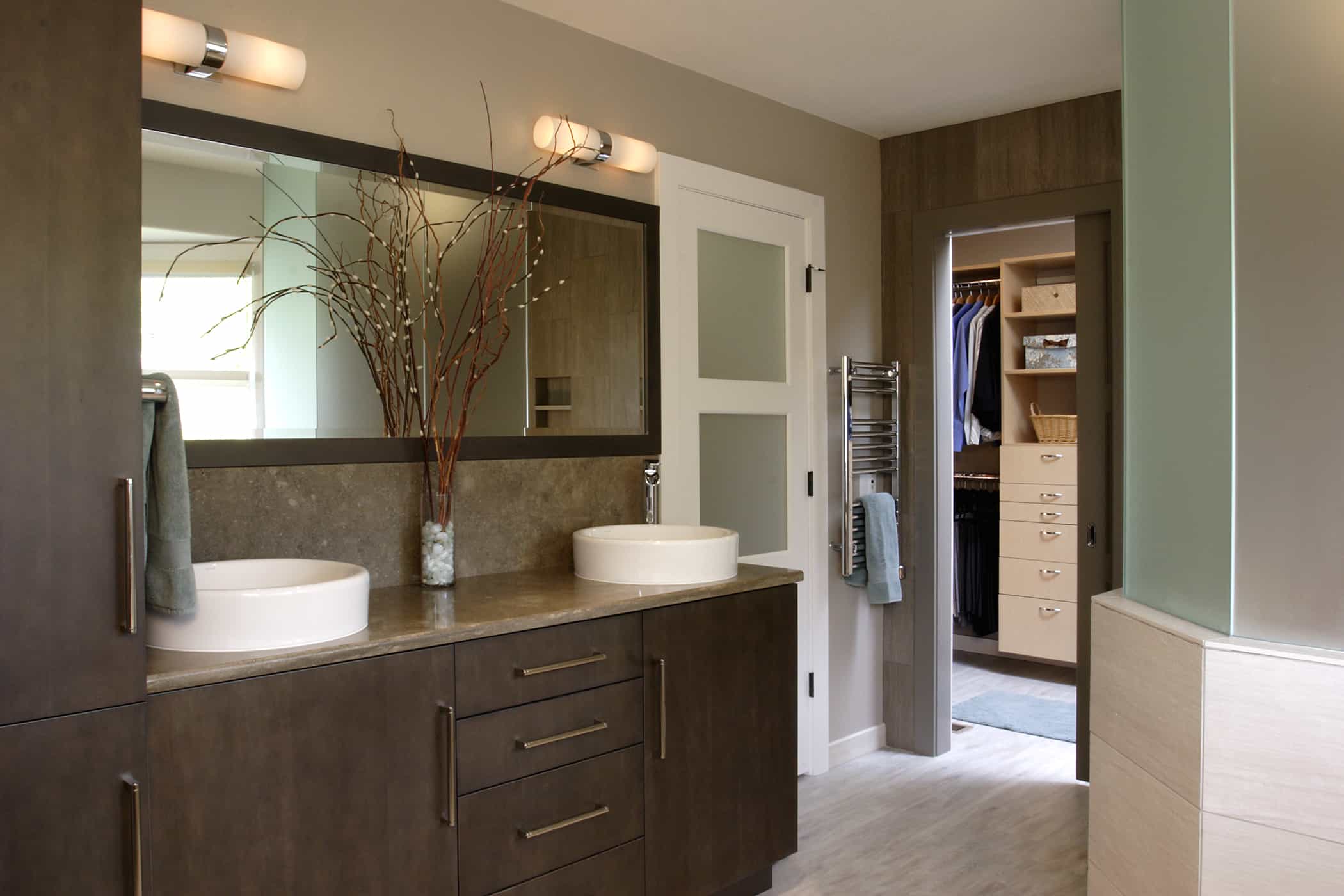 Above: An open plan creates more space and more storage in this master bath project.
Oftentimes the most functional room in your home — the bath — is also the darkest, cramped and most cluttered space. Why settle for something that doesn't suit your lifestyle?
"The bathroom is where you start and end your day," says Janel Campbell, design consultant with Neil Kelly. "It's a place to reflect on health and wellness. And if you've had a bad day, it's amazing what a hot shower can do."
Before jumping into a full bathroom remodel, have each person that uses the space create a list of priorities. You'd be surprised to discover how often those lists don't match. "The bathroom is such a personal space, you want to make sure it works well," says Campbell. "It doesn't have to be complex, but we can definitely make them so."
Once you've created a list of priorities and are ready for a remodel, consider these seven design components from our award-winning designers.
Master Bathroom Vs. Powder Room
Deciding which bathroom to remodel first can be tricky. Most homeowners remodel the master bath first as it offers the most return on the investment. Next, homeowners typically address the powder room, which offers an opportunity to splurge with decorative pieces, such as vanities that double as artwork.
Materials
Natural stones like marble are popular to use in bathrooms, but these materials are prone to staining over time. The Kohler Choreograph collection and other natural stone replications or tiles are ideal for shower walls yet minimize grout and joint staining.
Luxury Pieces
Heated tile floors, heated towel bars, frameless glass showers, and specialty hand-painted tiles can customize a space. "We're seeing more luxury items getting incorporated into bathrooms," says Campbell.
READ MORE: Take A 360-Degree Tour Of A Contemporary Bathroom
Storage
With multiple users it's easy for bathroom countertops to be cluttered. Creating more efficient storage space will help keep the room functional and peaceful. Adding extra outlets (even inside cabinets) linen storage, small drawers, specialty dividers for cosmetics and jewelry, and medicine cabinets can easily maximize space.
Lighting
If the space doesn't already have natural light, there are plenty of ways to create an inviting atmosphere. "Adding the ability to dim the lights or get different layers of light in there helps set the tone for a dim evening shower at night and a nice bright shower when you want to wake up in the morning," Campbell says.
Shower Vs. Bathtub
"One of the biggest questions we get is whether or not the home needs a bath or whether the shower should be built in, freestanding, deck mounted or have an open floor plan," says Campbell. "More and more people are opting for a shower without a bathtub, yet some people take a bath religiously."
READ MORE: Reasons To Love A Freestanding Tub
Handheld Showers
Handheld showers on a fixed arm or slide bar offer convenience for cleaning and bathing. These showers also allow you to adjust the water height for multiple users, add message settings and more.
"A bathroom is really personal and it's important to ask those personal questions," says Campbell. "A designer can help homeowners read between the lines to offer suggestions you never thought possible."
If you've been dreaming about remodeling your bath and are ready to put plans into action, schedule an appointment with our Design/Build Remodeling Team today.