Bathroom Projects
Transitional Small Bathroom Remodel in Portland
Custom Bath in SE Woodstock Neighborhood
Transitional interior design embraces both traditional and contemporary elements. The versatile combination offers a classically cohesive appeal that works in many spaces—but can it be applied to a small bathroom remodel? With the right approach, it most certainly can.
With more than four decades of industry experience and a knack for restoration projects, Portland design consultant Karen Richmond was the perfect person for the job. Find out how she helped our clients reimagine their compact bath and create a functional space that met their unique needs.
Design Objectives and Client Wishlist
The primary goal of this small bathroom remodel was to make the space more accessible, catering to the clients' changing needs as they age in place. This included converting the bathtub to a walk-in shower with a low-threshold base, adding easy-to-reach shampoo shelves, and installing grab bars for safety.
Accessibility
Walk-in shower

Shampoo shelves

Grab bars
Additionally, the plan included adding counter space, creating more storage with cabinetry, and hiding the laundry chute hole, which was previously on the floor next to the sink.
Functionality
More counter space

More storage space

Hidden laundry chute
Design Challenges
The main design challenges with this project had to do with limited square footage. Richmond explains that while it was a typical bathroom size, the clients needed it to function as a primary master bath. Also, there was a notably tight fit between the shower wall and the vanity area. "The existing lav was a console lav, which was cracked and provided no storage," she adds.
Design Solutions
Drawing on her wealth of knowledge and decades of experience, Richmond was able to come up with a design solution that checked all the boxes.
First, she researched pedestal-style, wall-hung vanities with protruding sinks. However, she didn't find any options that matched what they were looking for. "We wanted to incorporate the clothes chute into storage cabinets, and these choices did not provide a way to do that."
After some consideration, Richmond landed on a custom vanity with built-in counter space and a protruding apron-style sink. The plan also included cabinet storage below, offering a solution for concealing the laundry chute.
Custom Vanity
Protruding apron sink

Built-in counters

Cabinetry
"It was important to leave as much room to move around as possible for aging in place," Richmond explains. "The custom vanity was the perfect solution."
Special Features and Customizations
To pull off a transitional design scheme, Richmond needed to implement a seamless blend of traditional and modern styles. With this in mind, she opted to keep some existing features, including the mirror, light fixtures, toilet, and flooring. The floor required some patching, but overall, it was in good shape. "All plumbing fixtures are of good quality and low flow," she adds.
Aside from the walk-in shower, new features included timeless white subway tile for the shower walls and vanity backsplash. To stay within the budget and keep waste at a minimum, the team sourced remnant quartz for the countertop. "My favorite aspect of this bathroom is the unusual vanity front and the lightness of the room," says Richmond.
Bathroom Remodeling Portland
As you can see, there's a lot you can do with limited square footage. Creative thinking and a few minor changes can make your space all the more functional and enjoyable. With offices in Portland, Eugene, Bend, and Seattle, the design/build remodeling pros at Neil Kelly are proud to serve homeowners all over the Pacific Northwest.
If you're feeling inspired by this project or are looking for more small bathroom ideas, we'd love to hear from you. Contact the experts at Neil Kelly today to get started on your bathroom remodeling project.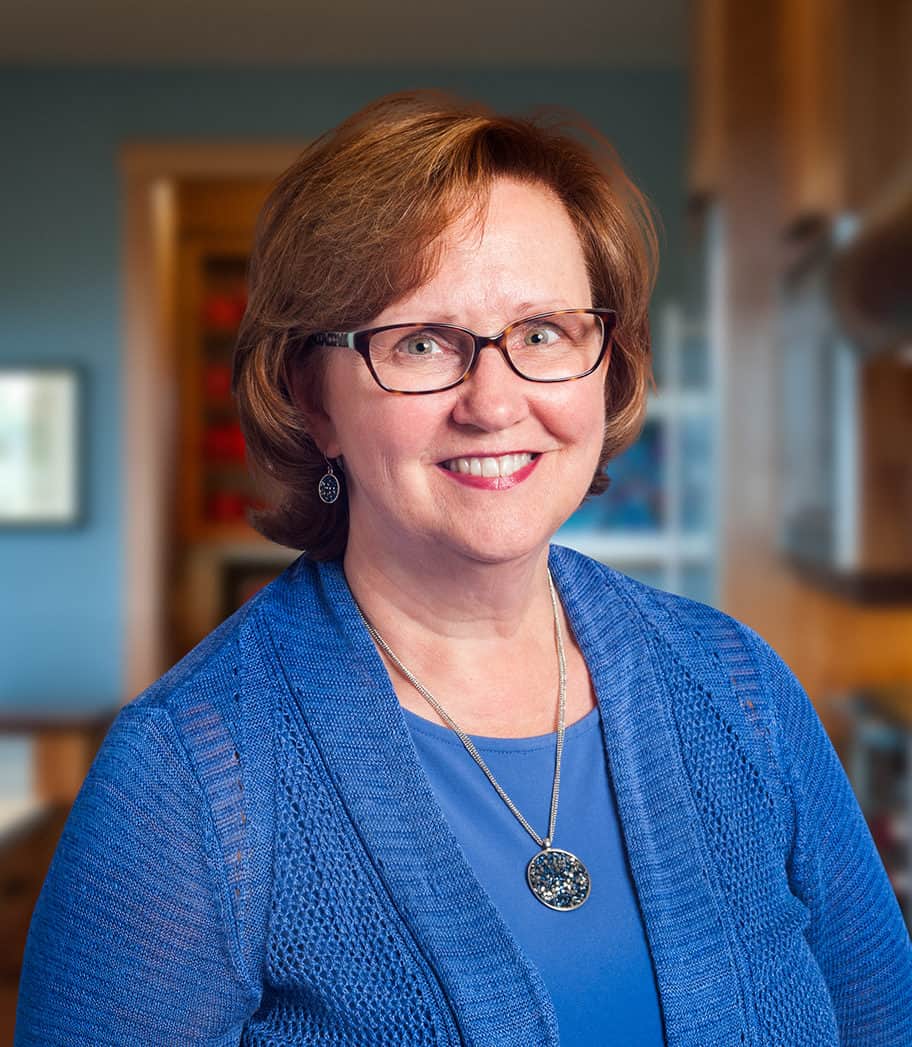 karen richmond, Portland Design Consultant, CMKBD, CAPS, CGP
Karen Richmond's fascination with design and construction began in high school when she and her family tore down their crumbling farmhouse to construct a new home. Seeing that structure come apart stirred Karen's interest in how it went together. Today, with a degree in Interior Design, 40+ years in the remodeling industry, and numerous design awards to her credit, Karen takes great joy in leading successful renovation projects that range from kitchens and baths to exterior remodels, additions, and new homes. Inspired by every home and homeowner, Karen draws upon a wealth of knowledge and experience to find solutions that meet her clients' needs.
In her free time Karen enjoys spending time with family and friends, connecting with nature, and in creative pursuits including cooking, gardening, and art making.
View Karen's Houzz portfolio and read client reviews.
SCHEDULE A CONSULTATION >