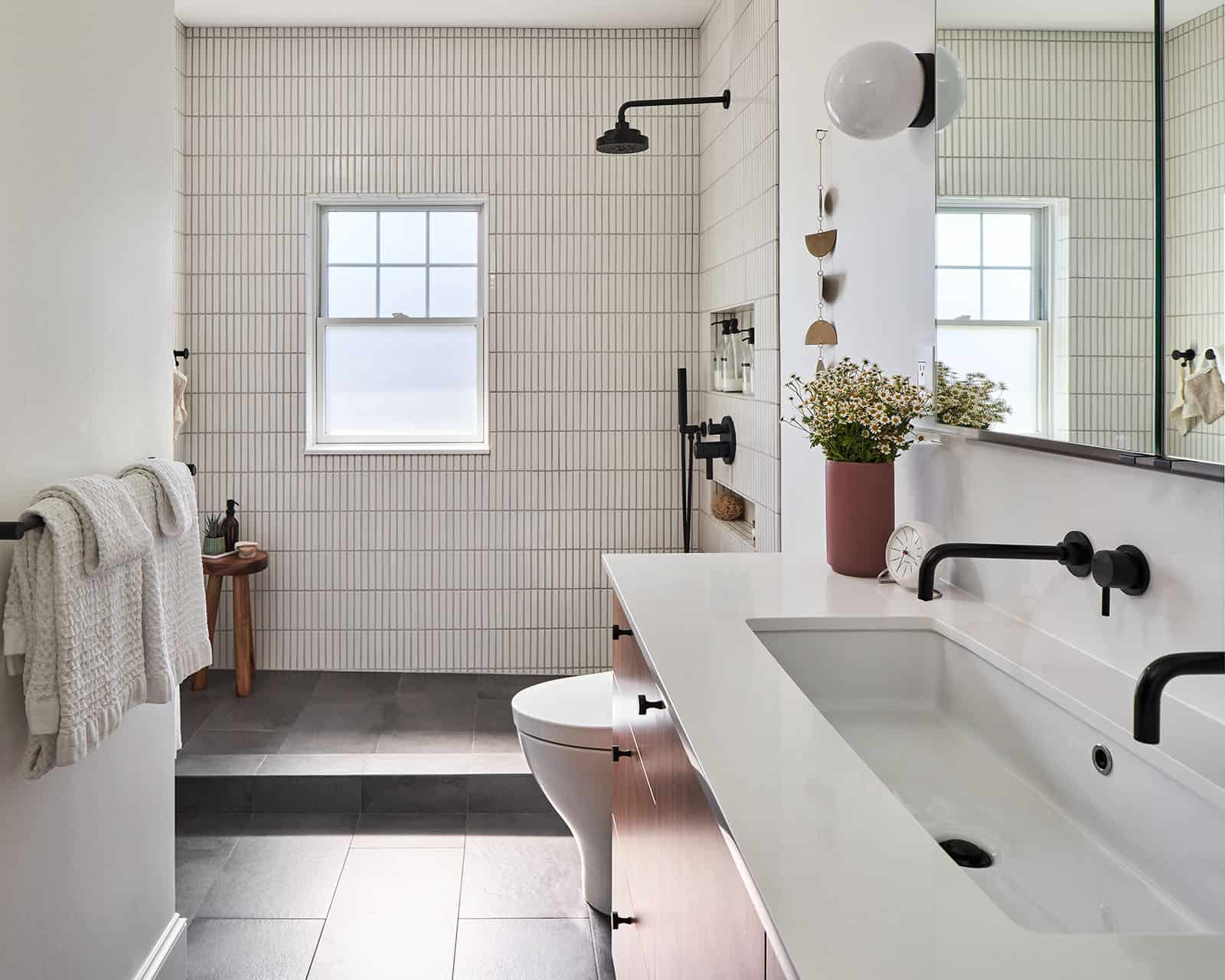 Above: In this newly remodeled Seattle area bathroom, the bathtub was converted into a spacious, frameless walk-in shower with a rainshower head and modern floral accent tile.
Bathrooms
Does My Home Really Need a Bathtub?
One of the most common questions we get about bathroom remodeling is: "Do I really need a bathtub?" or, "Is a bathtub necessary to maintain my home's resale value?" The answer is everyone's favorite: it depends.
Are you a "tub person" or a "shower person?"
First, consider your lifestyle. If you're already leaning toward replacing your home's only bathtub with a walk-in shower, odds are you don't use your bathtub much, if ever. 
"I usually ask if they use a bathtub currently." says Neil Kelly Bend Design Consultant Kathleen Donohue—an award-winning interior designer for more than 30 years. "If it turns out the tub is only used for watering house plants, or worse, for the cat box, I say NO!  I have learned over the years, there are "tub people" and "shower people"."
Consider Houzz's 2020 U.S. Bathroom Trends Study:
Two in five renovating homeowners report using their bathroom to rest and relax (41%). The bathtub and shower are equally important features, with 55% of renovators saying soaking in the tub helps them to relax and 54% enjoying long showers. Bathtub soaking is down seven percentage points from last year, which might explain why only 10% of renovators are adding a bathtub (down two percentage points from 2019). 
Some people find taking a bath terribly time consuming. You might need to scrub the tub first, which might be enough of a reason for you to convert a tub to a shower. Then comes the time it takes to fill it. The average bathtub takes 10 minutes to fill, and if you have a large jet tub (which were all the rage in the 80s and 90s) it could take close to 20 minutes. Once you finally get to soak to your soul's content, you may have dedicated two hours to the task. 
Then there's water usage concerns. A bath might require 70 gallons of water where a 10 minute shower typically only uses 25 gallons. 
A walk-in shower has a lot to offer
All of that bathtub space can be opened up to give you a more luxurious showering experience, extra amenities, and extra storage. Kathleen says, "If soaking in a bathtub is how you relax, then a tub should be front and center in your plans for a new bathroom. However, if a gracious sized tile shower, with perhaps a steam feature or multi-shower head layout is what you would really use, then let's put the energy and funds towards developing that idea."
A walk-in shower offers:
A spa-like experience that supports health and wellness

Extra space (for one or more people) to move around more freely

A more sophisticated shower system and appliances

More safety features such as grab bars and shower benches

An area that is much easier to clean and ventilate
But, what about your home's resale value?
When it comes to selling your home, most real estate agents will tell you that many home buyers will want a bathtub in at least one bathroom. 
The need for a tub is most common among two groups: young families with small children and luxury homeowners in the market for a house with multiple bathrooms. 
"Although more and more people are giving up their tubs for a more comfortable shower, I still believe that maintaining at least one tub in the home is important for resale," says Neil Kelly Portland Design Consultant Fabian Genovesi—also an award-winning interior designer for more than 30 years (no coincidence, that's just how we roll). "Many families with small children still bathe their kids in tubs. A tub also comes in handy in cases where you just want to soak and relax. That being said, ultimately, the decision should be based on the individual client and their intentions to sell their homes or stay for the long haul."
Consider the space and your plans for the future
Of course, it's not impossible to sell a home without a bathtub. Sometimes a shower just makes more sense in a small bathroom, which is often the case with condominiums. 
Foregoing that bathtub and installing a shower could be the right decision if you're planning to stay in your home for decades to come (or age in place) or if you're willing to market your home to a smaller pool of potential buyers when it comes time to sell. 
Kathleen adds, "Years ago, in a vintage Portland home we owned, we hadn't used our only tub once since moving into the home 10 years earlier. So, we ditched the tub and put in a beautiful steam shower and enjoyed it immensely. I made that decision realizing our home may not be attractive to a "tub person" or even to a family with small children who would want to have a tub for bathing. Most homes, however, have more than one bathroom with a tub, and if there's one in a guest bath elsewhere, there is less risk in removing that bathtub and replacing it with open space and a larger, amenity filled shower."
To reiterate, if you do decide to keep a tub in your home, and you have more than one bathroom, the bathtub does not have to be located in the primary or master bath. These days many homeowners are choosing to transform their primary ensuite bathroom into a more open, personalized space with a large walk-in shower.
Neil Kelly's approach to remodeling is to learn all we can about your lifestyle, come up with a design that meets the needs of you and your loved ones, and build the bathroom that is going to give you the most comfort, satisfaction and value— tub or no tub!
Connect with one of our design consultants to get started.