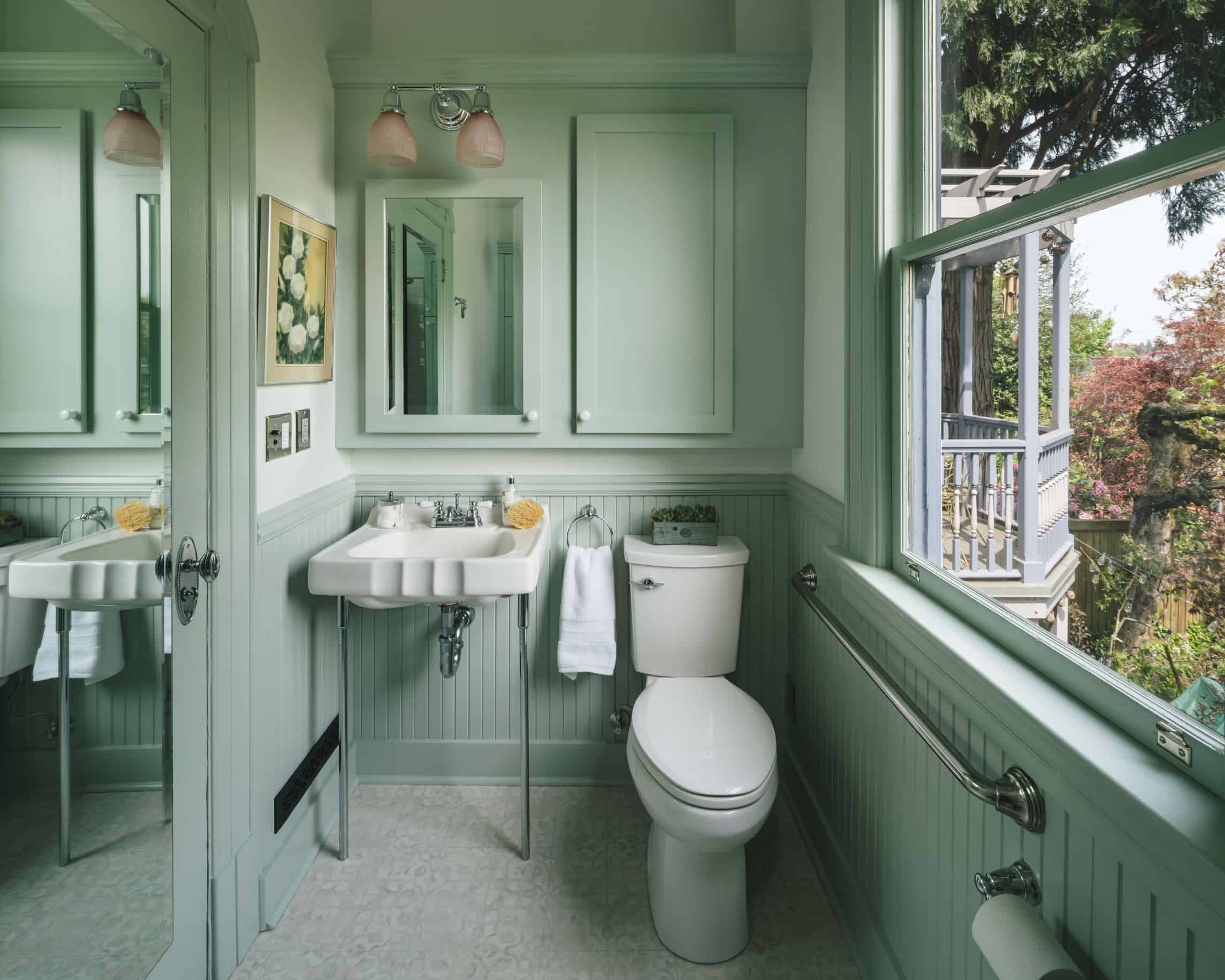 Bathrooms
|
Interiors
Small Bathroom Remodeling & Design Ideas
If you're planning on remodeling a small bathroom or powder room, you're probably looking for ways to add function and personality without overwhelming the space. Neil Kelly Seattle Designers Jamie Smugeresky and Rob Van Houten share the design concepts they recommend to their clients when renovating a small bathroom or powder room. Here are their small bathroom design tips backed by decades of remodeling experience.
9 Smart Design Ideas for Remodeling a Small Bathroom
1. A small bathroom doesn't have to be "light and bright" to feel right
We all know that white will make a small bathroom appear more spacious. It's a tried and true way to go, but it's not for everyone. "Just because a bathroom might be small doesn't mean you have to keep it bright," says Jamie. "Be bold with rich moody wallpaper or accent with colorful textured tiles to bring excitement to a private space."
If you choose a dark color, don't hold back. Darker tones can still make a room feel larger if you use a high gloss finish and strategic lighting to create depth.
Related: Choosing Colors for Your Home Remodel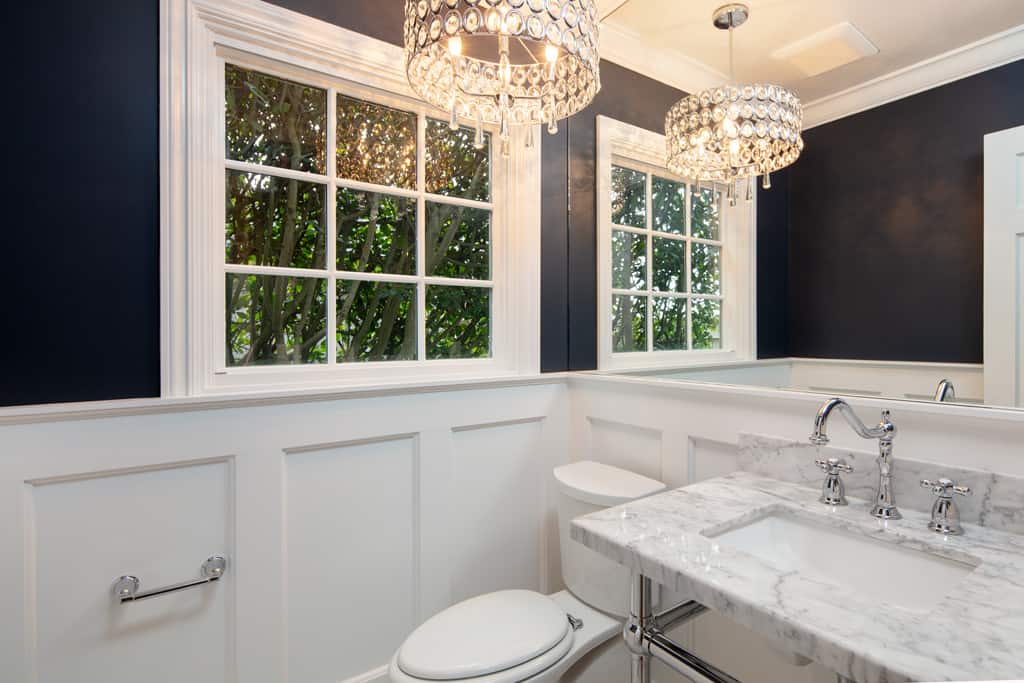 2. The mirror the merrier
"A large mirror will help reflect light and extend sightlines," explains Rob. So generally, the more or larger the mirrors the better, particularly if your bathroom doesn't have a window. You could even consider a whole mirror wall. 
Jamie adds, "Mirrors offer function, but can be stylish and create the perfect accent. If you are searching for extra storage, choose a medicine cabinet with mirrors for your vanity. You can have internal outlets for electric toothbrushes and shavers."
Choosing a lighted mirror can simplify your vanity wall by eliminating the need for sconces.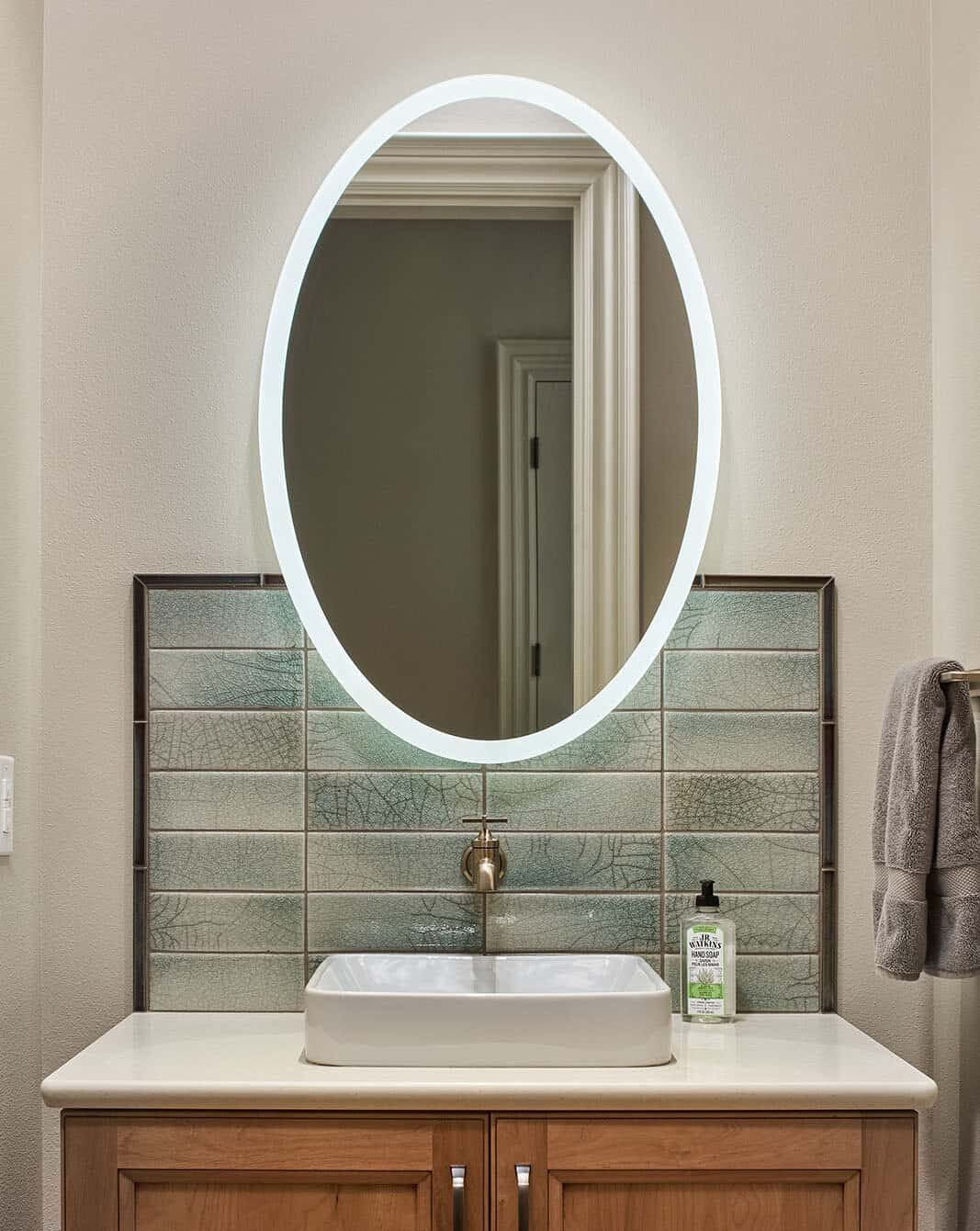 3. Go with glass for a small bathroom shower
"Glass enclosures are a great way to keep your bathroom feeling spacious and show off your tile selection," says Jamie. "If you're worried about cleanability, make sure you request a "hydro shield" to help keep water droplets controlled."
Rob points out that, "A bathroom with a tub-shower combo can benefit from a half wall with a glass panel on top to help the room feel more open."
Related: Does My Home Really Need a Bath Tub?
If you're sticking with a shower curtain, have the curtain rod installed as high up as possible to extend that vertical line and make the room feel bigger.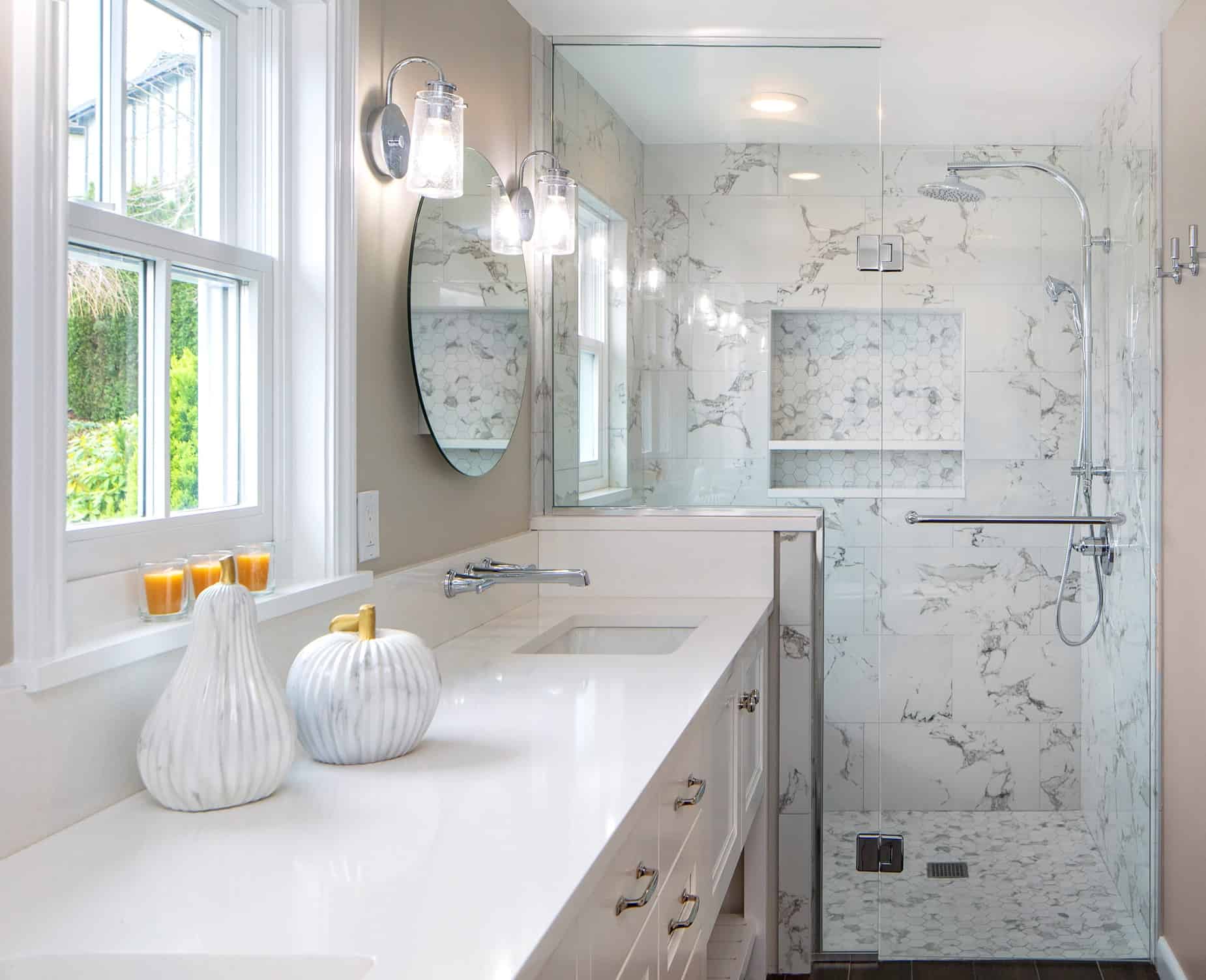 4. Focus on long lines
Unbroken lines will give the space more depth. So, when installing tile, hanging wallpaper, or even just painting, make sure not to stop in the middle of the room. The tile installed in your shower could extend to your vanity wall or onto the floor.
"Creating a tile design that extends beyond the shower adds texture and drama to your bathroom, Jamie says. "Wall-mounted faucets and freestanding bathtubs are visually grounded when layered with accent tile."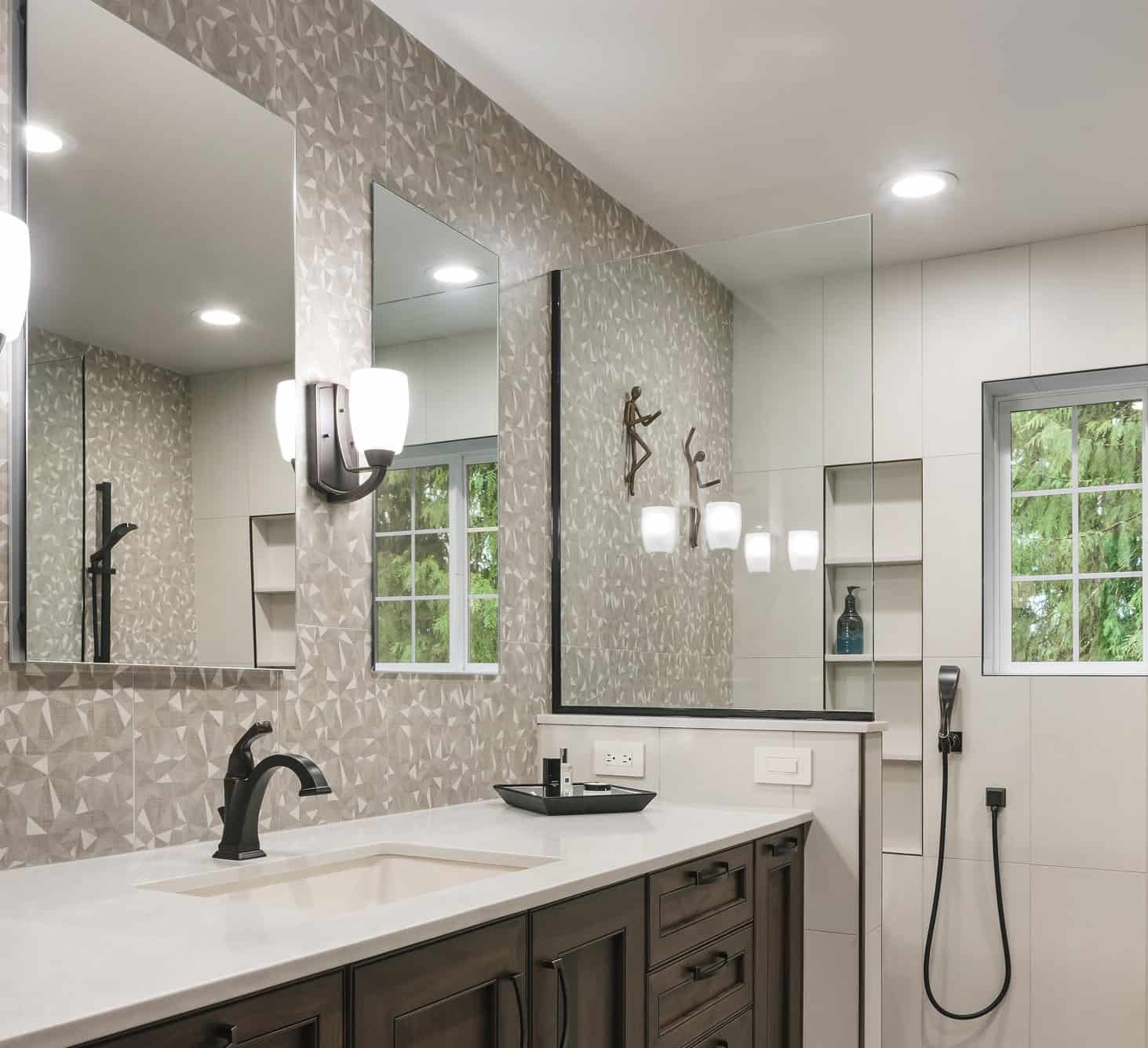 5. A pocket full of perfect
If you're not familiar, a pocket door rolls on a track and disappears into the wall when it opens as opposed to hanging on hinges and swinging open into the room. "A Pocket door can help a lot with making smaller spaces feel bigger," says Rob, "and avoids a door hitting the cabinetry, toilet, or shower."
Jamie adds, "They may be a blast from the past, but what a great way to keep your bathroom less congested. My clients love when pocket doors have a full-length mirror or frosted glass for privacy without losing the light."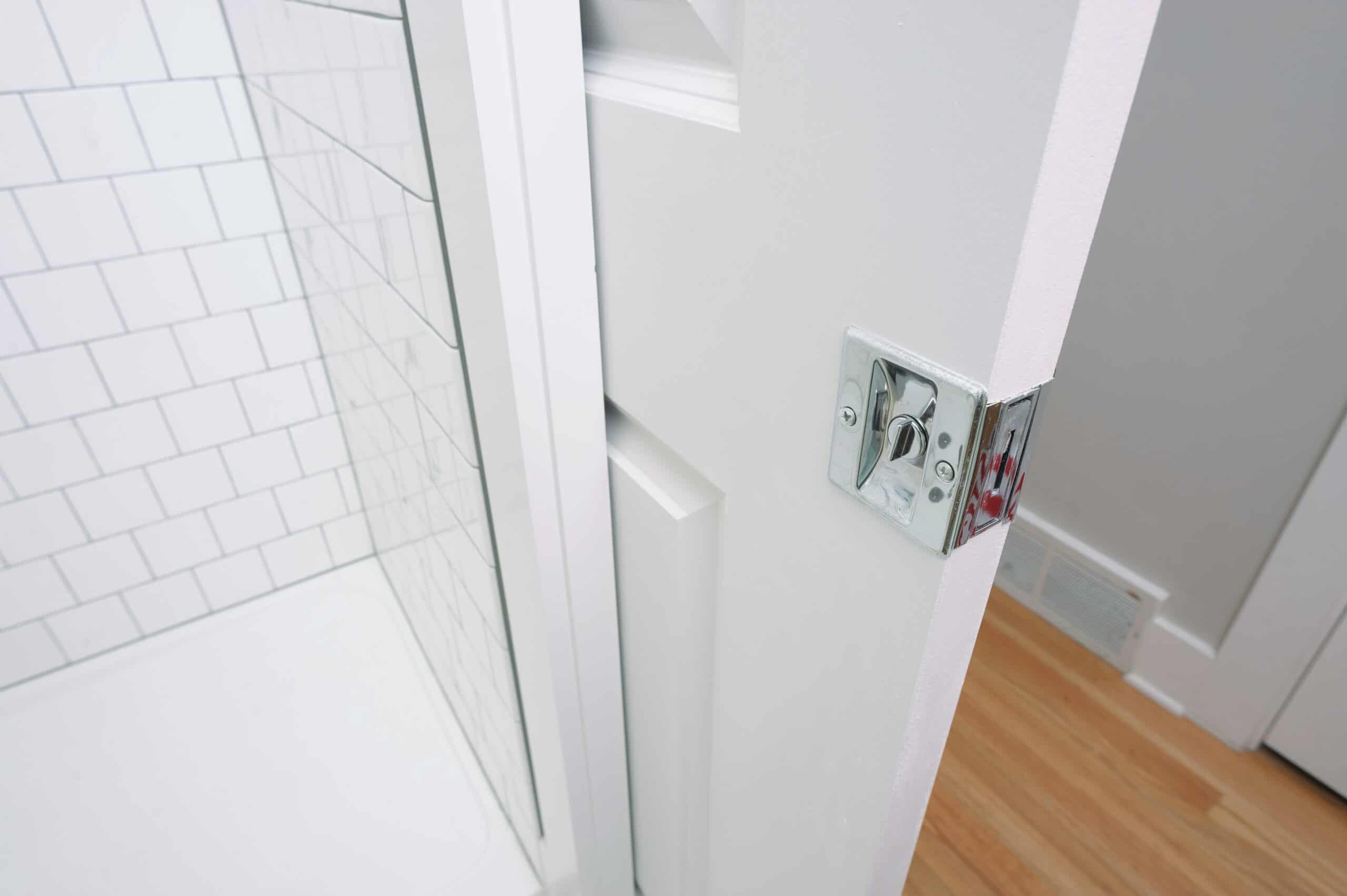 6. Pedestal and console sinks open up small bathrooms
A small bathroom is going to feel extra cramped if too much space is taken up by a large vanity. A pedestal or console sink are great choices if you're willing to forego the cabinet storage. If you can't give up the cabinets or counter space, then consider a floating vanity to give the floor some breathing room.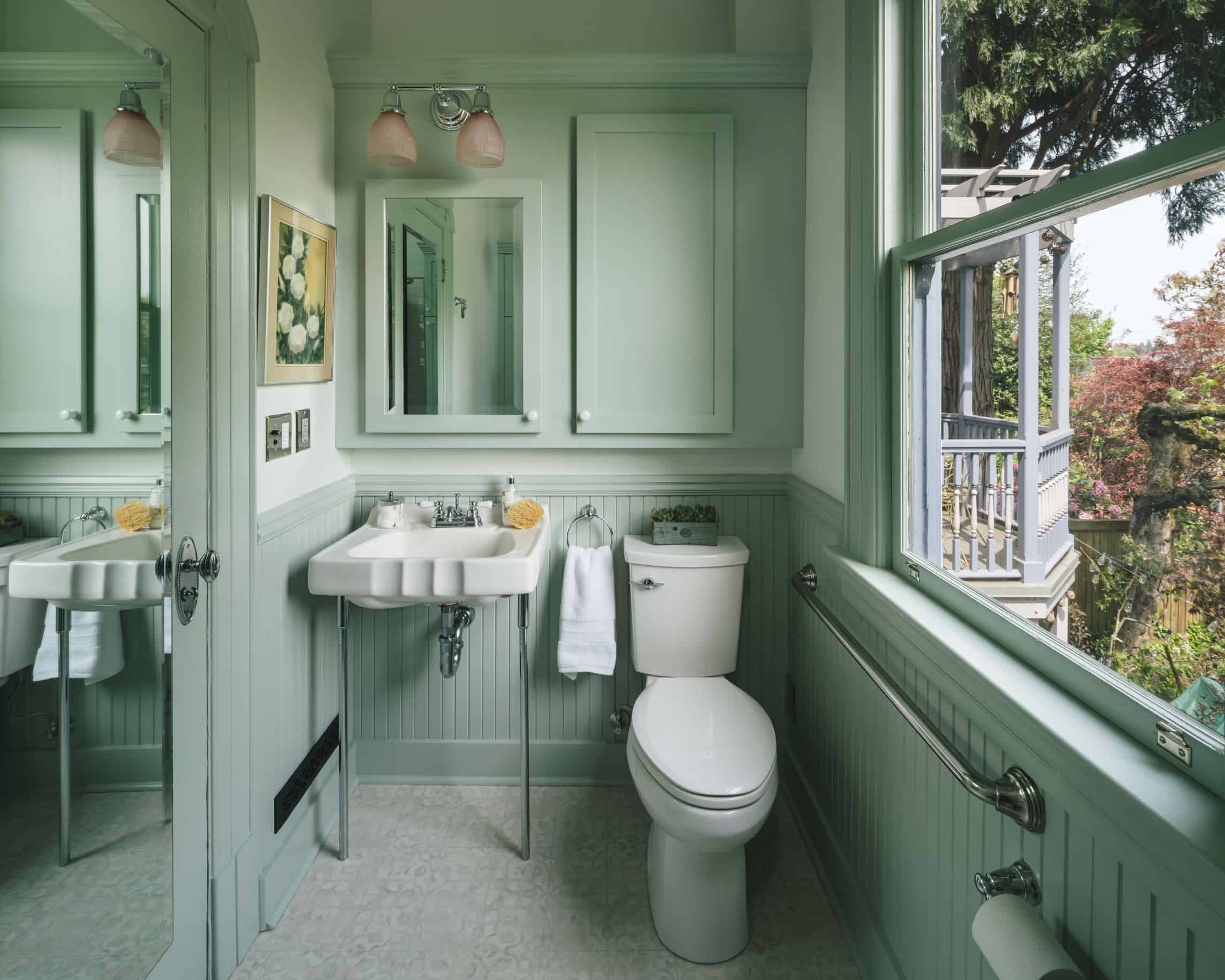 7. Switch to a niche
To improve your bathroom's style and storage functionality, ditch those plastic caddies and install a shower niche for your shampoos and other items. "Niches and ledges in a shower are the best places for bathing essentials," says Jamie. "Be mindful of locations that are easy to reach and I always like added depth if possible for moisture-loving plants or larger bottles." 
A shower niche is also an opportunity to show off your personality with a decorative accent tile.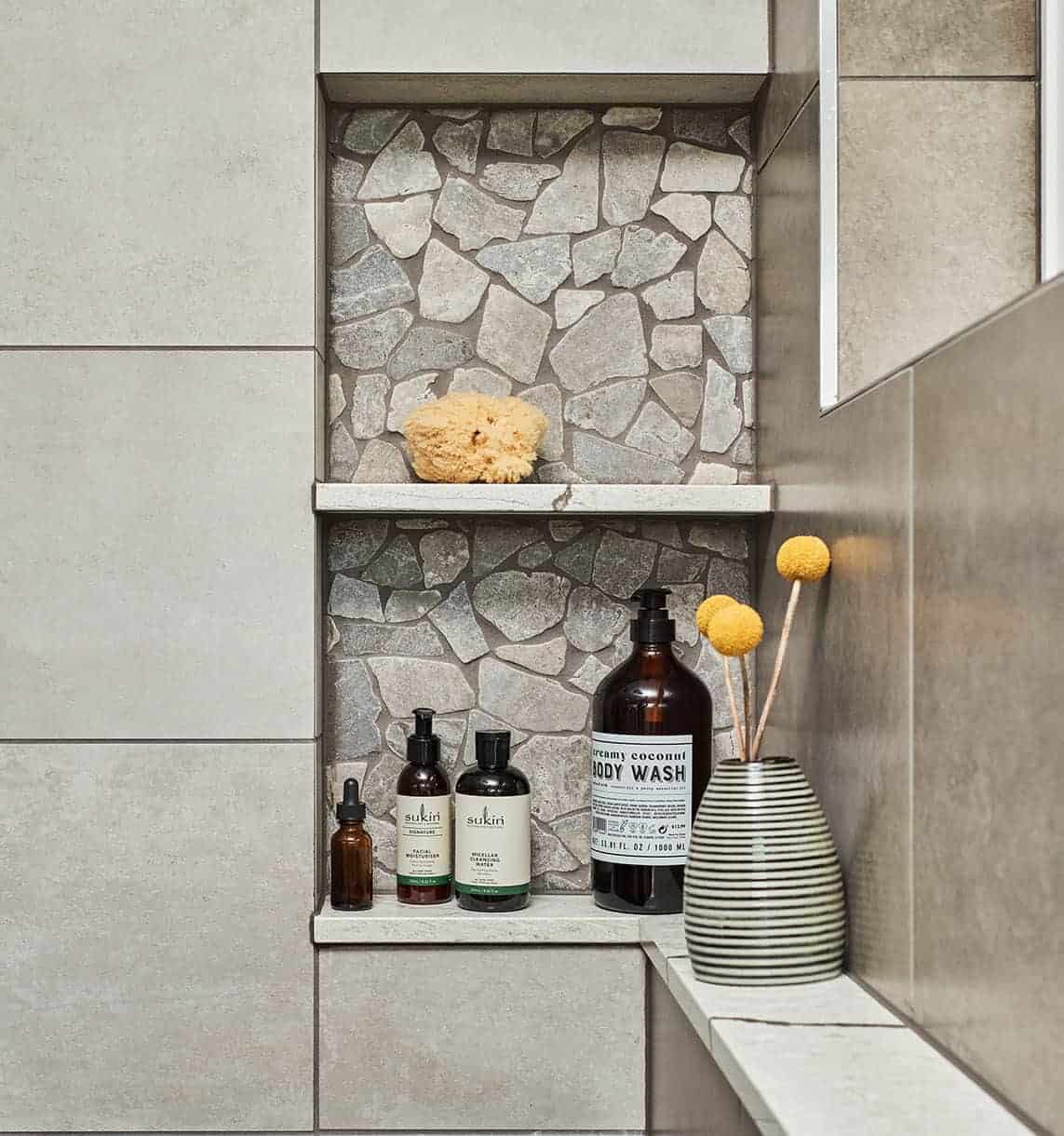 8. A wall mounted faucet
Rather than mounting your bathroom faucet to the sink or countertop, think about saving some counter space by having it mounted to the wall below your mirror. "Not only are they desirable, fashionable, and interesting, but they make it so easy to clean and dry your vanity countertop," Jamie says. "The styles range from modern to traditional and they're a great way to express your bathroom style."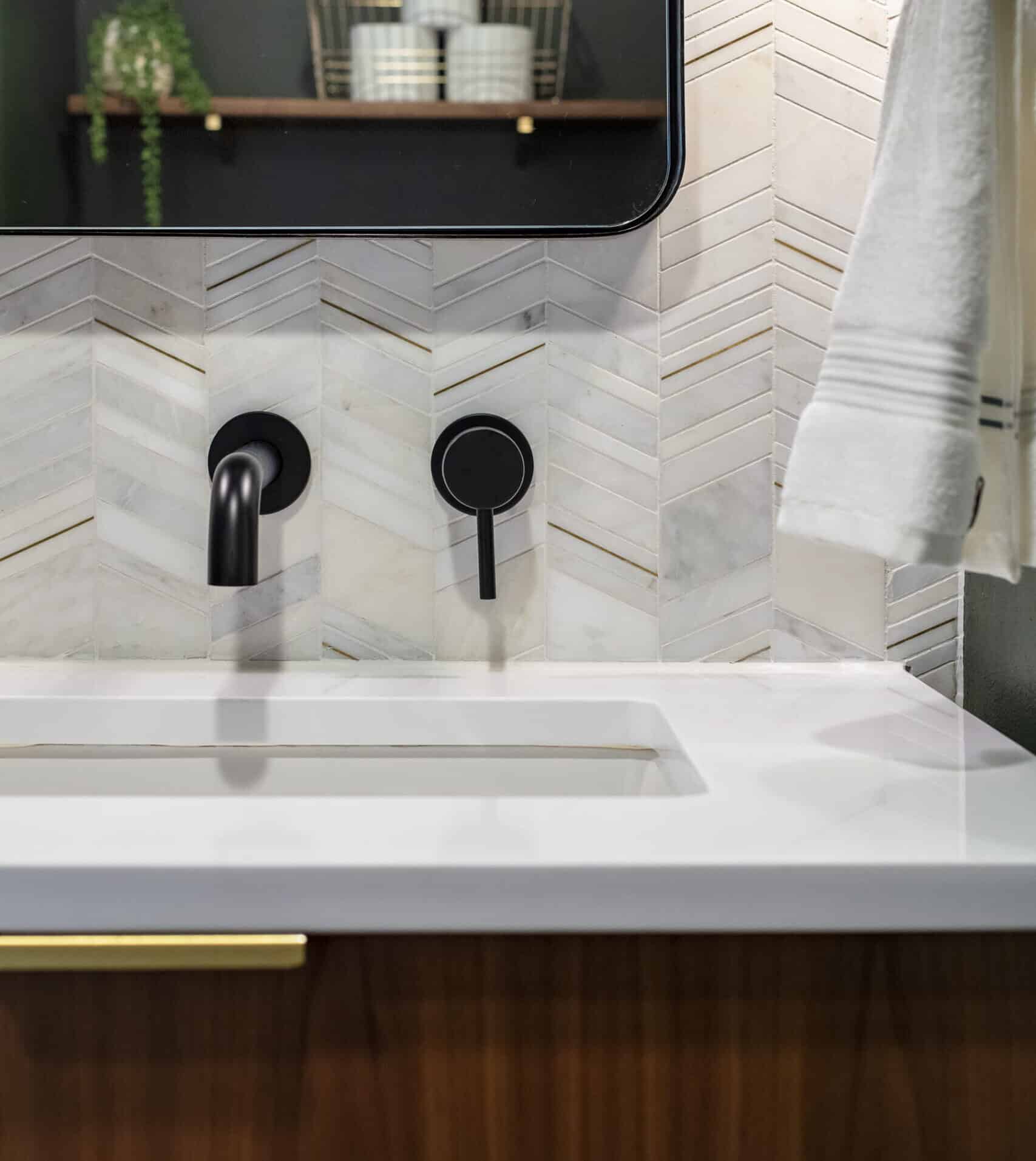 9. A skylight will be the highlight
Any small space will feel larger and more peaceful when you bring in natural light. So, if you have a window, keep it, and if you can add a skylight, do so. "Natural light is a great way to start your morning," says Jamie. "The PNW weather is a great reason to add windows and skylights to any space, especially a bathroom."
Do you have a vision for remodeling your small bathroom? Talk to a Neil Kelly designer and we'll bring your vision to life. Request a complimentary consultation today.