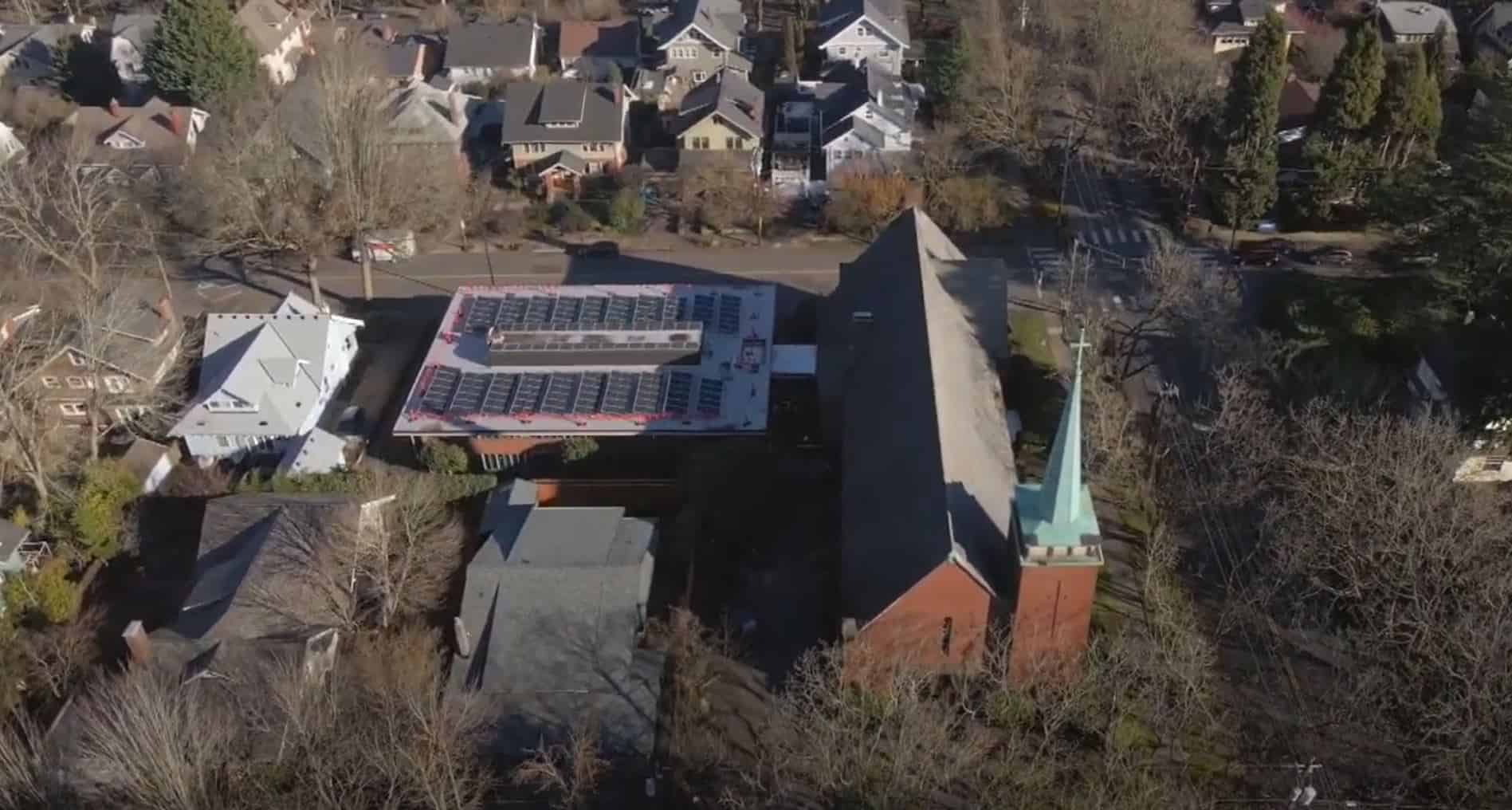 News
|
Sustainability
Augustana's Solar Genesis
Learn about the path Augustana Lutheran Church followed to become one of the first "solar sanctuary" churches in the nation. Neil Kelly is proud to have supported the development and installation of this remarkable non-profit solar project. (Click to watch video.)
Augustana Lutheran Church is a multicultural, multinational, multigenerational sanctuary congregation located in Northeast Portland, Oregon. For more than a decade, the church had plans to "go green" using solar energy but couldn't secure the funding. With the help of Neil Kelly, the 116-year-old church overcame that hurdle and recently finished installing 112 solar panels on the rooftop of its education building.
Now, thanks to that 44.2kW solar array, every building on the church property operates at net-zero electricity allowing Augustana to live its mission of becoming one of the first solar sanctuary churches in the nation.
"Can you imagine if every synagogue, mosque, temple, and church in this country became a 'green' site using solar or renewable energy?" asks Pastor Mark Knudson. "Just imagine the hope that would give to generations to come."
Solar Project Takes Shape
Augustana selected Neil Kelly and leveraged Pacific Power's Blue Sky grant program, a program that helps fund capital costs to install renewable energy systems for non-residential non-profit organizations in Pacific Power's service area.
"We completed a similar solar installation project for St. Charles Church where the church tapped into Pacific Power's Blue Sky program to help pay for a new solar system," shares Neil Kelly's Tyler Dotten. "For Augustana, our goal was to get the entire property, including the church, to net zero electricity and we accomplish this in four weeks!"
Overcoming Challenges & Finding a Way
The first challenge was for the church to secure the $133,000 needed to fund this large-scale solar installation project. From Pastor Knudson, "We are a diverse and generous congregation. More than 1000 church members and friends chipped in to make this solar project a reality and raised 50 percent of the necessary funds. The other half came through Pacific Power's Blue Sky grant program and local incentives."
The next hurdle was the need for a new roof. The decades-old roof needed replacing anyway so when the church leaders heard about Pacific Power's Blue Sky grant program from Neil Kelly's Tyler Dotten, they decided the time was right for both a new roof and solar panels. "We had no idea this type of grant existed," shares Pastor Mark Knudson. "Without this Blue Sky grant, we would not have been able to complete this solar project installation."
"Once the new roof was installed, our team began to install the solar panels, shares Dotten. "Our lead designer, Zane Goff, was a rock star on this project. He expertly navigated working with Augustana's electrician and Pacific Power to install a necessary and new service to the building in order to connect the 44.2kW solar array."
Inspiring Future Generations
"We are in a climate crisis and going green is one example of how, collectively, we can do something that has tremendous impact for good in this community, and our world," states Pastor Knudson. "We are committed to educating our community and held our first solar energy education youth conference, which was a huge success."
Solar System Specifications for Augustana Church Project
Panel type – Hyundai 395W
Number of panels in project – 112
Size of system – 44.2kW
Output in kWh – 43,332 kWh
Are you interested in harnessing the energy of the sun to power your non-profit organization? From establishing a vision for the project, to securing grants and financing, to installation and maintenance, Neil Kelly's Solar Energy team can help. Reach out to us today!