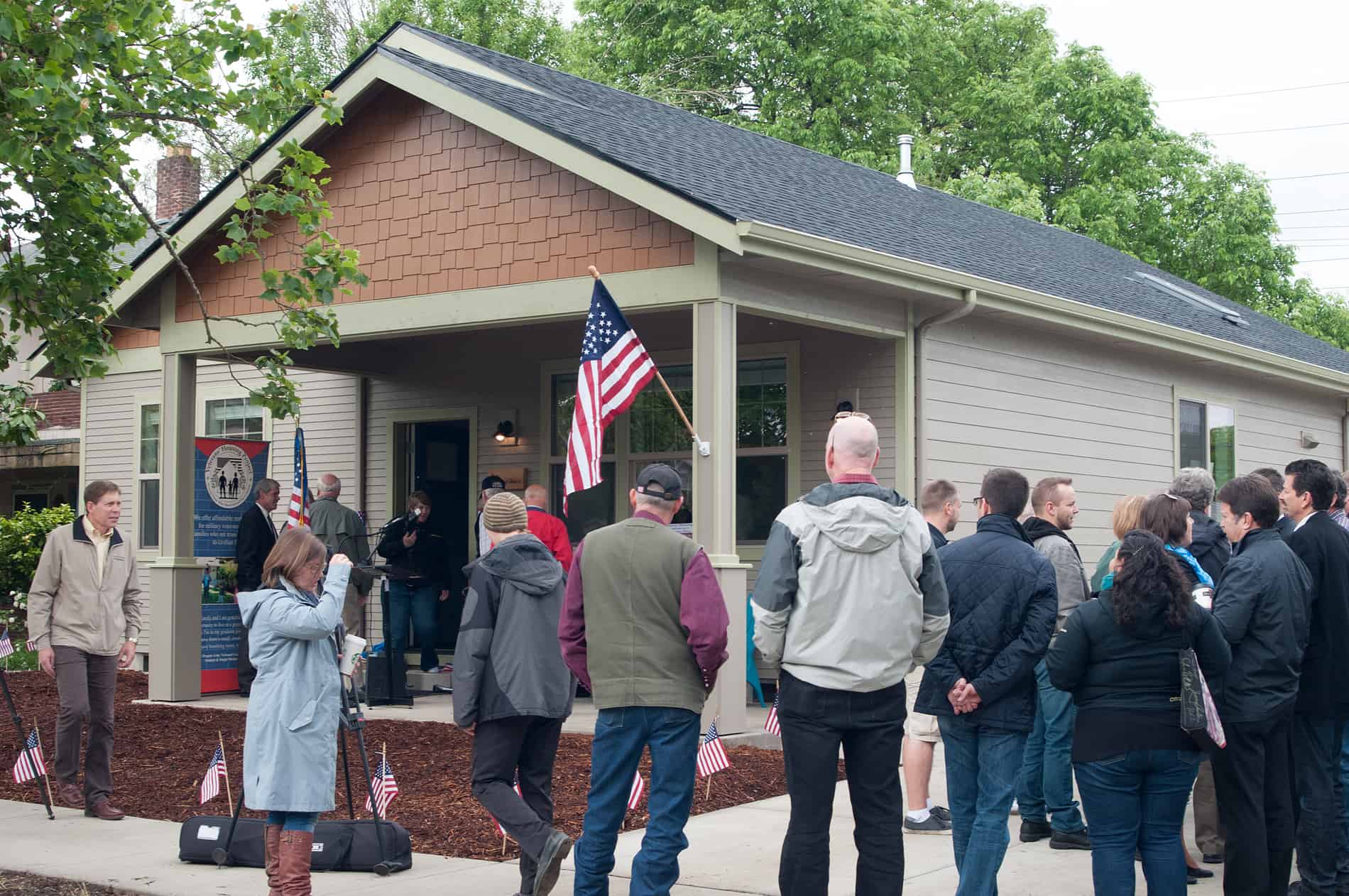 Above: Neil Kelly supported the Veterans Housing Project, one of several efforts addressing affordable housing in the Pacific Northwest.
News
How We're Making A Difference As A B-Corp
At Neil Kelly Company, we're helping to redefine success in business. As a B-Corp, we hold our company to the highest standards, focusing not only on growth and profitability, but also on activities that improve the lives of people and the health of the planet. In short, we're a business with a purpose.
One way we evaluate our success is through our ongoing certification as a B Corporation. B-Corps are for-profit companies certified by the nonprofit B Lab that must meet rigorous standards of social and environmental performance, accountability, and transparency.
"Neil Kelly Company has been around since 1947 and through the years we've been about much more than just making a profit," says Ben Rousseau, Business Systems Analyst, and head of Neil Kelly's B-Corp certification efforts. "Many businesses are focused on fine-tuning divisions and departments in order to increase revenue. But, in addition to that, we are focused on other elements, such as livability and sustainability. It's a big step forward for us as a company and something you don't see in a lot of businesses this size."
"This year, we're proud to roll out a five-year B-Corp plan in support of the company's overall mission and business strategy." Rousseau says. "The plan discusses how we intend to help our employees, our community, and the environment."
"Being a B-Corp works best when B-Corp goals and objectives are integrated into the day-to-day operations of a company," says Neil Kelly Marketing Director Don Scharff. "We have 200 employees that are broken up into teams, and each of these teams are working to implement B-Corp initiatives. We're always looking for new opportunities to improve."
Commitment to Employees
Creating a great and safe place to work for our employees is just smart business. We're honored that our safety program was recognized by the National Association of Home Builders and that we maintain a fantastic safety record.
Each day we strive to support a positive work-life balance, which includes 25 paid days off annually for hourly tenured employees. As part of our B-Corp Plan, the company is also reviewing compensation equity — the variance between the lowest paid employee and the highest paid employee.
"The thing that really makes Neil Kelly Company is the people," says Julia Spence, Neil Kelly VP Human Resources. "We love what we do and we work hard. But there is no question if you need to go to a kindergarten graduation or a softball game; you just do it. People here talk about their values and they exercise those values at work."
Community Support
In 2018, we offered more than $75K in both financial donations and volunteer services to community organizations. Our team in Eugene has been working on the Emerald Village project, a low cost "tiny home" community for people in need of housing. The Neil Kelly Memorial Scholarship just celebrated its 21st year by offering financial assistance to high school seniors living in North and Northeast Portland who demonstrate both strong academics and community service.
"As a company, we support organizations that our employees are actively involved in," says Spence. "At the top of the list are organizations supporting children, education, housing, and the environment."
This year we helped Community Warehouse — a nonprofit furniture bank that collects home goods and redistributes them to those in need — build a space for their organization. Also, the proceeds from our monthly remodeling workshops — more than $3K — went to benefit Habitat for Humanity, and in 2019 we'll build a duplex in NE Portland for that organization.
We're proud to support many local organizations, including:
·        Climate Solutions
·        EarthShare
·        The ReBuilding Center
·        The Portland Children's Museum
·        Oregon Business for Climate
·        The Children's Cancer Association
·        Sustainable Northwest
·        Northeast Health Center
·        Good In The Hood
·        Habitat For Humanity
·        Project Nightwatch
·        Meals On Wheels
Environmental Impact
"We are working toward making all of our gatherings and events 'zero waste,' and we've already made great progress toward this," says Rousseau. "We've also set targets to reduce our carbon footprint. We are looking at 5 percent reduction in energy use per year, and 20 percent over the next 5 years."
Recently we partnered with the University of Oregon Sustainable Business Program, who helped us perform an environmental impact analysis on our entire organization. From this analysis, we developed a policy that documents our environmental commitment and establishes targets for different environmental aspects of our organization, including the amount of waste diverted away from landfills and the amount of fuel used by facilities operations.
"Being a B-Corp is really about making continuous improvement," says Scharff. "It's not just an initiative that's done through the course of the year. We're always making changes in the organization that have a positive impact on the environment, our community and our employees. We pledge to do better over time – to improve every aspect of our business, for every individual."