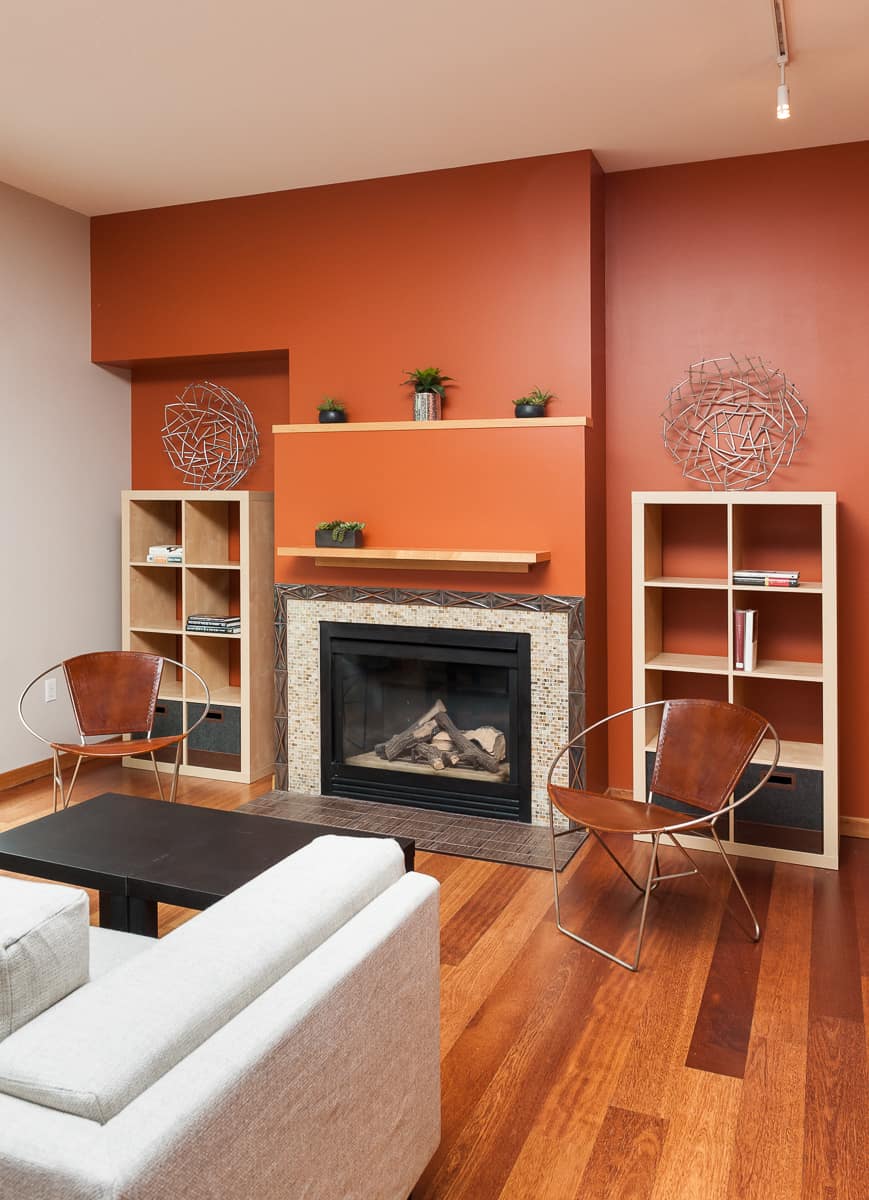 Above: A gloriously vivid orange adorns this accent wall in a Downtown Portland condo. To make this look work, the surrounding walls and ceilings, the fireplace, and the furnishings are kept relatively neutral.
Bathrooms
|
Kitchens
Finding Color Inspiration
Neil Kelly designers look for color inspiration from many different sources, from local artisans and manufacturers to paint suppliers — even Mother Nature.
Living Coral was named Pantone's 2019 Color of the Year, which is why you may notice this bright and vibrant hue popping up in clothing, electronic devices, packaged goods — and home decor.
According to Pantone, Living Coral was chosen for its "animating and life-affirming" hue which "energizes and enlivens." This bold coral color is now available in many beautiful decor and finish selections.
"I've always gravitated towards the orange and red tones that are the foundation of this color," shares Neil Kelly Design Consultant Tara Bruce. When choosing color Bruce advises, "Start with a neutral color palette and then look to Mother Nature to find inspiration—I'm always drawn to vibrant greens and oranges."
Tara recently added a splash of color to her own laundry room. A few of her top contenders from Benjamin Moore included Conch Shell, Fresh Peach, and an even bolder hue: Sausalito Sunset.
Where You Might Be Bold
Consider bold colors if you want to add warmth and vibrancy to your home. Here are some tips for how to do so. (And remember, paint is not permanent!)
– Add accents, pillows and artwork
– Pick a favorite hue or two and feature on a gallery wall
– Go bold with floral fabrics and wallpapers
– Try eye-catching patterned backsplashes (hint: if you want to be more conservative, start with a smaller space such as a guest bath or powder room)
What colors speak to you? Let our design team help you create a (colorful) private oasis. Get in touch with Neil Kelly today.