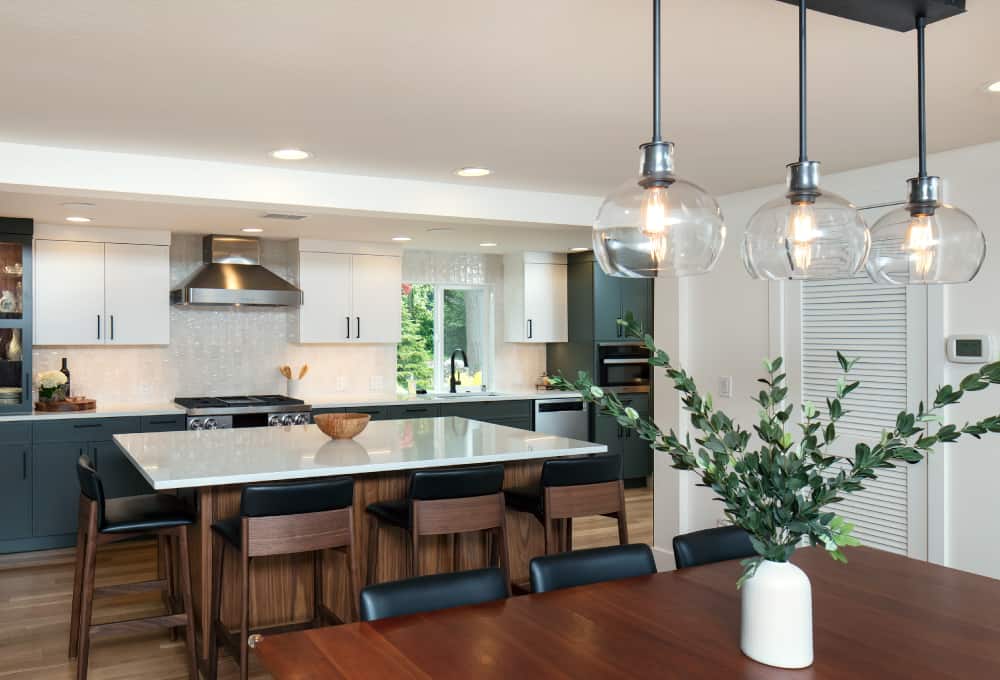 Bathrooms
|
Interiors
|
Kitchens
2023 Home Design Trends Forecast
As 2022 comes to a close, we're looking forward to the new year with excitement for fresh ideas in home remodeling. We surveyed our entire staff of talented home designers to find out what's becoming more popular in kitchens, bathrooms, and beyond. And with that, Neil Kelly's Design Director, Barbara Miller, is sharing her predictions for what will be the most requested home design trends in 2023.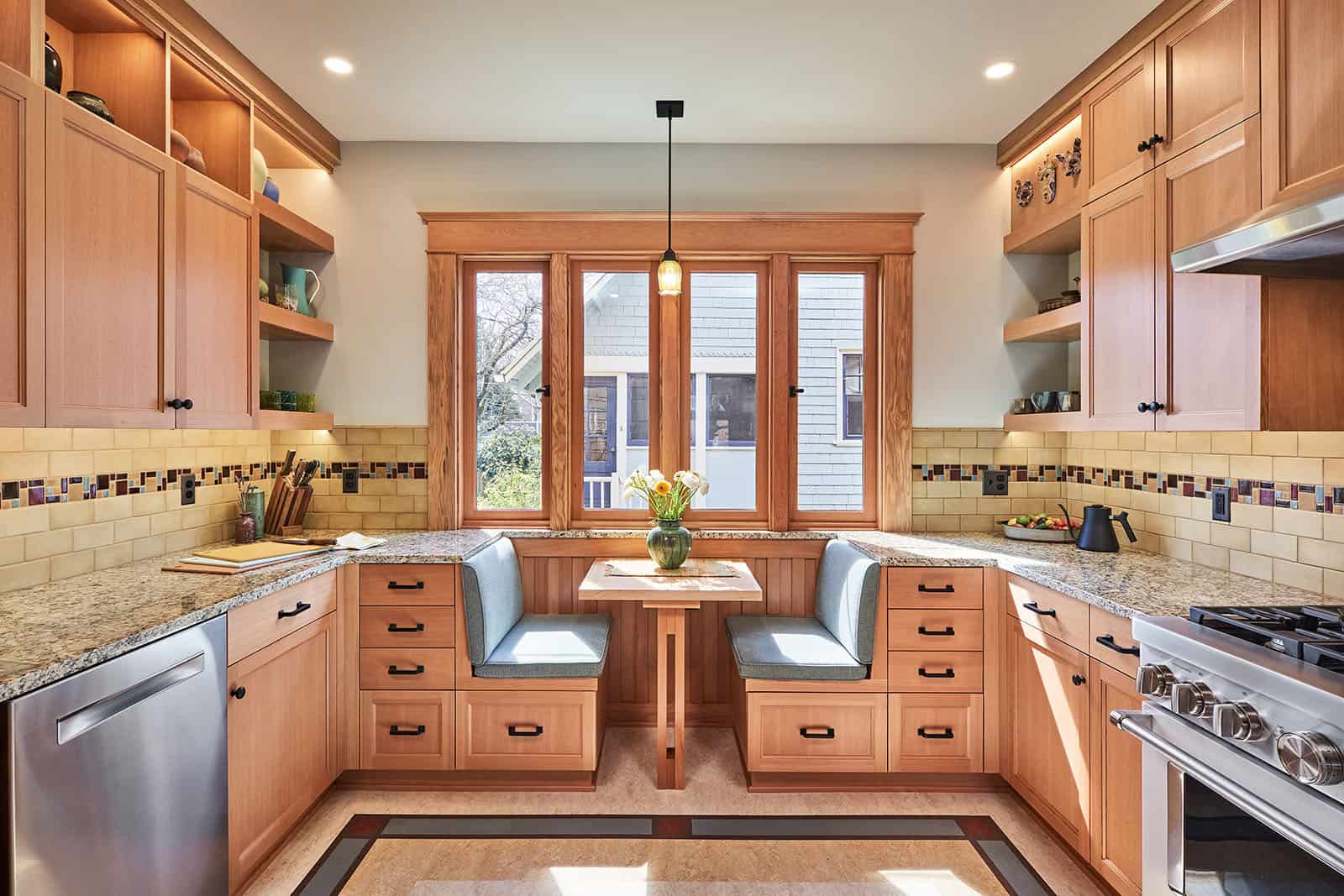 Bringing Comfort into the Kitchen
Through the last couple of decades, we've seen the ideal kitchen transition from a utilitarian space into a gathering space and become the heart of every home. As such, homeowners are eager to create a more inviting kitchen where guests are encouraged to hang out.
"We live in our kitchens. We always have, but they were traditionally a work zone and now they're a hybrid work and living space. We still have to be able to accomplish the tasks with the right lighting and surfaces, but with a softer side we can keep our family and friends at the table longer and have better conversations," says Miller.
Our designers are giving kitchens a "living room feel" by specifying more comfortable seating and softer lighting, creating places to display artwork, and hiding many of the things that make kitchens feel like a workspace. This often means disguising appliances with cabinet door fronts and designing clever storage that keeps countertops clear.
See more of this craftsman kitchen remodel in our project profile.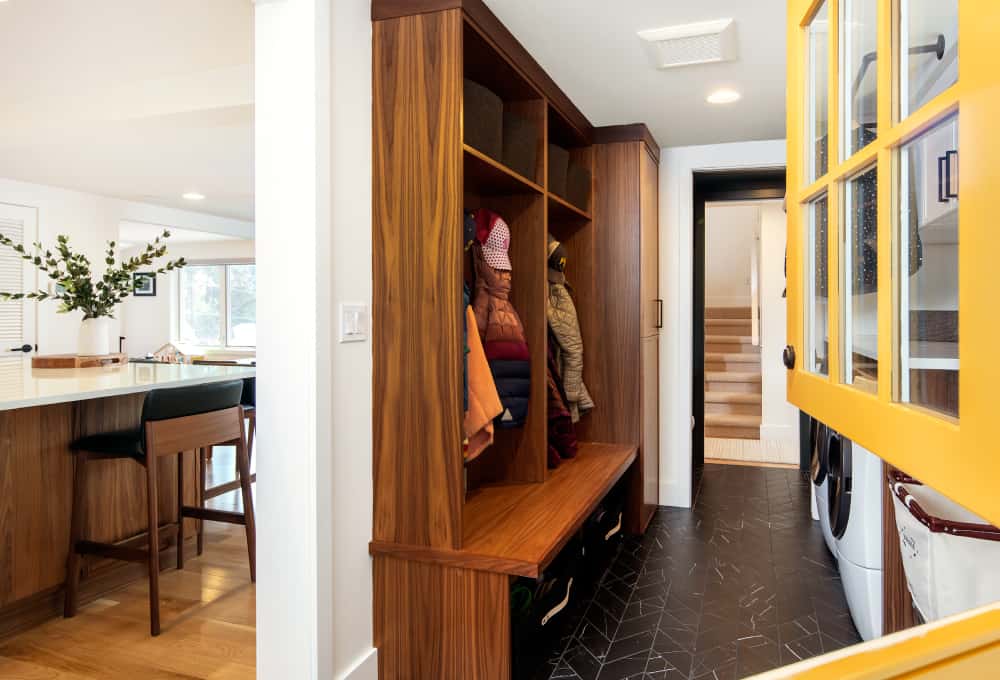 Multi-Functional Spaces
These days, we all need our homes to provide maximum functionality for family life. Miller notes, "When we were trapped in our houses we quickly realized that every square inch mattered. So, we started being smarter and started analyzing how we actually live in these spaces and then designed to fit that exactly."
Adding function and flexibility to our homes means we can handle remote learning/working, unexpected long-term guests, and a multitude of lifestyles led by each member of the household.
For example, homeowners are more frequently asking for kitchen islands that function primarily as food prep stations, but also as dining tables and desks (with built-in outlets for charging devices). The photo above is another example of a multi-functional space. A combined mud/laundry/powder room creates a convenient "one-stop-drop" as soon as one walks in the door.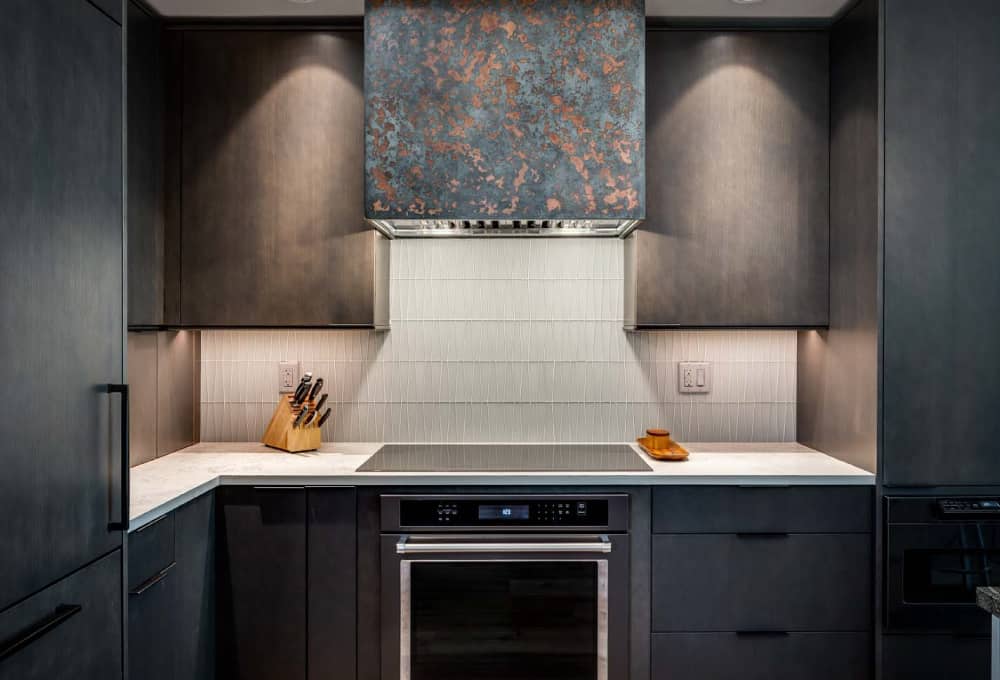 Featured Range Hoods
If you never gave it a second thought, you might be surprised to learn that there are six different types of range hoods. And no matter which you choose, it will have a significant impact on your kitchen's design.
In this case, custom range hoods are trending. For many homeowners, the range hood is the perfect place to showcase their unique eye for design. "It's a focal point, for sure, and it's about style," says Miller. "We're pairing down the ornament on the cabinets, we're pairing down the backsplashes, so it's a place to feature some texture or interesting color, but still keep all the work surfaces light and bright and easy to work on."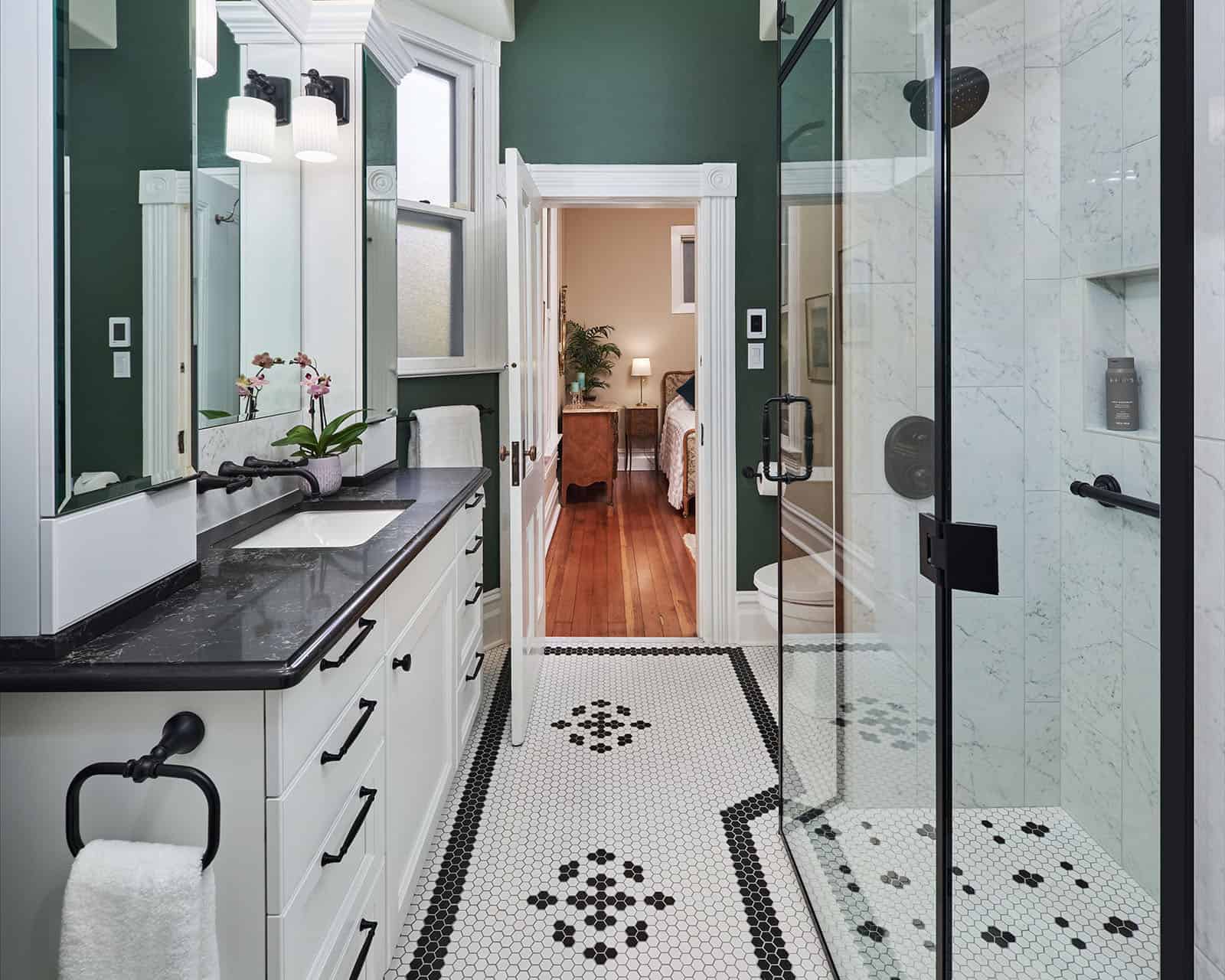 Green
From painted cabinets to bedroom wallpaper, the most often requested color by far is green. When many of us see green, we think of nature. According to the theory of biophilic interior design, green and other earth tones are inherently calming to human beings as we biologically seek out a connection to the natural world.
Miller explains, "Color trends are always in response to what's happening in the world. Whenever there's a stressful time, we look for those calming environments and natural materials. Green is a restful color that's also reflective of nature—it's calming. When people have been reclusive for a while, bright vibrant colors that get us moving again tend to be the trend."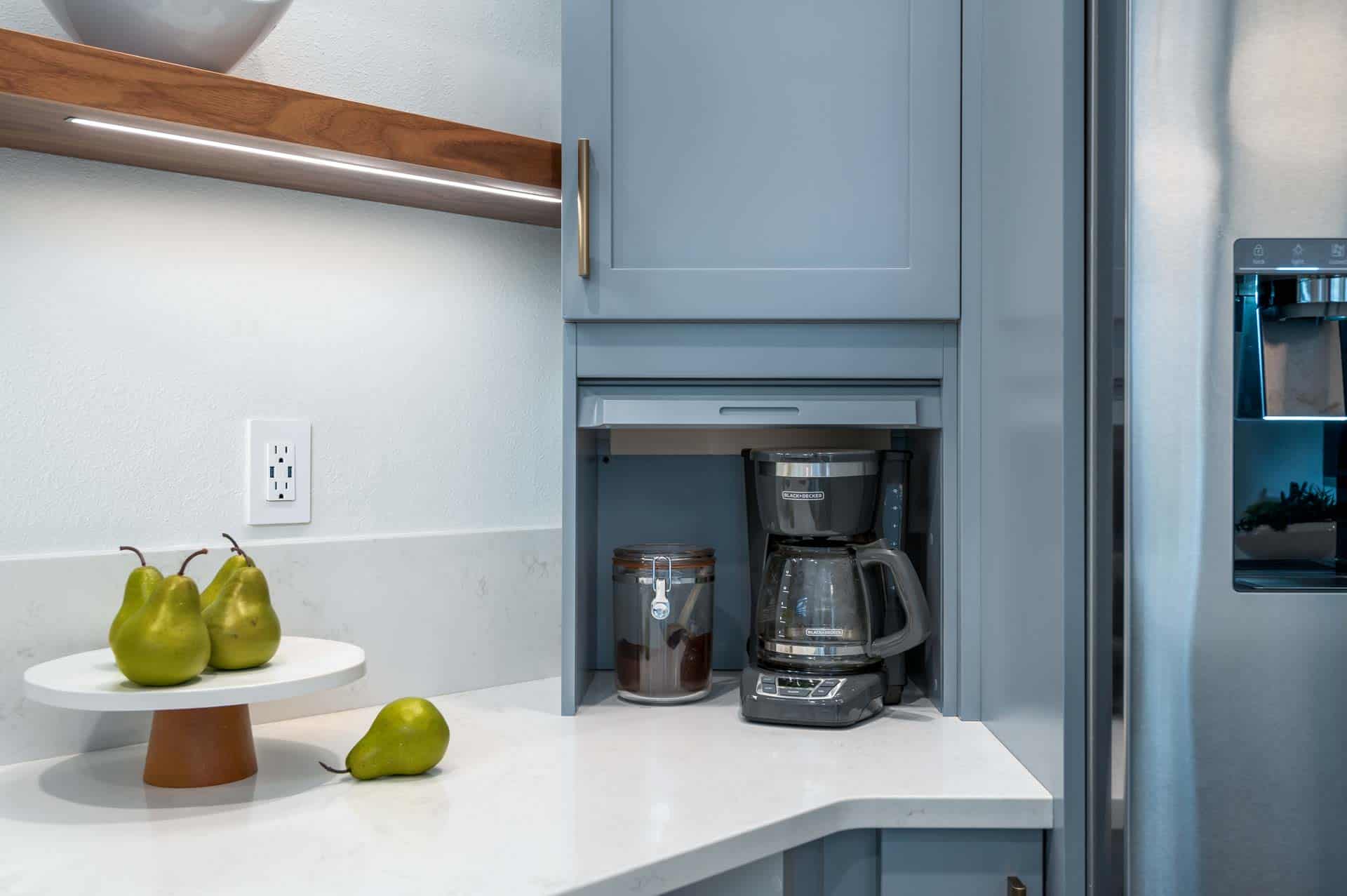 Hideaway Storage
Whether it's in the kitchen or elsewhere, homeowners are asking for clever ways to keep clutter hidden in favor of a clean and minimal look. The small appliance "garage" cabinet that rests right on the countertop makes putting away the coffee maker, toaster, and other kitchen tools very convenient. Butler pantries are also making a big comeback with bonus points if the pantry door is hidden within the kitchen cabinets, making for a "wow-factor" reveal.
"This is a continuation of being minimalist but taking it to a new extreme of having nothing on the countertop, if possible. People want things completely cleared off," says Miller. "They're wanting to hide the practical everyday stuff so they just see the pretty things when they come into the kitchen. It also continues the living room feel because you're not seeing the appliances that make it a kitchen."
Combining closed cabinets and open shelving
When choosing between closed upper cabinets or open shelving, many homeowners are finding a happy medium with a combination of the two. This solution allows you to keep a matching set of dishes and artsy things on display while still having the opportunity to keep cereal boxes and the kids' collection of sippy cups behind closed doors.
Miller adds, "We're making more space for art and a little bit less space for storage in our kitchens, but being thoughtful about it. We can have beautifully balanced displays on the shelves and then all the ugly things hidden in the cabinets."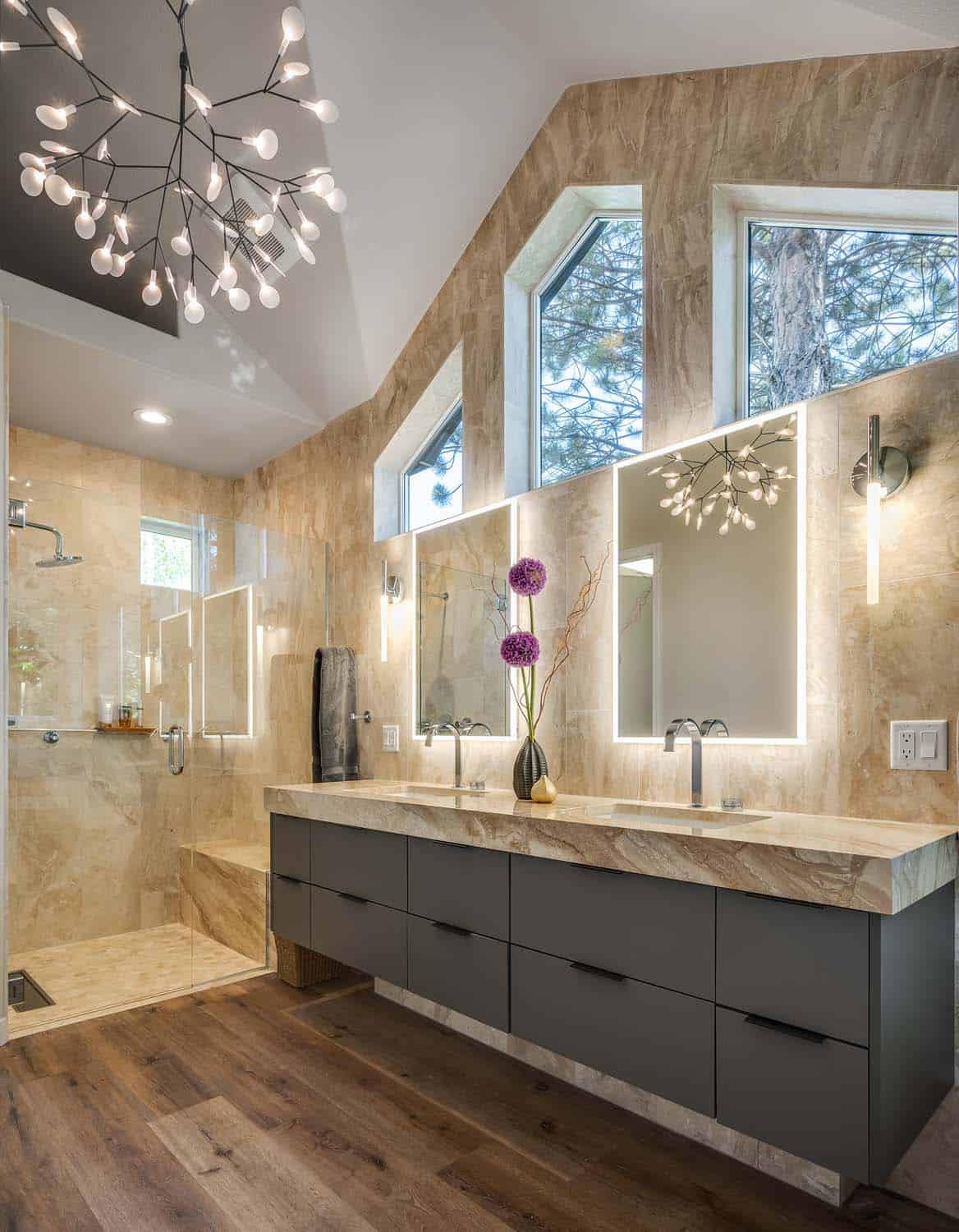 Layered Lighting
There's no more "all or nothing" when it comes to lighting. In addition to general lighting, which is typically recessed in the ceiling these days, we can illuminate work zones independently with task lighting and install decorative pendants and sconces (on dimmers!) for ambiance.
"Task lighting allows you to accomplish what you need to accomplish, but then the accent lighting and the decorative lighting allow you to change the function of the space to a relaxing retreat," says Miller. "Kitchens and bathrooms become more stressful if there's not enough light in there to do what you need to. If you can't get a sliver out of a child's foot in a bathroom you're going to be super frustrated, but you don't want that much light all the time. You need to be able to turn it off when you want to take a relaxing bath. It's one of the keys to making a space multi-functional."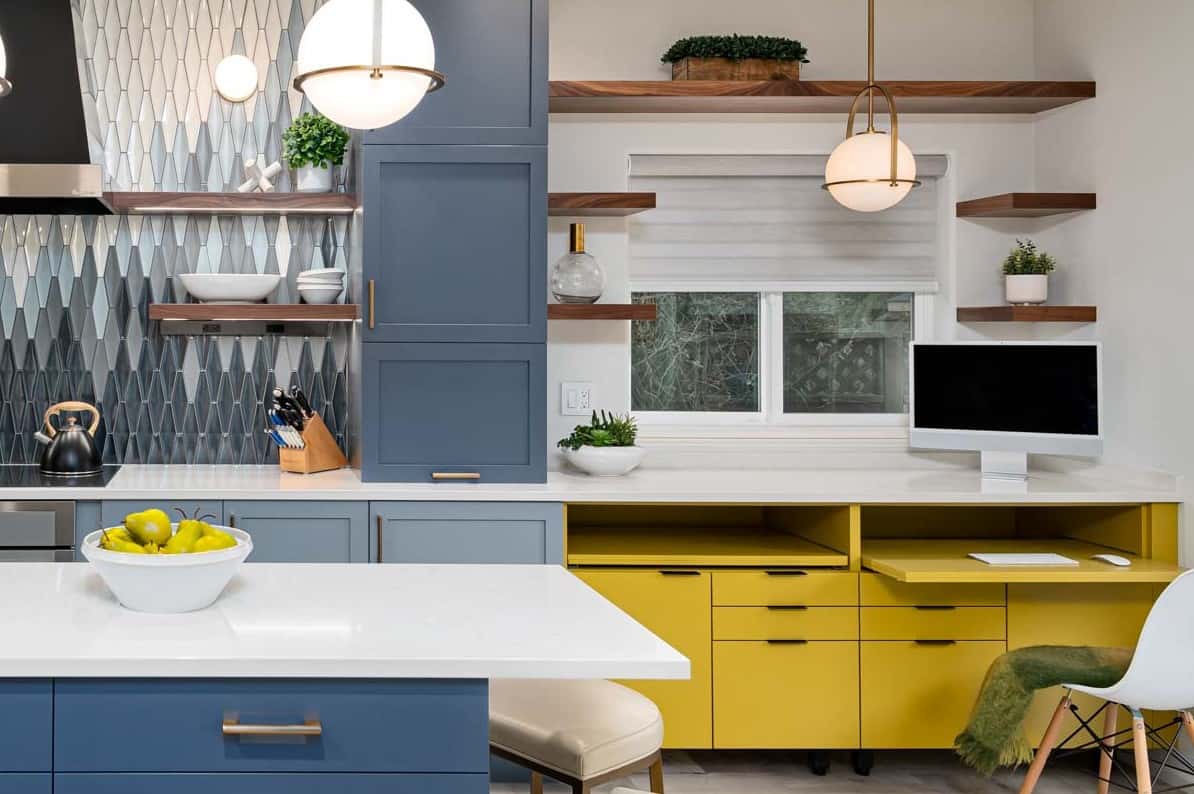 Flexible Home Office
Working from home is still influencing demand for home office space. But if it's not in full-time use, it makes sense to create this desk area in a multi-functional space like the kitchen, dining room, or guest room. As an added bonus, having a desk in a shared space allows for supervision while kids are doing homework.
Miller explains, "Some of us are returning to work, but we still want to be able to work from home. The workspace in this home [in the photo above] is especially great because kids can do homework there while a parent makes dinner, but it's also where you can look up recipes or sit down and answer emails. Desks were built into the kitchen in the 80s and 90s when we started having desktop computers, and we're ripping all those out now in favor of wet bars. But, this one doesn't take away from the kitchen space because it's small, it has all this storage down below, and a multifunctional desktop with these pull-outs."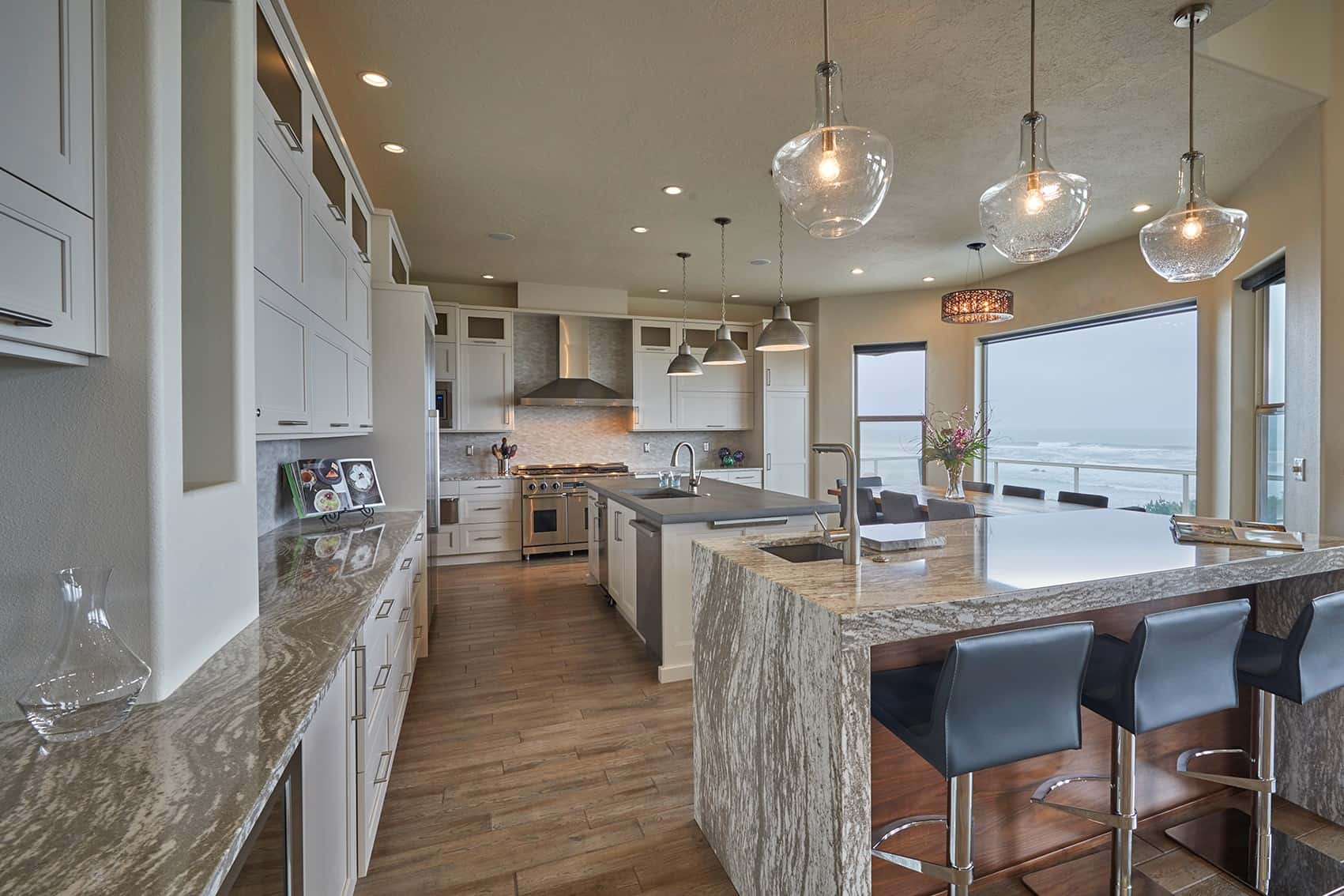 Two Islands
If you've got the square footage and love to entertain, it's a popular choice to add a second island to your kitchen layout, using one island for business and the other for pleasure.
"There's a working kitchen island and then there's an entertainment island that's more like a bar. It's a gathering space that's not interfering with the cooking space, and we're seeing that a lot," says Miller. "Of course, you can't have two islands unless you have an enormous kitchen, so it's an incredible luxury."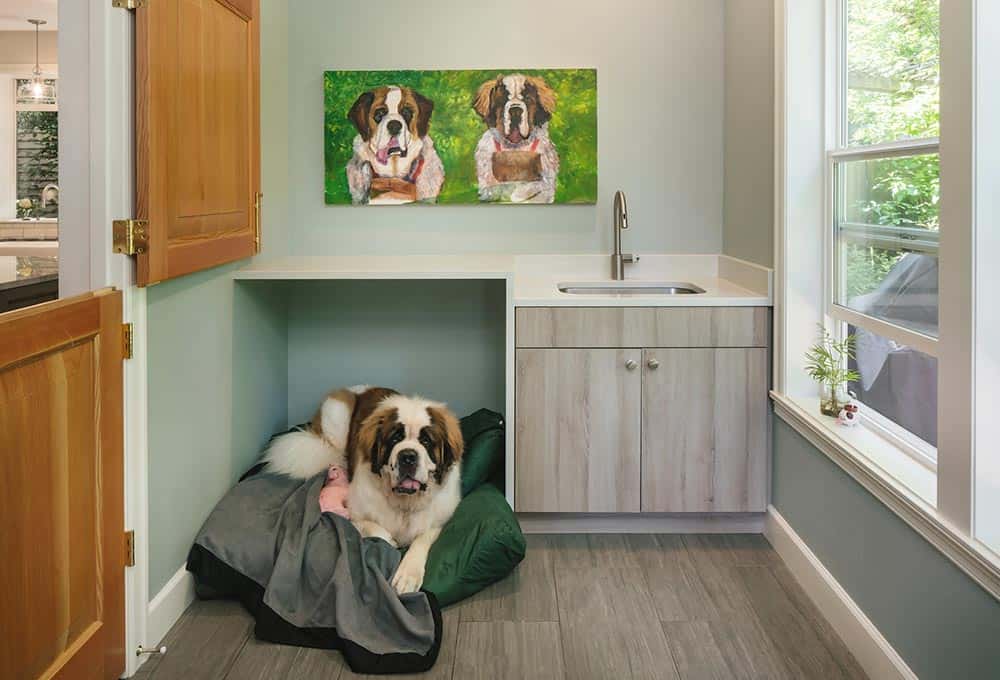 Pet Accommodations
We treat them like family, so why shouldn't our pets have areas of the home and special features included just for them? This trend involves pet-friendly features in the design of the home rather than an afterthought that becomes an eyesore.
Miller says, "You don't want to have a beautifully finished kitchen and then boxes of pet food at the end. We're building these things in so we can keep that minimal clean look, but they're allowed to live there and have their space. We're considering the needs of the entire family, pets included."
Whether you have your heart set on green tile for your shower or you're dreaming of a second island in your new kitchen, Neil Kelly's award-winning designers are ready to help you in 2023. Get in touch!