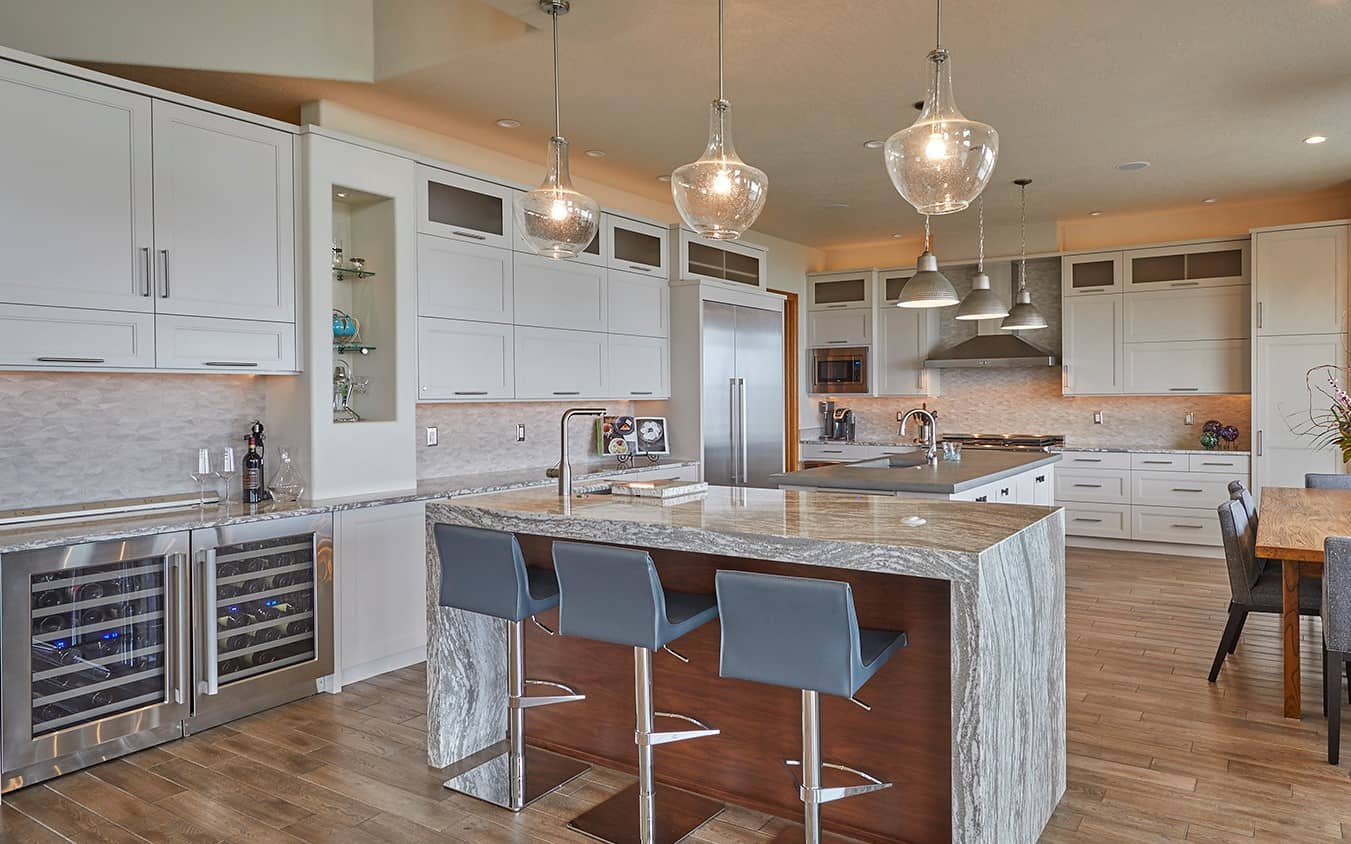 Interiors
|
Kitchens
How to Design a Kitchen for Elite Entertaining
If you enjoy entertaining but your kitchen isn't cutting it, you're in the right place. Every host (or aspiring host) dreams of a kitchen that'll take their soiree skills to the next level while still being functional and enjoyable day to day. No matter what you're currently working with, designers at Neil Kelly can help you create a kitchen perfectly suited to your kind of party.
Get ready to gather with these design ideas for an entertainer's dream kitchen.
Open Floor Plan
You want to feel like you're involved in the conversation even while you're cooking and serving food or pouring drinks, and an open floor plan will help you do that. An open-plan kitchen is also the key to accommodating plenty of guests and maintaining a comfortable traffic flow. Your guests will have a much easier time moving around and mingling without tight corners and narrow walkways.
"Often kitchens are closed off from the rest of the house, which leaves cooks feeling isolated," says NK Portland Design Consultant Karen Richmond. "This lack of connectedness and the flow of traffic are often the biggest problems we face during kitchen remodels."
Read more: New, Open Spaces Transform a Cramped Kitchen in Cedar Mill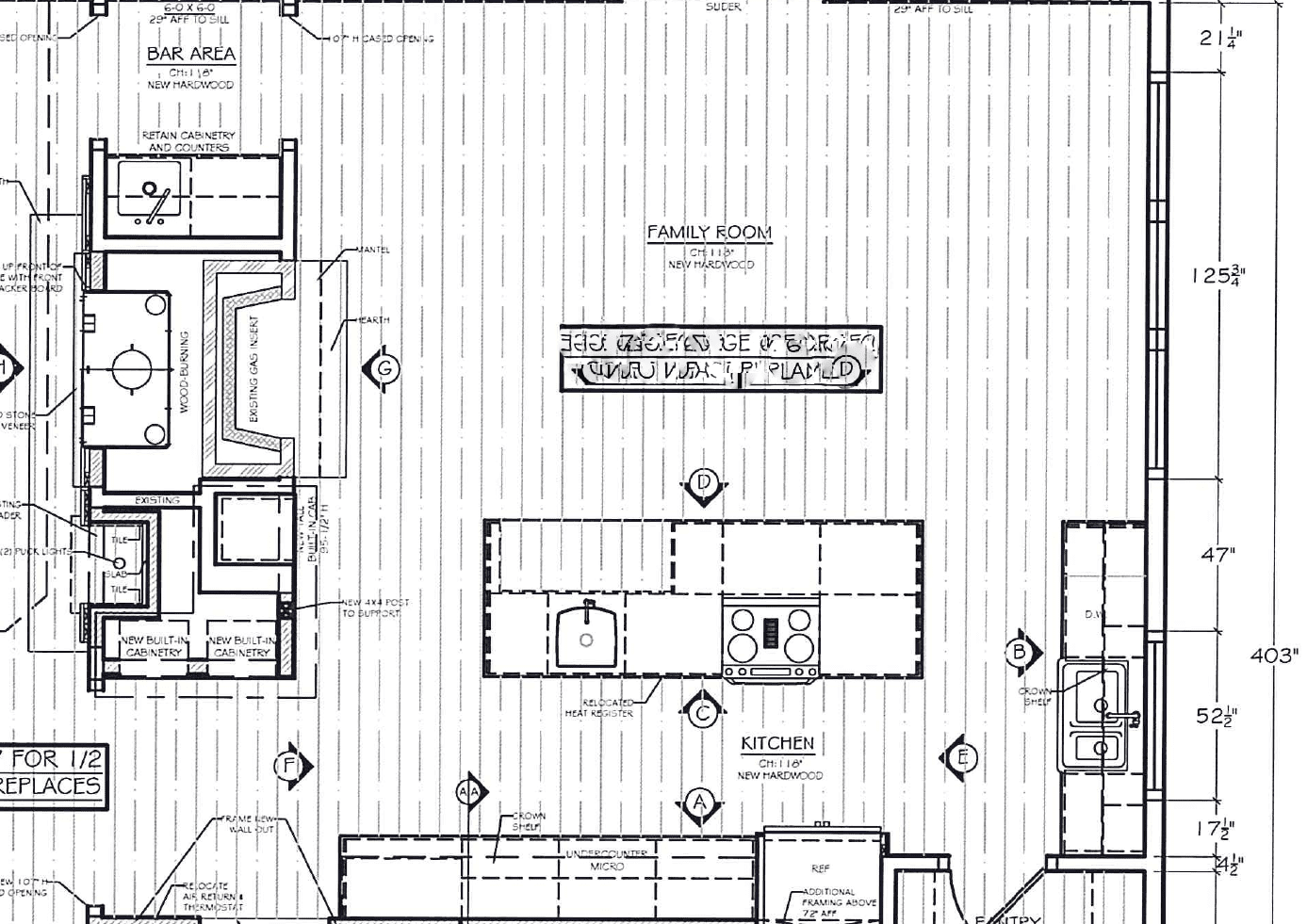 Layout
Two things to consider when planning your kitchen layout are work zones and traffic flow. 
Any kitchen will need dedicated "work zones" for prepping, cooking, and cleaning. But when you're designing a kitchen for entertaining, you will also need a zone for serving, and likely another for beverages. Well-planned zones are equipped with the necessary appliances and allow multiple people to operate in the kitchen while chatting with guests. 
Think about how you and your guests will move around the kitchen. Make sure that people can effortlessly flow to and from the adjacent spaces like the family room. If you have a deck or patio off the kitchen, creating an easy transition will make serving dinner and drinks al fresco a breeze.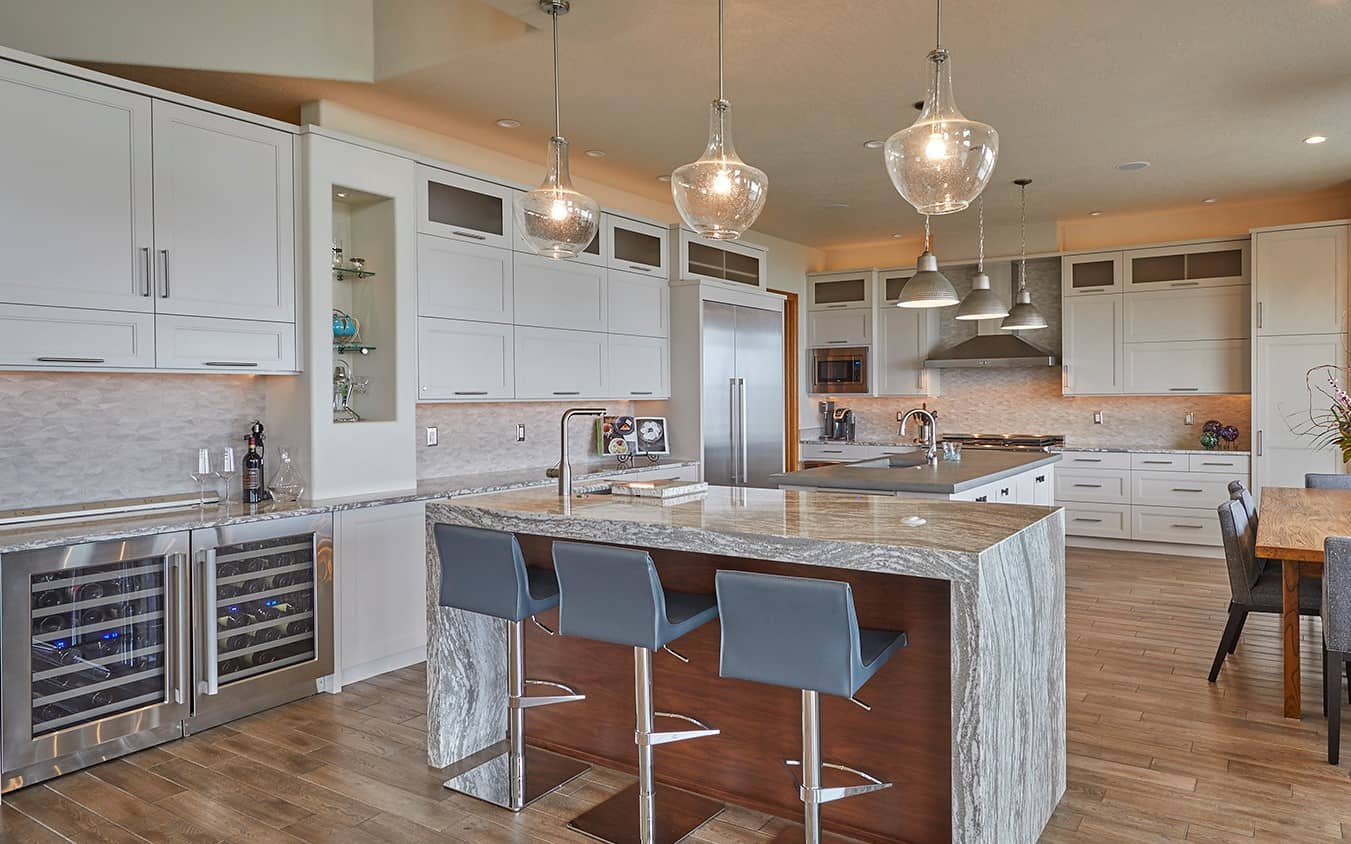 Multifunctional Island
The island is the centerpiece of an open floor plan kitchen and the hub of any home that has one. These days we need our islands doing more than double duty. It's our prep surface, homework station, charging dock, buffet counter, and in many homes the dining table. 
Read more: Make More Room With a Kitchen Island
When designing a kitchen island for all this and entertaining on the regular, it's wise to consider whether it's necessary to incorporate your sink or cooktop, or if you can keep the island countertop free and clear. It certainly depends on your layout options. But, when you envision guests gathered around your island in the kitchen, will you want them conversing over a sink full of dishes or pot and pans on the range? 
For kitchens with an abundance of square footage, adding a second island (shown in the photo above) would allow you to separate cooking from serving and socializing. A small kitchen could have a moveable cart "island" workstation and/or a spot at the end of a countertop to sip and socialize.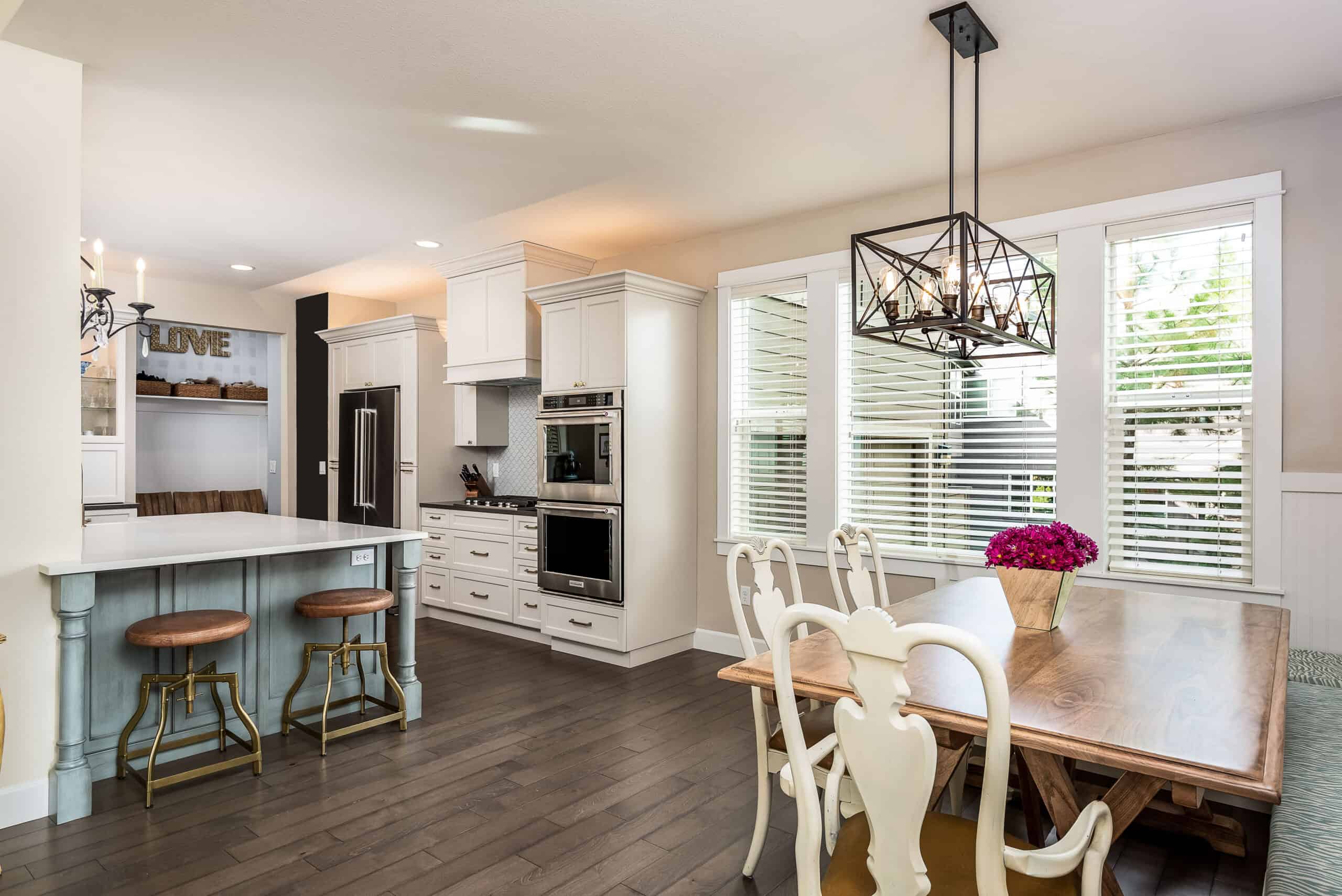 Kitchen Seating
Seating might be the first thing you think of when planning to entertain in your home. A thoughtful kitchen configuration will allow your guests to sit comfortably– and out of the way– while interacting with those who are working in the kitchen. A large island may have enough space to seat six people. Comfortable seating at an island generally means offering well-designed stools, leg room under the countertop, and a ledge to rest one's feet (which could be part of the stool or a feature of the island).  
Banquettes are making a comeback and create another wonderful seating option in the kitchen. If you have the space, think about building a bench in the corner or off to the side of your kitchen. Then tuck in a table and a few chairs and you'll have a lovely breakfast nook that also works as a place to lay out hors d'oeuvres or work from home. 
Read more: Add Versatility With a Banquette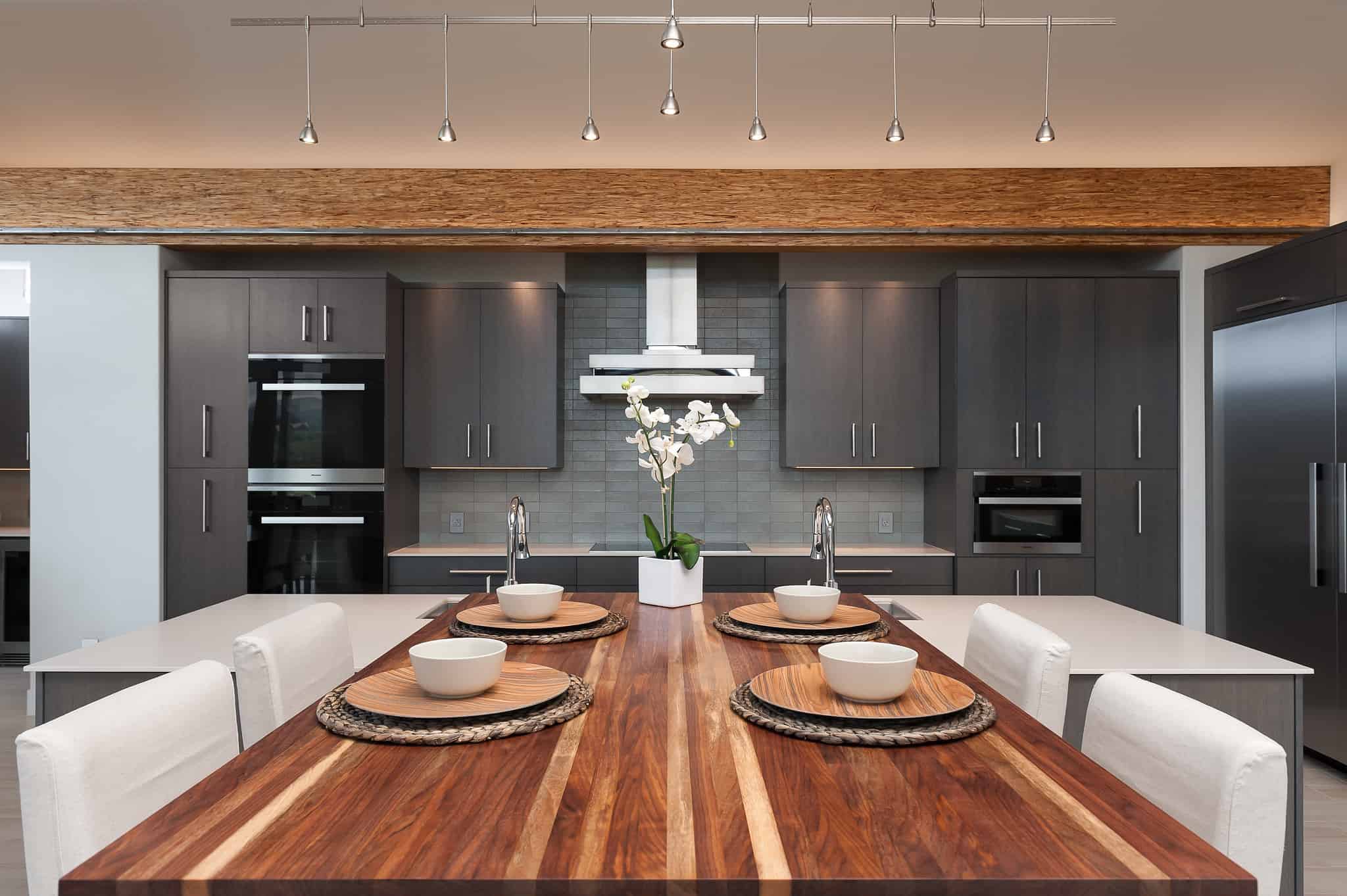 Appliances
You won't become the host with the most without the right appliances. Double ovens ensure all food finishes cooking right on time and warming drawers keep it ready until you are. Double dishwashers guarantee you can load up every pot and pan and your plates and dishes won't sit out for hours waiting for the next round. 
Other handy appliances when designing a kitchen for entertaining include separate refrigeration for prepared cold food (think platters of veggies and deviled eggs); a mini fridge for beverages and an ice machine for the bar; and a trash compactor to lessen the likelihood of hauling out an icky trash bag in your party clothes. And last but not least; air vents. A well-ventilated kitchen will keep food smells from overstaying their welcome. 
Read more: What Kitchen Appliance Upgrades Are Essential?
Pro Tip: More and more, homeowners are leaning toward a more relaxed "living room" feel in their kitchens. Aside from decorating with art and indoor plants, you can keep the working parts of your kitchen discreet by "hiding" many of your appliances with cabinet door fronts. These are called integrated appliances and go a long way to streamlining the look of your kitchen.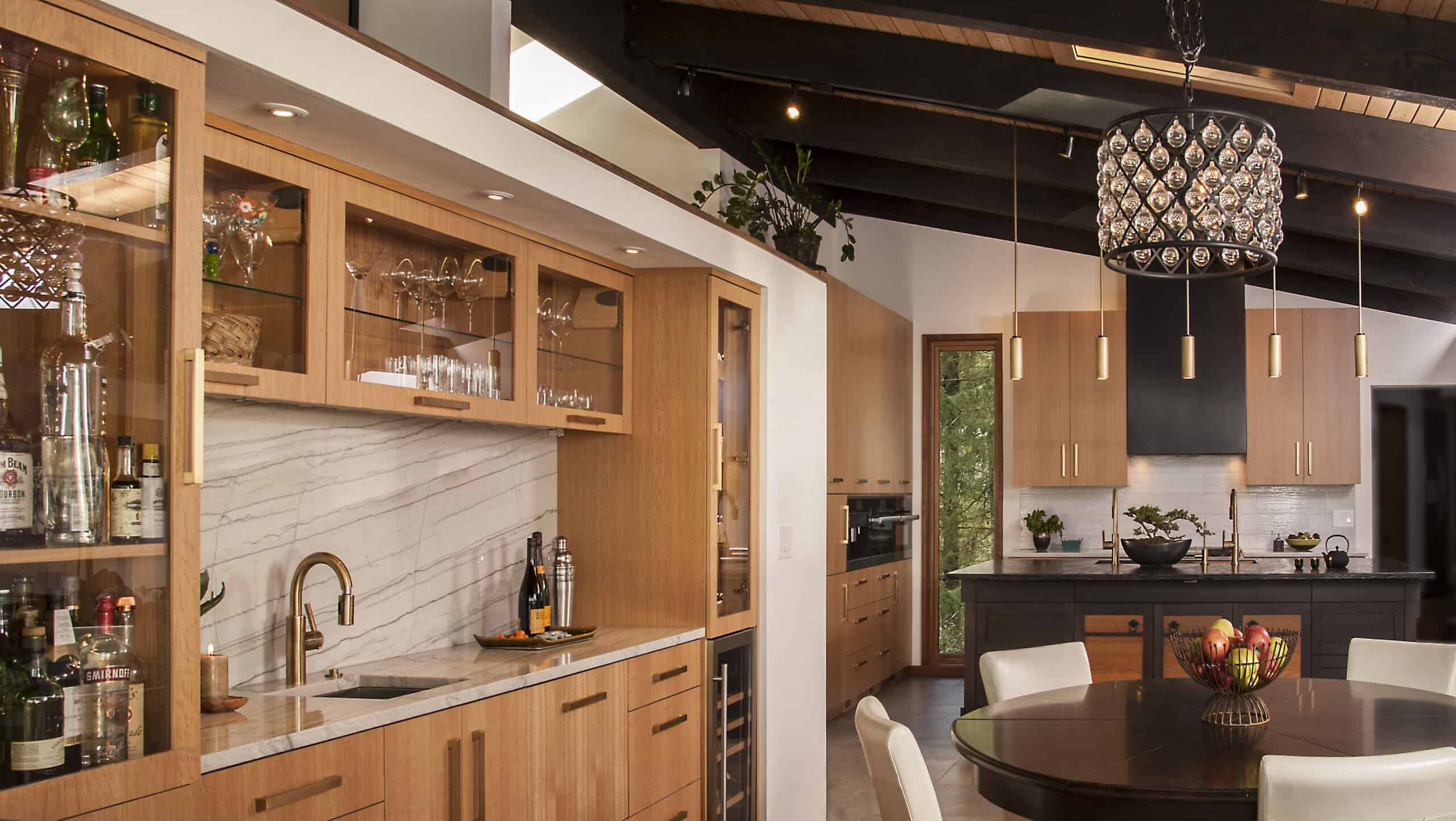 Wet Bar
No shindig is a sure thing without refreshments, so pay special attention to how you'll store, prepare, and serve drinks. Whether it's integrated with the kitchen or commands a space of its own, your beverage station is likely to need specialized cabinetry, appliances, and a sink if you're serious. Additionally, your bar will likely be a worthy gathering place of its own, so don't forget to include a few comforts encouraging guests will linger and chat. 
Read more: How to Create a Stylish Bar or Beverage Station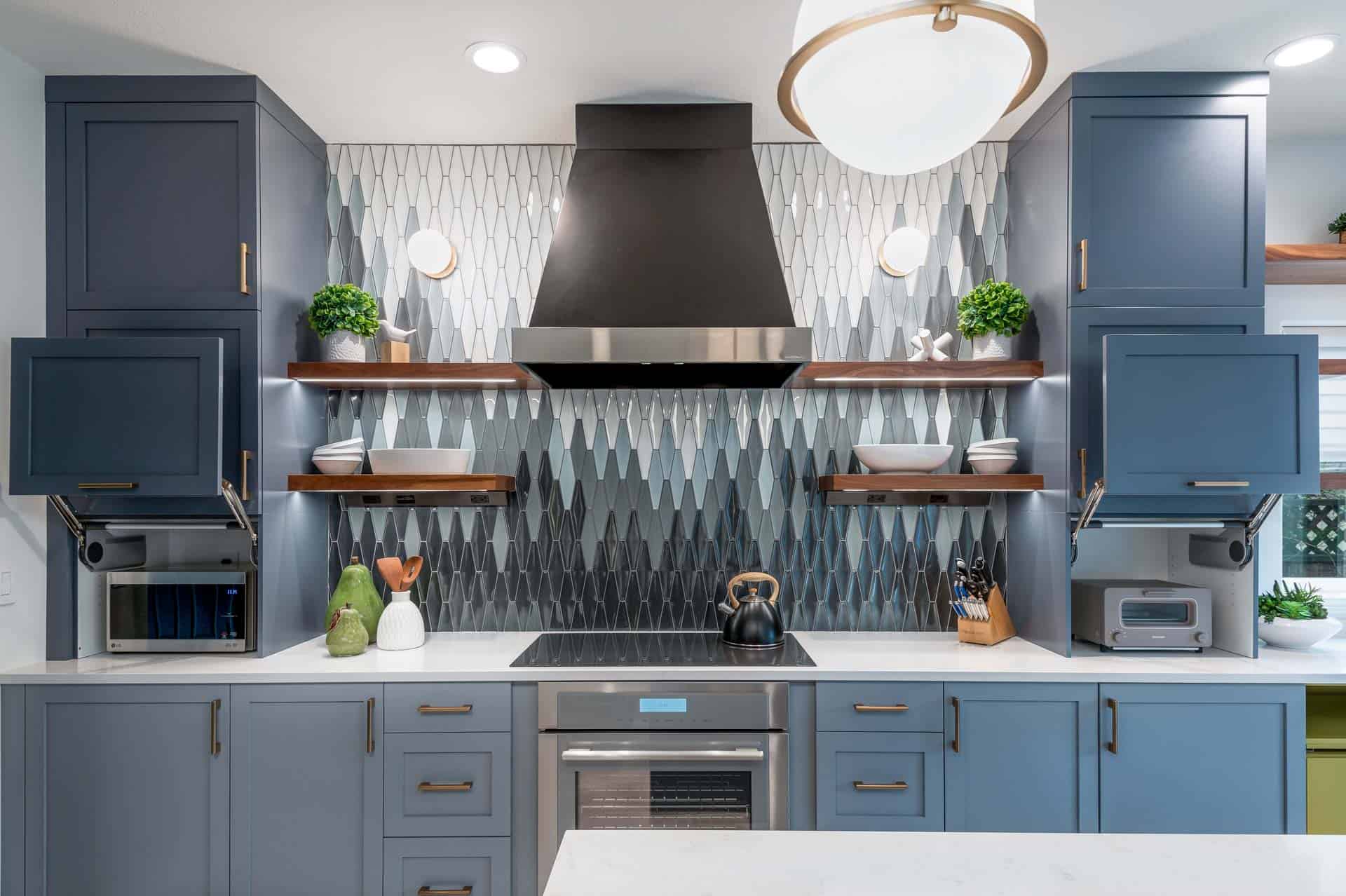 Storage
The first thing most of us do when preparing to entertain is hide all the clutter. Ensure your kitchen isn't a mess when guests arrive by asking your kitchen designer to include some strategic storage solutions. Specialized cabinets and "small appliance garages" will help you keep your toaster, coffee maker, utensils, and whatever else crowds your counter space out of sight, and all you'll have to do is close a door. 
"Homeowners need to be honest with themselves about how much open display cabinets they like and how neat and tidy they really are," says Richmond. "Open storage might look great on Pinterest but not in real life. There needs to be a balance."
Read more: Kitchen Storage Ideas to Get You Organized for Good
The ultimate kitchen storage is, of course, the butler's pantry. If you have the square footage, it's a no-brainer for storing small appliances, organizing your overstock of dry goods, and protecting desserts until it's time to indulge. Go the extra mile by adding a sink and dishwasher and you can stash dirty dishes until the party's over.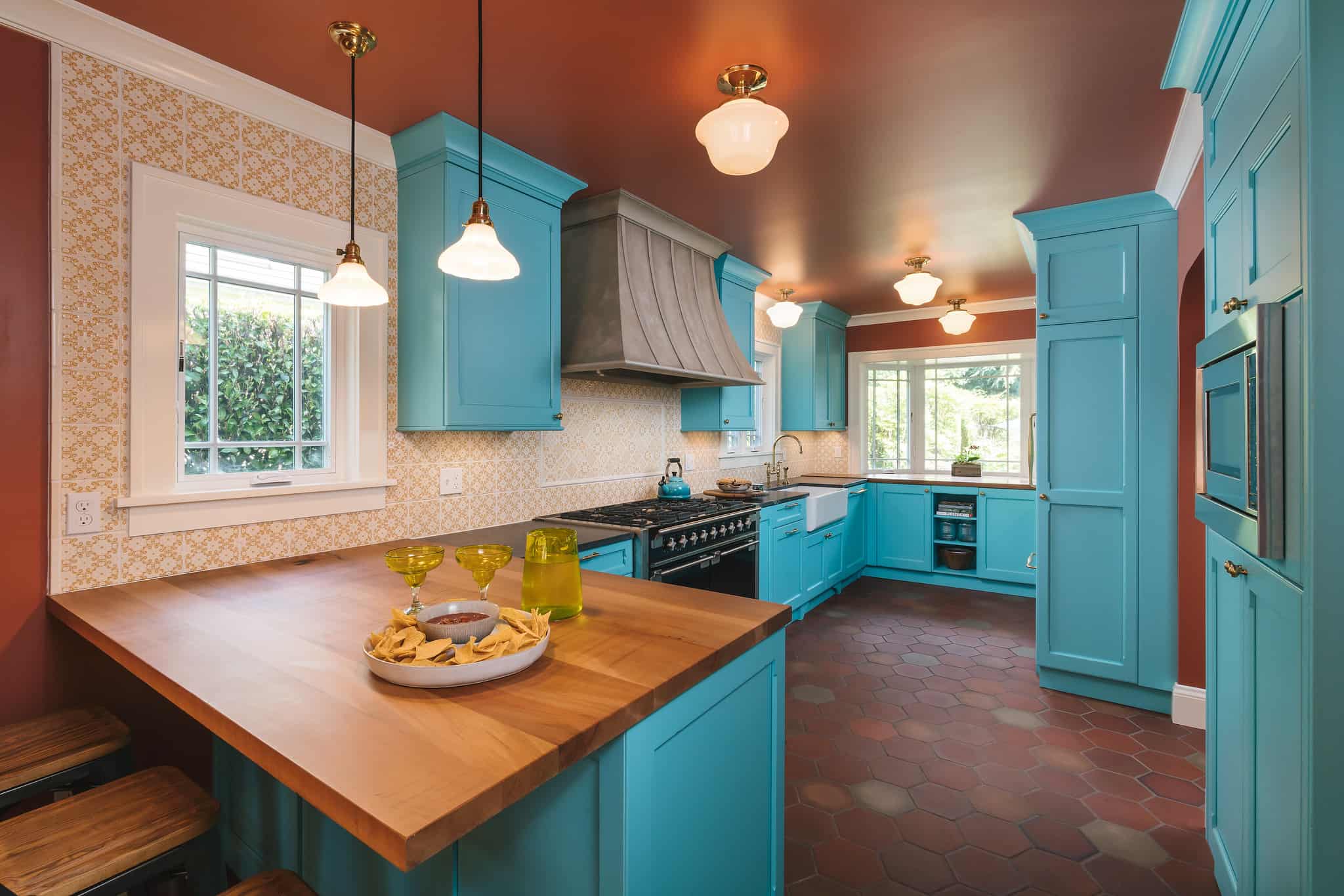 Ambiance
A utilitarian kitchen is certainly functional, but it isn't exactly festive. So, when designing a kitchen for entertaining, don't be shy when it comes to color, patterns, and lighting. Choose an exciting backsplash and bold pendant lamps. When it comes to lighting, go all out with layered, specialized task lighting for food prep and dimmers for ambiance. A built-in speaker system for music is also a nice touch you might appreciate. 
Read more: Enhance Your Home With Lighting
Are you ready to create the kitchen of your dreams? Schedule a consultation with Neil Kelly's design/build remodel team to create a space that's both inviting and hardworking — a space that's truly the heart of your home.