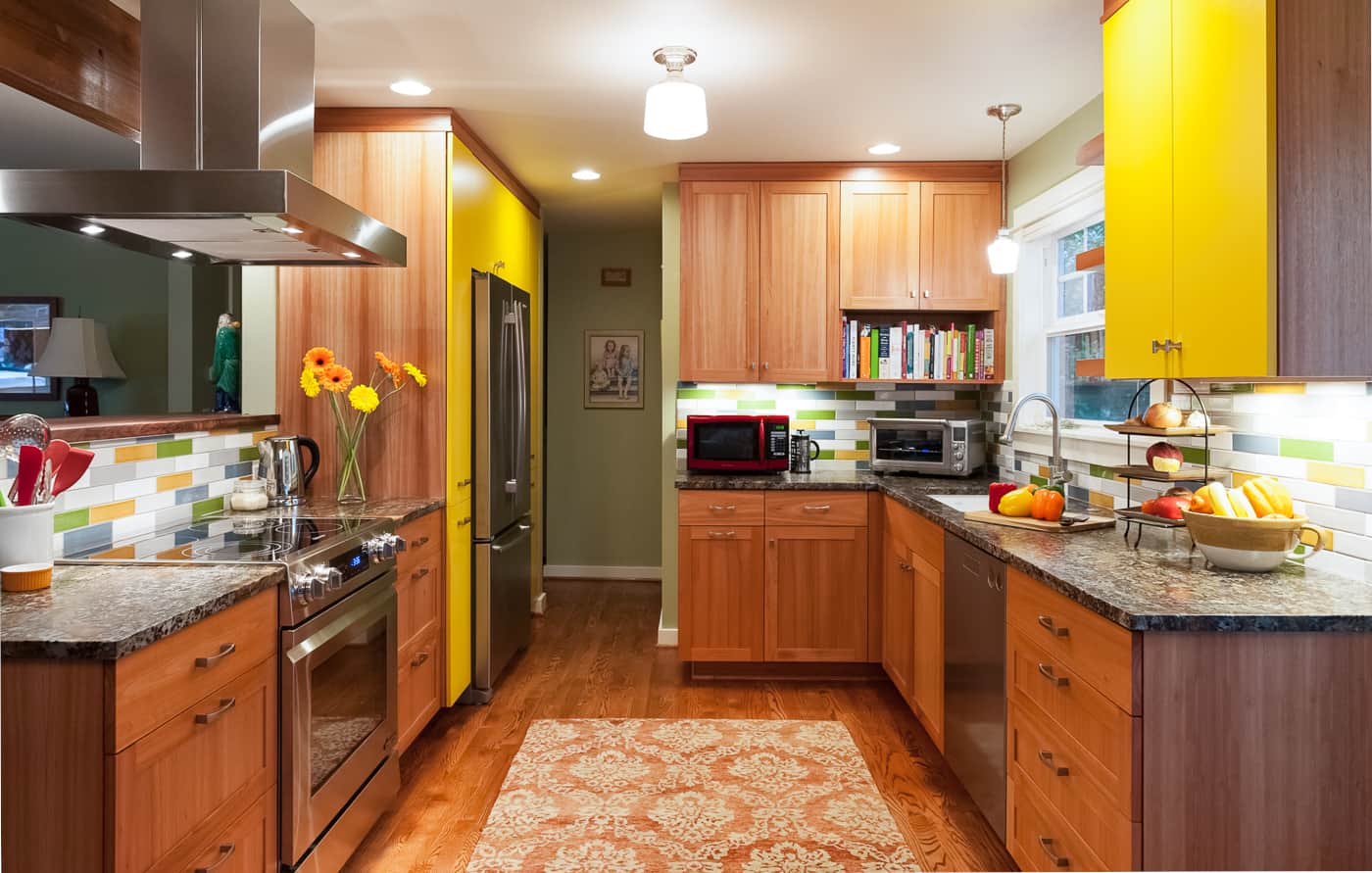 Granite countertops play a starring role in this stylish Northeast Portland kitchen.
Kitchens
Countertop Choices: Granite, Natural Stone, and Wood
According to the Joint Center for Housing Studies at Harvard University, more home building products were released over a recent 3-year period than in the previous 100 years combined.
With manufacturing technology constantly developing and improving, countertop choices have exploded in recent years, often creating confusion for the consumer. The sheer number of materials available — even for modest remodeling projects — can be overwhelming to take in all at once.
In this 3-part article series, I will discuss some of the major materials selections in countertops, and provide a case study for each. Part 1 deals with Granite, Natural Stone, and Wood Countertops. Part 2 looks at Solid and Recycled Glass, Marble, and Butcher Block Countertops. Part 3 describes a project with Quartz, Quartzite, Laminate, and Metal Countertops.
Let's get started!
Granite and Natural Stone Countertops: Natural stones provide the most unique countertop materials as each piece boasts patterns and colors that aren't found in man-made materials. Most granite is hard and durable — but not indestructible, as it can chip, scratch and stain. Penetrating sealers help in preserving the counter when first installed, although users will still want to exert care with oils and acids (think oil and vinegar). Oils can stain deeply and acids can etch the surface. Typically, granite is used for kitchen applications because it is harder than marble, limestone, and travertine, which are more commonly used in bathrooms. Our case study features interesting finishes beyond the typical polished variety (see photos below).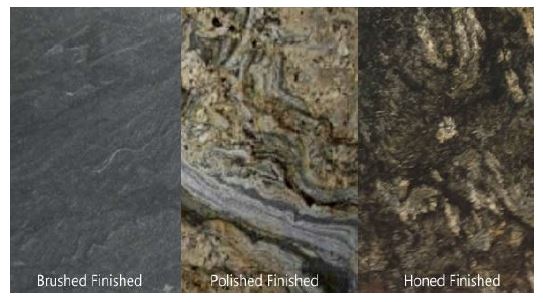 With a honed finish, the polishing process ends before buffing to create a matte or low-gloss sheen that lacks the highly reflective, mirror-like look of traditional granite. This softer honed finish is particularly popular among clients wanting an aged or casual look. Keep in mind that it is, contrary to what you may think, actually more absorbent than polished and requires more effort to keep clean as it is susceptible to finger prints and watermarks. Also without a light reflecting glossy finish to distract the eye, the natural imperfections of granite are more visible with a honed finish.
To create a brushed finish, manufacturers gently brush the granite's surface until it becomes textured and appears worn-in. Because of the brushing process, granite countertops with this finish are more porous in comparison to glossy polished granite. And the color will become a bit diluted, as happens with the honing process also.
Wood Countertops: Best used as accent pieces outside of the work area, wood can provide a wonderful texture and color contrast. Of course, you may choose to install a butcher block counter as a good workhorse if you are OK with the inevitable cut and patina surface that results. There are many sources of reclaimed wood including storm damaged trees, sinker logs, old beams, old barn wood, etc., and lesser known species such as madrone. All make stunning one-of-a-kind counters.
NORTHEAST PORTLAND HOME
Goal: Open the kitchen from the small box it was to the rest of the house for light and ease in entertaining.
Materials Used: Copper Meteorite Granite with a satin finish and Oregon Walnut for bookshelf top/room divider.
Desired Look: Lighten the space making it fun and playful. This family is all about fun, family and friends and these natural stone counters create a perfect background for the lively colors in the kitchen. The "brushed" satin finish on this Copper Meteorite granite creates a slightly dimpled and matte surface cutting down on the glare and shine of typical highly polished granite. Oregon black walnut on the bookcase was selected for the warm, rich glow it offers as a contrast to the liveliness of the kitchen.
Karen Richmond's Countertop Series continues in Part 2: Glass, Marble, and Butcher Block Countertops.
Looking for more ideas to improve your space? Neil Kelly can help. Connect with one of our design consultants to get started.