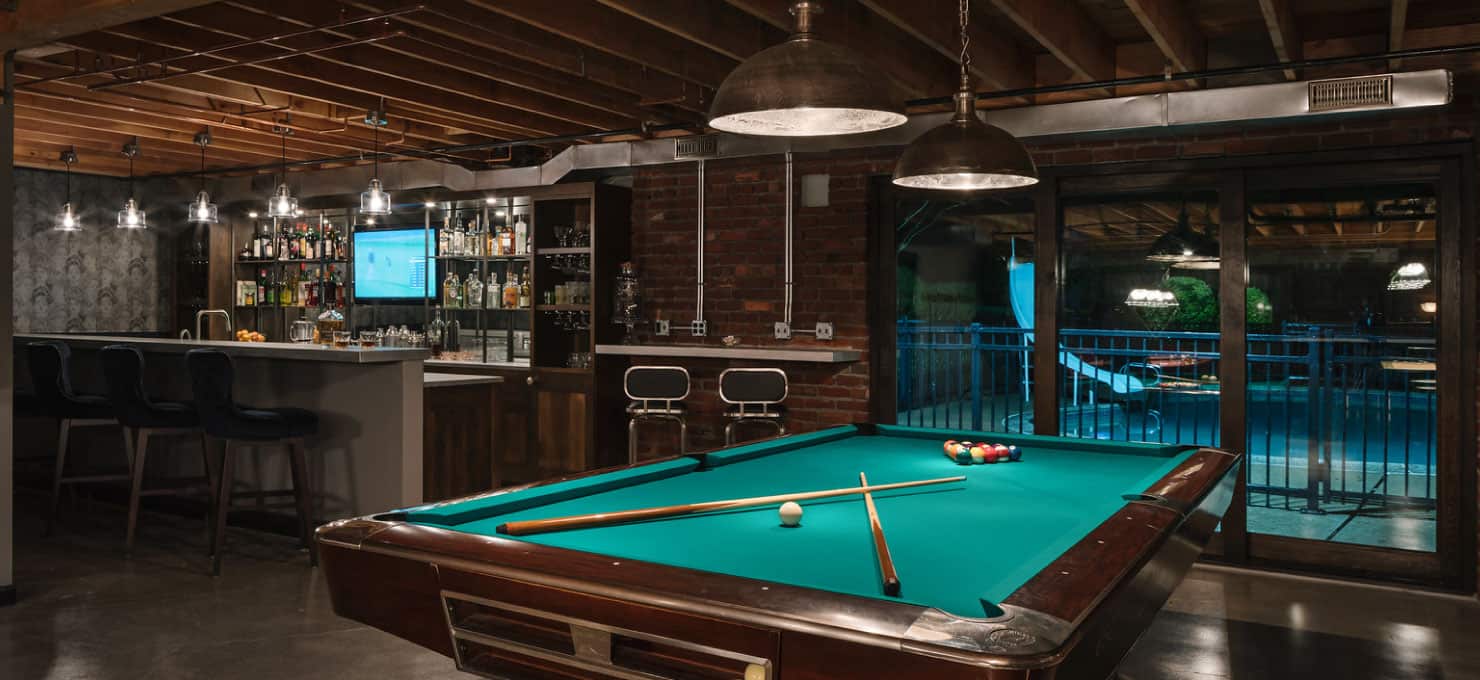 The family room is a central feature in this basement / guest quarters project by Neil Kelly Designer Matt Sipes.
Interiors
Creative Basement Renovation Ideas
Basement spaces may sometimes be thought of as dark, dreary, and underutilized, but they don't have to be. From the practical to the extraordinary, your basement has untapped potential. With a bit of time, effort, and planning, a basement remodel can turn your unused space into a delightful area of your home. How you use it says a lot about who you are, what your family needs and how you enjoy spending "downtime" together.  If you're unsure how to use all that untapped basement potential, ask yourself: what do you need that your current home doesn't already provide?
What Can You Do With Your Basement?
With basement renovations there is a lot of potential for the space you have, regardless of if your basement is small or large. "Basements are easy to overlook," says Matt Sipes, design consultant with Neil Kelly. "We see a lot of people in their 30s starting out families in bungalows or starter homes realizing they can remodel and add to their space instead of selling and trying to find a bigger home in a difficult market."
Sipes says most basement remodels fall into one of three categories:
Cosmetic Upgrades
Cosmetic upgrades to a basement can lighten up the space with modern materials. These smaller basement remodels can take as little as 6–10 weeks to finish and make all the difference. When planning a cosmetic upgrade, take into consideration where your utilities are,where the furnace and water heater are,what a comfortable head height is, and if there are enough windows to meet egress requirements.
Additional Living Space
Whether you need more family room or you're buil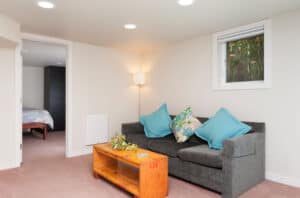 ding an accessory dwelling unit (ADU), basements can double your living space or create room for long or short term guests. Items to consider include separate entrances, number of bedrooms, a kitchen versus a kitchenette and the associated plumbing requirements, a bathroom and the location of the main sewer line.
Foundation Replacement
When a foundation is old, crumbling and leaking water,  it's time for a new one. Lifting an entire house to build a new foundation allows you to reexamine the size of your basement space, whether you're creating a simple crawl space, or doing an entire excavation. These projects typically require a minimum of two months depending on the size of the house, and other considerations like the age of the sewer and water lines.
"Foundation replacements are very popular right now," says Sipes. "It has a lot to do with Portland's housing stock. As houses age and get to the point where the foundation needs to be replaced, it's a viable option for homeowners to redo the whole space by getting it waterproofed, seismically retrofitted and doubling the square footage of their house with a brand new living space."
Basement Remodeling Ideas
Once you've decided to renovate your basement, it's time to start thinking about how you would like to use the space and find inspiration and basement designs you like. If you're unsure of what your basement can be used for, the homeowner profiles and remodeling scenarios below might jump start your imagination:
The Busy Parents (Basement Primary Suite):You need space. A quiet den to actually sleep or if given a spare moment to yourself, a place to curl up with a book. A basement primary suite offers just enough space away from the rest of the family for it to feel like a private retreat.
The Enthusiast Entertainer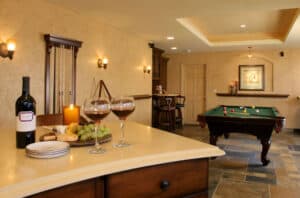 (Wine Cellar/Party Room): Whether it's the art of collecting bottles from your favorite vineyards, or hosting the ultimate weekend cocktail hour, you're a connoisseur of all the things that make life great — libations and those you share them with. You need a space to host them all.
The Multitasker (Home Gym): Fitness happens in the spur of a moment, from dusk till dawn. You need a space to run, lift, downward dog and stretch out all before the 9am conference call.
The Tinkerer (Small Basement Studio): Maybe it's the space where you restore vintage bicycles. Or the Etsy shop sewing room for baby bonnets. Or the model trains you assemble and paint like your father did before. Whatever your hobby — the constant project in the back of your mind — you need space to explore, tinker and create.
The Easy Goers (Family Room): You understand that a messy house is where memories are made. That comfy couches, shelves filled with toys, coloring books and games, and an entertainment center that's dedicated to movie night brings joy to anyone who enters the space.
The Thrillist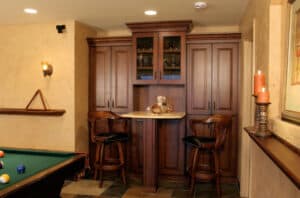 (Media Room): It doesn't matter whether you're a cinephile, gamer or audiophile, what matters is that you have a space to get lost in. A space to get absorbed into another time, world or place that media takes you.
The Busy Bee (Home Office): Your clock runs beyond 9 to 5. It might be because your best ideas come after hours, or that your entrepreneurial and freelance spirit runs deep, or that there simply aren't enough hours in the day to complete it all in the office. This is your space to make stuff happen. To get things done.
Want to give your basement a makeover but don't know where to start? Schedule a consultation with Neil Kelly's Design/Build Remodel Team.