Bathroom Projects
Falcon Drive Primary Bath
Custom Bathroom Renovation in Beaverton, Oregon
Find out how Neil Kelly design consultant Rob Barham made this primary bath not only more modern but also spacious and functional.
Client Objectives and Wishlist
The main objective for this bathroom remodel was to expand the clients' walk-in closet. "They expressed how awkward and jam-packed their existing closet was," says Barham. "So much, in fact, that they were using other closets in guest bedrooms to store clothing and accessories".
Expanded Walk-In Closet
More square footage

Storage/organization solutions

Better lighting
Functional, Modernized Design
No bathtub

Larger shower

Contemporary finishes
Since the existing bathtub was never used and took up substantial space, the clients wanted to remove it altogether. Instead, they opted to replace it with a larger shower. "Their existing shower was quite small, so the conversations continued on how we might expand it for the comfort of two," says Barham.
The current design was outdated with incohesive finishes and pink and blue tile strips as accents. Barham worked closely with the clients to come up with an all-around more contemporary, functional bathroom design.
Design Challenges
With a square footage of about 200, there was substantial space to work with (primary baths are usually between 50 to 100 square feet). Still, planning the layout to expand the walk-in closet was a challenge. The reimagined design needed to accommodate their extensive wardrobe without encroaching on the rest of the space.
While it made sense to place the new shower where the bathtub was, two large windows in the corner posed a privacy and water-proofing issue. "We also did not want to disrupt the water closet, so we were limited in which direction or areas the closet could grow," says Barham.
Design Solutions
The new layout expanded the walk-in closet while preserving a comfortably sized master bathroom. "By relocating the shower to the original tub's location, we were able to shift an interior wall that almost doubled the square footage of the closet," says Barham.
As for the large corner windows, the Neil Kelly remodeling designers made them substantially shorter without sacrificing width. "This allowed us to maintain the natural light while preventing water splashing on the windows," Barham explains.
See what we did with the shower tile in this Pacific Northwest Transitional Primary Bath Refresh.
Special Features and Customizations
There's much to admire about this finished bathroom project. Our clients now enjoy a custom two-person shower and premium upgrades throughout their primary bath and walk-in closet.
Custom Two-Person Shower
Large walk-in design

Quartz bench

Recessed niche storage

Half-wall quartz shelf

Modern plumbing fixtures

Standard and rainfall showerheads

Bench-height handheld shower
Premium Upgrades
Floating vanity

Waterfall countertop edges

Pull-out storage under both sinks

Large straight-lay porcelain tile flooring and vanity wall

Four contemporary sconces on vanity wall

Under-cabinet lighting

Custom wardrobe and storage solutions
"Waterfall edges straddle the double vanity, creating a clean contemporary look," says Barham. "A mixture of open hanging storage, jewelry trays in drawers, and tie pull-outs make this walk-in closet highly functional."
Check out this Vancouver Primary Bath and Wetroom renovation for more inspiration.
Key Suppliers and Manufacturers
Decor cabinets in a deep wood finish were chosen for this bathroom remodel. The faucets, showerheads, and other plumbing fixtures were sourced from Brizo. Architectural Surfaces supplied the PentalQuartz countertops, and the vanity sconces came from PureEdge Lighting.
Primary Bath Remodel: Before and After
Thinking about renovating your primary bath or adding an en-suite to an older home? The experienced design/build/remodeling team at Neil Kelly is up for the task.
Contact us today to schedule a consultation and learn more about what we do.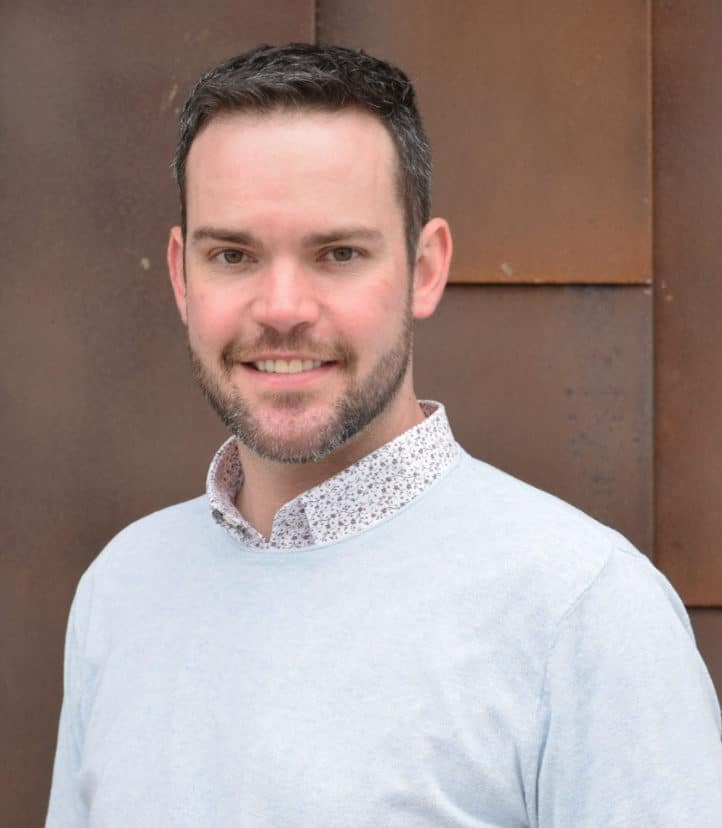 robert barham, Portland Design Consultant
As a graduate of Portland Community College's Interior Design program, and with experience in residential remodeling and new home construction, Robert Barham has the vision and versatility to deliver gorgeous, functional designs in almost any style. His multi-faceted approach allows him to collaborate with homeowners who have a strong vision, find ways to merge different tastes and styles, or come up with something completely new. Most of all, Robert enjoys helping his clients create spaces that enhance their sense of belonging, togetherness and comfort.