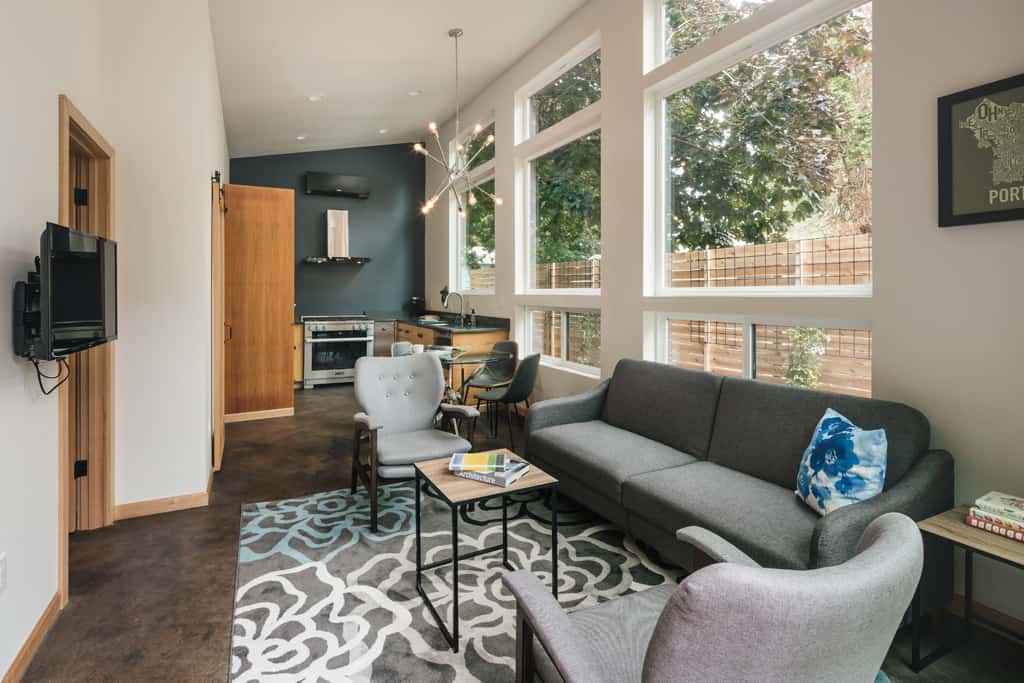 Interiors
How to Host and Make Space for Guests in Your Home
Guest space might not be something you need every day or even every month, but when the occasion arises, you need it. Whether you're planning to host a relative for an extended visit, have a college-age child who's now taking online classes from home, or just want to have enough room to welcome your loved ones for overnight stays, having a spacious and functional home is vital. And in the current times of the coronavirus pandemic, this has proven more important than ever.
Modern families are continuously growing, changing, shifting, and adjusting to what life throws their way. While many homes aren't equipped for flexible, multi-generational living, most have the potential to become exactly what you need.
Creative and Practical Ways To Make More Guest Space
So, how can you create more guest space in your home to accommodate your loved ones? The design/build experts and conversion contractors at Neil Kelly are seasoned in expansions and renovations, and we've got lots of ideas up our sleeves. Here are a few creative and practical ways to transform your home into a guest-friendly sanctuary.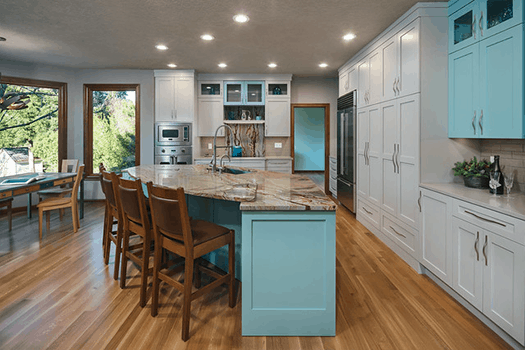 Kitchen Seating or Banquette
Kitchen seating is a great place to start. A well-designed configuration will allow your visitors to interact with those cooking while staying out of the way. If you have enough space, you might consider a large kitchen island with integrated bar seating. Some islands are large enough to seat as many as six people.
Another option is banquette seating, which is making a comeback. You can tuck a banquette bench into a corner of your kitchen or adjacent to your dining room. With a small table and a couple of chairs, you'll have a breakfast nook that doubles as a food-serving space, homework area, or even a flexible place to work from home.
Additional or Expanded Bath
An additional bathroom is undoubtedly one of the best ways to make your house livable with more people under the same roof. Adding an extra bath or expanding a small bath into an adjacent space can go a long way.
Walk-in closets can be turned into half-baths, and curbless walk-in showers can create the feeling of more space without expanding the footprint. Need closet-sized bathroom ideas or help figuring out where to build an additional bath? The design team at Neil Kelly can assist.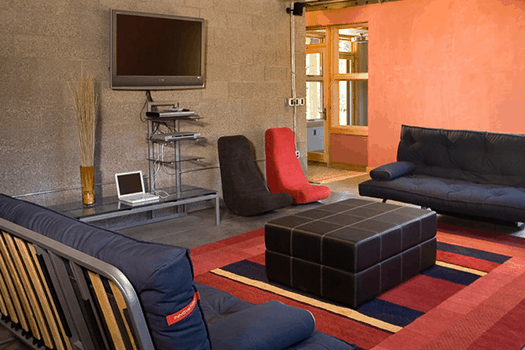 Bonus Room or Flex Space
If you're like a lot of homeowners, you might be wondering, How do I make a guest room without adding onto my house? One option is to turn an existing room into a flex space. This means it can function as a bonus room, office, and guest room. Murphy beds can help save space, as they fold up into the wall when they're not in use. You could also get a daybed, a futon, or a pull-out couch that doubles as a bed and sofa.
Go all out with comfy bedding, pillows, linens, and decor to make the space feel comfortable and welcoming. You may want to include a television, a charging station, WiFi access, and other amenities too.
Conventional Home Addition
If you don't have an available room to convert into a flex space, Neil Kelly can help you explore your options for a conventional home addition. A "bump-out" involves building an additional room onto the side of your house. You can also build up, which would involve adding a whole new floor. In any case, a conventional addition is an excellent solution for seamlessly creating more space.
Attic, Garage or Basement Conversion
Do you have an unfinished basement, attic, or garage? You may want to consider a conversion. With the structure—and sometimes plumbing and electrical—already in place, you have the foundation for a beautiful, functional living space for family and guests.
Whether you opt for a basement conversion, attic conversion, or a garage conversion, the project should be carefully planned to ensure it's comfortable, safe, secure, and up to code. For example, when converting a basement into an apartment, you'll have to include egress windows. With a detached garage conversion, proper insulation and an HVAC unit will keep your loved ones cozy in the winter and cool in the summer.
ADU
An ADU (accessory dwelling unit) can be ideal for hosting family, as it's essentially an additional tiny home on your property. This type of home addition can be either detached or attached to your house, as long as it has its own entrance and functions like a studio or one-bedroom apartment.
With a separate kitchen, bathroom, and even a laundry area, your loved ones will have more privacy and freedom to make themselves at home. Plus, ADUs make excellent rental spaces when you're not hosting guests.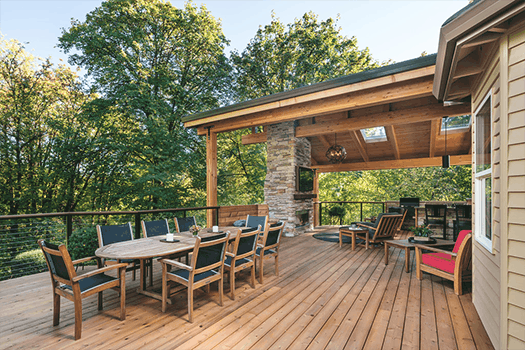 Outdoor Living Space
Creating more outdoor living space can make a big difference as well. A nice patio, deck, porch—or better yet, an enclosed sunroom—gives both you and your guests space to retreat. You can construct a thoughtfully designed area to relax, get some fresh air, and enjoy the natural surroundings.
Comfortable, private outdoor areas also give your family somewhere to eat and hang out together outside your living room and dining room. Additionally, they can work as a flexible work-from-home space.
Local Contractors Near Me
If you're looking for expert designers, builders, renovators, or ADU contractors in Portland, Eugene, Bend, or Seattle, Neil Kelly is at your service. Though building a basement apartment, backyard cottage, or mother-in-law suite might seem straightforward, careful design and efficient planning are crucial to making a space comfortable, liveable, and sellable down the road. Also, abiding by local regulations and coordinating permits can be complex.
Here at Neil Kelly, we have the knowledge and experience to help your vision come to fruition. Our design/build process starts with a consultation, where we'll discuss your ideas, objectives, and budget. Next, we'll work with you on a design, create a rendering, and talk about a path to completion. After finalizing plans and a scope of work, the construction process will begin.
You can count on Neil Kelly for all aspects of your project. From obtaining permits and ordering materials to scheduling and managing subcontractors, we do it all. The craftsmanship and attention to detail our carpenters provide is second to none.
Are you ready to explore the possibilities of your Pacific Northwest abode? Schedule a complimentary design consultation today.