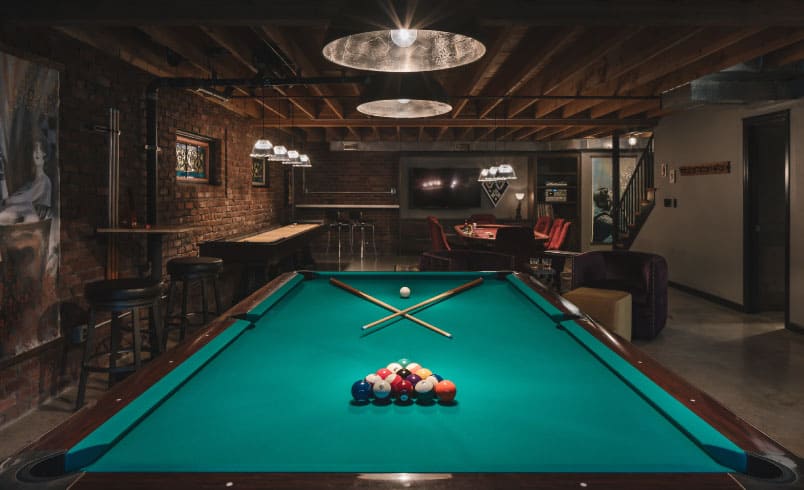 Above: Basement man cave with pool table and exposed brick wall.
Interiors
How To Create The Ideal Man Cave
The term "man cave" is admittedly outdated; it infers that, as a man, the only part of a home you have the right to decorate is a dark cave or attic crawl space. Nowadays, a man cave is designed by anyone, regardless of sex or gender, and has evolved into the entertainment capital of a home. 
But let's face it, the words "man cave" just sound kind of cool.
What Is A Man Cave?
Traditionally, man caves were the one part of a house where a man could decorate with bar swag, sports memorabilia, and a TV so large it could cook a turkey from eight feet away. But now, man caves are often shared by all members of the household and some are downright sleek.
Man Caves as Entertainment Spaces
"In the man cave, you'll find blasts from the past, keepsakes from the Glory Days (either his or someone else's), and sports memorabilia from the mundane (a baseball) to a fingernail clipping from a Super Bowl Champion," says Neil Kelly Design Consultant David Ewing. 
As they evolve from their gender-specific title, man caves are also becoming more high-tech. "We've got to have music covered," says Ewing. "And there are so many ways to do this, all of which has to be driven by a heart-pounding, clean-as-a-bell listening inner-ear experience."
However, a stereo would be worthless without an anchor. For most man caves, that anchor is a television. A man cave wouldn't be complete without a large TV suited for sports, shows, and movies. Luckily, big doesn't have to mean intrusive. LED technology allows flat panel TVs to be slim—and as far as energy consumption goes—trim.
Basement Man Caves
Basement man caves can also double as excellent wine cellars. And, in some cases, if wine is what moves you, you can make the entire space a salute to Sauvignon. Whether you have a daylight basement or a more traditional option, finding the right lighting and decor can turn a bland basement into a swanky Mad Men experience.
Garage Man Caves
Another common place to create a man cave, whether it's for a fitness or entertainment space, is the garage. By using the separation from the home, it can be less obtrusive if the interior decor is not consistent with what's throughout the house. This is another way to use space and storage that might otherwise be wasted. Combining aesthetics with function, a garage conversion can be a great place for the whole family to relax, have fun, and bond.
Last but not least, embrace color as a way to bring warmth to the room. "Whether it is the colors of their favorite college, or some gnarly neon," Ewing says, "color adds personality."
The Must-Haves
Here are some of the most desired features of home entertainment spaces, in no particular order:
A Surprise
An unusual door or entrance can help build excitement when you invite friends into your entertainment space, as shown above. If you want to create an experience that is somewhat less… dramatic… how about installing a hideaway liquor cabinet?
What's The Theme?
Are you a soccer nerd? A Star Wars fan? Are you into casino games? Designing a room around a specific theme or activity can give you a way to express yourself — and give your guests a fun place to visit.
A Place For Toys
Storage is key. From Funko Pops and video game controllers to Tiki ware and Nerf darts, loose bits need to find a home that doesn't clutter up the rest of the house. The question is: Do your items need a display, or just a place to park?
Big TV / Stereo Combo
A television is not considered a design element anywhere else in the home, but in an entertainment room it reigns supreme as a flat-screen focal point. Mix in a nice sound system and your friends will never leave! (Wait a sec, is this good or bad?)
Big Comfy Couch
Strip away all the other bells and whistles and all you really need is a big comfy couch for you and your guests — preferably pointed at a TV.
Do you dream of having a party room or entertainment space that knocks the socks off your guests? The award-winning designers at Neil Kelly have the expertise to make your dreams a reality. Get in touch with us today!