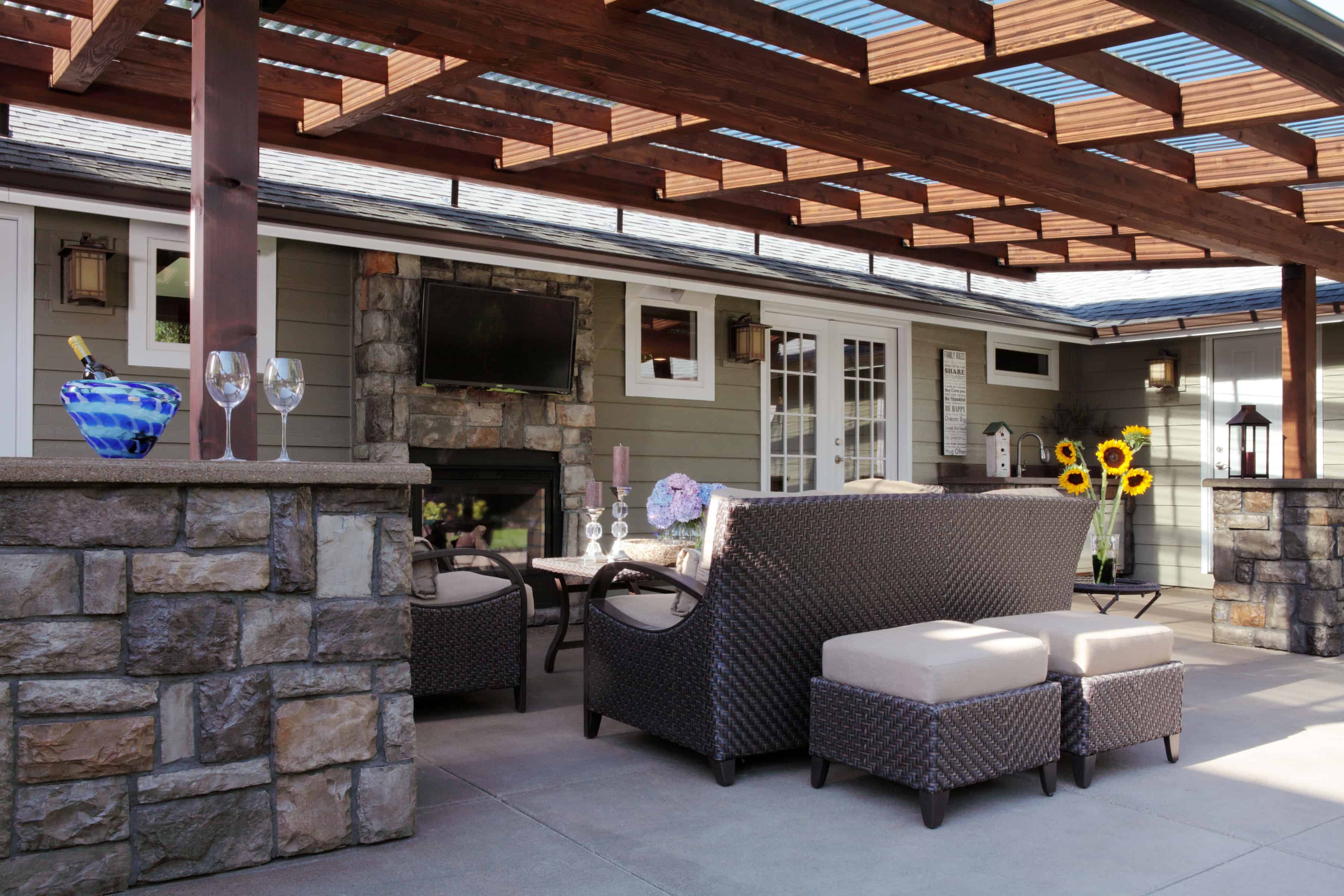 Neil Kelly Designer Matt White says kitchens are a natural gathering area for guests --- inside or outside.
Exteriors
|
Kitchens
Building An Outdoor Kitchen Space
Happiness is just 10 steps from the back door when you build an outdoor kitchen. Whether it's designed like a man cave with a flat-screen TV and a grill, or a culinary oasis complete with a warming drawer, backyard kitchens have the power to transform outdoor living areas with function and beauty.
"People just want to be outdoors," says Matt White, Eugene design consultant with Neil Kelly. "It's a lot easier to unwind in the fresh air. When we're on vacation we spend the majority of that time outside and we want to recreate that type of experience when we get home. An outdoor kitchen is the perfect place to start."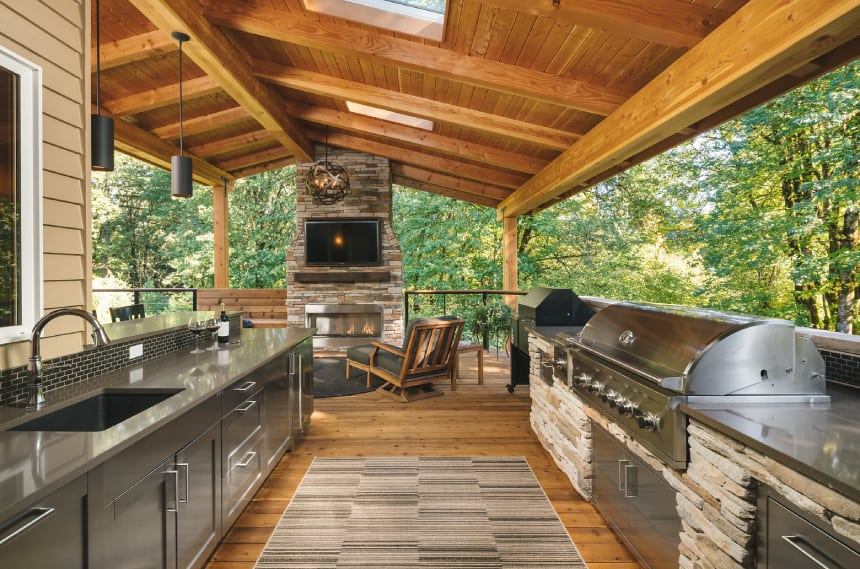 Planning Your Outdoor Kitchen Space
Recreating this experience is easier than you think with a little imagination and design ingenuity. As with all design/build remodel projects, the first step is identifying your goals and objectives with the space. Will the kitchen be used year-round? Primarily for grilling? Smoking? Entertaining large groups?
Location is everything
The first step in planning your outdoor cooking area is to identify its location. Most homeowners choose a space that is minimal steps away from the back patio or deck. An ideal space is a partially covered living space that allows for proper smoke ventilation, shade, and weather protection during cold and wet seasons. Once you have a grasp on its function and location, define the space.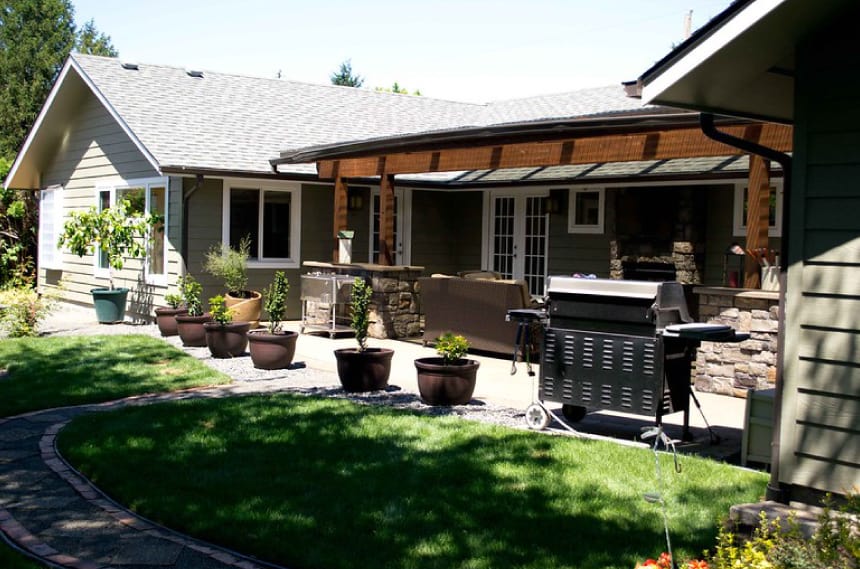 "Inside your house, the kitchen is really the gathering area or the hub, so when you create a kitchen outdoors the same effect happens," says White. "People are going to want to hang out there. So when thinking about outdoor space planning, you need to create an area for food prep, eating and lounging. These areas should flow from one to the other yet be able to accommodate multiple people."
The right space
The physical amount of space you need outdoors will depend on the kitchen's function. Common outdoor kitchen features include built-in or standalone grills, a refrigerator, a wet bar, and a sink. As a best practice, the space around the grill and sink area is the most important. At a minimum, White recommends having a couple of feet on either side of both the grill and sink for ease of food prep. Design/build experts who have experience remodeling outdoor spaces can help you identify how to best use an outdoor space.
Appliances and accessories
Once logistics are in place, the sky's the limit with kitchen appliances and accessories. You can create a wood-fired pizza oven, weathered wood cabinets from materials like cedar and redwood that can withstand the elements, an outdoor sound system for the ultimate outdoor entertainment area, ceiling fans, grills built into granite countertops, or even see-through fireplaces that connect the indoors to the exterior kitchen.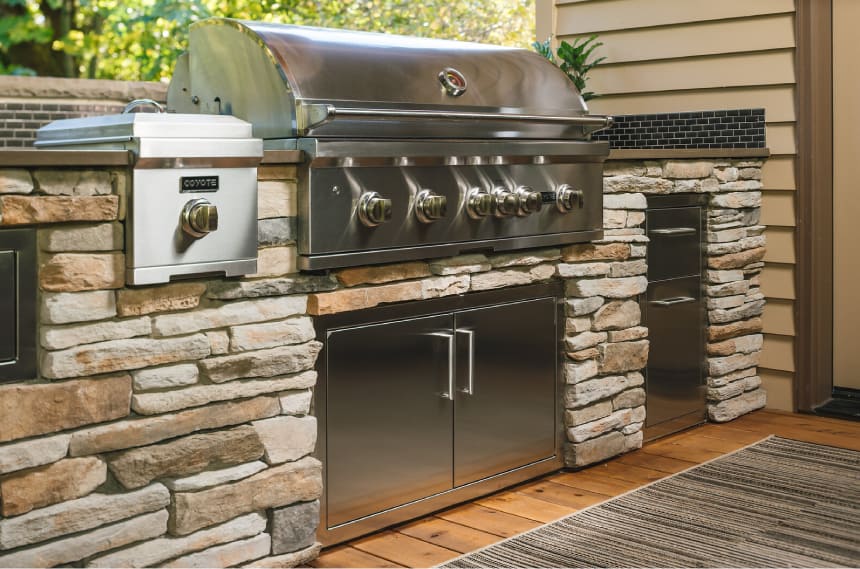 "Just like indoors, you want to think about color, texture, and lighting — especially come nightfall," says White. "With the right planning, you can complete a project right the first time. The key is to work with a designer that has experience with outdoor kitchens."
Create Your Dream Outdoor Kitchen Space
Need a little inspiration? Matt White recommends viewing the outdoor kitchen suite from Kalamazoo Outdoor Gourmet, a company prided on being pioneers in the art and science of outdoor living. When you're ready to get started on the design — contact our experts. Our design/build remodel team has experience remodeling kitchens and can help you create the ultimate outdoor kitchen.