Kitchen Projects
Pacific Northwest Kitchen and Dining Area
Southwest Portland Kitchen Remodel
Many houses built before the 21st century have formal dining rooms, and in most cases, they're hardly used. Our clients wanted to reclaim this available space as part of a kitchen remodel in their Southwest Portland home.
With 20 years of industry experience and a knack for design/build remodels, Neil Kelly design consultant Janel Campbell was up for the task. Check out the before-and-after photos and find out how she transformed this Pacific Northwest kitchen and dining room into a functional and beautiful space.
Design Objectives and Client Wishlist
First, Campbell met with the homeowners to learn more about their goals and priorities. The overarching vision for this project was to connect the seldom-used formal dining room with the kitchen space. Beyond that, they wanted to modernize these common areas while optimizing functionality.
Connect the Kitchen and Dining Room
Remove wall separating kitchen and dining room

Create open-concept layout

Include eating areas

Add more natural lighting
Add Modern Functionality
Better flow for cooking

Contemporary light fixtures

New finishes and appliances

Pantry and small appliance storage

Improved layout for entertaining
With only a narrow door connecting the kitchen and dining room, removing the entire wall made the most sense for opening up and optimizing these spaces.
If you appreciate modern design, you'll love the finished look of this North Eugene Kitchen and Makerspace.
Design Challenges
Of course, every renovation has its challenges. This project wasn't as simple as removing the wall, replacing the appliances, and updating the finishes.
The original layout wasn't the most practical for the space. The cook's work triangle, from the sink to the range to the refrigerator, was interrupted by foot traffic into the dining room and down to the basement.
Additionally, the existing appliances were so close together that the doors opened into each other. This created multiple obstacles including blocking walking paths and making it so appliances couldn't be used simultaneously.
Lastly, the desk area took up more space than necessary, didn't provide much useful storage, and mostly just attracted clutter. For these reasons, Campbell needed to help our clients rethink the entire layout.
Design Solutions
Getting rid of the dining room wall made a substantial difference allowing the remodeling team to open up the space and bring in more natural light from the south-facing windows. Then it was time to figure out where to place everything.
Reconfigured Layout
Rearranged appliances

Large kitchen island with cooktop

Eating area extended from island

Expanded countertop space

Expanded pantry and appliance storage

Downsized desk, converted into message center

Centralized dining table
The kitchen island and bar-height eating area offer a better flow of traffic while allowing people to interact with others in the kitchen without getting in the way. More countertop space and rearranged appliances also provide better functionality when preparing meals. And placing the dining table in the center makes the entire space feel more open.
Check out this Contemporary Kitchen Remodel we did on Vashon Island.
Upgrades, Customizations, and Special Features
Decor cherrywood cabinets with a nutmeg stain were selected for this kitchen remodel. The clients wanted matte counters to prevent glare from the windows, so we went with Caesarstone Cosmopolitan for the perimeter and Silestone Charcoal Soapstone on the island.
Chilewich Basketweave vinyl fabric was placed on the back of the island for added texture. The raised bar table was made by Madrone, and a ribbon-style pendant light was installed above this area for a better ambiance and a contemporary touch.
Island Stone Waveline glass mosaic tile in the shade Breeze was selected for the counter-to-ceiling backsplash. This added a hint of color and interest while ensuring the area is easy to clean.
Kitchen and Dining Remodel: Before and After
Considering a kitchen renovation or great room expansion of your own? We'd love to hear from you. The design/build/remodeling pros at Neil Kelly are seasoned in custom upgrades, additions, and complex residential transformations.
Neil Kelly has design centers in Portland, Bend, Eugene, and Seattle, and our expansive portfolio includes remodels all throughout Oregon and Washington. Contact us today!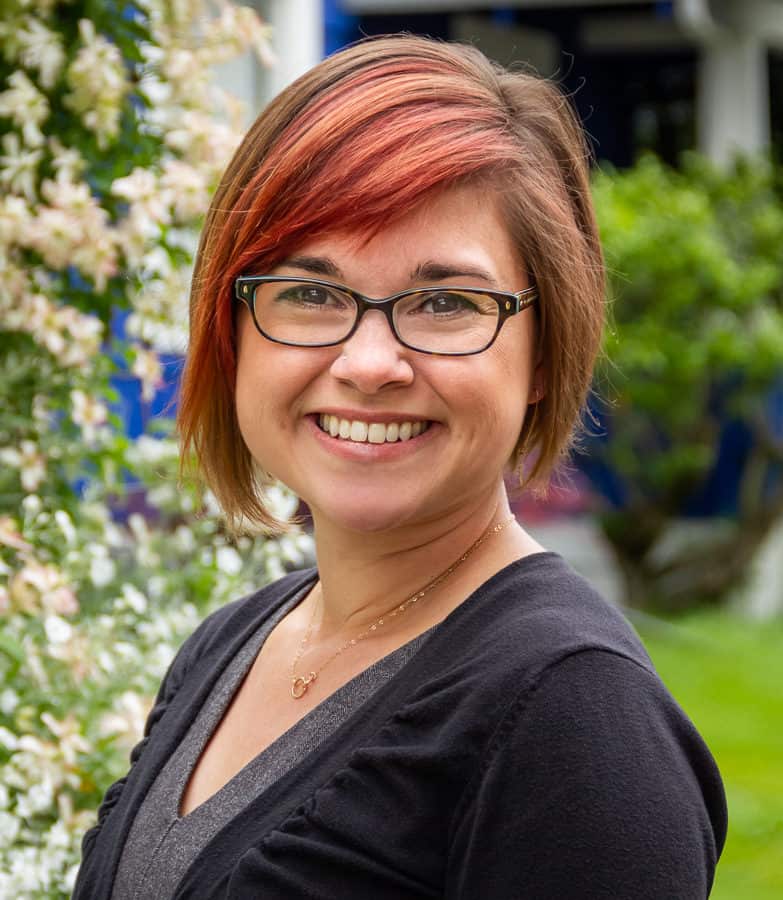 janel campbell, Portland Design Consultant, CMKBD, CAPS
Janel Campbell grew up in her father's wood shop with the smell of sawdust in her nose; and a creative and welcoming home that always had something baking in the oven (an in-home business decorating wedding cakes!). It seemed only natural for her to combine the two elements into her passion for design/build; helping others find ways to make their house a home. She is continually expanding her knowledge and expertise beyond her industry certifications; and applies her 20 years of design/build remodeling experience to her work. Janel's award-winning designs have been featured in Oregon Home, Portrait of Portland, and KBB magazine. As a mother of growing boys, avid cook, gardener, photographer and nature lover – Janel's passion is HOME.
View Janel's Houzz portfolio and read client reviews.
SCHEDULE A CONSULTATION >