Kitchen Projects
Slabtown District Townhome Kitchen Remodel
Custom Kitchen Renovation in Northwest Portland
Neil Kelly's in-house design consultant, Robert Barham helped our clients update their kitchen with a more contemporary aesthetic while tying in the design with the rest of the home.
Take an inside look at the project details as well as before-and-after photos of this custom kitchen remodel in Northwest Portland, Oregon.
Project Objectives and Client Wishlist
The kitchen in our client's NW Portland townhouse was in need of an upgrade. "Throughout the home, there are bright wood tones, clean lines, and a lot of natural light, but in the kitchen, it felt dark and dreary," says Barham.
The homeowners wanted better lighting in their 287-square-foot kitchen, as well as more seating and an optimized setup for entertaining guests. They had their sights set on a clean, contemporary look while still incorporating unique materials and creative design aspects.
Our client's wishlist for this kitchen remodel included:
Updated design to align with rest of home

Contemporary aesthetic

Better lighting

More seating

Optimized entertaining setup

Unique materials for cabinets and other surfaces
For more inspiration, check out this Custom Kitchen Remodel in Central Seattle.
Project Planning and Design Challenges
The main challenge for this kitchen project was space planning, as the existing layout presented some obstacles. There were two closets flanking the powder room, plus a utility closet right next to the kitchen that couldn't be moved. "We needed to maintain the location of these utilities, and that meant coming up with a door/entry solution that complimented the new design of the kitchen," says Barham.
Additionally, the clients didn't want to use conventional materials for their cabinetry. "We had to explore many avenues to achieve what the clients were looking for aesthetically," says Barham. They wanted a kitchen that resembled a chemistry lab, which called for very specific materials and style elements. "We jumped on the creativity train to find solutions."
Design Solutions
We eliminated the desk area and the closets next to the half-bath to allow for additional seating, plus a walkway. "This allowed us to maintain the refrigerator location, and we were able to add seating on the other side of the island," says Barham.
To make the utility closet blend in with the new kitchen design, we developed a unique sliding system. The solution was a custom, locally fabricated L-shaped metal door that's flush with the drywall when closed. "We used a dimple die set to create ventilation holes on the top and bottom of the door," says Barham. "These holes are an exact match in size to the circle cutouts on the wall cabinet doors."
We landed on plywood doors with a maple veneer for the cabinets. "The clients loved the idea of the exposed ply layers on the edges of the doors and drawers," says Barham. To achieve the "chemistry lab" look, we used concrete countertops that contrast with the wood cabinetry, plus a white laminate material for the backsplash.
Special Features, Customizations, and Finished Results
The finished kitchen is a stunning example of contemporary design with custom elements.
"From the subtle and timeless materials to the unique geometry with the circle and lozenge cutouts, this kitchen shows potential clients what we can do with regard to customization," says Barham.
Special features and customizations for this custom kitchen renovation include:
Plywood cabinets and drawers with maple veneer and custom cutouts from

Hayes Cabinets

Cement Elegance

concrete countertops in two colors for visual interest

White

COREtec

laminate counter backsplash 

Ruvati

porcelain apron sink with

Pfister

faucets and

Pratt + Larson

tile mosaic backsplash

Thermador

range with stainless steel backsplash and hood

Paneled appliances with routed pulls to tie in with cabinets and drawers

Locally fabricated custom metal support for island with raw finish to show welding and patina

Mid-century modern stools for island bar

Powder-coated metal L-shaped utility closet door from

McKenna Metal

with custom dimple dies and hardware

Recessed ceiling lights and under-cabinet lighting
If you like this renovation, take a look at the Craftsman Kitchen Remodel we did in Portland, Oregon.
Before-and-After Kitchen Remodel in Portland, OR
If you're thinking about upgrading your kitchen or renovating your entire home, the design/build remodeling experts at Neil Kelly would love to hear from you. Our experienced designers, project managers, and builders work on homes of all sizes and styles throughout the Pacific Northwest, with design centers in Seattle, Portland, Eugene, and Bend.
Get in touch with us today to schedule a consultation.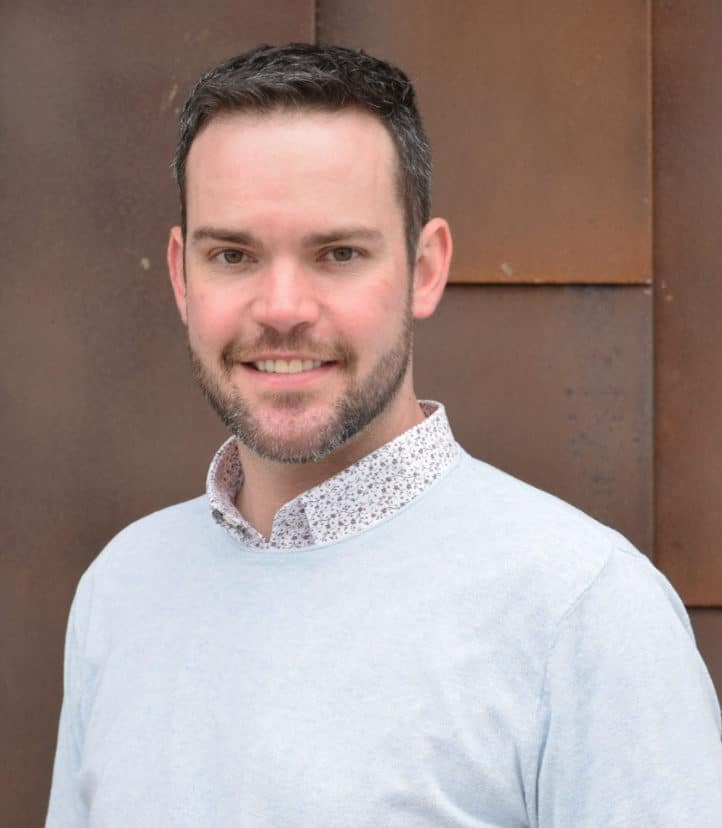 robert barham, Portland Design Consultant
As a graduate of Portland Community College's Interior Design program, and with experience in residential remodeling and new home construction, Robert Barham has the vision and versatility to deliver gorgeous, functional designs in almost any style. His multi-faceted approach allows him to collaborate with homeowners who have a strong vision, find ways to merge different tastes and styles, or come up with something completely new. Most of all, Robert enjoys helping his clients create spaces that enhance their sense of belonging, togetherness and comfort.