Kitchen Projects
Central Seattle Kitchen Remodel
Eclectic Kitchen Upgrade in the Heart of  Seattle
Neil Kelly's in-house design consultant Anne Bauer helped our client transform their Seattle kitchen into a functional, beautiful space for cooking, gathering, and hosting.
Find details and before-and-after photos of this custom kitchen remodel below.
Project Objectives and Client Wishlist
Our client wanted to convert their existing 170-square-foot kitchen into a more efficient space with better organization. Aesthetic-wise, they had traditional architecture with eclectic flair in mind.
Our client's wishlist for their kitchen renovation included:
Better use of overall space

Enhanced organization with more accessible storage

More prep space for cooking

Better flow of traffic

Improved lighting

Removal of existing grouted tile countertops
"Material and product selections were key to giving the room a classic feel while paying close attention to our client's personal taste and unique style," says Bauer.
If you like this remodel, you'll appreciate the Eclectic Vintage-Inspired Kitchen Renovation we did in Seattle.
Design Challenges
Of course, this project wasn't without its challenges. "There were considerable framing and electrical issues that required creative on-site problem-solving," says Bauer.
This made it a bit harder to create a layout that made sense while increasing the amount of kitchen storage and adding custom features. Our skilled carpenter and project manager had to work diligently to transform the older structure into a more modern space, both visually and functionally.
Design Solutions
"We relocated a pocket door to create an inside corner rather than breaking up the kitchen with a door right inside the workspace," says Bauer. "This created a better traffic pattern and highly functional work zones while allowing guests to comfortably gather outside the work area."
Additionally, custom cabinets were used to store everything more efficiently within a relatively compact space.
Special Features, Customizations, and Finished Results
The finished project boasted many notable elements and customizations such as blending traditional design with contemporary materials and charming features.
Special features and customizations for this kitchen remodel included:
Dark gray cabinetry in custom sizes to maximize storage

Green paint inside upper cabinets

Under-cabinet lights

Warm walnut counters and island to tastefully contrast cool-toned cabinets

Custom pull-outs throughout for more convenient storage

Concrete sink basin with stone faucet base to keep water off wood counters

New appliances and garbage disposal

Hand-painted tile underneath wood island

Bold, intricately patterned wallpaper in breakfast nook
"The wallpaper selected for the nook added a cozy touch for both dining and work while adding a touch of whimsy to the entire kitchen," says Bauer.
Check out this Custom Oregon Coast Kitchen Remodel we did in Florence, Oregon.
Before-and-After Kitchen Renovation in Seattle, Washington
Our client was thrilled with the clear, efficient, and fun design process with Neil Kelly. They appreciated how helpful the renderings were for making decisions throughout each step of the project. In the end, the attention to detail and high level of craftsmanship showed in every corner of the finished kitchen.
If you're thinking about a custom remodel for your home, the design/build remodeling experts at Neil Kelly would love to chat. Our teams of experienced designers and craftspeople work on residential spaces of all sizes throughout the Pacific Northwest.
Get in touch with us today to get started.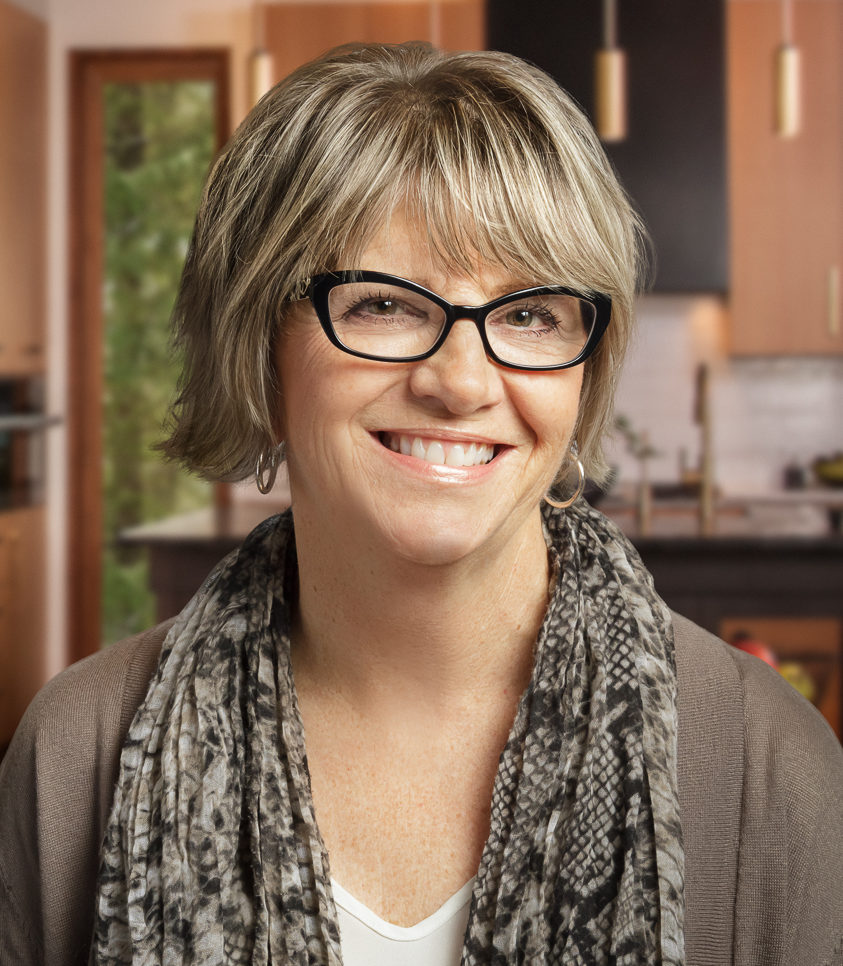 anne bauer, Seattle Design Consultant, CAPS, CGP
Anne Bauer brings over 25 years of interior design experience to her clients. With a diverse background and style — from hotels and country clubs to custom residential and estate design, as well as countless 'fixer' renovations — Anne's focus is to bridge the gap between what happens in the design studio and what gets built on job sites.
Anne especially enjoys residential design because she gets to experience her clients' delight in the spaces they create together.
View Anne's Houzz portfolio and read client reviews.
SCHEDULE A CONSULTATION >