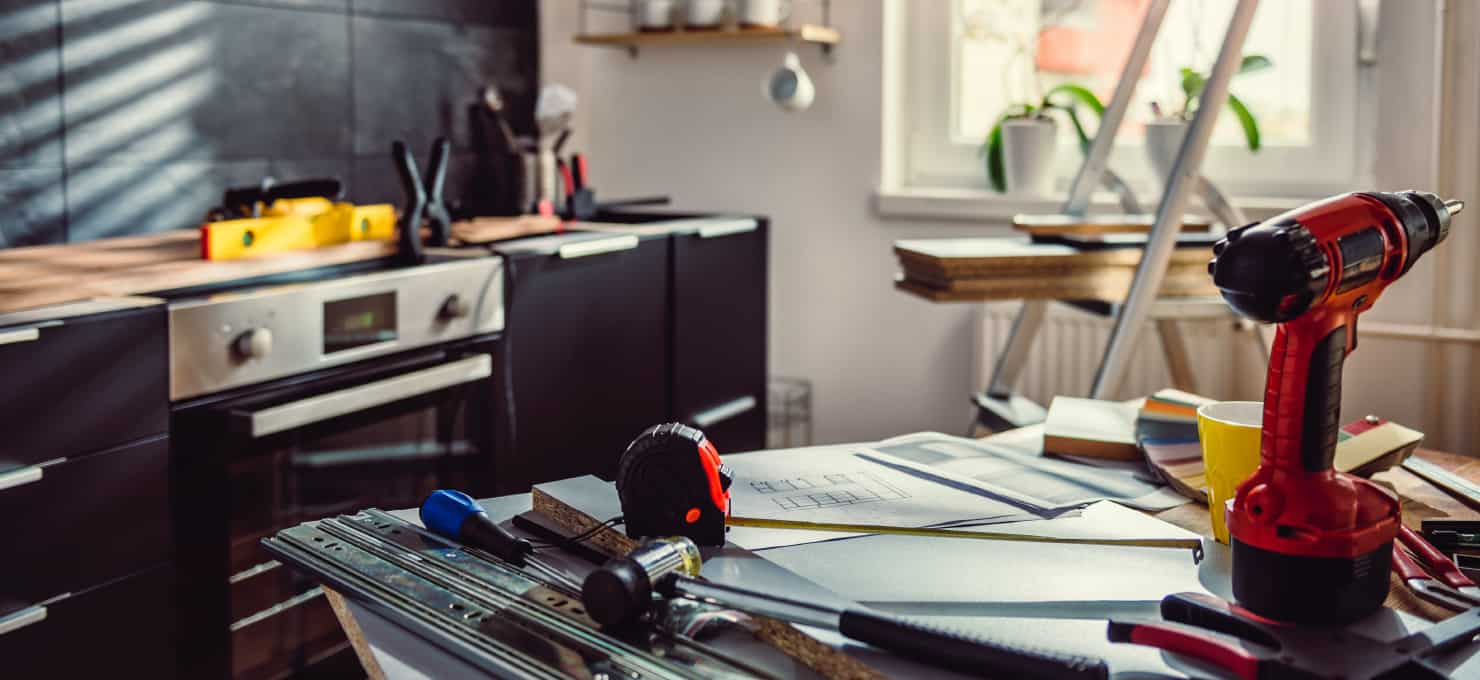 Kitchens
8 Tips for Surviving a Remodel With a Temporary Kitchen
An upgraded kitchen not only improves your home's resale value but also can make it much more functional and enjoyable to live in. That said, if your kitchen is currently under construction or you are planning a kitchen remodel soon, you'll need to think about how you'll cook and prepare meals in the meantime.
Tips for Setting Up a Temporary Kitchen
When undertaking a kitchen remodel, setting up a temporary kitchen becomes crucial for maintaining some sense of normalcy. Your Neil Kelly team will be more than happy to help you find short-term solutions for cooking, cleaning, and storage during this step of the process. Here are a few tips to consider when creating a temporary kitchen space for your family.

1. Figure Out Where Your Temporary Kitchen Will Be
First, you need to figure out where your temporary kitchen will be. Your regular, essential kitchen appliances will likely be unplugged and moved elsewhere and the entire space will be out of commission. In the summer, you might be able to use your patio. But otherwise, the space could be the dining room, utility room, or sunroom. Go with what makes the most sense for your household.
2. Make It Work With Small Appliances
With limited space, we recommend cooking with various small appliances in your temporary kitchen. This might include a toaster oven, a microwave, an electric kettle, a rice cooker, or a hot plate.
3. Move or Set Up a Fridge
Small appliances will help you get by without a proper stove and oven, but you can only go so long without a refrigerator. With this in mind, consider moving your existing fridge to the temporary cooking area or potentially your garage if there is room. Otherwise, think about getting a mini or mid-size fridge for the interim.
4. Plan Ahead With Temporary Kitchen Essentials
Before packing up your kitchen, make sure you have all the basic cooking essentials, like a pot and pan, a spatula, tongs, knives, and a cutting board. And don't forget cooking oil, salt, and pepper.
You'll also want to plan ahead with dishes and flatware, whether you use your current set or opt for disposable pieces—even better if they're compostable! Lastly, set up a trash and recycling bin.
5. Put Away What You Won't Use
Pack up everything you won't be using in your temporary kitchen. Keep the boxes out of the way, such as in your garage or basement, so you maximize living space and keep them out of harm's way while your home is under construction.
6. Plan Your Meals Ahead
Eating out or ordering in might be tempting while your kitchen is being renovated. However, it's more cost-effective (not to mention healthier) to do most of your cooking at home. Plan easy, simple meals ahead of time so you're more inclined to cook.
7. Cook Outside (If the Weather Allows)
If you have an outdoor kitchen space, you're already in great shape. In the summer (and maybe late spring and early fall), you can cook a lot of your meals outside. A grill not only replaces a kitchen range but also allows you to skip pots and pans.
8. Create a Dish Washing Station
Of course, you'll need a temporary kitchen sink in the absence of a dishwasher. You can use the sink or bathtub in your bathroom or even a basin with running water in your laundry room or basement. Then set up a drying rack or mat on a nearby surface.
If the idea of hand-washing dishes in the bathtub makes you second guess your remodeling plans altogether, you might be happy to consider splurging on a portable countertop dishwasher. All you need to run it is a clean water faucet and a drain. Most of them can hold six sets of dishes and glassware.
Plan Your Custom Kitchen Remodel With Neil Kelly
Neil Kelly's design/build remodeling experts specialize in custom kitchens, bathrooms, build-outs, conversions, and whole-house renovations.
During the planning phase, we work with our clients to figure out what parts of the home will be usable or out of commission during construction. We'll be sure to communicate about the accommodations you may need so you know you're prepared at every stage of your remodeling project.
Get in touch with us to schedule a consultation.