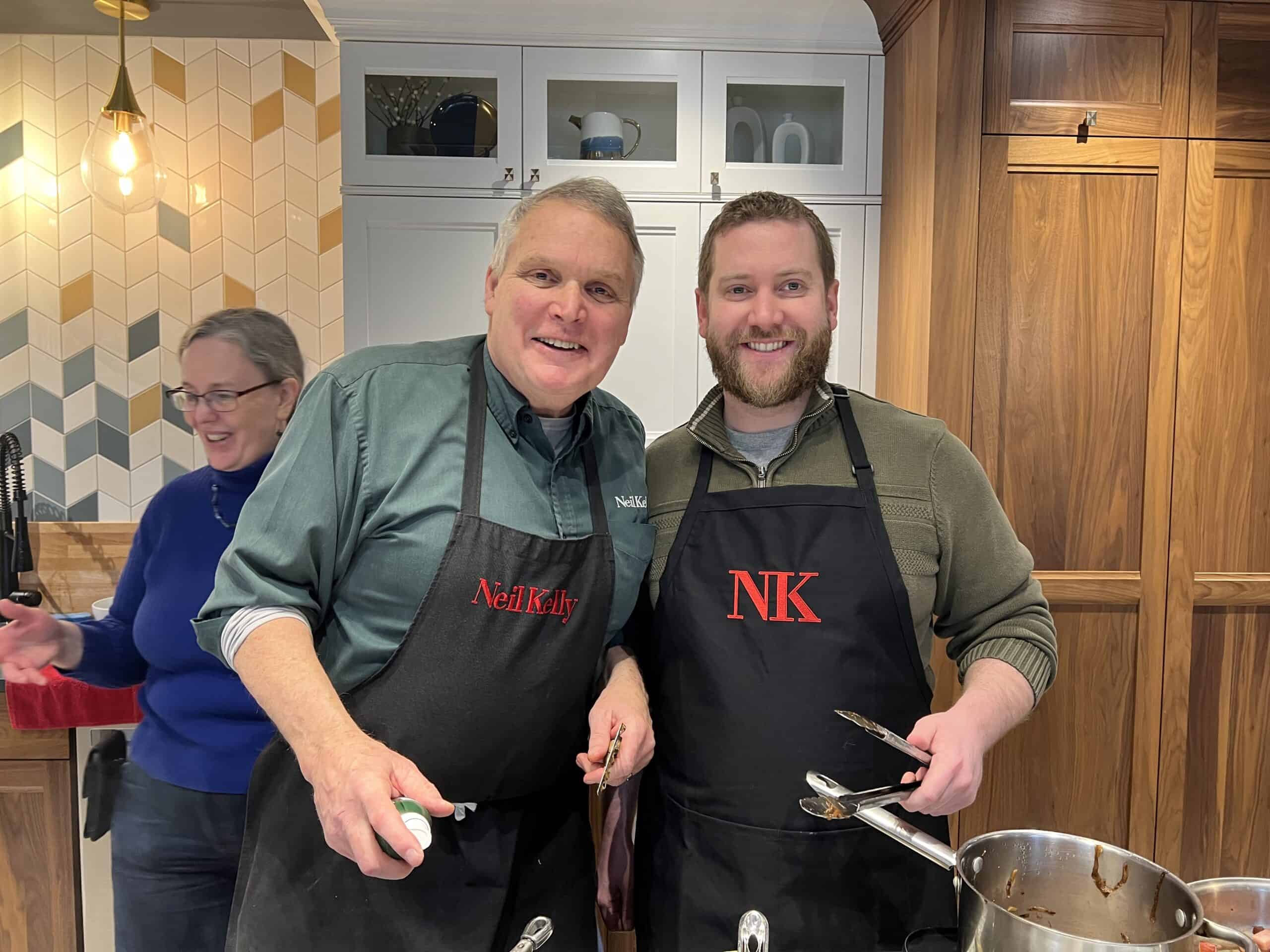 News
Byron Kellar Retires After a Long and Impactful Career at Neil Kelly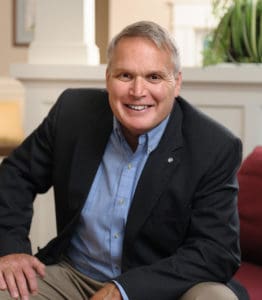 In 2023, Neil Kelly Company has never been more focused on building relationships. It's an ironic time to be bidding farewell to a man who is arguably the best in the business. When you ask Byron Kellar about his career with Neil Kelly, he'll tell you about his clients before he talks about their kitchens. 
Tom Kelly notes, "There is a long list of very satisfied clients Byron worked with over the years. Many of them became [his] friends."
Byron was hired at Neil Kelly in the Spring of 1990, bringing more than 10 years of experience as a residential and commercial contractor in Corvallis. According to Tom, "Byron brought to the company expertise in the construction side of what we do. His expertise in the more complicated structural issues of home construction (commercial too), enabled us to take on projects we otherwise may have passed on."
After nearly 33 years here, he's got stories to tell. 
When Clients Become Friends
"Before the pandemic, we had a Christmas party every year at our house. It would be 20 or so friends and family, some neighbors, coworkers, and probably 20 or so clients," says Byron, remembering one year in particular. "We had worked on the home of a prominent neonatologist in years past—a wonderful man— and he was there. We had also just finished a project for a family with young twins, and the mother was there. She came up to me and said, "Is that Dr. Carter?" (Names have been changed for the privacy of our clients.) And I said, "Yes, it is." And she said, "He saved the twins!" and went over to talk with him. Connections like that are priceless."
In other fond memories, Byron explains, "Many years ago we did some work for a man named Jim Clark. I used to go and visit him once a month and we'd drink bourbon. I really miss him. He passed this last December and I spoke at his funeral." 
"The award winning job [with the], Japanese soaking tub was for I client I have known since I was a 15yr old football player and he was the radio announcer.  That one was pretty special," said Byron. "I've also worked for friends I've known since the 5th grade and one from the 7th grade. "
Always Giving Credit Where Credit Is Due
The relationships Byron has built over the years are remarkable, and so are many of his projects. There are hundreds of beautiful homes in his portfolio. He's earned numerous regional "Contractor of the Year" awards and one national CotY from the National Association of the Remodeling Industry. He's also won a national Crystal Award from the American Society of Interior Designers, and a Remodeling Excellence Award from the Master Builders Association, among others. All of them, he adds, were earned with a different design assistant. "Bringing them in and listening to what they have to say. That's when the best design happens."
Kathleen Donohue has been a designer at Neil Kelly for 35 years. "Look at the people who've worked for Byron. It's no accident that they all happen to be heavy hitters and big stars. That says something." 
Expanding on teamwork, Byron says, "For me, over the course of my career, I've been successful—even if I haven't always been a sales leader—in building the right team and then introducing the client and seeing everyone working together and being their advocate. That's been incredibly rewarding. I'm not as much of a salesman as I am an educator and a problem solver. When you get a client involved, when you let them in and you can collaborate—those are the really great jobs that we've done." 
In his sentiment for the carpenters who've worked on his projects, he says, "What a great honor it has been to work with all of you. I think about almost 33 years and how many fantastic jobs that we've done, but with those jobs it was the relationships we made with those clients that we keep forever. They tell me at the end of a job that they don't want to see the carpenters leave. They love you guys. You guys are the connection that make this work."
Designing with Heart
"A lot of my projects have been special to me," says Byron. "Sometimes I just want to go back and sit in the living room and feel the way we wanted it to feel. I think you should design for how you want to feel in a space, not how it should look. It's not the same thing."
"It's unusual that my clients sell their houses," he says. "So, sometimes I do get to go back 10 or 15 years later and reminisce and talk about how much they love their house. It's really gratifying. Many Previous clients have enjoyed showing their homes to my prospective clients. Sometimes I'd have them visit without me there."
The Epitome of Neil Kelly Culture
Serving others comes naturally to Byron. For decades, he's made omelets at our Field Personnel Appreciation Breakfasts. We have them at least twice a year and he's missed only one or two. (He does the same for groups of mountain climbers that he leads through the Cascades in his free time.) This month, we honored Byron's retirement at such a breakfast, and as the speeches began, he continued to swirl eggs in a pan until everyone was fed. 
"Byron is one of the few here who has true connections to Neil, and that's very special, " said NK President Dan Watson. "Like Neil, he's always put others above himself. He's always willing to help others. I hear from the staff all the time about how he's always made time to help with designs or help out with tough clients. And one of his requests to me in his retirement is that he insists that people keep calling him. He still wants to be a resource. Byron, there's nobody that represents and epitomizes Neil Kelly more than you. And, I thank you from the bottom of my heart for all that you have done."
Mary Miksch is Neil Kelly's Director of Training and Organizational Development and a member of our Leadership Team, but she started out as Byron's design assistant. "Byron is the reason I'm here," said Mary. "He fought to hire me and I'm so grateful for the opportunities I've had in my career at Neil Kelly, but it all started with Byron. What everyone always told me when I was starting here was that Byron will give you the shirt off his back. And that is just so true. But for me, what it really came down to is that he can make you feel like family. He has done that for me and I'm just really grateful." 
Julia Spence worked in Human Resources at Neil Kelly for 33 years before retiring in 2020. Julia said, "I think Neil would be so proud of you for all that you've done with your career and all the times when you've gone the extra mile. I have learned so much from you over the years. I had such a good time working with you on the scholarship and other community events, and I'm glad that's going to continue. We'll track you down if it doesn't." 
Tom Kelly adds, "Although Byron participated in many of the "good works" efforts of the company like Habitat for Humanity and Meals on Wheels, his signature work with the Neil Kelly Scholarship is his crowning achievement. The scholarship, established by the Albina Rotary Club several years after Neil's death, today provides four-year, $4k scholarships to deserving students from N/NE Portland. Byron has led the interview and selection side of the effort, carrying an emotional investment by Byron that, for me, is incomparable to any other effort put forth by a Neil Kelly employee and perhaps by anyone in our community. Byron has committed to staying with this effort in his retirement."
More of Byron's "good works" include acting as Project Manager for the International Anne Frank Exhibit and Chair of Portland Public School's Budget Review Committee.
"Neil was really good at getting you to do things that were worthwhile," says Byron. "He was an amazing champion for this neighborhood. After Neil passed we really looked for some way to memorialize him and everything he's done for this community. We tried to name a street after him or part of Peninsula Park, but that wasn't gonna happen. Then someone suggested we do a scholarship. We started out with one student, and one scholarship for $1,000 which we had to borrow. Now, with the help of some very generous donors, we're able to award a total of $64k to four students every year. We've selected some truly remarkable students. Probably 65% of them have been women and more than half are immigrants or second-generation. They've become doctors, lawyers, and Hollywood movie producers. Many of them want to come home or go back to their homeland and help their communities. It's humbling. I've accomplished a few things. Then I read about these kids and I haven't done anything."
It's not "Goodbye," It's "See You Later"
Byron may be retiring—he's planning some vacations and excited to get back to the mountains—but he's left a larger-than-life impression here, and promises we'll see him around. 
"There are parts about this job that I love, oh man. But, I'm an analog guy in a digital world. You can't write quotes on the back of a business card anymore."  
We can all agree with Tom when he says, "Thank you, Byron, for all you have done to help this company be what it is today."