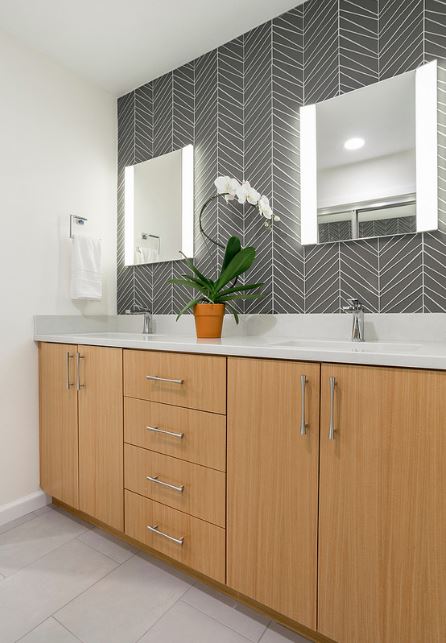 Above: This striking bath features elegant patterned tile.
Bathrooms
Latest Innovations In Bath Design
Whether you're planning to overhaul an existing bath, or dreaming of the perfect bathroom in your next home, you'll want to stay current on the latest innovations in bath design. Here are six trends that might help drive your decision.
Tubs: Going Beyond the Standard
Free-standing tubs are growing in popularity with remodels. Unlike built-ins, free-standing tubs are finished on all sides, giving 360 degrees of flexibility when considering placement. Depending on a homeowner's tastes, free-standing tubs can be a simple affair or more sculptural. Another popular style is the slipper tub. "It's got a more dynamic shape, it's not just a round tub with an even height, and usually you've got a higher back slope, perfect for leaning back when you soak," says Neil Kelly Design Consultant Joss Mallett. "It's really striking and is a new shape for bathrooms."
READ MORE: Reasons To Love A Freestanding Tub
Get Drenched in a Rain Shower
As tubs change styles and shapes, so do showerheads. Rain showers are popular with many Neil Kelly clients. They usually feature a gentler flow than a traditional showerhead, because they're designed to be more relaxing. When considering whether a rain shower is right for you, Mallett recommends staying at a hotel that has one and giving it a try. "You're in the water all the time, and when you have a lot of hair to wash, that can be something that's really annoying, so that's a good thing to think about."
Sinks Meet Countertops
Bathroom sink trends are going in two very different directions: built-ins and stand-alones. Many Neil Kelly clients are opting for a sink that's built right into the bathroom countertop, providing a clean and unobstructed look. Others are selecting free-standing sinks that make a statement on the bathroom counter. In both cases, homeowners are also incorporating cabinetry into their bathroom remodels to ensure good storage ergonomics.
New Tiles and Colors
"Texture is a really big thing right now in design," says Mallett. "It's not just about the visual impact, it's about a tactile response, a different way to experience the space." Meanwhile, trending colors include earth tones, olive, beige and taupe. These neutral colors are increasingly being seen because, according to Mallett, "they're the things we see often in nature, and so our brain doesn't read them as color the same way we might a red, or an orange, something more unexpected." These tones can make a space feel more mellow — perfect for a place to relax.
Bring the Bling
Ever seen photos of chandeliers over a bathtub in a magazine? It's probably not to code. But don't fret, there are other ways to use bling in your bathroom — like plumbing finishes. Homeowners are asking for interesting metals, including rose gold and Lucite, a clear acrylic material that brings transparency and scatters light. "Everyone has seen a bathroom faucet a million times and knows what it should look like, so when you see something that uses a new material, it can be really exciting," says Mallett.
READ MORE: Designing The Ultimate Luxury Baths
Beyond Looks
Homeowners are getting more educated about bath design, ergonomics, customization and how a space functions for them, whether they're a growing family or an aging one. Working with a designer can help you differentiate between a tub height if you're washing babies versus if you're using it as a soaker tub. Nailing this down early and figuring out how you intend to use the space will help determine how you want to design and accessorize your bathroom, whether that's with new finishes, a new sink or bold, striking tile.
Ready to make your bathroom shine and sparkle? Our design-build process helps bring your vision to life. Let our designers guide you so you can enjoy your new bathroom space in comfort and style. Get in touch!