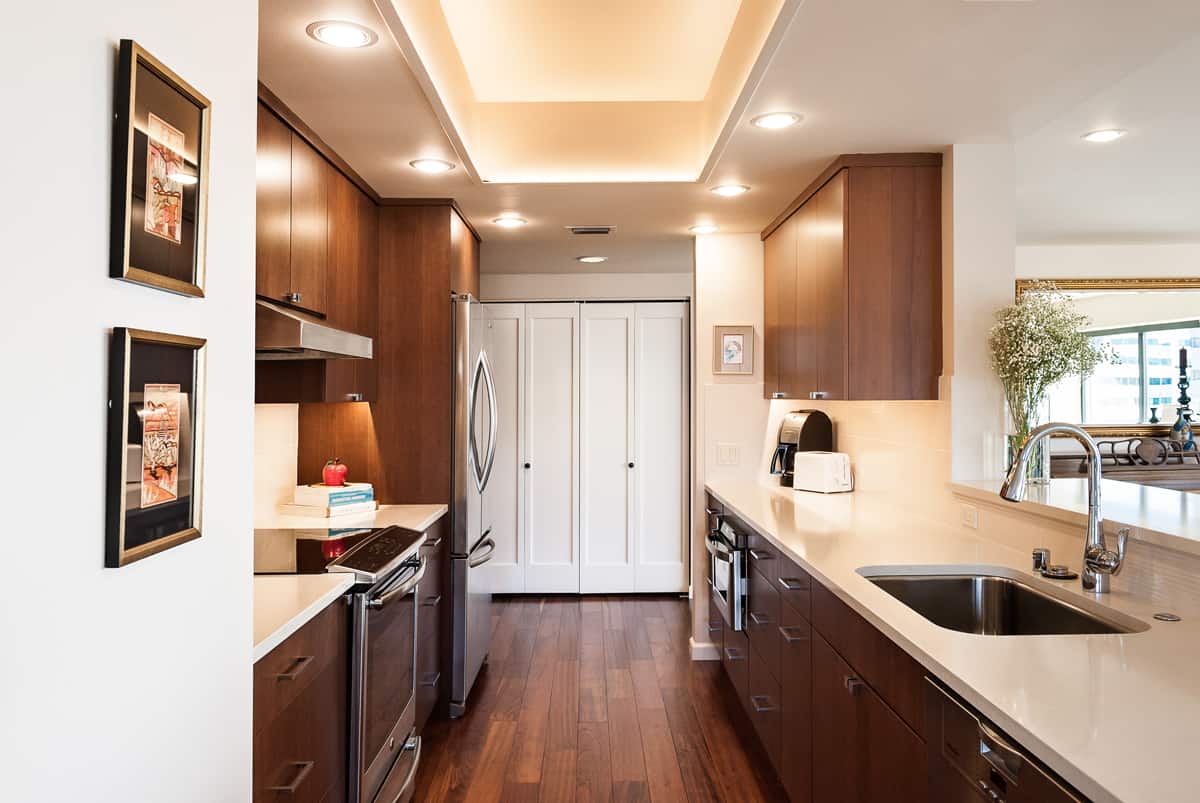 Above: This Seattle condo features a galley-style kitchen that still allows you to see out into the rest of the home.
Interiors
How to Maximize and Personalize Space in your Condo
High-rise towers. Riverside hideaways. Casual cottages. Neil Kelly designers work on condos of all shapes and sizes. What's the one thing each project has in common? Each condo needs to do more with less space. With a little creativity, you can turn your condo — whether it's your first home or retirement abode — into the space you've always dreamed of.
"Condos are a different animal," says Neil Kelly Design Consultant Joss Mallett. "When working with a house you have seemingly unlimited space and options. In a condo you need to get creative working with what you have."
Here are eight tips to help you maximize and personalize space.
Establish Zones
In a house, each room has its function. In a condo, rooms serve multiple purposes all at the same time. To avoid clutter and dysfunction, create zones with strategic placement of furniture, rugs, textures or colors. For example, if your office is in the same space as the living room, a bold, dark wall color behind the desk can really anchor the desk to the space — creating the illusion of a designated office.
Create Sight Lines
"Sight lines will help a space feel larger than it is," says Mallett. "The goal is to create zones that look out rather than in." When possible, remove doors or dividers to create a more open space. Use open bookshelves to divide a room rather than a fixed wall. Lift furnishings off the floor. Select couches with legs, see-through coffee tables and floating shelves to help open up the space. Even while it's elevated off the ground, ensure the furniture doesn't interrupt your eyesight and visual flow from one room to the next.
Strive for Harmony
Matching photos or decor that's incorporated into each room of a condo helps create a sense of order and calm. "Color is one of the easiest ways to tie rooms together," says Mallett. "Don't take things too literally — instead pick palettes like blues, greens or grays and play with different shades to create harmony. Repeating metals in hardware and furnishings is another great way to tie spaces together."
Use Eye Tricks
A well-placed mirror adds the illusion of open space and can function almost like a window if it reflects light or scenery from outside. "Condos tend to have great natural light," says Mallett. "Play with it!"
Keep Anchor Pieces Neutral
Choose anchor pieces in neutrals or light colors. For example, in the living room a sofa has a large impact, so choose a nice neutral color, then jazz things up with a wild accent chair or throw pillows. In the kitchen, play it safe with neutral cabinets and have fun with colorful appliances.
Use Multi-Functional Furniture
"Living in a condo doesn't mean living with less, but living with better, more carefully chosen pieces," says Mallett. When possible, choose furniture that has multiple functions — pieces that have storage or extra services. Sleeper sofas, adjustable stools that can work at varying heights, moveable kitchen islands and galley sinks are ideal pieces that serve numerous functions.
Think Vertically & Use Dead Spaces
"One of the best ways to add storage in a condo is with custom cabinetry or with floor-to-ceiling wall shelving," says Mallett. Vertical storage options take up a small footprint but remove overall clutter and create uniformity. Custom cabinets and pull-outs below bed frames, or around toilets or washer and dryers will help ensure documents, electronics, vacuums and holiday decorations — everything in your condo — has a designated home.
Make Bold Choices
"In a smaller space you can get away with things that might be over the top otherwise," says Mallett. "Sculptural lamps, chandeliers, vibrant accent walls and bold metals that might be overwhelming in a larger space really pop in smaller footprints."
Are you ready to personalize your condo but don't know where to begin? Hesitant about interacting with a condo board for the first time? Contact our Design/Build Remodeling Team to transform your small but mighty space!