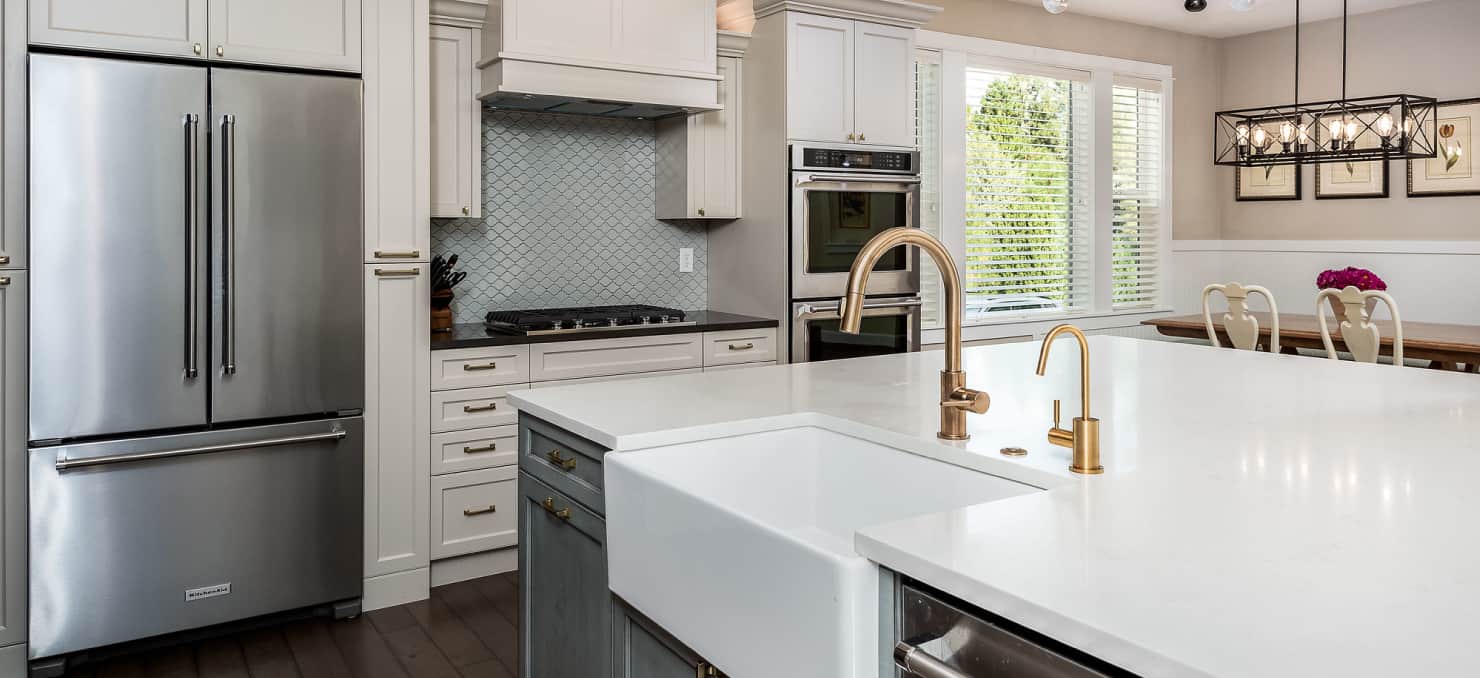 Kitchens
Award-Winning Kitchen Remodeling
Neil Kelly is well-known for our kitchen remodeling projects — and with good reason. Our projects inspire homeowners and other professionals within the industry, winning design awards every year. Our team prides ourselves on understanding our clients' needs and aspirations. From sleek modern aesthetics to timeless traditional charm, our design/build remodeling kitchen services push the boundaries of creativity while delivering functional spaces.
Discover the most recent award-winning kitchens from our talented design consultants.
Updating a Historic Kitchen
Design consultant Fabian Genovesi transformed a compact kitchen with a clumsy 1980s remodel in a historic home built in 1896. The end result? A contemporary kitchen with an updated aesthetic that complements the craftsmanship of a bygone era. "Working with an old home, it's so easy to mess up," says Genovesi. "But everyone who walks into this kitchen says it feels authentic to the house. To me, that is a great accomplishment."
The space was inspired by service kitchens and draws from a palette of craftsman and industrial components. Statuario polished quartz countertops, industrial glass lighting fixtures from Troy Lighting, polished nickel Rohl faucets and warm grey colors complement stainless steel Sub-Zero, Wolf and Cove Asko appliances. To brighten the space, Genovesi used a full wall of white subway tiles with a glossy finish and white Neil Kelly cabinets that reflect light from the windows.
The home is under historic designation, so no exterior changes were made without consulting the local planning commission. Inside, an unused door to the living room was removed, a guest bathroom was removed to expand the pantry, and a new appliance configuration for the refrigerator, sink and range created ergonomic workstations.
Award: NARI Contractor of the Year, Northwest Region
Design Consultant: Fabian Genovesi
Kitchen: $100-$150,000 | Chrysalis, Northwest Region | $75-$100,000
Take a look at another historic kitchen remodel done in Portland, OR.
Enhancing Coastal Views
Design consultant Diane Foreman's goal for this kitchen was simple — increase the openness and sweeping views of the Puget Sound. In completing this goal, the space received additional kitchen storage options and functionality while integrating seamlessly with the great room.
The project took a unique turn as the angles in the original layout of the kitchen were challenging to work with. Foreman solved these issues by installing an unusually shaped and beautifully fabricated island with a two-tone countertop that highlights the workspace and eating areas.
"The new layout increases storage and function significantly," says Foreman. "The island sink creates a highly functional prep zone while the main sink — focused on the Puget Sound views — anchors the cleanup zone."
The Neil Kelly design-build remodel team also created a pet feeding area in the island, a charging station and communications area near the kitchen entrance, and a beverage center in the dining room's built-in buffet.
Award: NARI Contractor of the Year, Northwest Region
Design Consultant: Diane Foreman
Kitchen: Over $150,000
Looking to host guests at your home? Design your kitchen for entertaining.
Creating a Victorian Farmhouse Kitchen
Design consultant Janel Campbell found color inspiration in a surprising place for this kitchen remodel in a 100-year-old home: chicken eggs. The homeowners had lived in the space for more than 40 years and needed to update features from the 1970s. The result? A Victorian farmhouse with lovely Carrara marble countertops, green cabinets, soft peachy walls, a faux tin ceiling, and an ornate tile backsplash from Pratt and Larson Tile.
"The homeowners and I really bonded because I too have chickens at my house," says Campbell. "I understand the beauty of the pale blue-green, peach, bright white and speckled eggs."
The Neil Kelly team sourced local, sustainable, and period-appropriate materials for this kitchen — an approach that was not without its challenges. The team worked hard to restore the original wainscot, trim molding, and curved window casings while the project was under construction. As a result, the space effortlessly combines modern conveniences with timeless charm.
Award: Oregon Home Structure and Style Award
Design Consultant: Janel Campbell
Kitchen: Over $75,000
Need help creating your dream kitchen? Our Design-Build Remodeling Team will help you transform your vision and existing space into a kitchen that is as functional as it is beautiful.