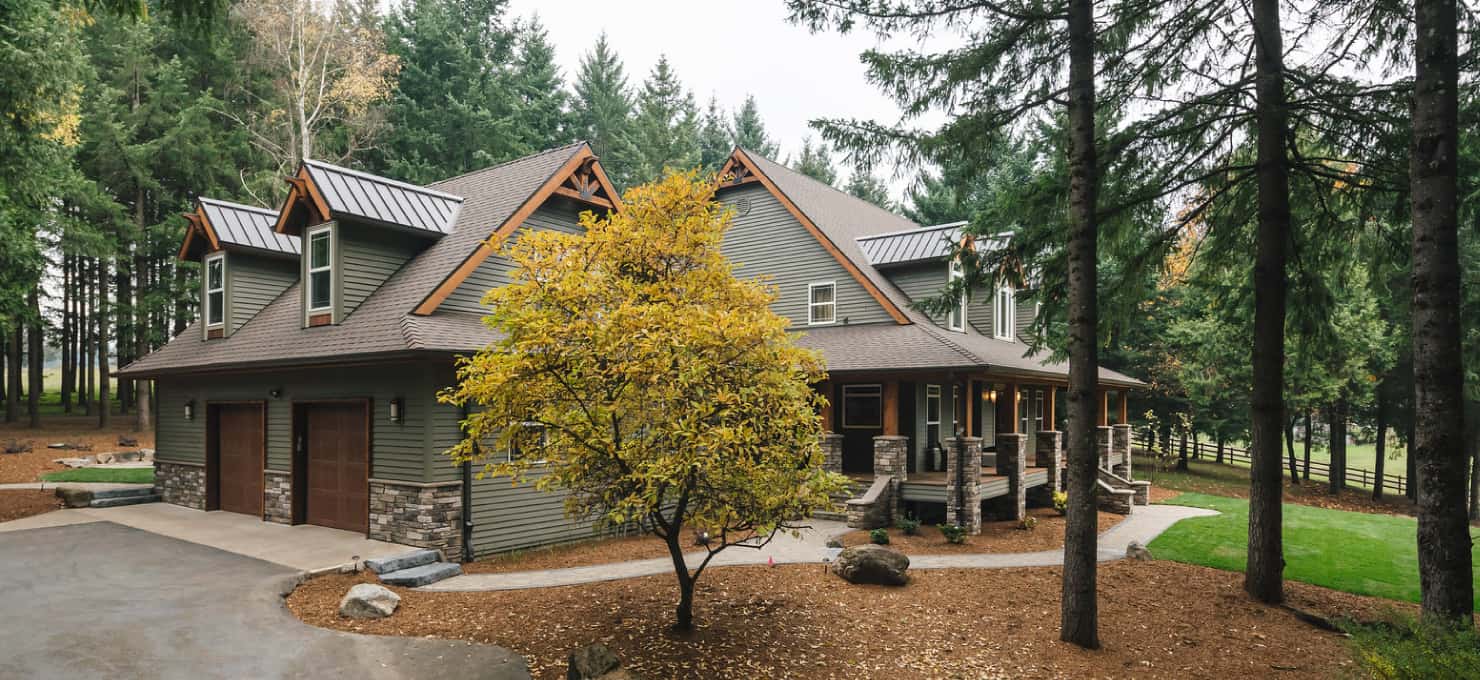 Home Fixes
Prepare Your Home for Fall
Autumn will be here before you know it but is your house ready for the season? While the days are getting shorter, slightly cooler temperatures can make it easier to tackle your seasonal maintenance checklist.
If you're wondering how to prepare your home for fall, you've come to the right place. So, which projects should you focus on over the next few months? Read on for a list of potential to-dos, along with helpful guidance and fall tips for homeowners.
Fall Home Maintenance Checklist
As the leaves change color and temperatures begin to drop, staying ahead of your home's upkeep can save you time, hassle, and money by warding off potential issues in the winter. Whether you DIY or hire a professional, it's good to take a proactive approach to autumn home maintenance.
Of course, there's no one-size-fits-all list of autumn home tips. But if you live in the rainy Pacific Northwest, you're wise to consider these tips to prepare your home for fall.
DOWNLOAD OUR FALL HOME MAINTENANCE CHECKLIST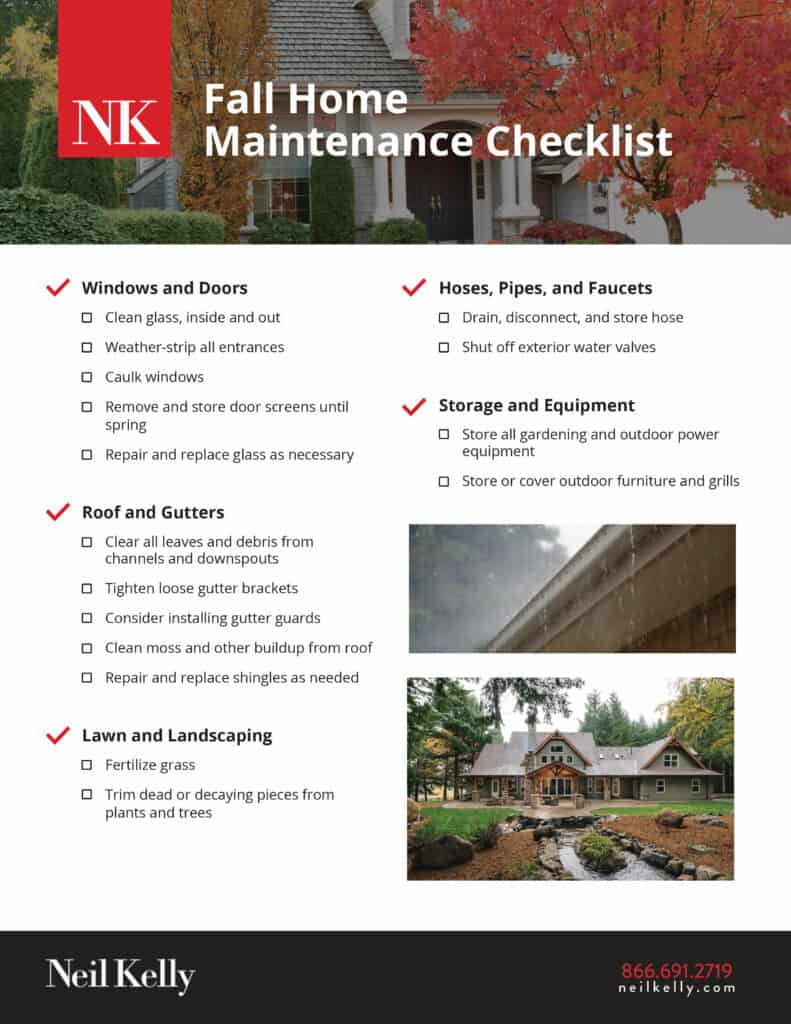 Seal Windows and Doors
The glass on your windows and doors should be cleaned inside and out at least once per season. Beyond that, you can weather-strip all entrances, including your garage door, and caulk the windows to seal leaks and reduce cold-air drafts. If the screens are inconvenient, you can remove them and store them until spring.
Single-pane windows won't keep your house as warm as the modern energy-efficient variety. If you're considering getting new windows as part of your fall maintenance plan, the team at Neil Kelly can help with the installation.
See our Window Repair and Replacement guide to find out whether yours need replacing.
Clear Out the Roof and Gutters
Though it depends on where you live, gutters usually need to be cleaned out two to three times during the fall (and a few more times throughout the year). Clear all leaves, sticks, and debris from the channels and downspouts, then tighten any loose brackets. You may also want to install gutter guards to keep mice, bugs, and other pests out.
Fall is a good time for roof maintenance as well. The roofing services from Neil Kelly include cleaning, repairs, shingle replacement, and custom roof installation.
Read our blog How Many Lives Does Your Roof Have? to learn more about roof maintenance.
Prepare Your Lawn and Landscaping
While your lawn won't need much attention over the next few months, you might want to fertilize the grass to ensure healthy growth come springtime. You'll want to be careful about over-pruning your outdoor plants and trees in the fall, as the lack of sunlight can prevent them from growing back. However, this is a good time to trim any dead or decaying pieces.
Drain Hoses and Exterior Faucets
Before temperatures get close to freezing, drain your garden hose bibs, disconnect it from your outdoor faucet, and store it in your garage or shed. You may also want to shut off your exterior water valves to prevent ice from bursting or otherwise damaging your pipes.
See our article for more Home Exterior Projects to consider.
Properly Store Equipment
Before rainy weather hits, make sure all your outdoor equipment is stored properly. This includes things like your lawn mower, leaf blower, rake, and gardening tools.
You may want to move your outdoor furniture, grill, and smoker inside as well. If you don't have space in your garage or shed for these items, waterproof covers may suffice.
As Always, Check Your HVAC
Oregon and Washington homeowners often toggle between air conditioning and heat throughout September and into October. But come November, you'll probably rely heavily on your furnace to warm your house.
In any case, it's important to ensure your entire HVAC (heating, ventilation, and air conditioning) system is in tip-top shape. Beyond replacing or cleaning the filters every few months, scheduling biannual maintenance appointments with a specialist is the best way to make sure everything is running not just properly but also efficiently.
Neil Kelly offers a range of home performance services, including HVAC maintenance, indoor air quality assessments, high-efficiency system installs, and full-service programs for year-round climate control.
Read our blog to learn how to Keep Your HVAC Happy.
Inspect the Fireplace and Chimney
On a similar note, you might start using your fireplace more as the weather cools this fall. Inspect the glass for cracks, make sure the door gasket is tightly sealed, and remove excess ash from the chamber.
You'll also want to clean out your chimney, as clogs can lead to fires. Installing a chimney cap can also help prevent debris buildup while keeping birds and rodents out.
Year-Round Handyman Services from Neil Kelly
Whatever's on your to-do list this fall, Neil Kelly is here to assist. We offer a wide variety of handyman services ranging from repairs and installations to windows, roofing, and HVAC.
Our highly skilled design/build remodel team can also help with solar energy, carpentry, build-outs, siding, decks, porches, conversions, and custom upgrades. With design centers in Portland, Eugene, Bend, and Seattle, Neil Kelly transforms homes throughout Oregon and Washington, and our craftsmanship is always backed by a five-year warranty.
Contact us to get started!