Interiors
Where Do I Start When Renovating a House In Seattle?
A home renovation is a large undertaking. Full remodels can take up to a year to finish, and if your home is in Seattle, be prepared to work around traffic, inclement weather, building permits, the availability of materials, and endless design possibilities. It can be overwhelming — and that's where an experienced design/build remodeling firm can help.
Neil Kelly has over 75 years of experience with home remodels. Our team in Seattle understands the challenges that come with renovating in the Emerald City and surrounding areas and are here to work with you to make your home remodel go as smoothly as possible.
Seattle Design Consultant Jamie Smugeresky offers some expert advice: "A whole home renovation is not a quick fix. Find someone who will spend the time to help you thoroughly plan, and then communicate, every step of the way."
Reasons You May Wish To Remodel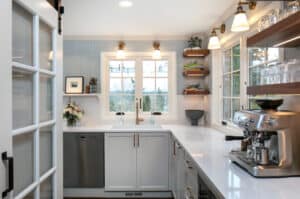 Many life changes can inspire homeowners to reimagine their space. Some include: 
"Our clients are often surprised by just how many items they never even thought of during the design and planning stage. There are so many options, selections, materials and choices it can be overwhelming," Jamie explains. A designer who understands your style, needs, and wants, can help you smoothly navigate the entire process.
Common Job Types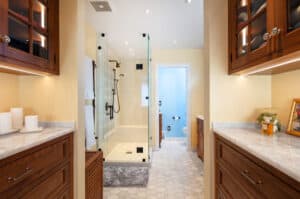 Typical whole house remodeling plans may include cosmetic updates, space planning, and structural elements. They usually affect more than two rooms in an existing structure and can add more space in the form of a new floor or addition.
Cosmetic: Multi-room refresh, maintaining a consistent look throughout
Space Planning: Rearrange existing space to better suit current needs
Structural: Major structural changes such as a new floor or addition
Of course, all homes and homeowners are different. No home remodeling project will fit these categories precisely. We use them to start a conversation about what you would like to ensure we have the right steps in renovating your home.
Seattle Design Trends
Earlier in her career, Jamie provided design services for homeowners in California. She shares a few regional observations, "In California, people were very interested in keeping up with the neighbors and resale value. In the Pacific Northwest, there is a greater attention to craftsmanship that I find really inspiring."
Puget Sound homeowners often place a bigger priority on creating spaces that reflect their personal style. Jamie explains, "In Seattle, homeowners are often inspired by a respect for nature mixed with neighborhood pride and city nightlife."
Unlike sunny California, many Washingtonians embrace color to help offset overcast and drizzly days. "Many families want to add rich color and fun patterns into their homes, and it's wonderful when I can help them realize their vision."
Finding More Space
"In Seattle, space is a commodity," says Seattle Design Consultant Megan Knight. "We have a lot of finished/unfinished attics that are often a less desirable space because of low or extremely angled ceilings."
In such a scenario, Megan recommends adding a dormer.
"A dormer extends beyond the angled roof, gives more head height, and can be various sizes depending on your needs," she says. "This can allow for more flexibility in furniture placement, storage, or even adding a bathroom to a 2nd floor."
Planning Your Seattle Home Remodel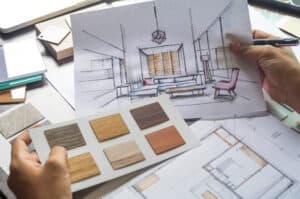 Whether you're moving in from out of town or buying a new house in Seattle, finding the perfect house can be a challenge. But, creating your dream home is more than possible with a remodel, particularly when you dedicate more time planning each aspect. If you decide you want to do a full-home remodel, find a place that meets most of your criteria and then select which aspects you will build to meet your desires.
1. Make a wish list
What are your pain points? 

What do you most want to change?

What do you want to keep in your home?
Megan recommends that you start your wish list by thinking about how you'd like your home to function.
"Thinking about how your space aligns or doesn't align with your lifestyle is a great way to develop a wish list," she says.
2. Collect ideas
Books
Magazines
Web
Share an ideabook on Houzz
3. Consider the scope of work
It's understandable to want to finish the project as quickly as possible, as your day-to-day comfort level and capacity to manage a remodel might be weighing on its completion. However, accurate planning and taking your time with each step will help you avoid costly mistakes and give you more peace of mind about each decision.
4. Consider budget
Large jobs can be broken into phases
Some parts of job can be done by the homeowner
Improvements should add functionality and increase the value of your home
5. Speak with a professional
An experienced remodeling firm can help you understand your options and develop a framework for getting your project done on time and on budget. Neil Kelly specializes in full home remodeling in the Seattle area, our experienced team can walk you through each component of a Seattle home remodeling checklist and help you figure out how to plan your home updates.
Our Washington Design Center is just off I-5 in the Georgetown neighborhood, and we offer complimentary consultations for those interested in a full-home remodel. If you live in Seattle proper, Renton, Bellevue, Bothell, Lake Forest Park, or another city in the Puget Sound region, Neil Kelly would love to work with you.
Contact us today to plan your home remodeling project.